The 2022 Jaguar I-PACE Is Damn Near The Perfect EV, Except For One Major Issue!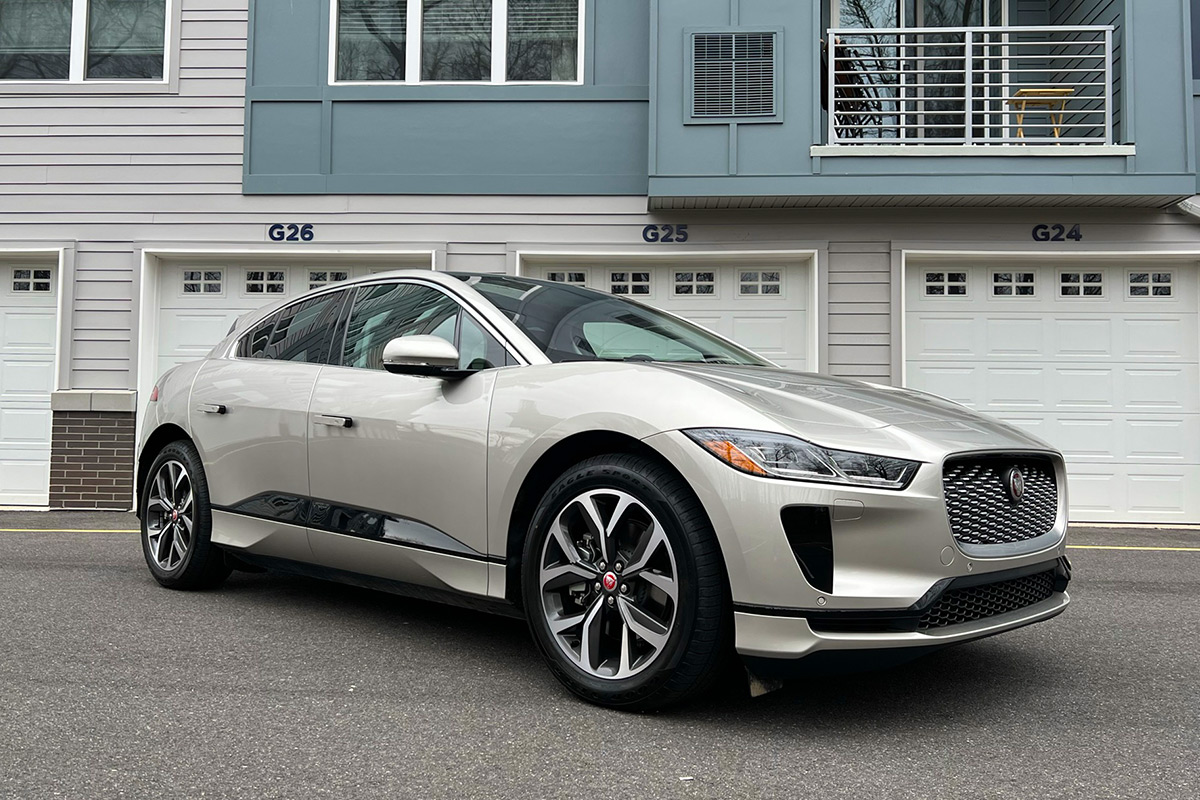 Despite the fact that the Jaguar I-PACE has been on the market for over three years now, it is easy to forget that they exist, because you rarely see one on the road. And that's a real shame, as this all-electric luxury crossover is quite a remarkable little car, with plenty of power, great handling, a roomy interior, and decent range. On paper, it seems like a worthy competitor to the Tesla Model 3/Y and others. So why aren't they more popular?
To find out, we borrowed the keys to this 2022 Jaguar I-PACE HSE and spent a week putting it through its paces (no pun intended) to see what it's like to live with on a daily basis. And what we found is that this is a really well-sorted EV, with a few glaring issues that holds it back from greatness. Not to mention a price tag that's on the higher end of the scale for this segment.
But despite all of that, I still think the Jaguar I-PACE might just be the perfect EV for a lot of people, depending on their use case and such. Sadly, most people don't even know it exists, as there's not a lot of buzz around it, and newer EVs from the likes of Kia, Hyundai, Audi and others are getting all of the attention. So let's fix that and get you guys better acquainted with this cheeky little British EV.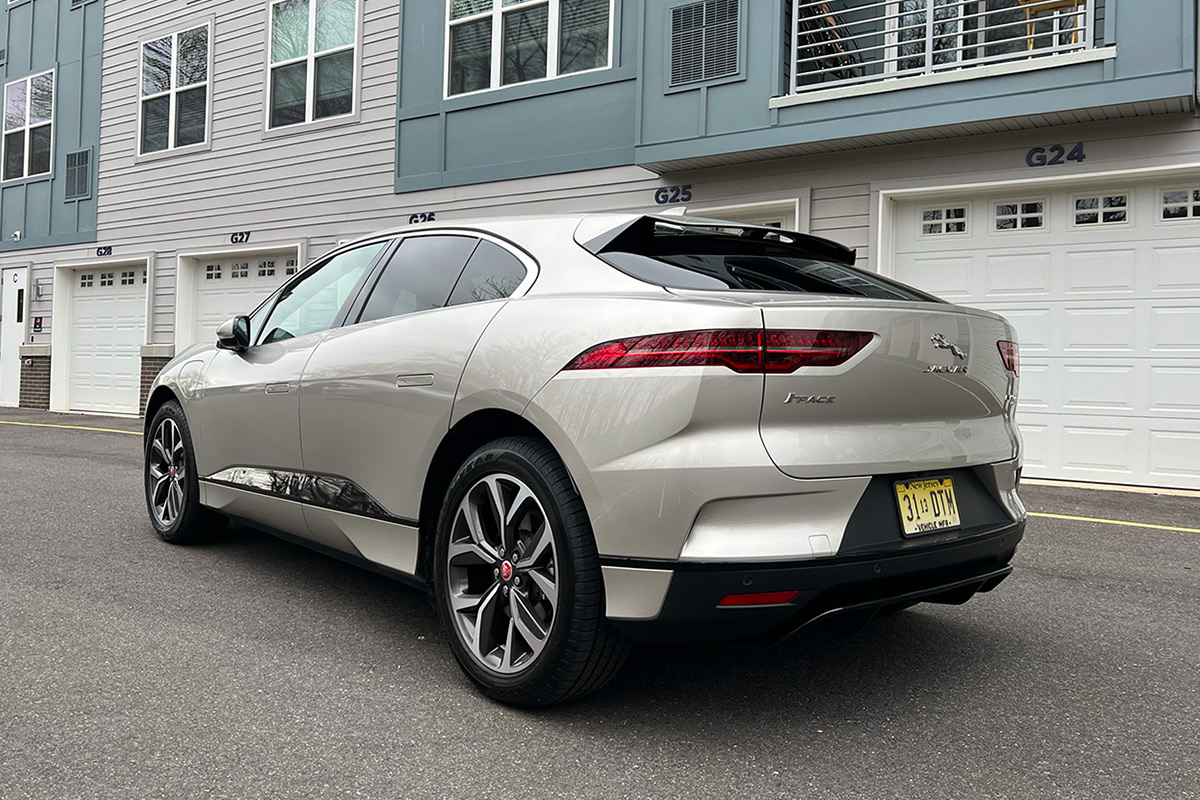 Visually, the Jaguar I-PACE is rather interesting, with a dramatic cab-forward profile, unique proportions and exceptional interior space. Its looks might not be for everybody, but I rather liked it. And due to its EV packaging, it's got a small footprint (similar to the Jaguar F-PACE), with a length of just 184.3 inches, but with the interior space of a larger vehicle.
Its bold proportions are a direct result of the advanced electric drivetrain and architecture that underpin the vehicle. The cab-forward profile of the I-PACE is a natural progression of the well-established design language of the Jaguar brand and retains key characteristics including the grille design and distinctive sweep of the window frames, which make it immediately identifiable as the newest member of the brand's expanding 'PACE' family of SUVs.
Aerodynamic features including a low hood, sweeping roofline and squared-off rear, assist the I-PACE in achieving a drag coefficient of 0.29Cd. The grille's evolved into a bold aerodynamic enhancer, channeling airflow through the integral hood scoop and over the windshield onto a coupe-style roofline to reduce drag. Airflow for battery cooling and the climate control system pass through the grille and active vanes in the front bumper apertures which open when required. Flush door handles preserve the clean lines and contribute to superb aerodynamics.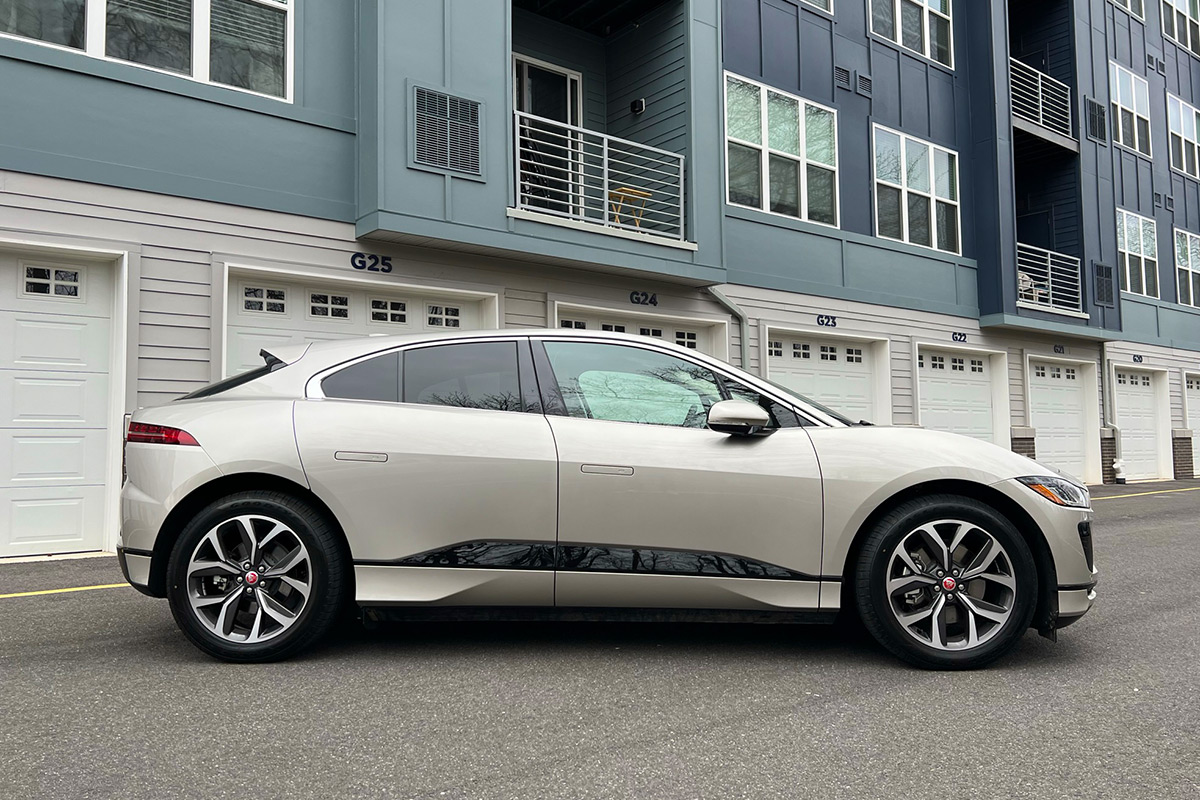 The interior of the Jaguar I-PACE really blew me away, as it's first-class all the way. Compare this to my father's Tesla Model 3, and the difference is night and day. Step inside, and you're greeted by beautiful supple leather, along with a mixture of gloss black and aluminum trim, and a nicely integrated infotainment screen and HVAC controls in the center stack. It all feels properly upscale and suitable for the brand, and fit and finish is great. The standard 825-watt Meridian 3D surround sound system is also pretty amazing sounding!
We found the I-PACE to be surprisingly roomy, with comfortable seating for five, along with plenty of cargo space. There's 25.3 cubic feet of space behind the rear seats, and 51 cubic feet with the rear seats folded down (though they don't fold completely flat). There's also a small front trunk, good enough for a laptop bag, briefcase, or other small items.
Of course, the interior is not without its faults. It's hard to see out of the rear window due to its shape and angle, and being darkly tinted makes it even worse. An optional ClearSight rear view mirror likely addresses that problem, but our car didn't have that. The shift buttons are also really poorly thought out, with Drive on top and Park on the bottom, causing confusion time and time again. And despite coming loaded with technology, there's no front camera or wireless charging standard, both which would be useful features to have.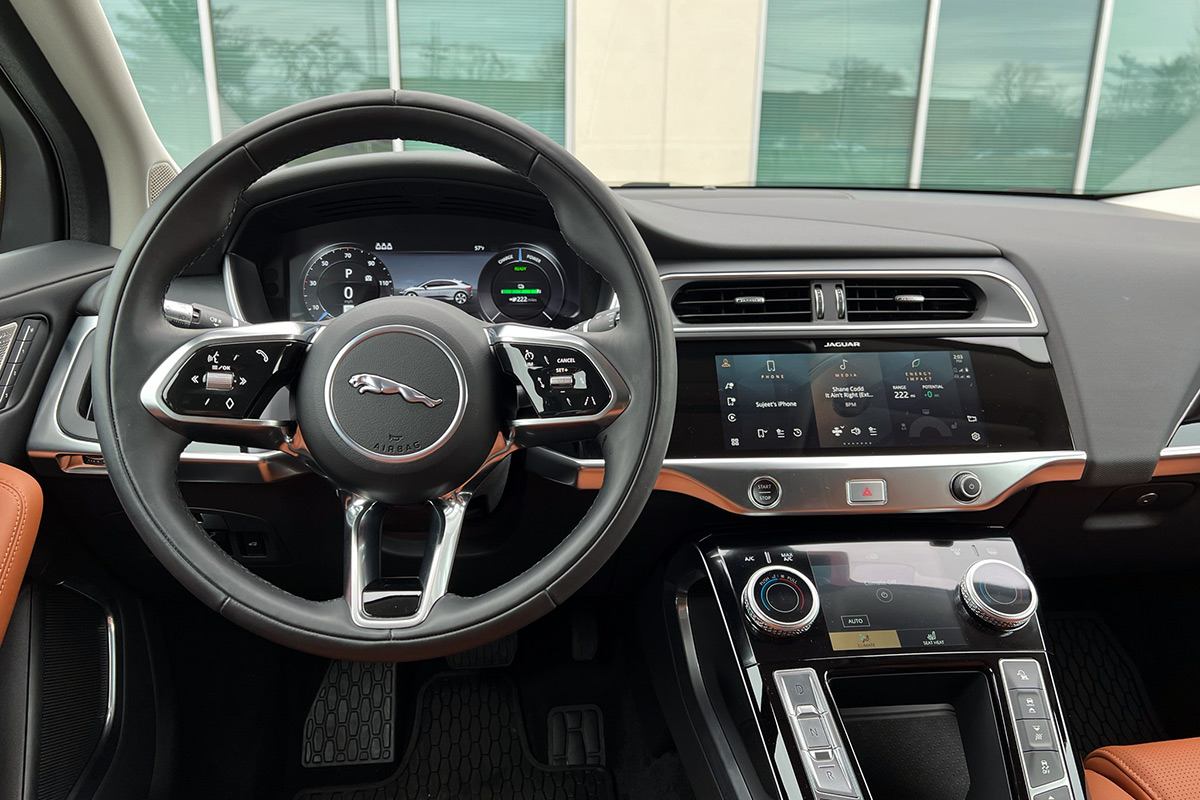 On the road, the 2022 Jaguar I-PACE is an absolute hoot to drive, with super-fast acceleration (0-60mph in 4.5 seconds), and all-wheel drive putting every bit of the 394 horsepower and 512 lb-ft of torque to the pavement instantaneously. The car's handling is equally impressive, with the advanced double wishbone front and integral link rear suspension delivering both comfy ride comfort on long trips and sports car agility when the roads get twisty.
Standard air suspension with available Adaptive Dynamics featuring continuously variable shock absorbers. The self-leveling system is designed to maintain the optimum suspension geometry even when the vehicle is fully loaded and lower the vehicle at speed to optimize aerodynamic efficiency. As a result, both driver and passengers enjoy supreme comfort as the suspension provides a combination of bump absorption and body control that feels calm and natural in a variety of conditions.
Jaguar engineers utilized an electric brake booster on the I-PACE instead of a conventional brake vacuum servo. This gives the brake system more flexibility when blending regenerative and traditional mechanical braking, providing consistent and precise pedal feel in various conditions. The I-PACE also enables you to select either high or low levels of regenerative braking to assist in maximizing efficiency and optimizing vehicle range. I kept the car in high regenerative braking mode, which allowed for one-pedal driving most of the time.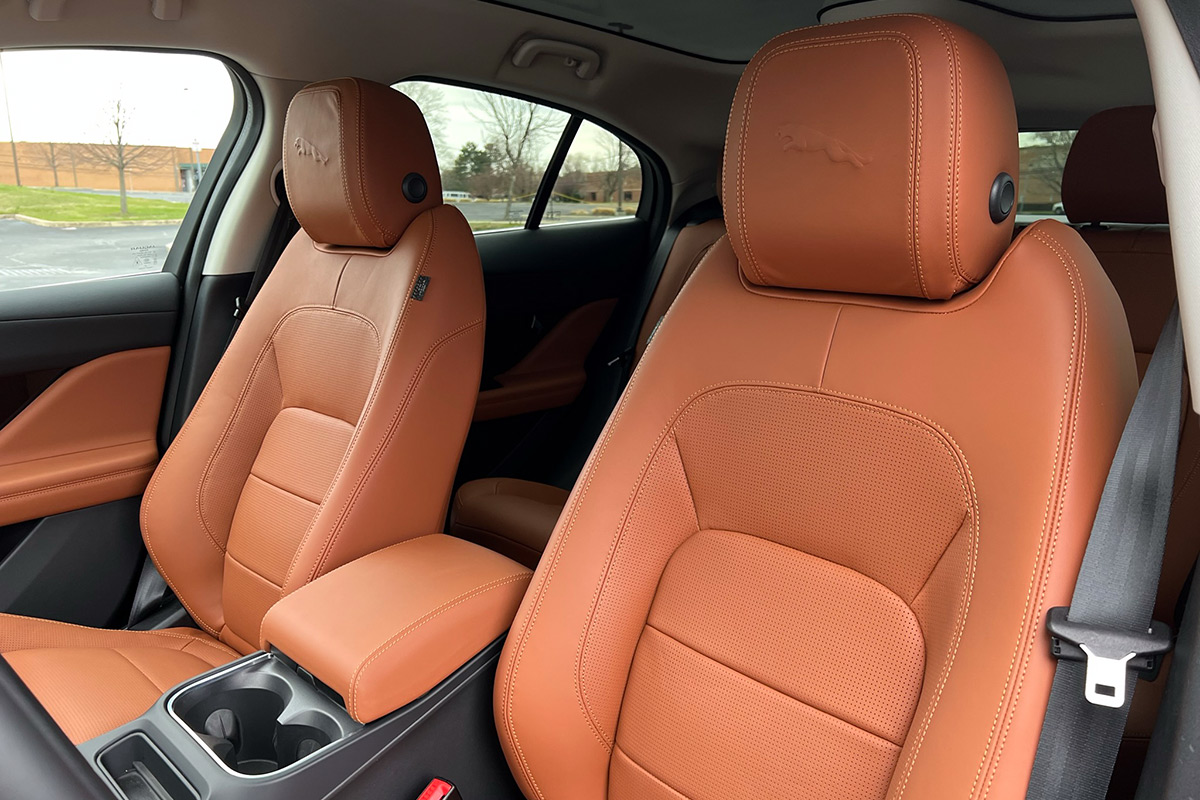 Being an electric vehicle, range and charging time are two of the most important things one must consider, as there's nothing worse than being stuck sitting around for hours in a parking lot, waiting for your car to charge up. And this is where the car fell short for me. The I-PACE features a 90kWh lithium-ion battery and has an EPA estimated range of up to 222 miles from a single charge, and the ability to add 63 miles of range in 15 minutes when connected to a 100-kW DC charger.
Now for most people who are just commuting back and forth to work or driving around town, this is more than sufficient, as you have plenty of range for the day, and you can plug in at home overnight, waking up to a fully charged car. But if you plan on doing a road trip, or if you have to rely on public chargers like me because you live in a condo, it's a very different story. Despite living in a very populous area, 100-kW are very few and far between. As such, we had to go with a local EVGo "fast charger" that was 50-kW, and that was a painfully slow process.
During our week with the car, I did quite a bit of driving (visiting my g/f is 90 miles roundtrip), and as such I had to recharge the car twice during my week with it. The first time I charged the car, 25 minutes of charging got me an additional 45 miles of range. But I needed more range, so I stuck around for about an hour, after which I tapped out and figured I had enough range to get me through the rest of the week. But then an unexpected trip to New York City required me to charge up again, and this time I spent nearly TWO HOURS there, melting in the 90-degree heat as I waited for it to recharge.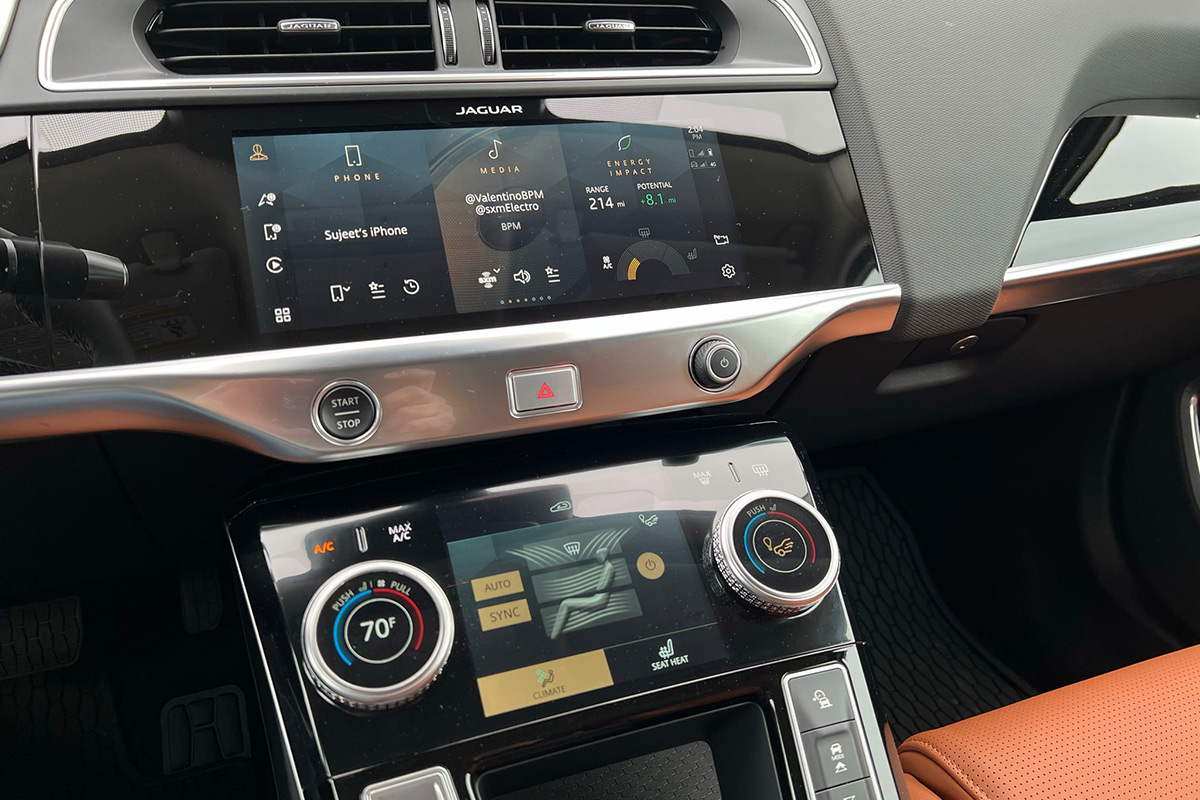 And therein lies the rub. My Dad recently did a 3,000+ mile road trip in his Tesla Model 3, and he was able to find Superchargers along the way that got him charged up and on his way within 30-45 minutes. But the public charging infrastructure is a wildly different animal, and as I discovered firsthand, finding a 100-kW fast charger isn't exactly an easy task, so you might have to settle for a slower one. In which case, you're going to have quite a wait on your hands.
This situation isn't unique to Jaguar, as it plagues all non-Tesla EVs out there right now. But for whatever reason, the Jag is very slow to charge compared to other EVs we've driven, and other journalists had similar experiences. Ironically, this is supposed to be an improvement over last year's model, as they upgraded the I-PACE's onboard charger from a 7-kW unit to a faster 11-kW unit.
With all that said, if you plan to drive your I-PACE locally and have a garage to charge your car in overnight, then public charging becomes a moot point for the most part. And if that's the case, this is one fantastic little ride that's definitely worth considering.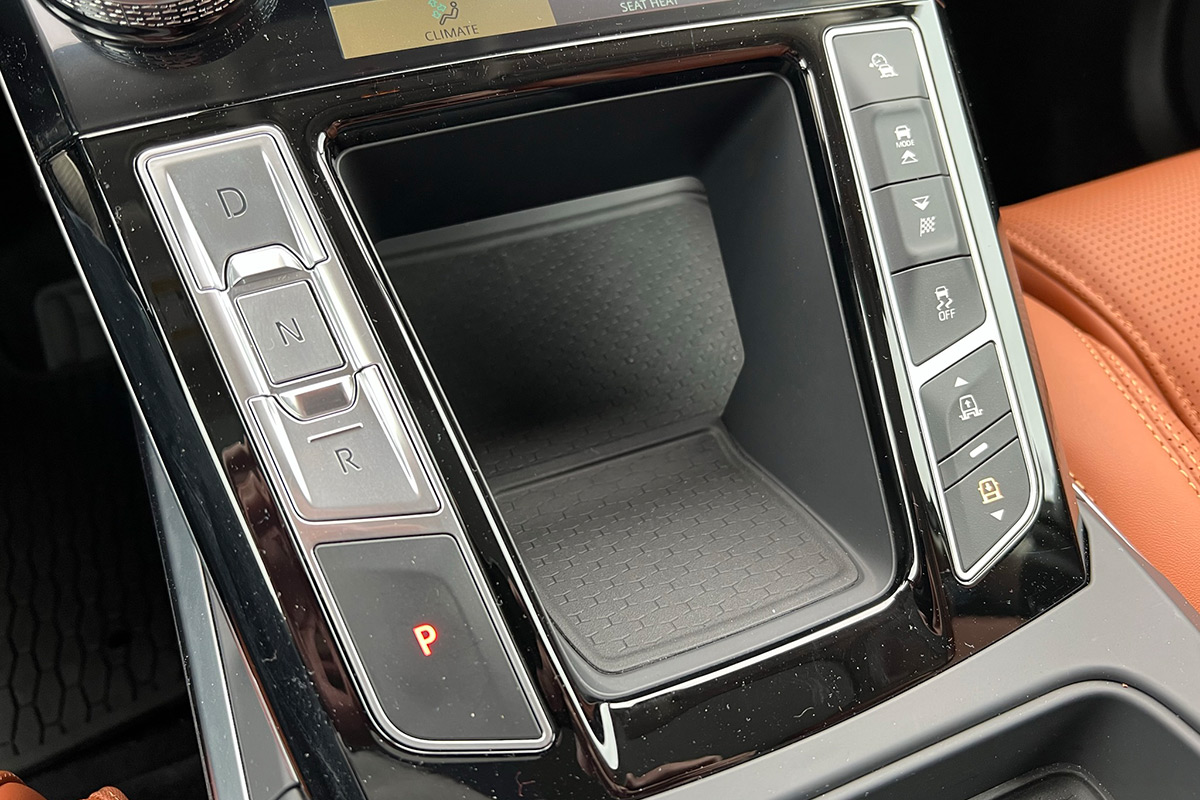 The 2022 Jaguar I-PACE is only offered in one trim level (HSE) moving forward, and it comes pretty well equipped right out the gate. Pricing starts at $69,900 (a price cut of about $10,000), and our lightly optioned tester came in at $73,895. Yes, that's a bit on the high end, but this is a Jaguar after all, you're paying a little bit of a premium for that luxury marquee.
But that said, the competition is formidable now compared to when the I-PACE first came out, between the Audi Q4 E-tron, the Tesla Model 3/Y, Polestar 2, and Kia EV6, among others. Most of them start at considerably lower price points, while all offering more range.
And therein lies the biggest challenge for Jaguar. Even with the recently $10K price drop, it's still an expensive car with some real-world range/charging limitations. But price and range notwithstanding, the I-PACE is probably my favorite EV on the market right now. Coming from me, that's some really high praise, so take that for what it's worth.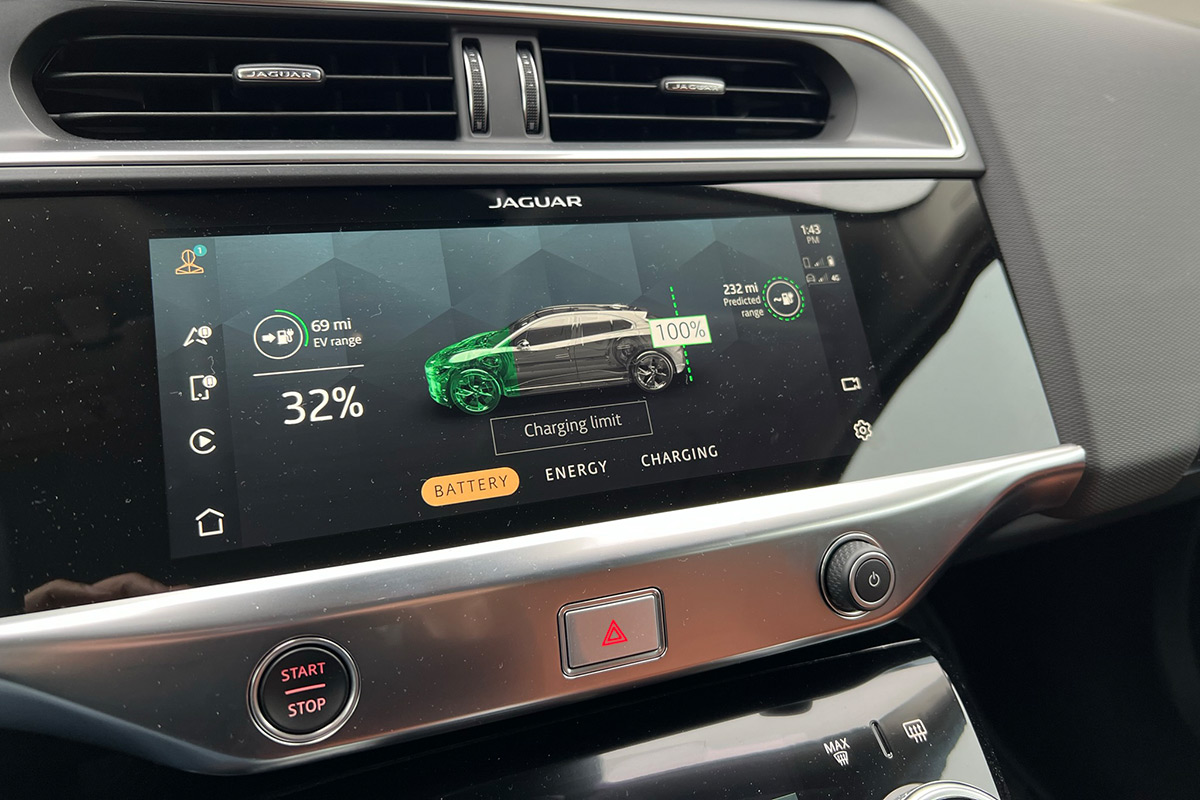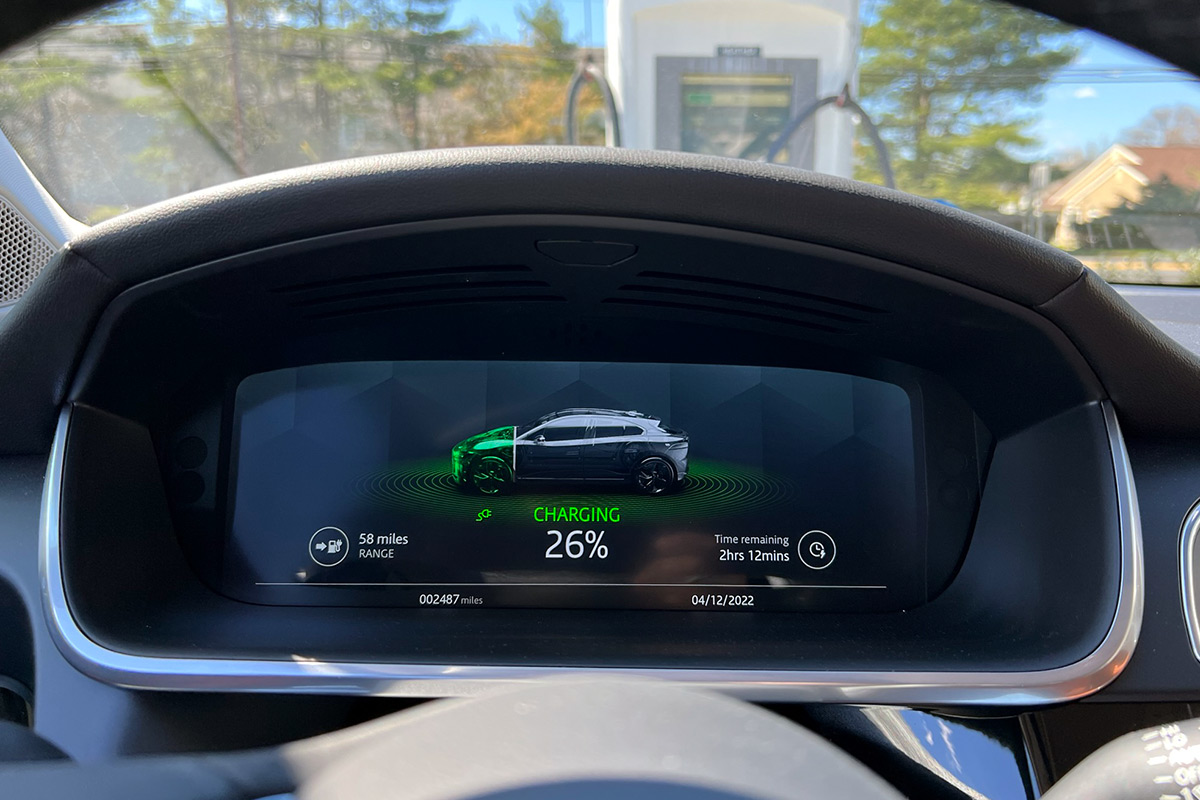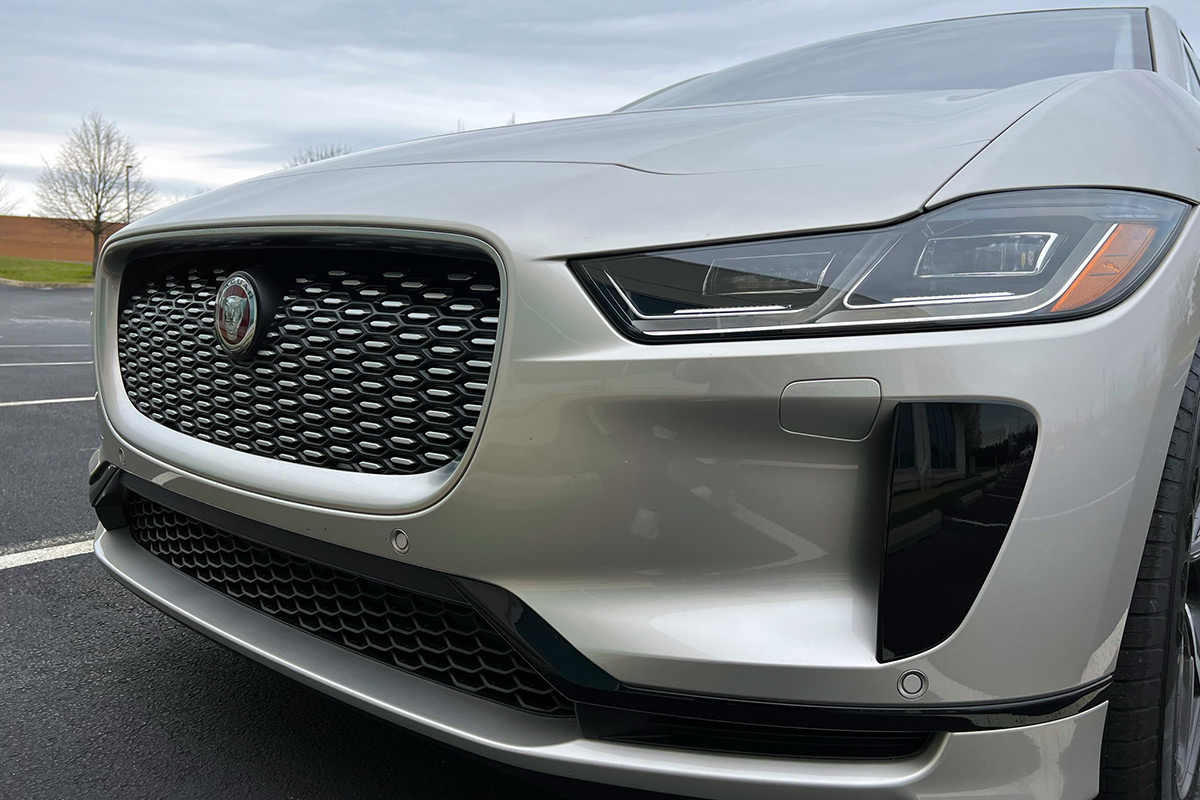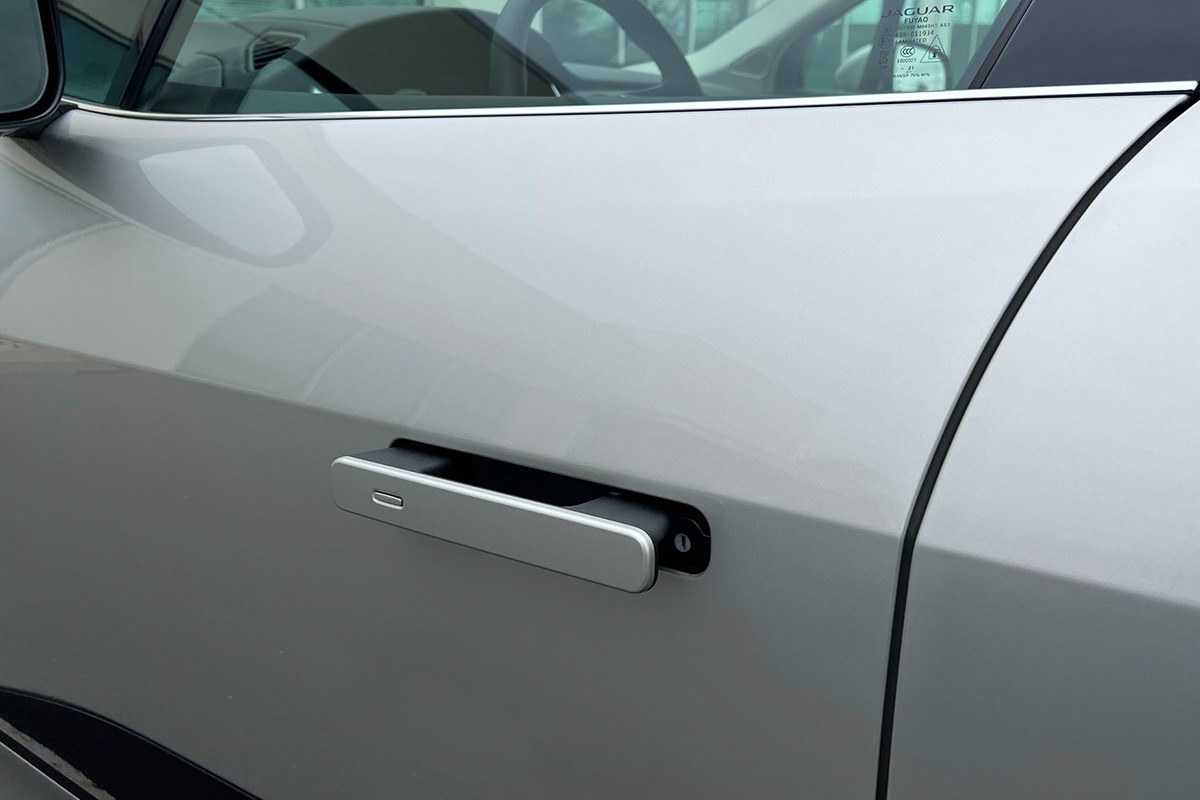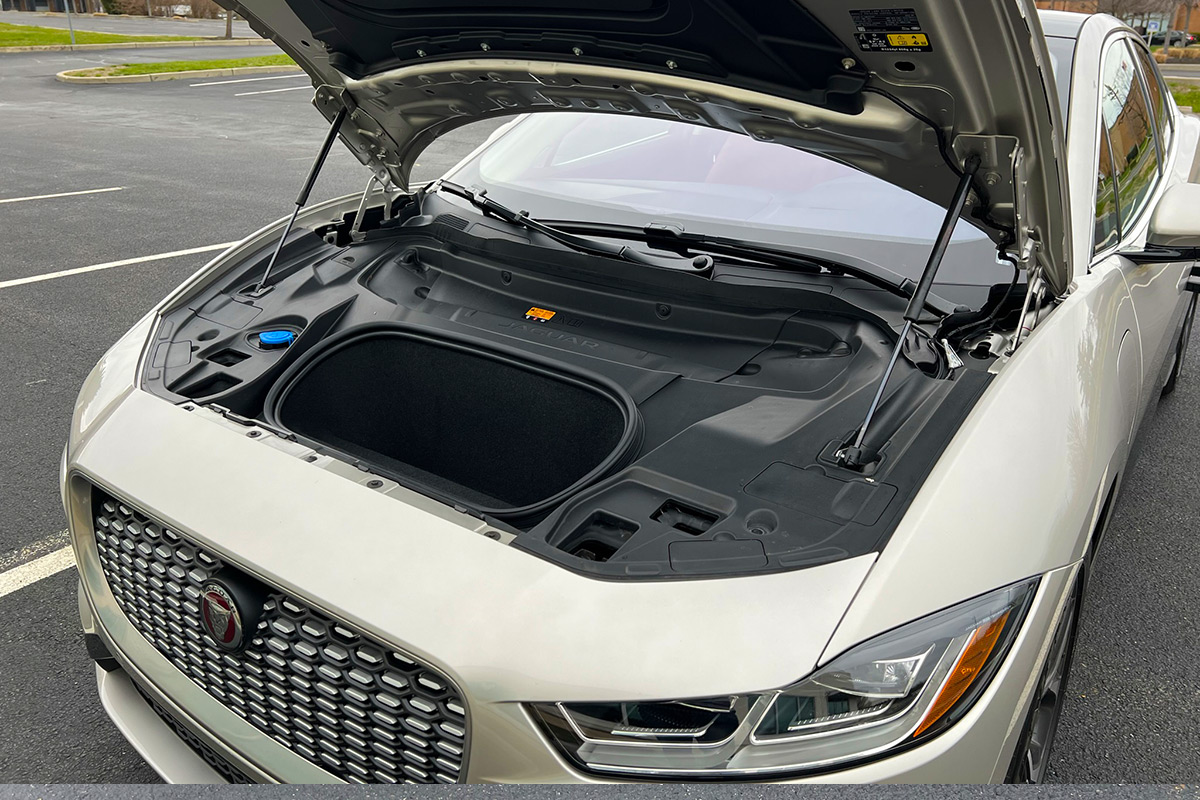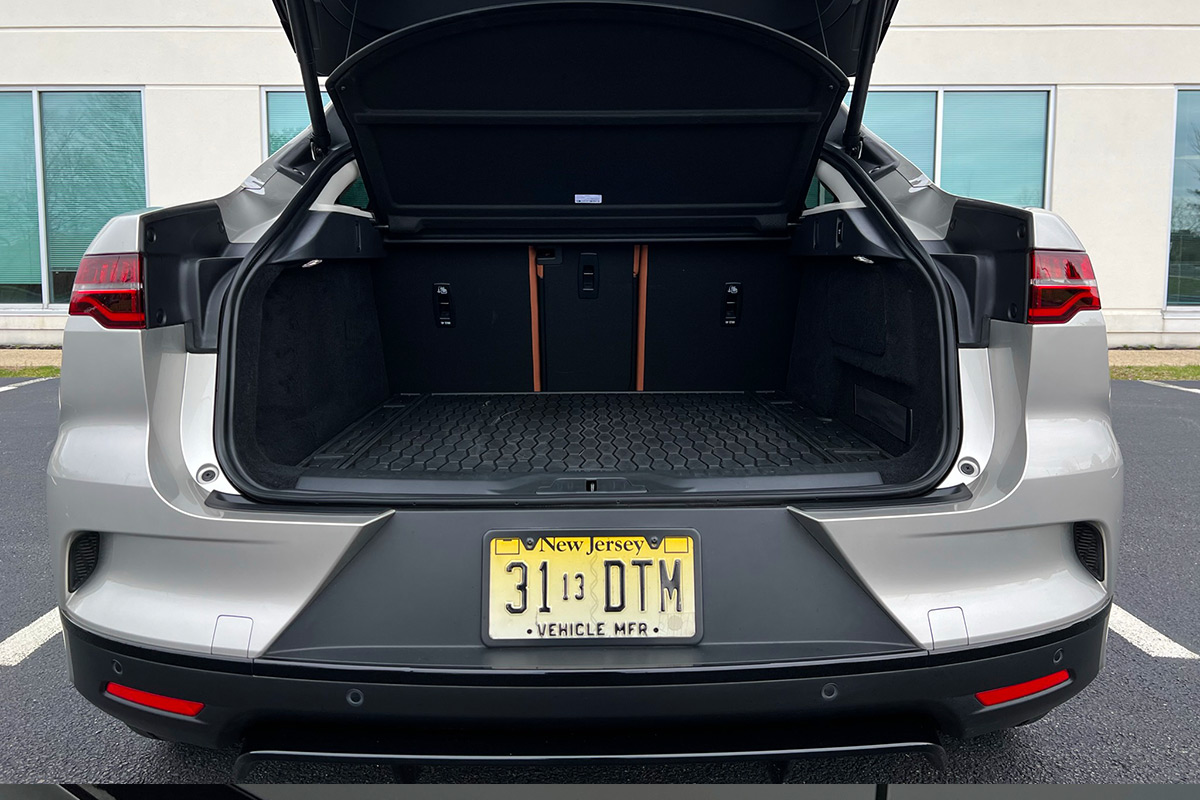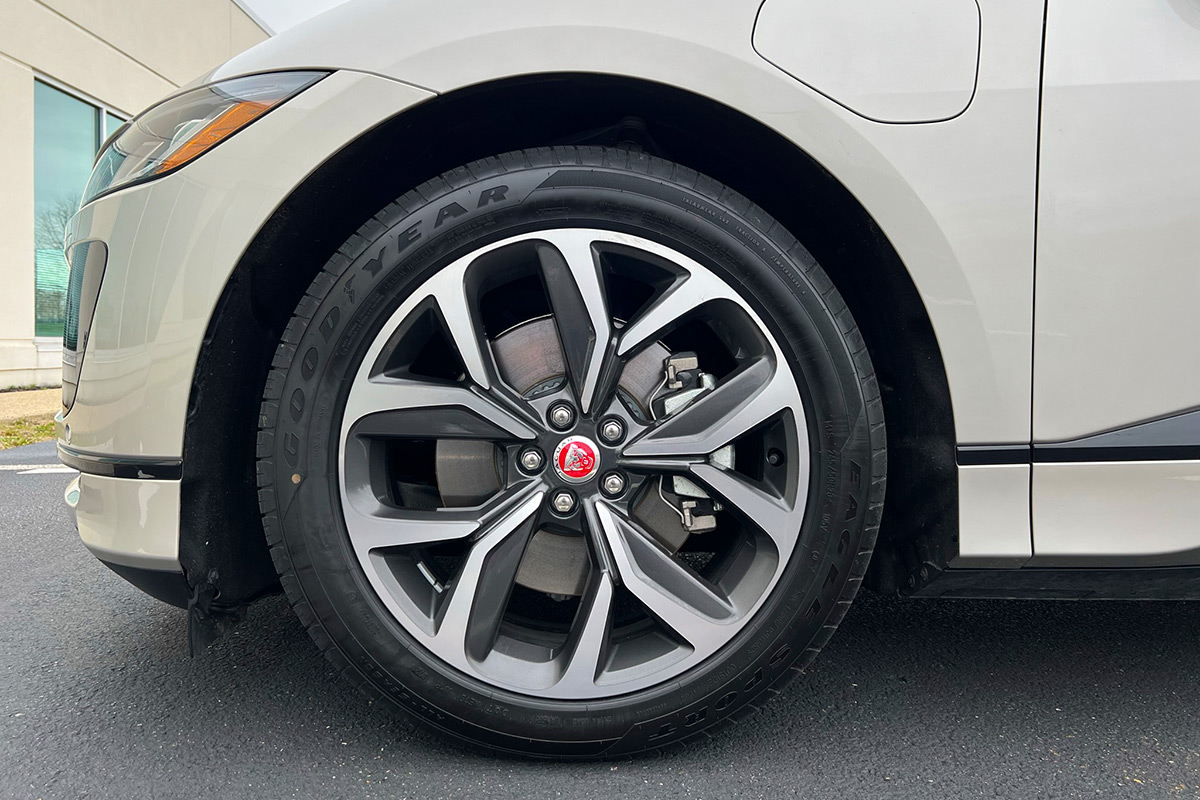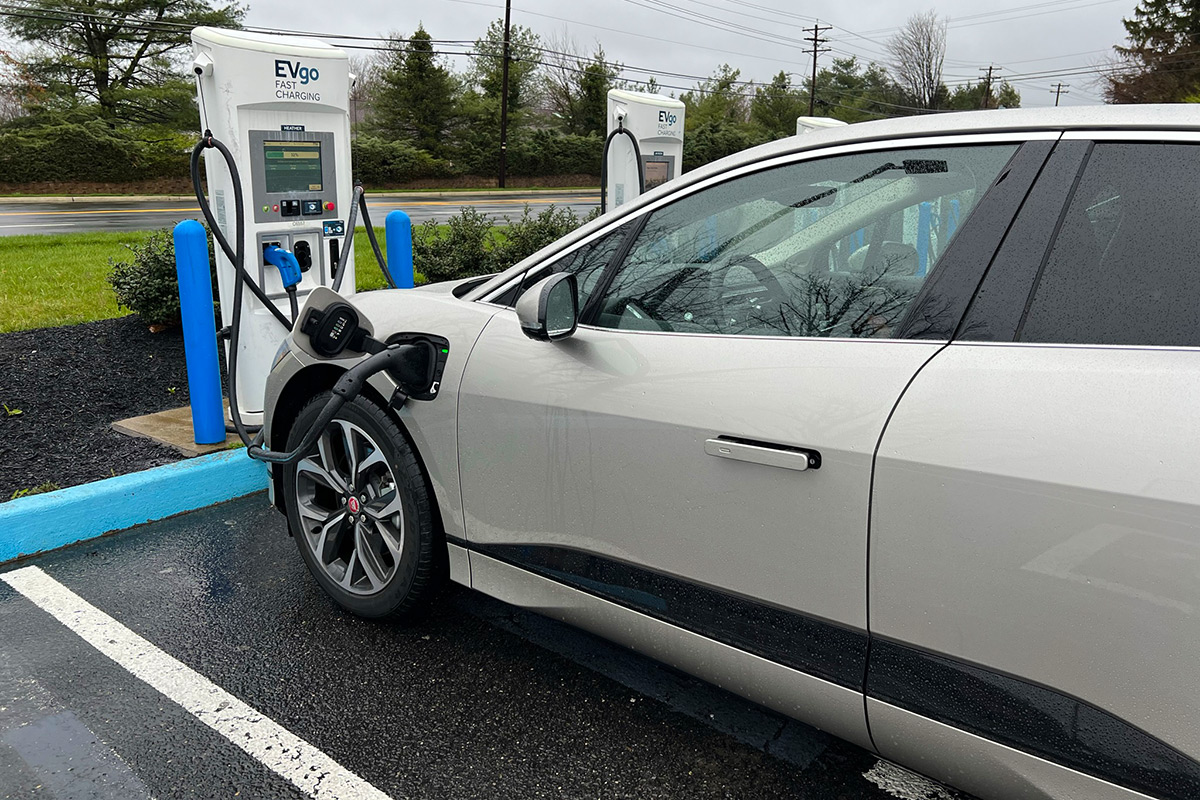 Visit www.jaguar.com to learn more about the 2022 Jaguar I-PACE.