2024 GMC Hummer EV SUV: A Modern Day H2 You Can Drive Without Guilt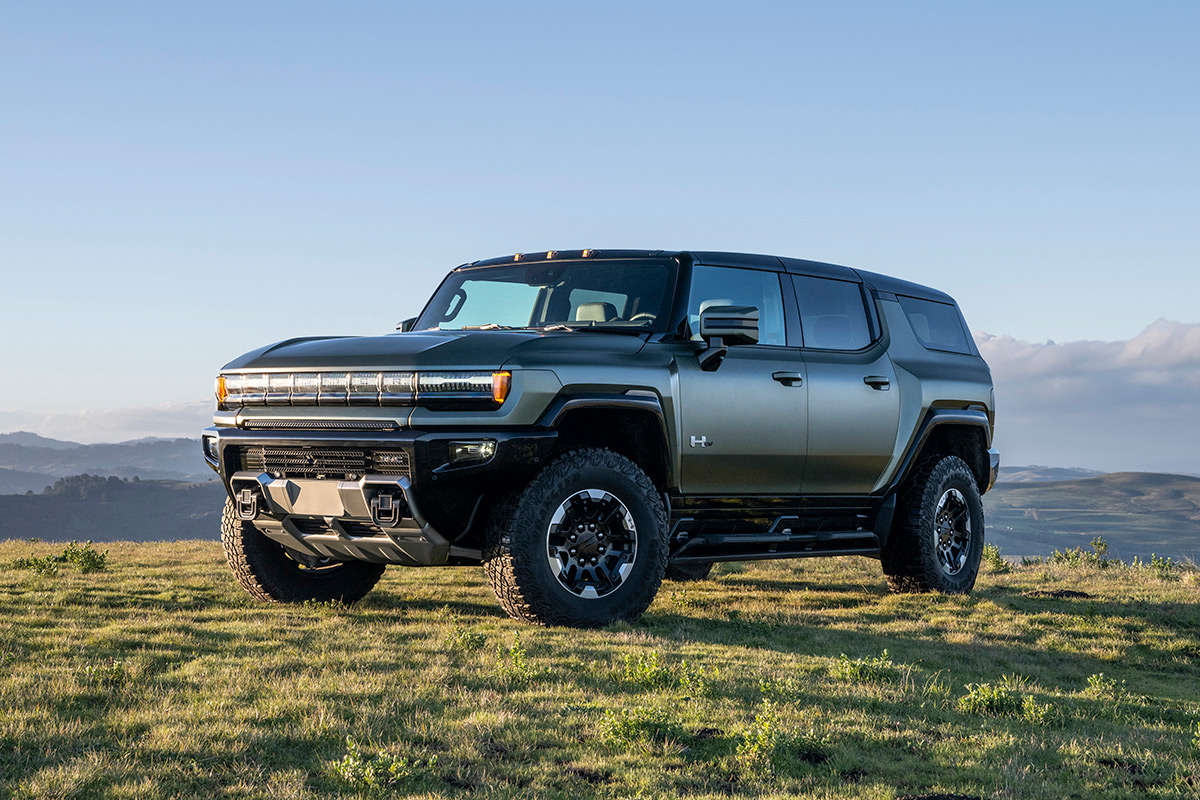 Back in 2003, I was doing well financially and seriously toyed with the idea of buying a bright yellow Hummer H2. Did it make sense driving a massive SUV that barely gets 10 MPG and has a massive 32-gallon tank? Of course not! But gas was cheap back then, and I thought it would be fun driving a real-life Tonka truck.
Sadly, life had other plans for me, and I never did get that H2. But a few years later, when gas prices crept over $3/gallon, I was pretty thankful that things didn't work out, as I would have been dropping $100 per fill-up. And that's precisely why Hummers fell out of favor and were ultimately discontinued in 2009.
Amazingly, the Hummer nameplate found a second life under the GMC brand, resurrected in 2020 as the Hummer EV, an all-electric "supertruck" that's about as far removed from its gas-guzzling predecessors as it can get, built for a more modern, environmentally conscious world. And a few months later, they introduced an SUV variant as well, which we just recently drove.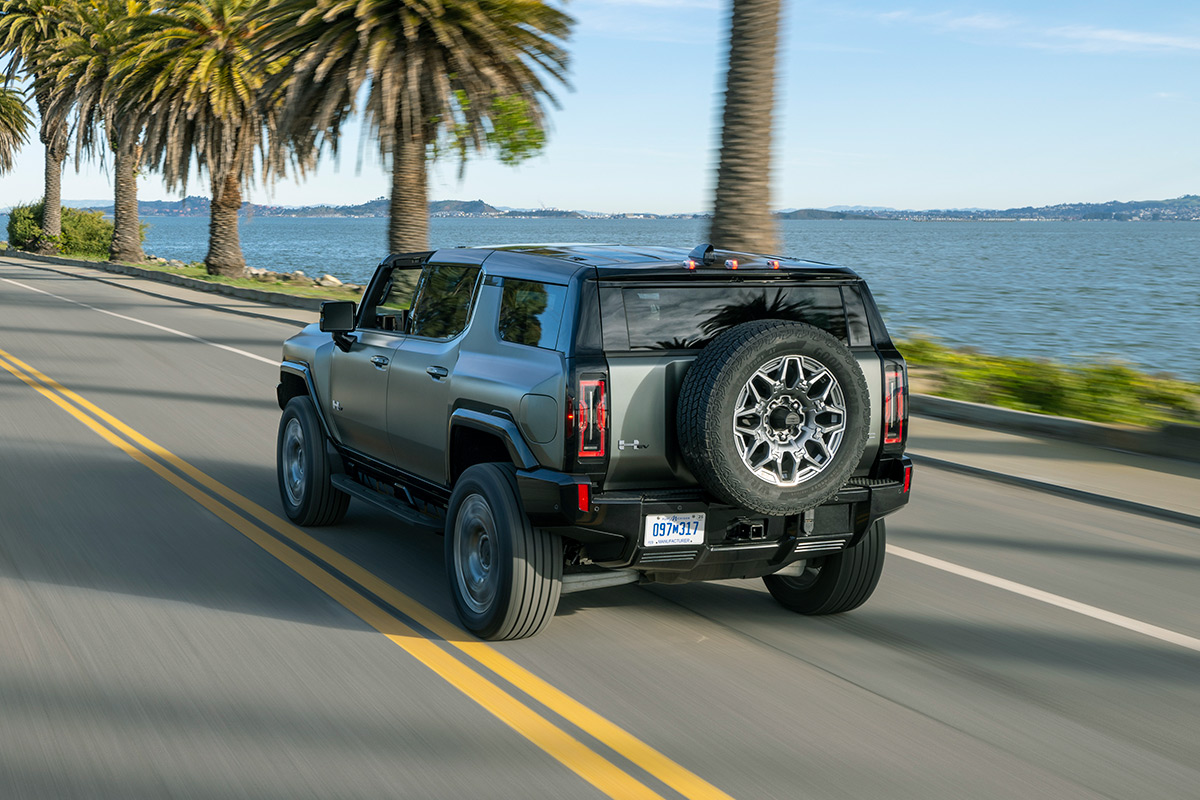 The 2024 GMC Hummer EV SUV is an electric vehicle like no other, packing 830 horsepower and 1,200 lb-ft of torque and delivering supercar-like acceleration (ripping from 0-60 mph in 3.5 seconds) despite weighing over 8,500 pounds, yet equally at home off-road, outfitted with 35-inch off-road tires and capable of fording 2.5 feet of water. It's absolutely crazy!
Compared to the Hummer EV pickup truck that was introduced last year, the SUV version is about 20 inches shorter, with a 9-inch shorter wheelbase. Because of that, GMC can't fit the big battery pack from the truck in the smaller SUV. The smaller battery pack they use "only" delivers 830 horsepower, with ~300 miles of driving range – more than plenty on both fronts.
On the flip side, the shorter wheelbase makes the SUV model significantly easier to maneuver (especially with four-wheel steering, which gives you a turning circle of only 35.4 feet), and it boasts increased departure and breakover angles of 49.0 and 34.4 degrees, respectively. And if you get yourself into a really tight situation, CrabWalk (where all four wheels turn in the same direction) lets the SUV drive diagonally.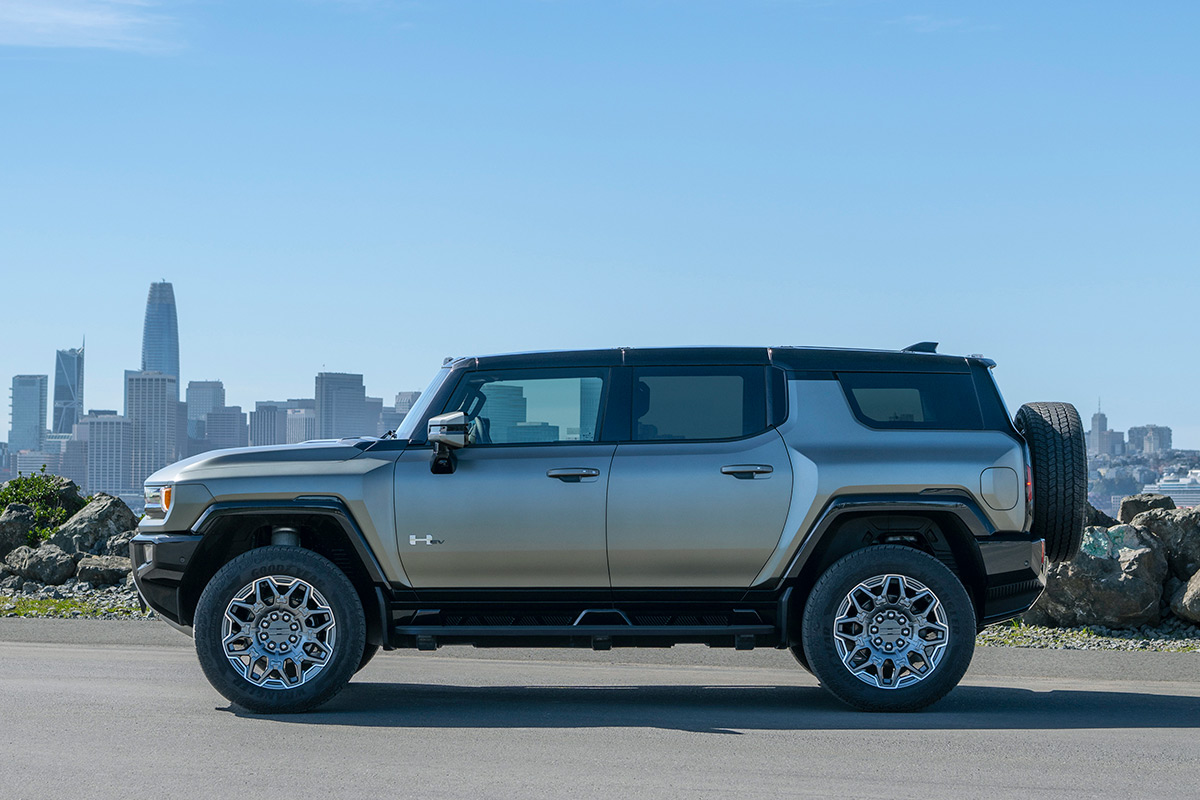 While I'd love to give you some first-hand account of the Hummer EV SUV's off-road prowess, due to unprecedented rain in Napa, California, their off-roading course got flooded out and became a muddy mess. I did get a ride-along around the course in a Hummer equipped with the $5,000 Extreme Off-Road Package (which comes with 35-inch off-road tires on 18-inch wheels, underbody cameras, full skid plates, and locking front and rear diffs), and it was pretty remarkable to see what this massive EV could do.
The Ultium drive system can channel power to a single wheel, keeping the vehicle moving in some of the toughest driving conditions and terrain, including 13 inches of suspension travel, climbing 60% grades (forward and reverse), scaling 18-inch verticals and fording water more than 2 feet deep.
Now, it's hard to say whether anyone will actually take their six-figure EV off-roading or not, but it's good to know that if the occasion presents itself, the Hummer is more than up for the challenge, designed from the start with off-road capabilities in mind.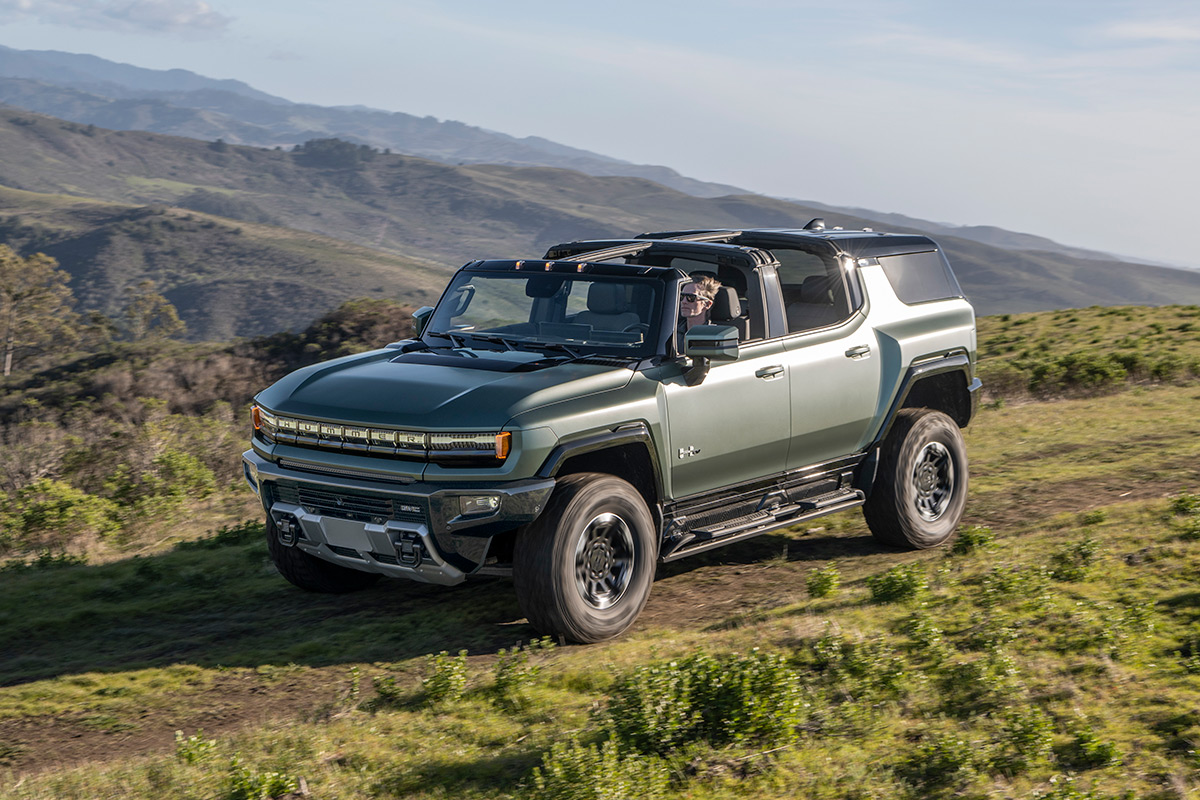 Driving the GMC Hummer EV SUV from San Francisco to Napa (and back) allowed us to test it out in a variety of different settings, including in the city, on the highway, and on backroads, much like normal owners would. And honestly a bit of a mixed bag. In the city, the Edition 1's standard four-wheel steering lets you make tight U-turns like you wouldn't believe.
The Hummer EV SUV's massive size does prove to be challenging at times, as she is a chunky monkey. With a width of 93.7-inches, the Hummer takes every bit of a highway lane, so I found myself constantly checking my side mirrors to make sure I was in my lane. And as you might imagine, on crowded city streets (like in downtown SF), it's even more claustrophobic.
Driving on the highway, I found the Hummer EV to have more than ample power (the joys of instant torque), a pretty compliant ride, and pretty decent steering feel. Cabin noise was on the louder side, a combination of the 22-inch wheels and wind noise due to the square shape of the car. Even worse was the "futuristic" sound effects that play through the speakers. In most cars, you can turn this stuff off completely, but even in the quietest mode, you can still partially hear it in the Hummer. 🙁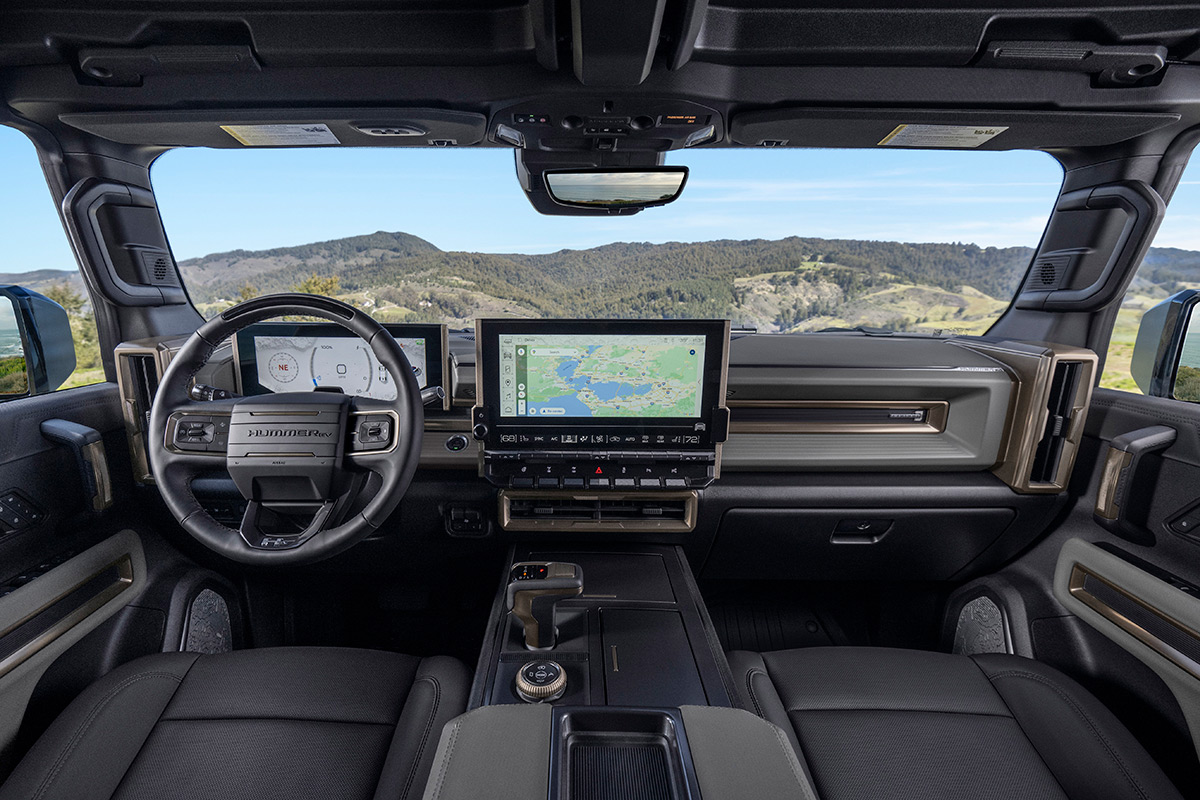 Of course, we have to talk about the infamous Watts to Freedom launch control mode, which lets you pull off a 0-60 mph sprint in 3.5 seconds! Due to the rainy weather, we weren't able to test it out to its full potential, but even so it was absolutely INSANE!
We found a private road without traffic and decided to try it out. When you enable WTF mode (by double-tapping the traction control button), you see a nifty animation on the infotainment screen along with some dramatic sound effects and a rumble of the driver's seat to let you know that it's party time. Very dramatic, but very cool.
The Hummer EV SUV also begins preconditioning the battery pack and motors and drop the ride height by about 3.5 inches to its lowest position. Once ready, you simply press hard on the brake pedal, stomp the accelerator, let go of the brake, and hold on for dear life. OMG, the launch just pushes you back in your seat like you wouldn't believe, and my phone (sitting on the wireless charger) almost went flying. It's impossibly fast, especially for an 8,500+ pound vehicle, and both me and my drive partner started giggling involuntarily. Wild stuff.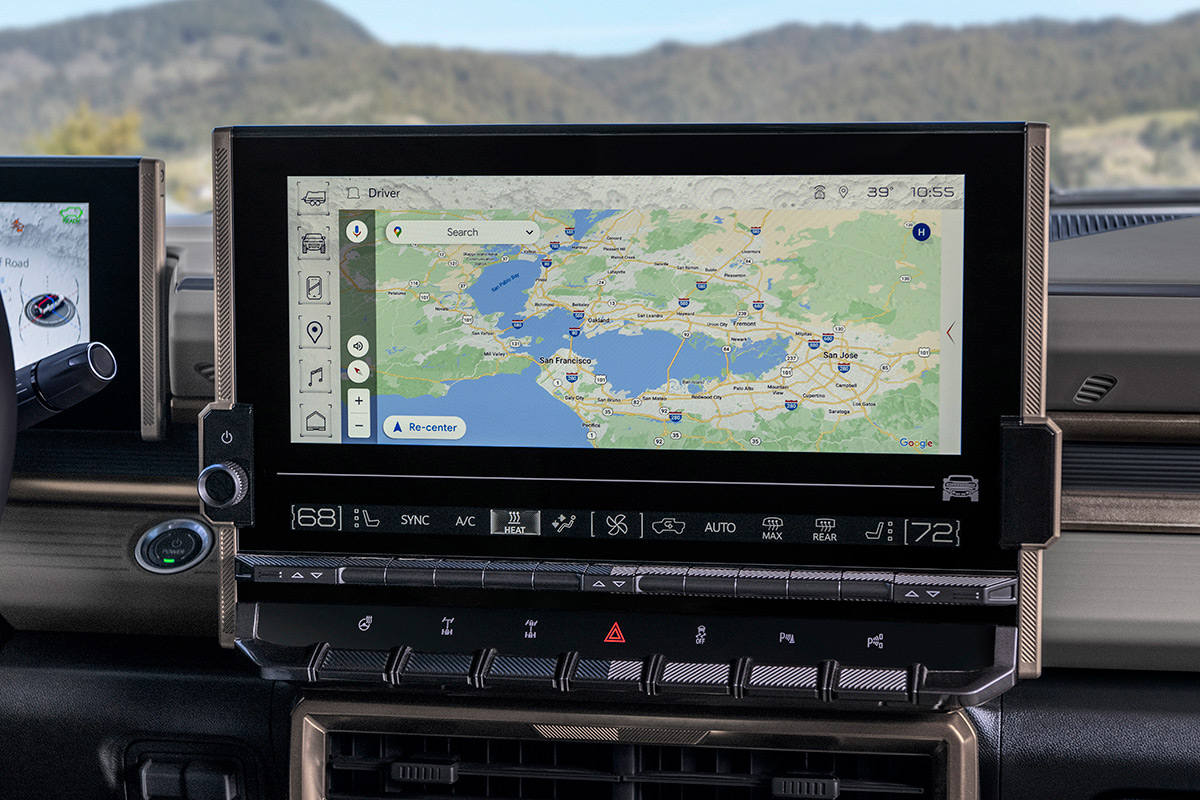 Visually, I think GMC designers knocked it out of the park, delivering a modernized version of the Hummer H2 that turns heads everywhere you go. We loved the chunky fender flares, the aggressive front grille/lights, not to mention the Edition 1 exclusive Moonshot Green Matte paint, which suits this truck so well. And the SUV also offers some more practicality than the truck variant, with a large and useful rear cargo area, not to mention a full-size spare.
Sadly, the interior is reminiscent of the old H2, a sea of cheap plastic, clunky looking buttons, and overall not an interior befitting a vehicle at this price point. It's hard to believe this is the same company that makes the gorgeous Denali interiors, but clearly in this case the money was spent on other areas, with the interior being a bit of an afterthought.
Thankfully, they didn't skimp on the tech. Multimedia duties are handled by a 12.3-inch digital gauge cluster and 13.4-inch central touchscreen, providing a wealth of vehicle performance and driver awareness information. GMC uses Epic Games' Unreal Engine for the Hummer's processing system, which gives us all of those great graphics and animations. Additionally, all Hummer EV models feature Super Cruise, offering hands-free driving (and automatic lane changing) on more than 400,000 miles of enabled roads.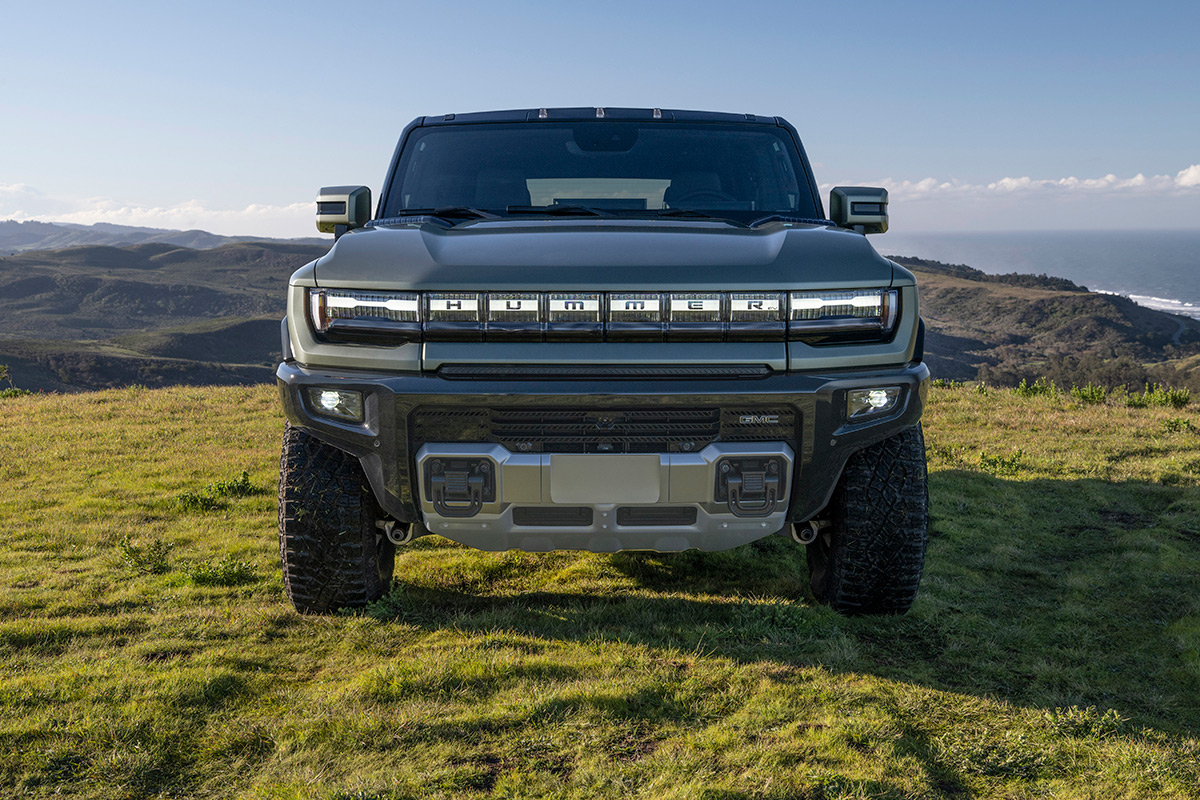 Range anxiety is a real concern for EV buyers, but with the Hummer EV SUV, that shouldn't be a concern. The 20-module, double-stacked Ultium battery offer more than 300 miles of range on a full charge and power for three motors. A new 19.2kW AC charger can charge the battery from 20% to 100% in eight hours. The Hummer EV SUV can also 800-volt DC fast charge at speeds of up to 300 kW, adding 100 miles of range in as little as 14 minutes.
What's more, the Hummer EV SUV also supports bidirectional charging. Using the available Power Station, it can charge another EV at up to 240 volts/25 amps/6 kW or power a variety of equipment or accessories at 120 volts/25 amps/3 kW. It's a neat little feature that could come in handy someday, and this feature will also be added to the Hummer EV pickup for 2024.
The 2024 GMC Hummer EV SUV Edition 1 we drove has a sticker price of $105,595, which is some serious dough. But given the 90,000+ reservations that they've racked up thus far, it's clear that the Hummer resonates with a lot of people, electric or not, and the high price tag doesn't seem to be dissuading them either.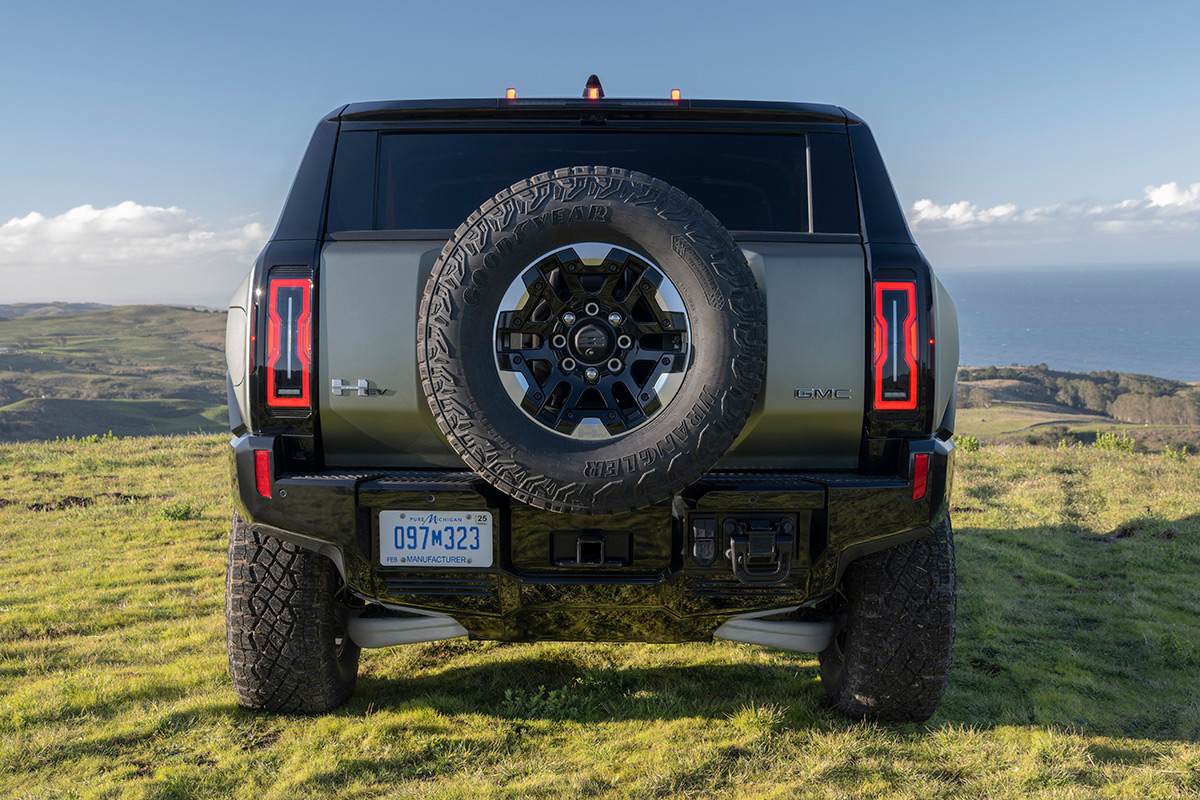 After spending a few days with the 2024 GMC Hummer EV SUV, I can tell you that it's easily one of the coolest vehicles on the road today. Sure, it's not without its faults, but overall GMC really did their homework, delivering an SUV that offers an exceptional balance of on-road performance and off-road capability, packaged in a big and bold statement piece like no other.
Seriously, if this bad-ass truck doesn't get people excited about EVs, then nothing will. Click here to learn more about the GMC Hummer EV.