Getting Down And Dirty With The 2023 GMC Canyon AT4X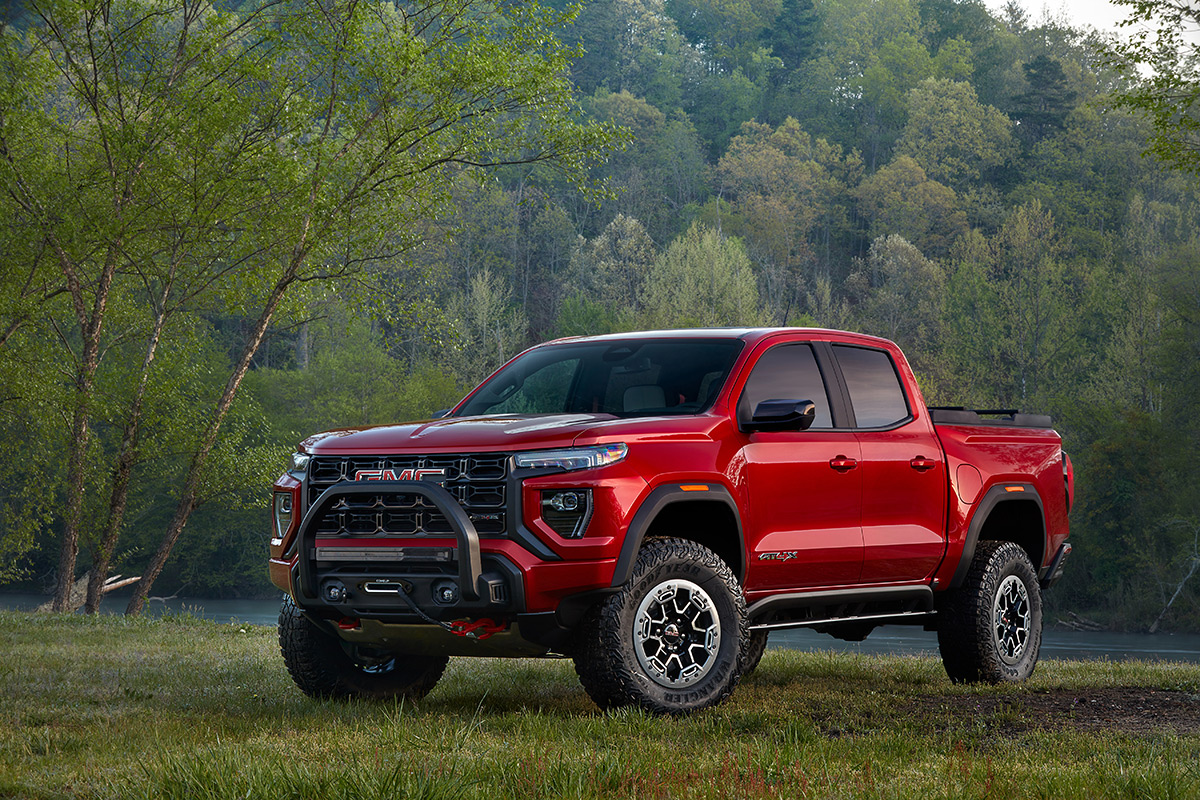 The all-new 2023 GMC Canyon is finally here, and it's ready to shake up the midsize pickup truck segment in a big way. Up until now, the GMC Canyon has been virtually identical to the Chevrolet Colorado, aside from some luxury trimmings to separate it from its working-class sibling. But for 2023, the Canyon really comes into its own.
As with the previous generation, the 2023 Canyon is offered in base Elevation, luxury Denali, and off-road AT4 trim levels. All trucks are powered by a 2.7-liter turbocharged inline-four (310 hp, 410 lb-ft) paired exclusively with an 8-speed automatic transmission. The Elevation comes standard with two-wheel drive; four-wheel drive with a true low range is optional on that trim and standard on the rest of the models.
But that's not all. For the first time ever, the Canyon is being offered in an even more bad-ass trim for serious off-road enthusiasts. Say hello to the rugged 2023 GMC Canyon AT4X!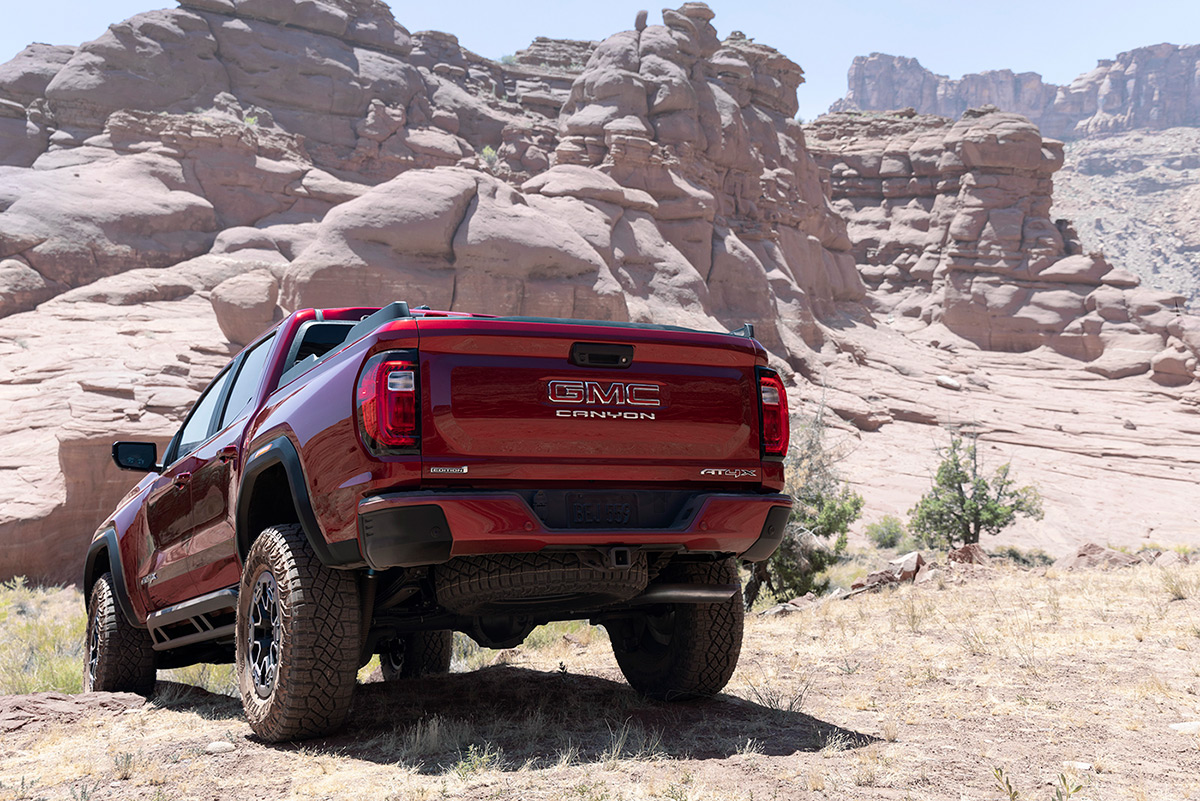 Following in the footsteps of the 2022 GMC Sierra AT4X, the smaller Canyon now gets the AT4X treatment, and it was purposefully engineered to be a premium, no-compromises, off-road midsize truck. With a higher factory lift than every other Canyon trim, Canyon AT4X offers serious off-road equipment and advanced technology for enhanced capability and convenience — no matter the destination.
The Canyon AT4X boasts a factory lifted, ultra-wide track to elevate the off-road performance and capability, along with standard with 33-inch MT tires, Multimatic DSSV dampers, front and rear e-lockers, underbody skid plates and the AT4X-exclusive Baja drive mode. With the three-inch factory lift, it enables 10.7 inches of ground clearance standard and a 36.9-degree approach angle.
What's more, the Canyon AT4X will also have an available (and extremely limited) Edition 1 package, which includes front- and rear-facing underbody cameras with wash function, a sick off-road front bumper with safari bar, front 30-inch off-road grille light bar, COMEUP winch, 17-inch beadlock capable wheels, reconfigurable bed rail system, performance front skid plate, and a unique Edition 1 tailgate badge. It's a real head-turner for sure!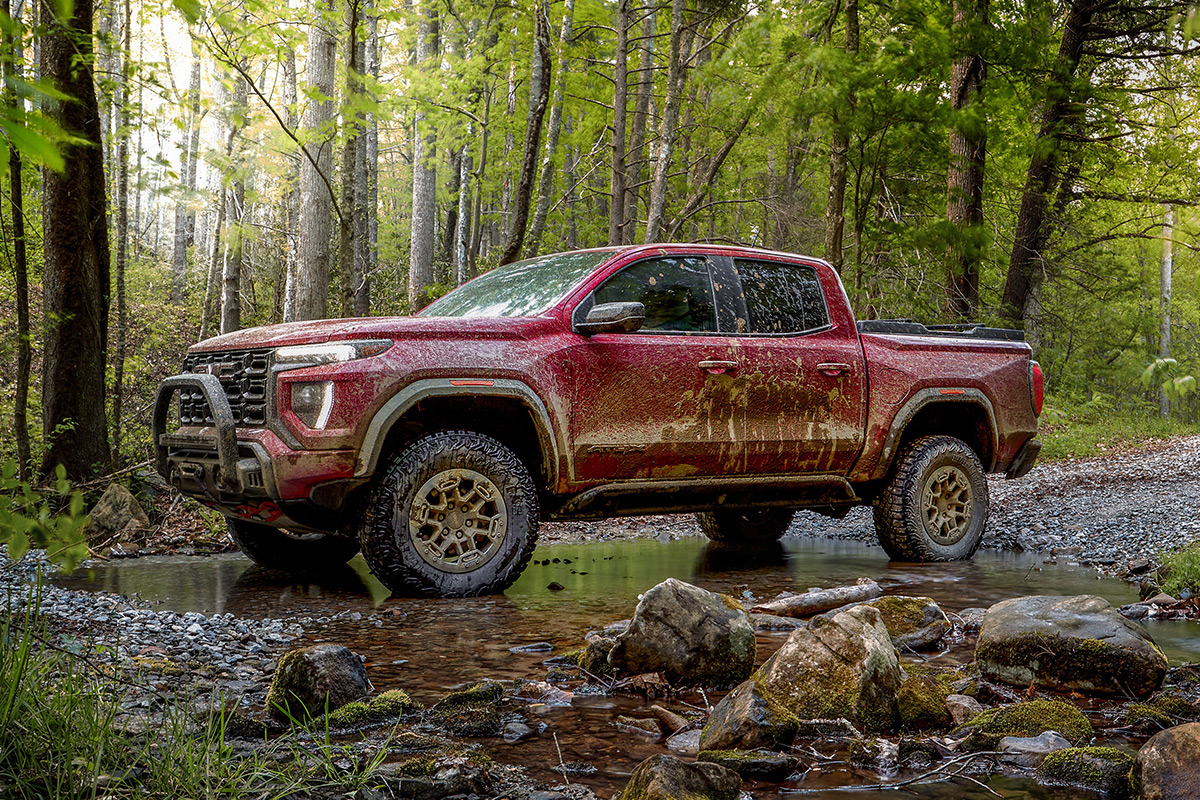 Sounds pretty great, right? To find out, GMC brought us down to Asheville, North Carolina to drive the full lineup of Canyons, with me getting seat time in the Elevation, Denali and AT4 trims on mixed-terrain drives, along with a full morning doing some pretty serious off-roading in the AT4X. And I came away seriously impressed with all of them, but most of all the AT4X.
While the 2023 GMC Canyon AT4X looks like it's built for off-roading, it's surprisingly solid and comfortable on-road as well. We drove roughly an hour on highway roads to reach the trails, and despite having knobby 33-inch mud terrain tires and such, the Multimatic DSSV dampers made for a downright comfortable ride. I honestly wouldn't hesitate to daily drive this truck, and not many off-road rigs can say that.
The Canyon AT4X (and the rest of the models) are powered by a 2.7-liter turbocharged inline-four engine that puts out 310 horsepower and 430 lb-ft of torque, and it's a gem of an engine, providing plenty of power on the road, not to mention good towing capacity (7,700 pounds). It works well with the eight-speed automatic transmission to deliver smooth, seamless power. Steering feel is good, and the body stays nicely planted in corners. A sports car it's not, but it doesn't feel truck-like either.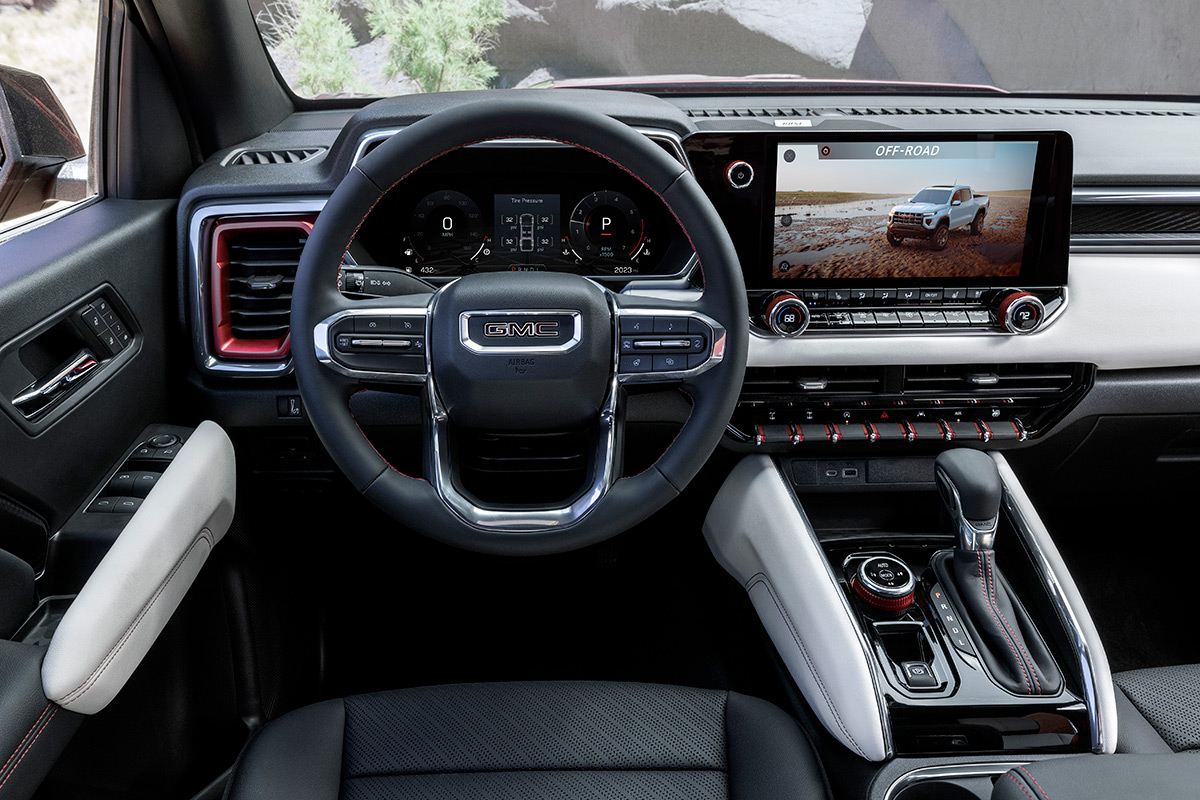 Visually, there's a whole lot to like about the new Canyon. As you can see in the photos, GMC went for a pretty aggressive look, and it really suits the truck. The headlights and DRLs, the jutting front bumper, the factory lift (2-inch for Elevation, AT4 and Denali trims, 3-inch for AT4X) and ultra-wide track, they all work together to deliver a pretty mean and tough looking truck. For me, it really was love at first sight.
Every model ups the ante, with the Elevation being the workhorse, the AT4 bringing a tough of ruggedness to it, and the Denali giving you that bling-bling with lots of chrome, large 20-inch wheels, and more. And then there's the ATX4, which looks like something straight out of Mad Max, and that unique treatment comes inside as well.
The Canyon AT4X features an exclusive Obsidian Rush interior with Ceramic White and Red accents, a customizable 11.3-inch diagonal touchscreen infotainment system and an 11-inch diagonal fully digital instrument cluster. In addition, the AT4X includes a GMC-exclusive Head-Up Display and Bose seven-speaker audio entertainment system. The technology in here is really something else, between the large screens with beautiful graphics, the up to 10 available camera views, off-road performance display, and more. Not to mention the host of safety and driver assist features.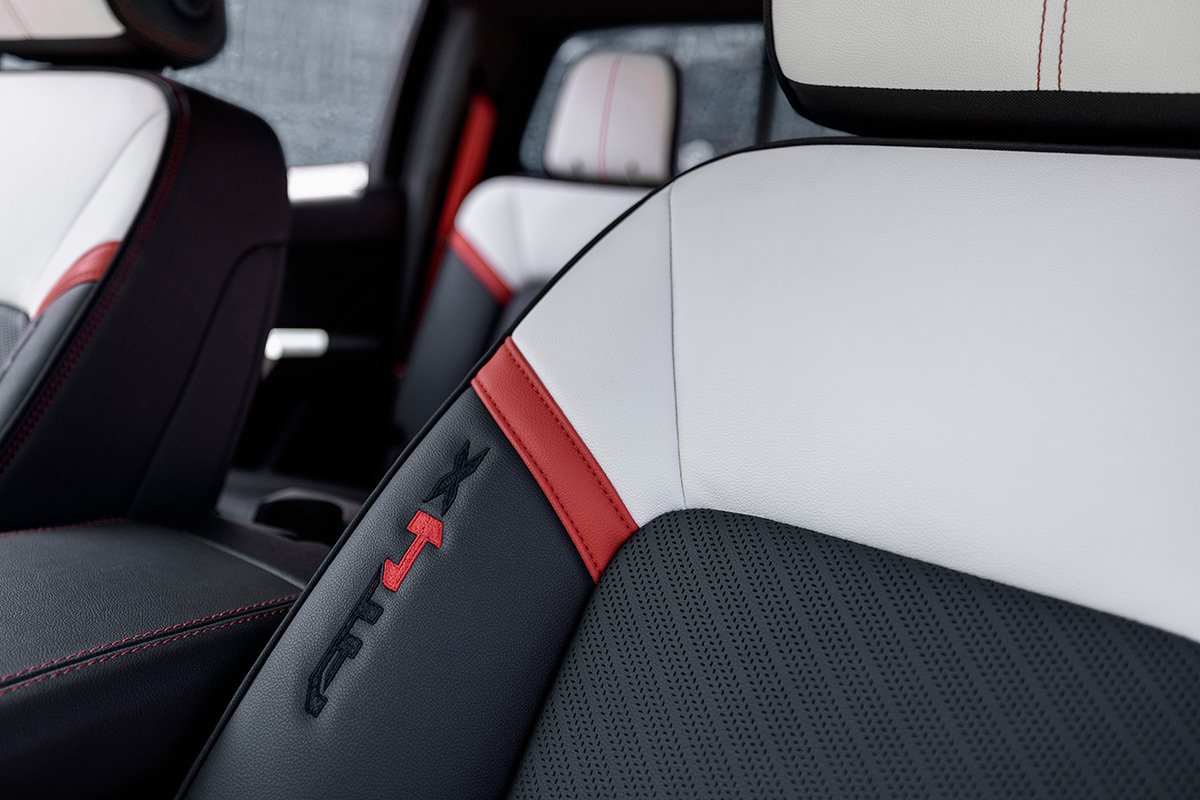 But off-road is where the real magic happens with the AT4X, so let's get into that. We took the Canyon AT4X on a 3-hour run through some seriously technical backwoods trails, and it was pretty gnarly.. one wrong move, and we could have slid off the side of a mountain! I've done a lot of off-roading in my days, but this was one of the most demanding (and longest) trails I've ever done. To its credit, the Canyon AT4X never missed a beat, making short work of whatever came its way.
It almost seemed too easy, the Canyon AT4X crawling up technical rock hills, diving through a deep mud pit, maneuvering through tight sections (thank god for all the cameras), and more. Depending on the terrain ahead, you simply switch the truck into the appropriate mode (Baja Mode for high-speed off-road driving, Terrain Mode for low-speed precision off-roading and rock crawling, and Off-Road Mode for general off-road dynamics) and you're good to go.
The 33-inch Goodyear Wrangler MT tires offered tons of grip, the suspension has plenty of flex and articulation to get over obstacles (not to mention impressive approach, breakover and departure angles), and front and rear e-lockers allow drivers to engage the front or rear axles to lock both wheels at the same speed. Needless to say, the GMC Canyon AT4X is one seriously impressive off-roader!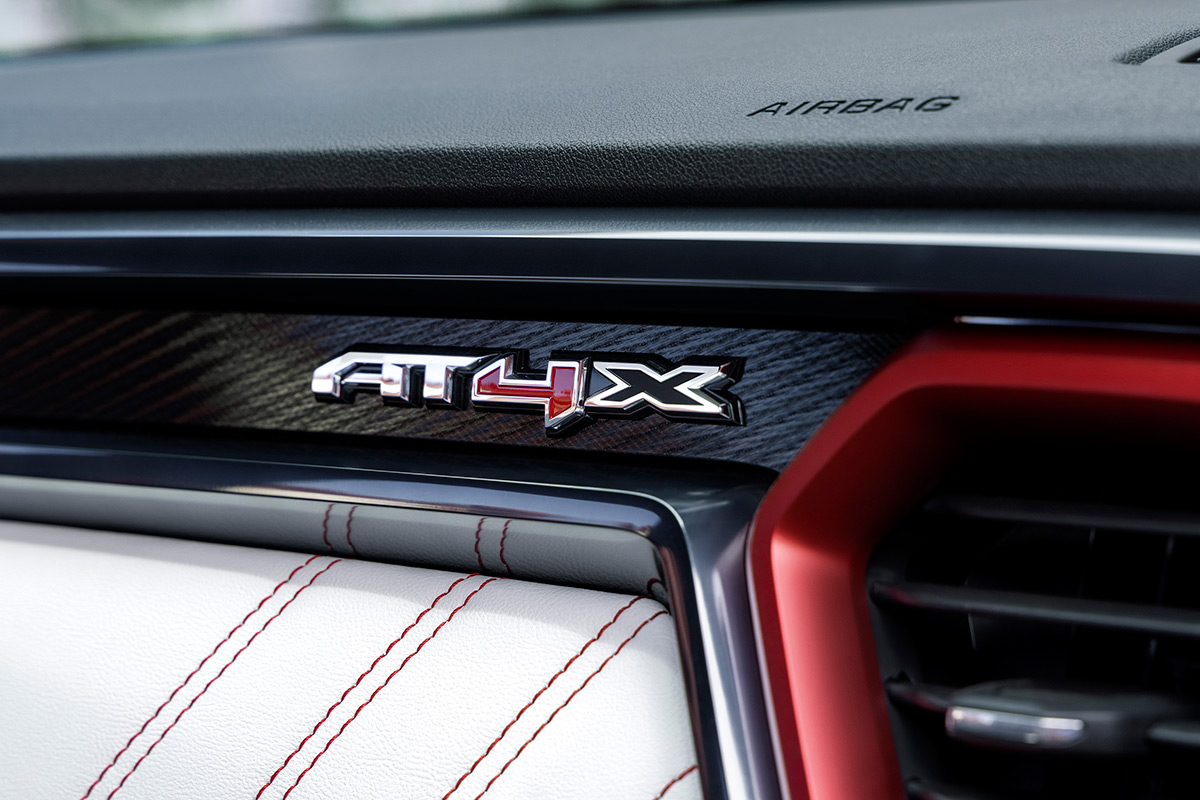 Personally, I think GMC knocked it out of the park with the all-new Canyon AT4X. While the GMC Sierra AT4X is a great truck in its own right, not everyone wants or needs a full-size truck, especially when you're tackling some tight trails. The Canyon is the perfect sized truck for most people's needs, and it offers better performance both on- and off-road compared to other trucks in the segment right now.
Of course, with both the new Ford Ranger Raptor and Toyota Tacoma TRD Pro being revealed in the next few weeks, that could change very shortly. But for now, the GMC Canyon AT4X reigns supreme. With a starting price of $58,490, it's certainly not a cheap option. But you're getting a pretty luxurious vehicle that can get down and dirty with the best of them, and in that respect, we think it's worth every penny of its asking price.
The all-new 2023 GMC Canyon should be hitting dealerships right as you read this, so if you're in the market for a midsize truck and like what you've seen so far, definitely go take one for a test drive and experience it for yourself. I think that you'll be pleasantly surprised!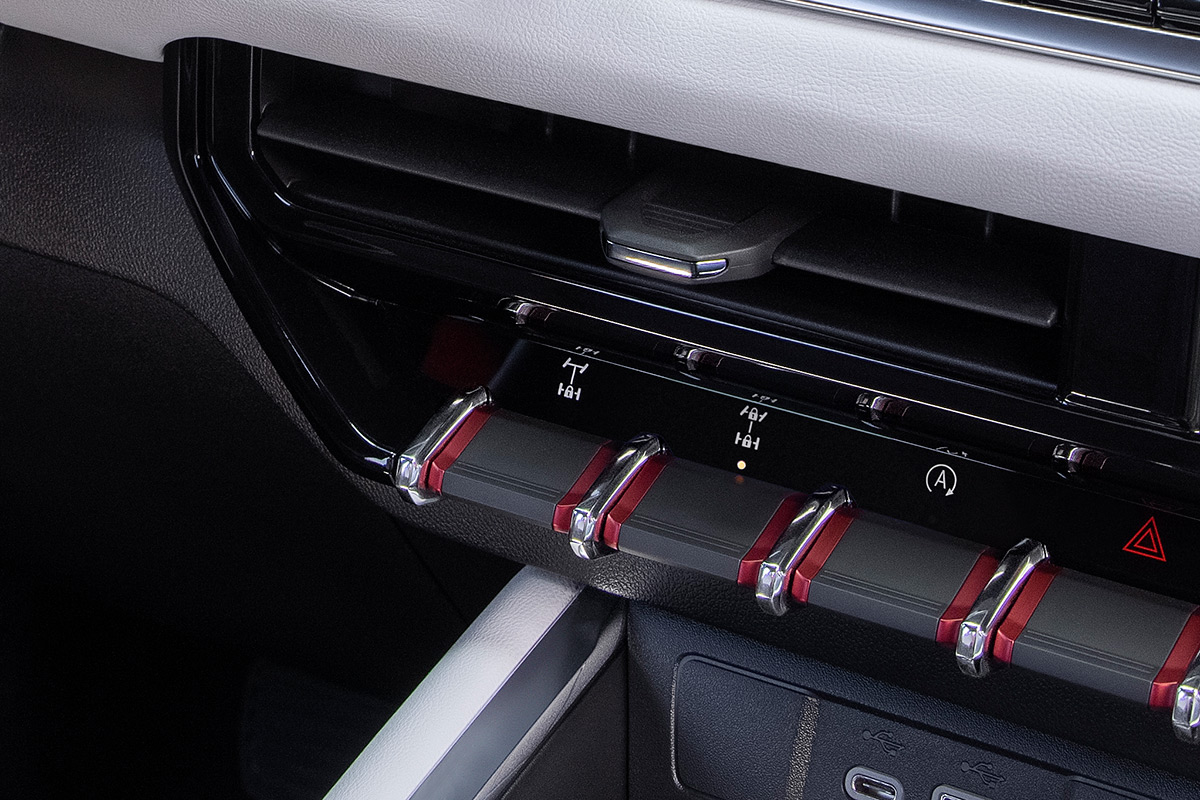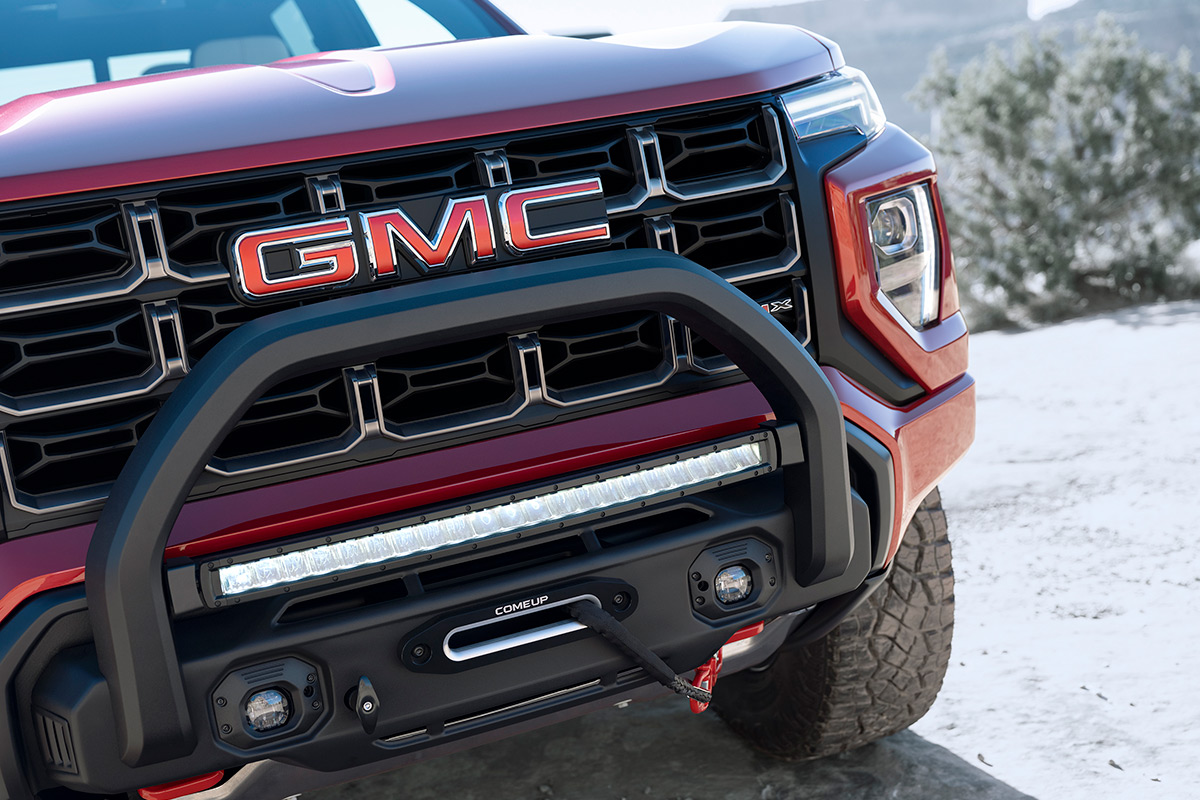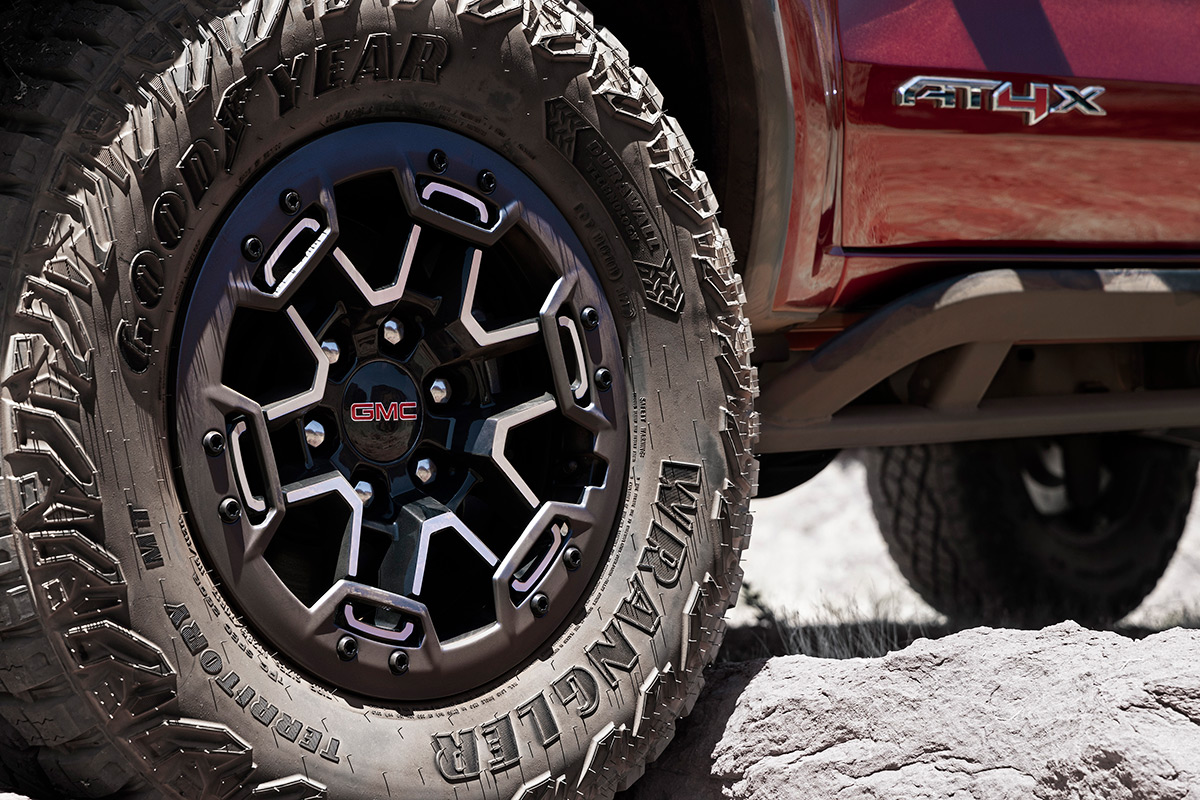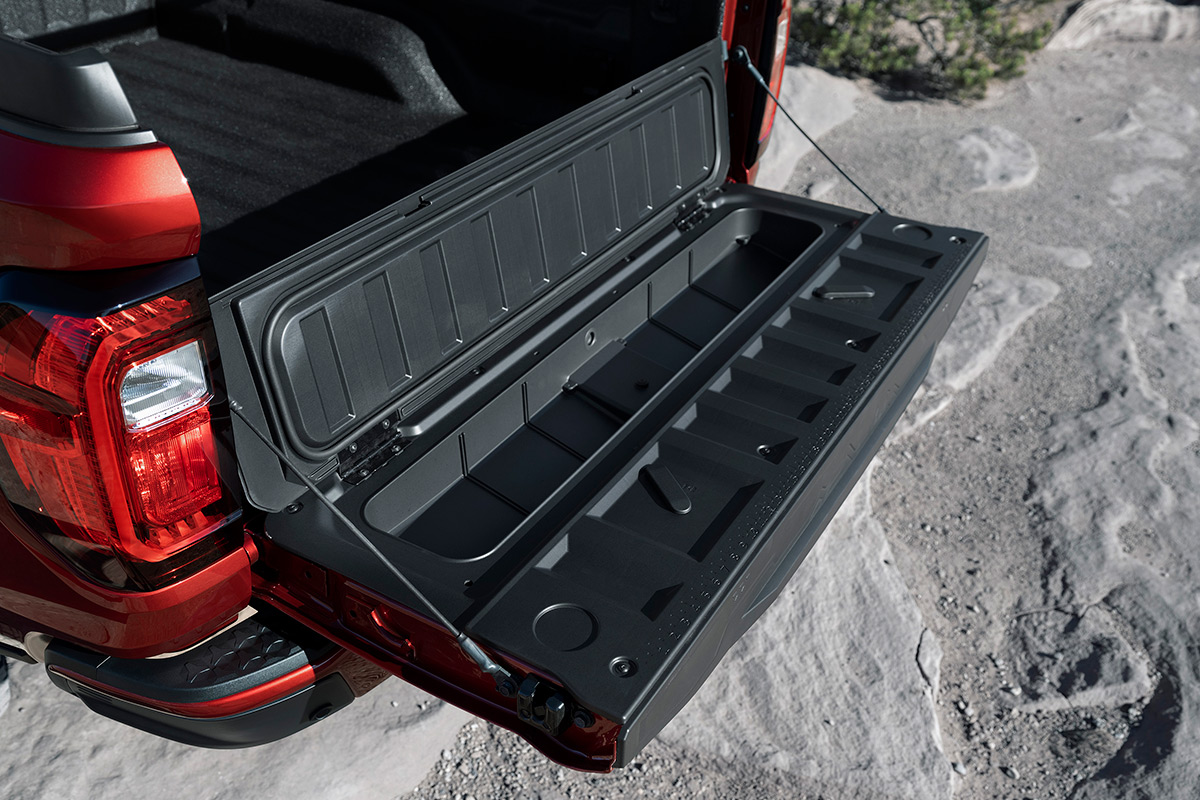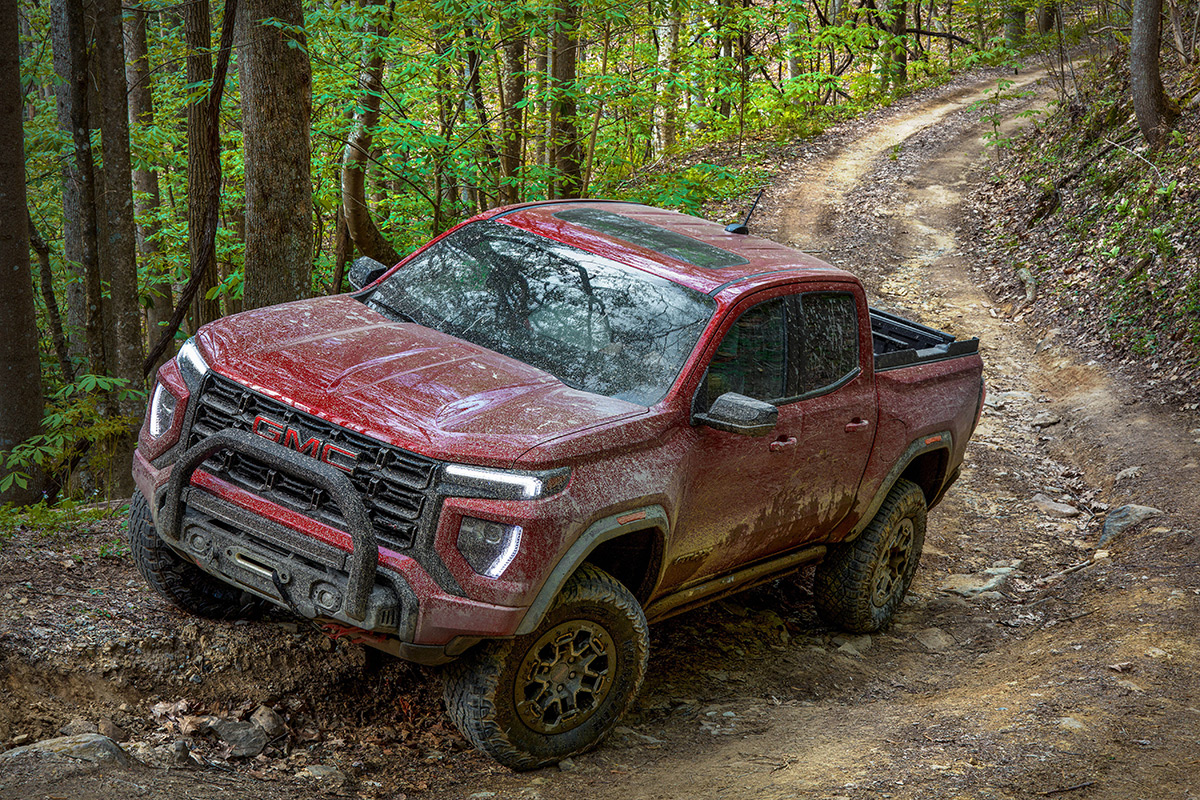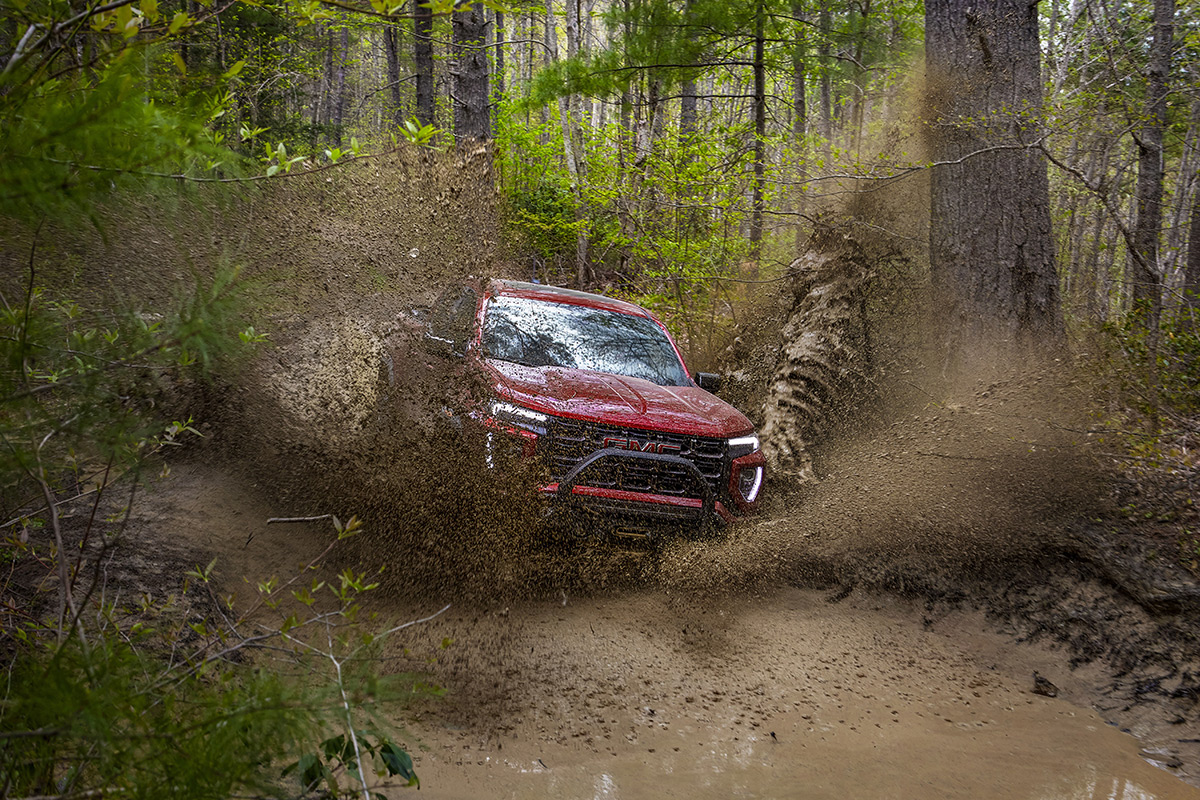 What do you think of the 2023 GMC Canyon AT4X?