The All-New 2024 Ford Ranger Raptor Is An Exhilarating Off-Roader Like No Other!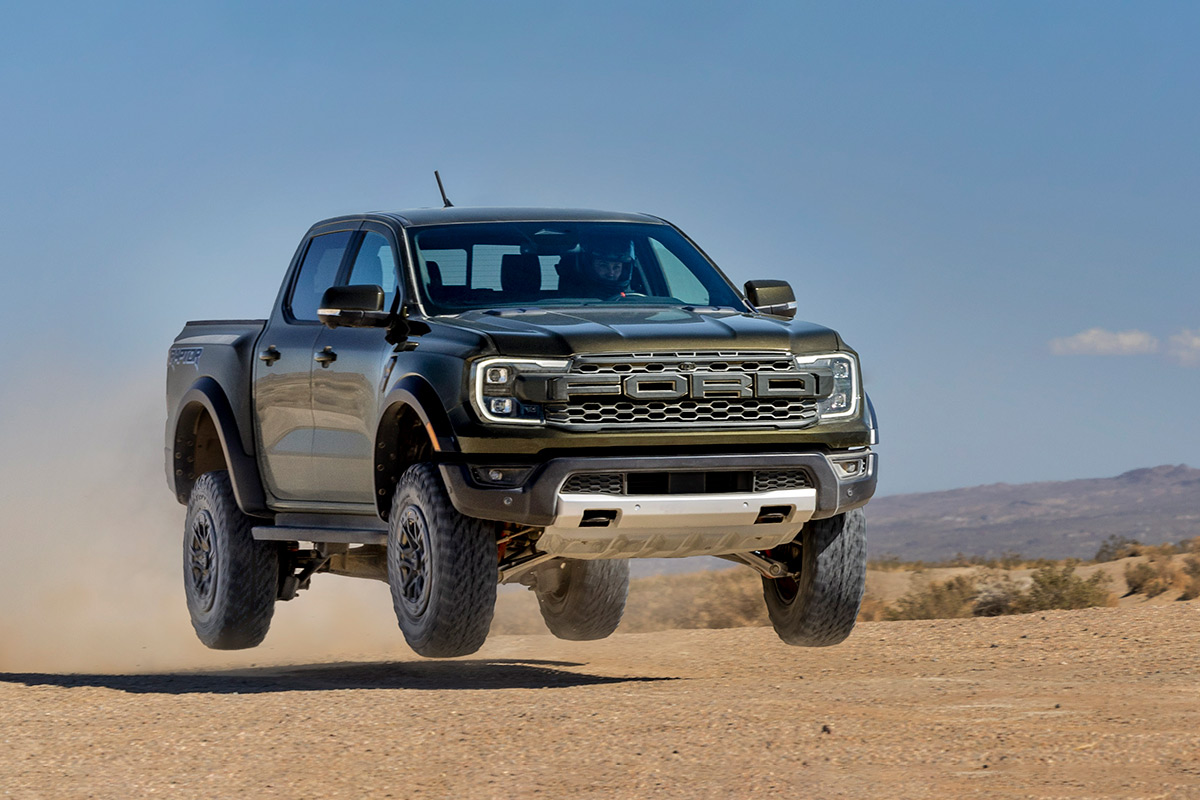 Are you ready to tackle any terrain? If so, Ford has the perfect vehicle for you! Introducing the all-new 2024 Ford Ranger Raptor – an off-road beast of a midsize truck that's ready to take on the most demanding terrain you can throw at it.
This high-performance off-road truck features a powerful twin-turbo engine, purpose-built suspension, next-generation FOX shocks and reinforced frame for durability. With a range of features from LED lighting to digital instrument cluster and trailer backup assist, the Ranger Raptor is perfect for those who want power, ruggedness and style in one package. Get ready to take your adventures off road with the new Ranger Raptor!
Purpose-Built Suspension For Off Road Action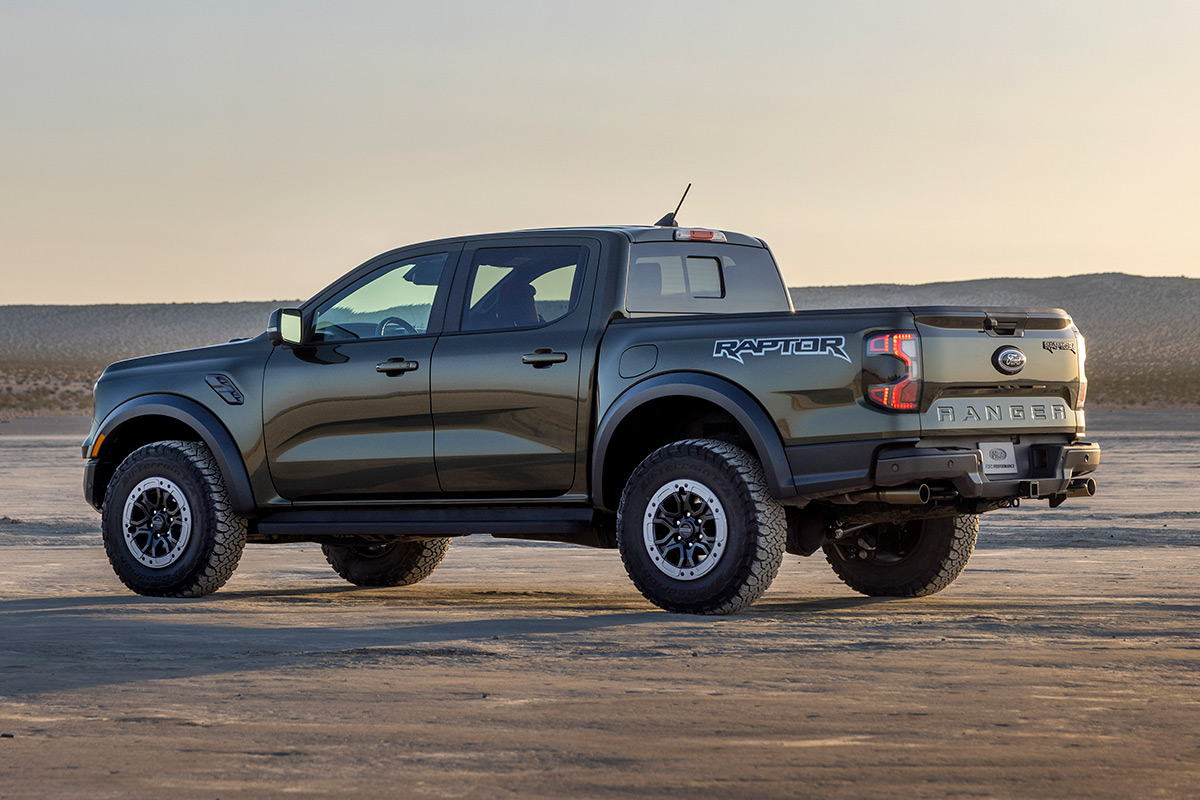 Designed to conquer any off-road terrain, the 2024 Ford Ranger Raptor starts with a purpose-built suspension with lightweight aluminum upper and lower control arms and a long-travel rear suspension for unbeatable control. The advanced FOX 2.5 inch Live Valve Internal Bypass shocks ensure optimum performance, and a reinforced frame provides maximum durability. The Ranger Raptor also has selectable drive modes, so you can tailor your ride for different types of terrain, from Normal to Tow/Haul, Sport, Slippery, Off-Road and Rock Crawl.
You also get aggressive 33-inch BFGoodrich all-terrain KO3 tires on 17-inch wheels that can be mounted to optional beadlock capable wheels with available bead locks for running extra low tire pressures in sand and rocky conditions. There's even thick front bash plate protection as well as dedicated engine transfer case and fuel tank shields to make sure you stay safe no matter where you go.
The new Ranger Raptor also features LED projector headlights, signature lighting, an all-steel bumper with integrated tow hooks plus flared fenders with functional vents for enhanced style and functionality. Inside the cabin there are sport steering wheel with cast magnesium alloy paddle shifters along with special Ford Performance seats for added comfort during high-speed cornering.
405HP Twin-Turbo V6 Engine Provides Plenty Of Power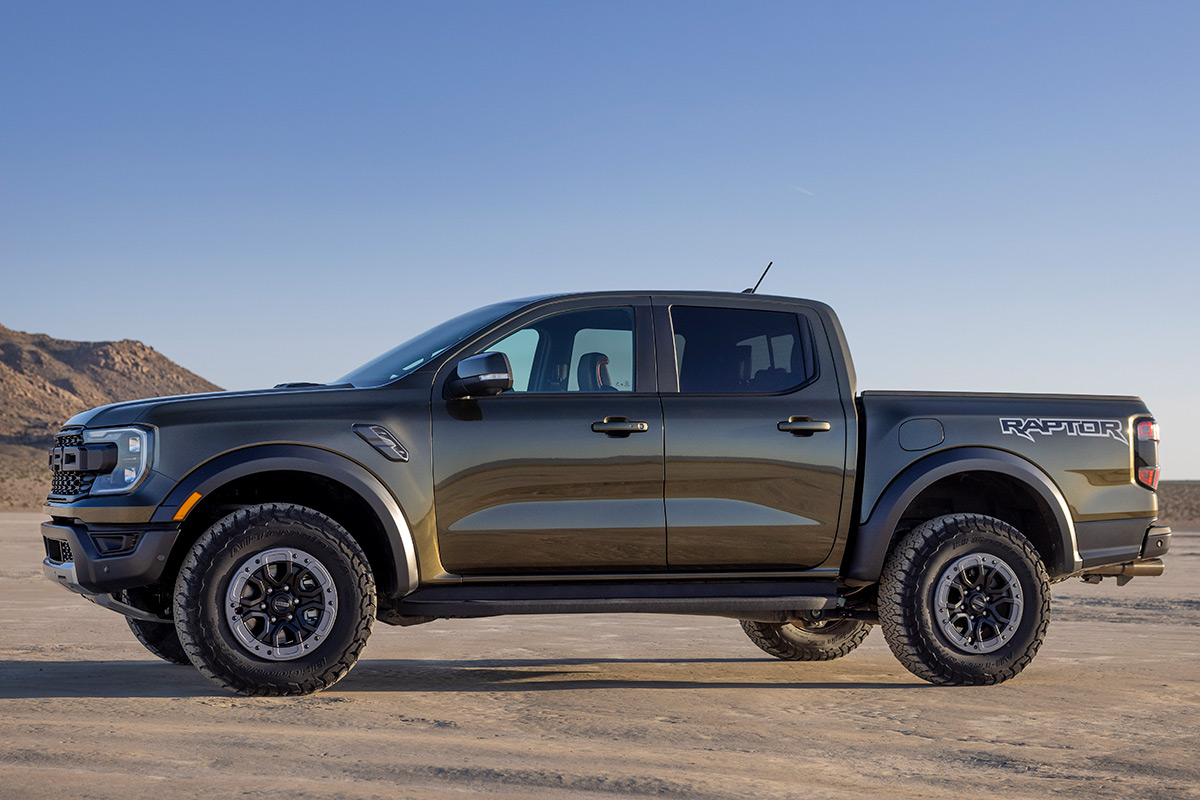 You'll be roaring through the wilderness with the power of this V6 EcoBoost engine, like a lion on the prowl. The 2024 Ford Ranger Raptor comes equipped with a twin-turbocharged 3.0L EcoBoost V6 engine that churns out an impressive 405 horsepower and 430 lb-ft of torque for maximum power and acceleration. With its rugged durability, turbocharged power, off-road capability and extraordinary performance, you can take your adventures to new heights!
Beginning with a compacted graphite-iron cylinder block, the engine utilizes a race-bred anti turbo-lag system to enable boost on demand in Baja mode. It keeps the turbochargers spinning for up to three seconds after the driver backs off the throttle, so acceleration is there while exiting corners.
To ensure smooth operation over all terrain types, the new Ranger Raptor is equipped with an advanced 10-speed SelectShift automatic transmission featuring electronically controlled on-demand two-speed transfer case and front/rear locking differentials. This combination provides superior handling during low-speed maneuvers as well as improved traction when tackling rough surfaces.
Aggressive Styling Fits Perfectly In The Raptor Family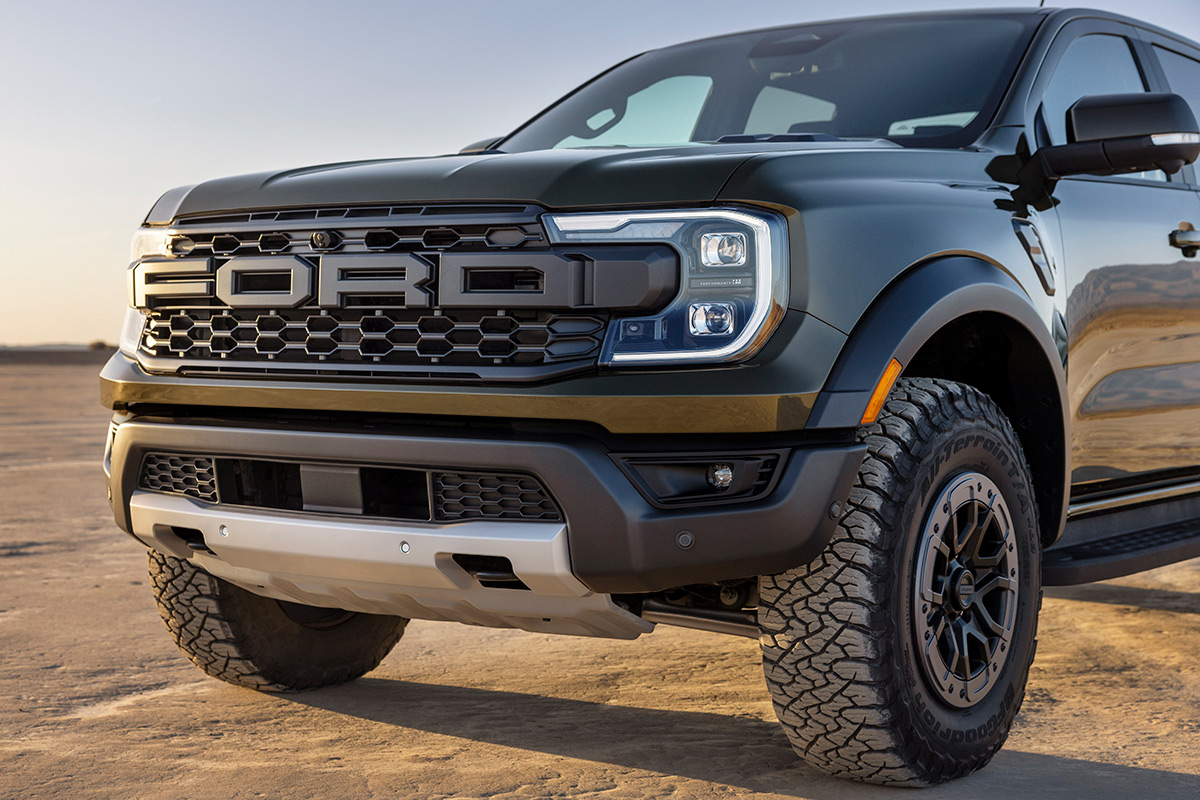 Take your adventures to the next level with a bold, stylish look that belongs in the Raptor family. The Ford Ranger Raptor is equipped with an aggressive exterior design that offers rugged good looks and off-road capability. With its flared fenders, C-clamp signature lighting, steel bumper with integrated tow hooks, and meaty 33-inch BFGoodrich KO3 tires on 17-inch wheels, you'll be hard pressed to find something more visually appealing than this truck.
The Ranger Raptor also has a performance-themed interior design, with a sport steering wheel including cast magnesium alloy paddle shifters for quick transmission control and a signature Raptor centering mark. Overhead upfitter switches mounted in the overhead console simplify powering off-road hardware. Unique Ford Performance front seats are supportive, with extra bolstering to hold drivers in place during high-speed cornering. The rest of the cab includes premium materials trimmed in Code Orange.
Inside, features like a 360-Degree Camera and Front View Camera assist in off-roading, there's Zone Lighting to light up the night in remote locations, and class-exclusive Pro Trailer Backup Assist to help back up boats and campers. Even far out there, drivers want to be informed and connected, so Raptor comes with a high-resolution 12.4-inch digital instrument cluster and 12-inch center touchscreen running SYNC 4A, and wireless Apple CarPlay and Android Auto connectivity. There's even a Bang & Olufsen sound system to pump out your favorite tunes.
Built To Tackle The Toughest Terrain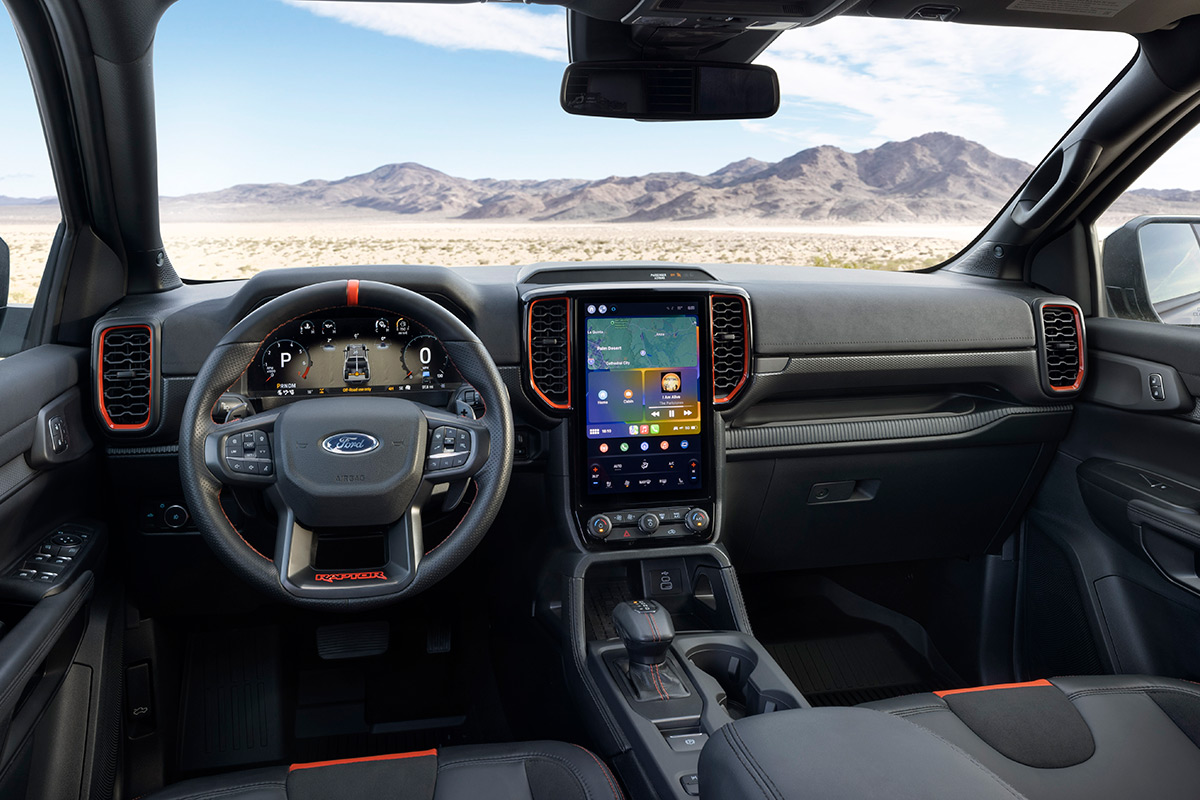 The Ford Raptor family spans across its truck and SUV portfolio. F-150 Raptor, F-150 Raptor R, Bronco Raptor, and now Ranger Raptor are all built for the passionate performance enthusiast who wants a truck to tackle their biggest adventures. A pre-production 2023 Ranger Raptor even proved its mettle by winning the stock midclass category of the Baja 1000, completing the course in 26 hours and 21 minutes. And then they drove it home, almost 200 miles from the finish line to California.
So whether you're looking for an adrenaline rush when going off-road or just need a reliable truck that looks great on the highway, the Ranger Raptor will have you covered both ways – no matter where your travels may take you. Perfectly combining power and style, it's sure to get noticed wherever it goes while giving you more than enough muscle to make all your wildest dreams come true!
Our Take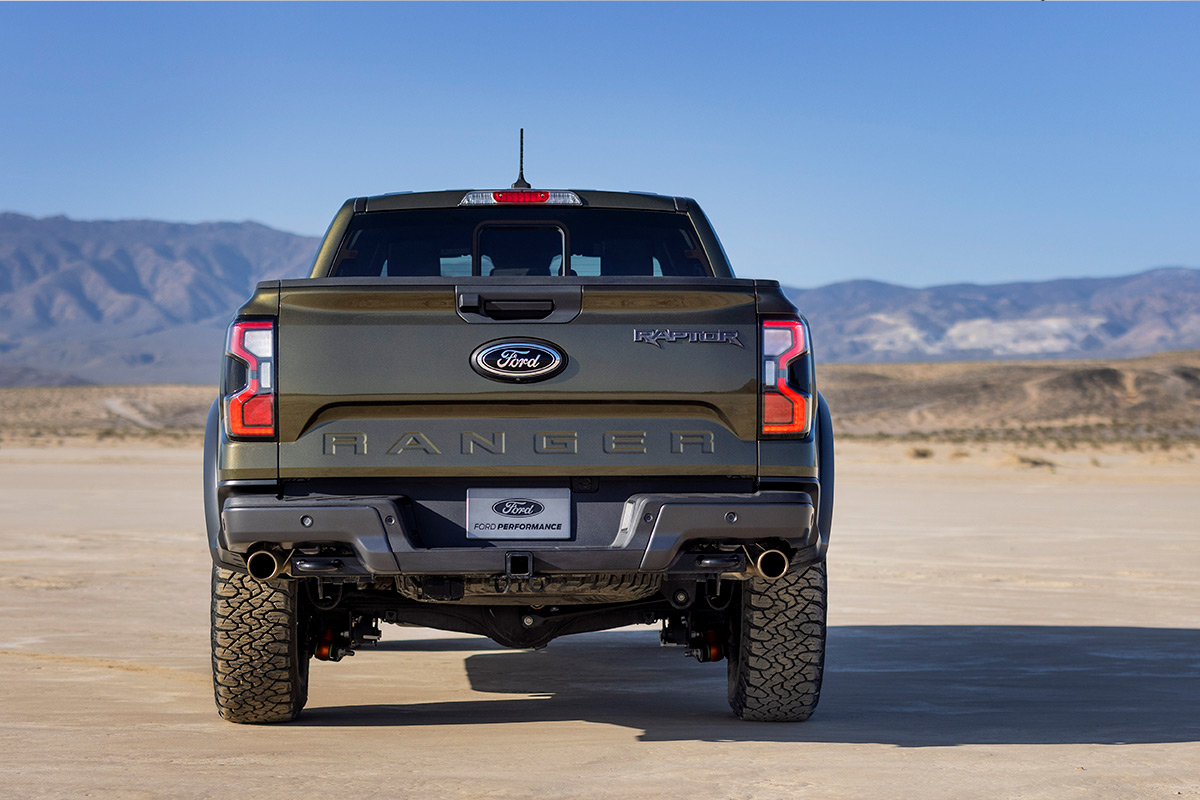 We've been eagerly waiting for the Ford Ranger Raptor to come to the US for quite some time now, and it looks like it was worth the wait. Not all of us need the massive size of the F-150 Raptor (not to mention the hefty price tag that comes with it), and the Ranger Raptor perfectly fills that gap on both fronts. With a starting price of $56,960, it seems like a relative bargain, and I'm sure it will be a huge seller.
The 2024 Ford Ranger Raptor will be proudly assembled at the Michigan Assembly Plant in Wayne, Michigan, with orders beginning later this month and availability late this summer.
Visit Ford.com/RangerReady more details and information.
What do you think of the 2024 Ford Ranger Raptor?