Crawling Rocks And Jumping Dunes At The Ford Bronco Raptor Off-Roadeo!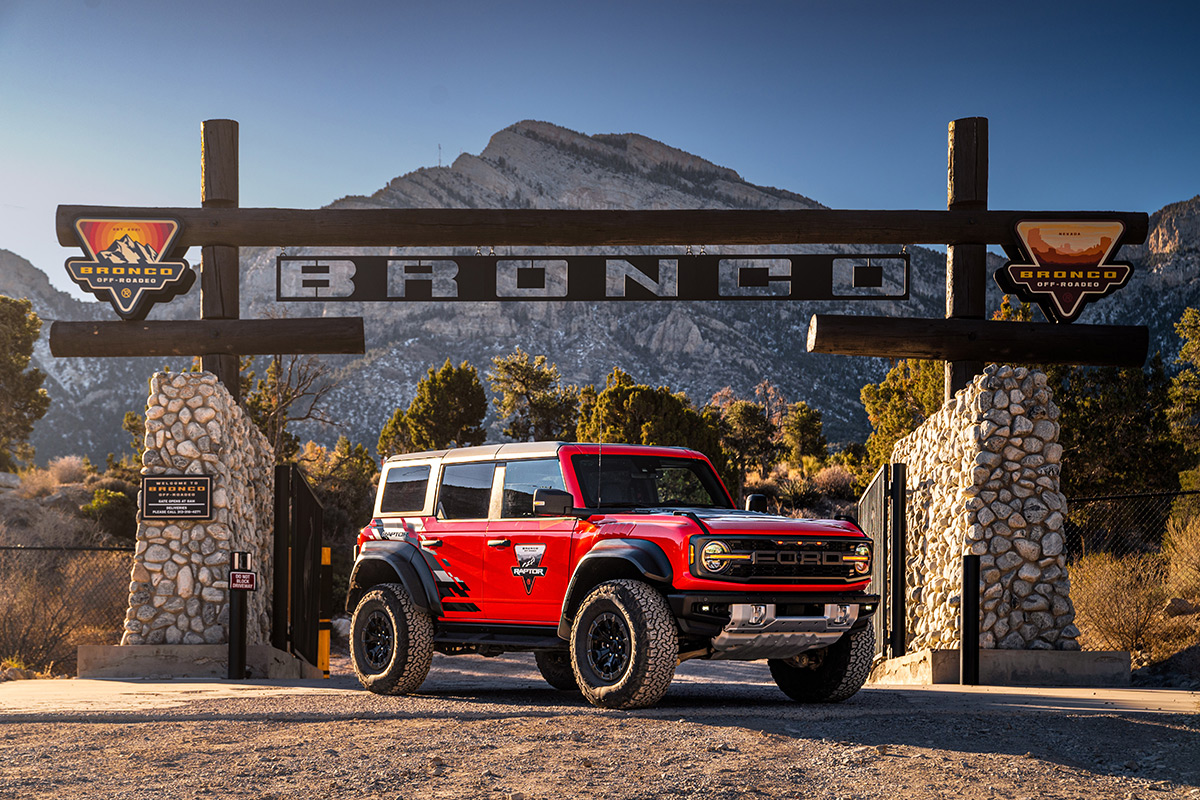 Las Vegas in July isn't normally my idea of a good time, but I decided to brave the 107° weather in the name of the 418-horsepower Ford Bronco Raptor, spending a day doing all kinds of wild and crazy off-roading stuff at the Ford Bronco Off-Roadeo Raptor Experience at Mt. Potosi, nestled in the hills just outside Las Vegas. And let me tell you guys, it was a freaking blast!
When the all-new Bronco and Bronco Sport were introduced, they offered owners the chance to attend the Bronco Off-Roadeo, a FREE full-day off-road driving experience that let owners get to really see what their trucks could do, under the instruction of professionals. It's a super cool offering, with the only out-of-pocket costs being travel and hotel accommodations if you aren't local to one of the four locations (Texas, Moab, Nevada, and New Hampshire).
Now for the first time, Ford Bronco Raptor owners get to take part in the Bronco Raptor Off-Roadeo experience, an epic Ultra4 Racing-inspired, desert-dune conquering and Baja rock-crawling adventure outside of Las Vegas that has been specifically designed to show what the Braptor can do. We were among those invited to experience an abbreviated program ahead of its opening next month, giving us a taste of what Bronco Raptor owners can expect.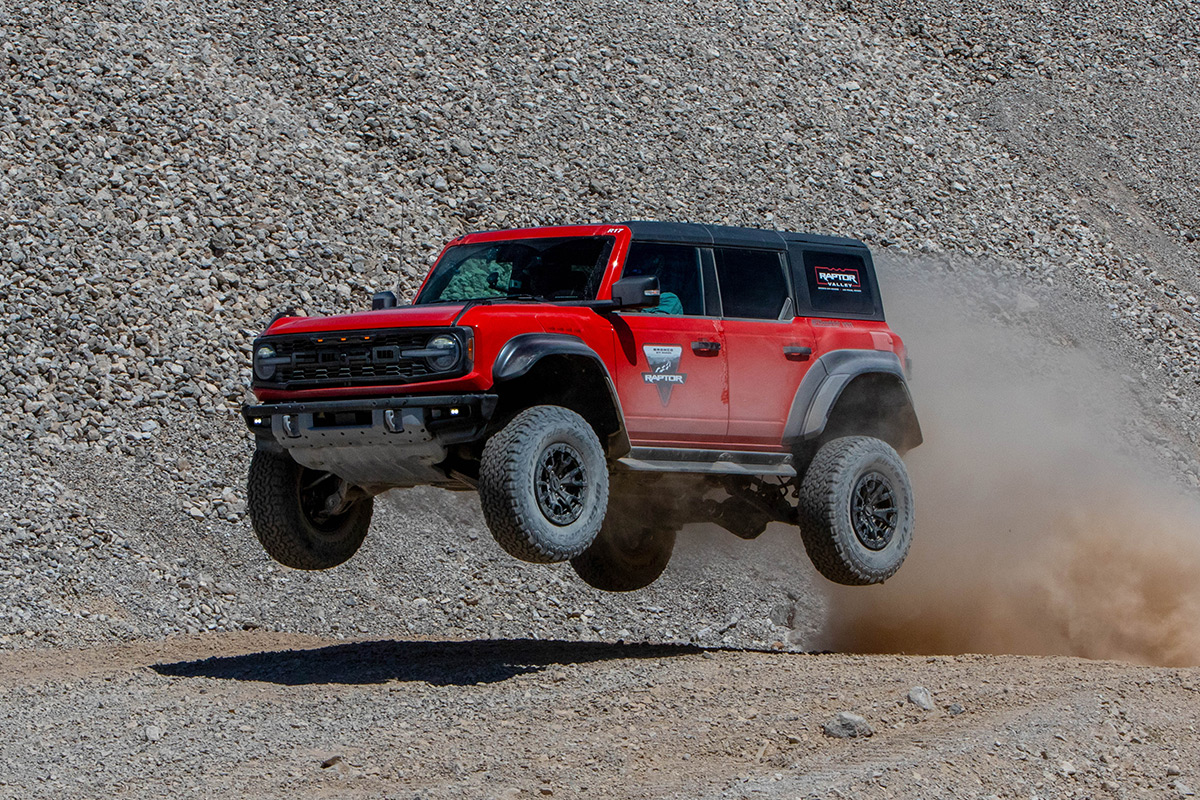 Most Bronco Raptor owners have seen the videos and know just how capable their trucks are in theory. But few ever get to experience this firsthand, as most people aren't about to launch their $90K+ SUVs off of a dune or take it through some punishing rock trails. That's the beauty of this program, as it allows owners to really explore the full capability of these amazing trucks in an environment like no other.
Ensuring authenticity, the Bronco Off-Roadeo Raptor Experience was jointly designed by the Bronco brand and Ford Performance teams, Baja and King of the Hammers champions and world-class off-roader drivers like Vaughn Gittin Jr., Loren Healy and Brad Lovell, along with industry-leading off-road experts like Bob Burns that helped curate the trails and training scenarios. They really did their homework, and it shows.
"There's never been a high-performance, off-road SUV like Bronco Raptor that you can drive from showroom floor to the most remote and challenging places," said Dave Bozeman, vice president, Ford Customer Service Division, and vice president, Enthusiast Vehicles, for Ford Blue. "Bronco Raptor Off-Roadeo is like the masters level course of our Off-Roadeo experiences. We're teaching owners the skills needed to experience every bit of capability from their Bronco Raptor so they can gain confidence and responsible mastery in the outdoors."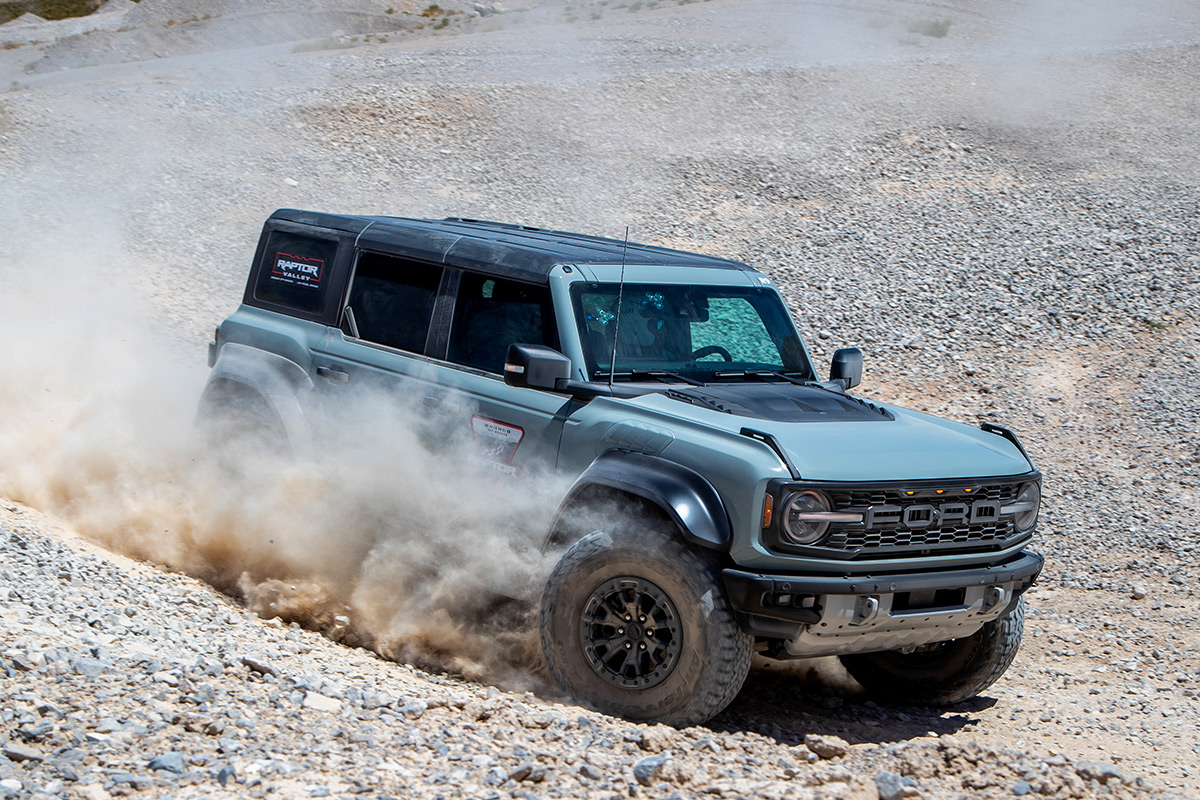 So what can you expect when you come to the Bronco Raptor Off-Roadeo? The day starts off the all-new Raptor basecamp facility, which is located at the foot of Mt. Potosi. Here, you get a quick breakfast, orientation, safety briefing, and helmet fitting, after which you're reminded to use the restrooms before you leave, as bathroom options are rather limited in the desert. It's also crazy hot out there, so make sure to fill your water bottle and apply plenty of sunscreen.
From there, we walked down to the lower parking lot, where two dozen brand-new 2023 Ford Bronco Raptors waited for us. Each of us went to our assigned trucks, fired them up, and did two-way radio checks with our leaders. Once everyone was ready, we headed out in groups of four, each following a lead instructor as we made the 25-mile trek towards Raptor Valley.
This first part of the drive gives us plenty of time to get familiar with the truck and its different drive modes and off-road features, with us navigating through trails featuring diverse terrain, from loose gravel and sand to large rocks that one must climb over, using our various cameras to avoid doing any damage. One area required us to navigate between two massive rocks that were VERY close together, with the Raptor's extra-wide body making it even more challenging. Once again, cameras to the rescue.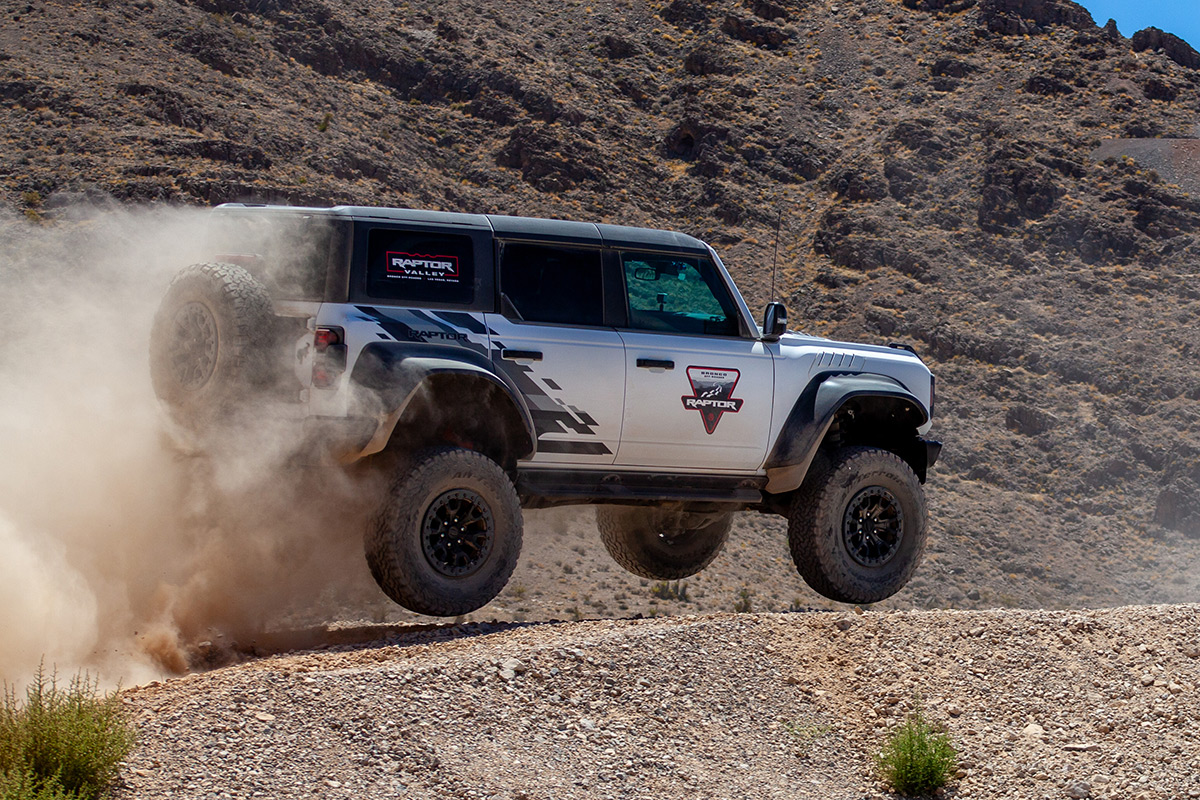 After about an hour, we arrived at Raptor Valley, and here's where the real fun happens! This custom-built off-road park features 3 different courses: a rock-crawling trail, a Baja-inspired Raptor Run course, and an Ultra4 course. We didn't get a chance to do the rock-crawling trail due to our shortened schedule, but it features multiple rock gardens with large boulders, 30-degree inclines and declines, and a rock waterfall with several 4- to 5-foot ledges to descend.
First up for our group was the Ultra4 course, and as the name suggests, this circuit features a combination of desert short course, rutted two-track, loose rock, and fine silt. Not to mention this massive tabletop jump where you can get some sweet air. An instructor took us around the course first to familiarize ourselves with it, and then it was our turn to hop in the driver's seat and give it a go.
You start by descending a steep gravel trail and making a sharp left-hand turn in soft silt, after which you need to straighten out the car as quickly as possible so that you can maximize your speed for the upcoming tabletop jump. I managed to do this exactly right, and I launched off that jump with a nice amount of speed, with a good 5-6 seconds of airtime before gracefully landing on the other side, those Fox shocks making it seem effortless.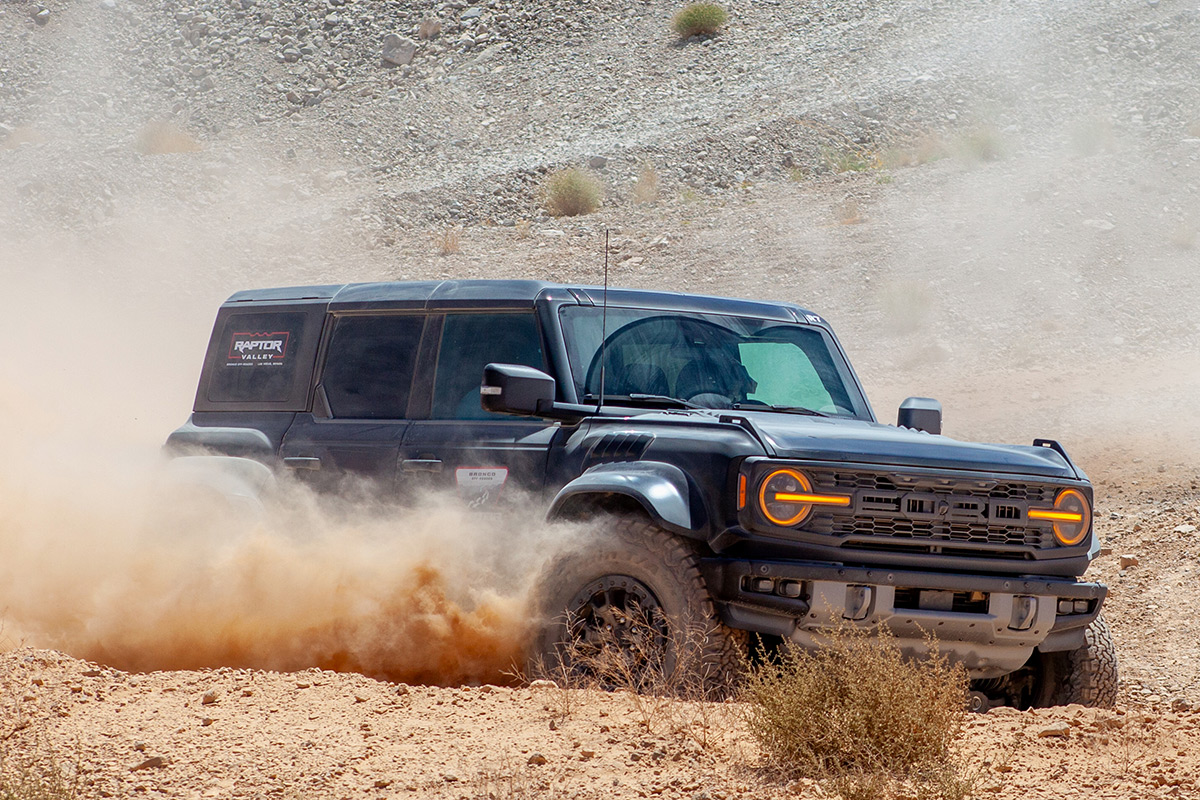 From there, the rest of the course is a bit of a rush, navigating through a few more twists and turns in various terrain, climbing up a rock face, and over one final jump before pulling back into the staging area. Only then did I discover that we were only getting a single run (regular attendees will get three runs I believe, but we were running an abbreviated program), so that was a real bummer. But at least I nailed that jump on the first try!
After our group finished the Ultra4 course, we made our way over to the Raptor Run course. This one perfectly mimics what you find when racing in Baja, complete with rock-strewn two-track trails, tight rutted turns, a long section of desert whoops, a road jump, and step-down. Even with the trickest of suspensions, this one really bangs you up a bit, with my helmet even smacking against the side window at one point (ouch!). But the Bronco Raptor tackled all of the obstacles with aplomb, making it look easy.
This is a pretty fast course, and before you know it, you're back crossing the "finish line" and wishing for more. Again, we only got a few laps around the course because of time constraints, but regular attendees will get more than a few passes to satisfy their needs.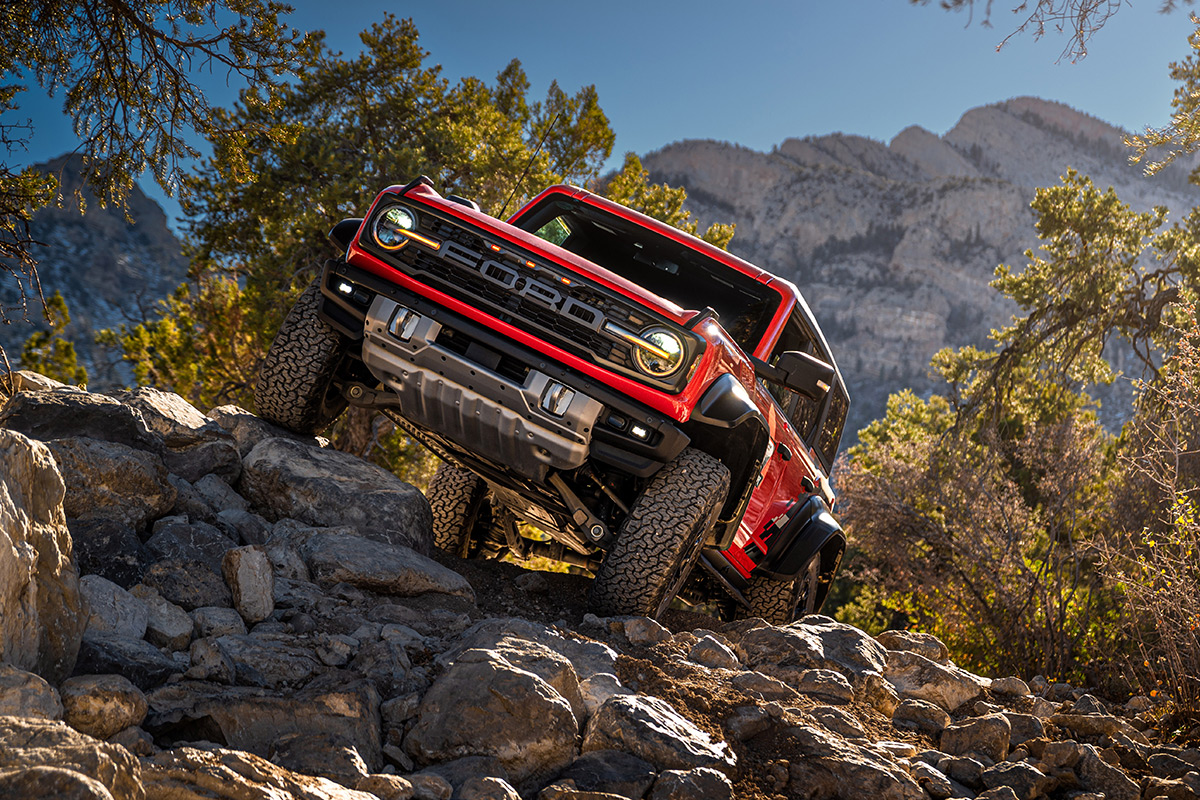 Once everyone had completed both courses, we made our way back towards basecamp, giving us time to reflect on the amazing day we just had. What's great about the Bronco Raptor Off-Roadeo is that it shows owners what their trucks are capable of and gives them the knowledge to safely take them off the beaten path and have some fun as they were intended for.
Kudos to Ford for putting together an authentic and immersive high-performance experience like this for Bronco Raptor owners. There's no doubt that everyone comes out of this program with a greater appreciation for their trucks, and for the brand itself. I for one know that this is an experience that I won't soon forget, and if I happen to win the lottery anytime soon, I'll be getting myself a Bronco Raptor in short order! 🙂
What do you think about the Ford Bronco Raptor Off-Roadeo?