3 TV Comedies You Might Have Missed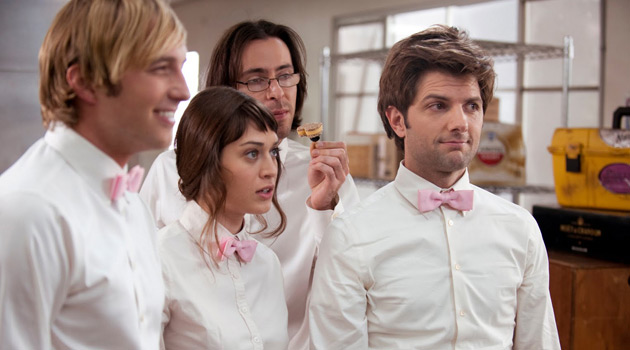 We all have that one show that we swear by. Shows like How I Met Your Mother and The Big Bang Theory get lots of recognition, but what about those comedies that either got prematurely cancelled or don't have a huge viewership? I'm an avid TV viewer, and I love to find "that" show. Once I start a show that I like, I'll be hooked. So with that, I've compiled a list of 3 TV comedies that you might have missed. Maybe you have seen one or two of these, so at least you will have a head start on the rest of the readers.
Party Down – Party Down is just the perfect show. It premiered on Starz a few years ago, and basically it's about wannabe actors and actresses in Hollywood that have to work at a catering company in order to get paid. The leads are played by Adam Scott and Lizzy Caplan. Scott plays Henry Pollard, a former actor who got his break saying a famous catchphrase on a beer commercial. Unfortunately, that's all the producers and talent agents remember. Caplan plays Casey Klein, who has dreams of becoming a stand up comedian. Their boss of Party Down catering is Ron Donald, played by the hilarious Ken Marino. Each episode takes place at a different catering event, and whether it's a party at Steve Guttenberg's house or a Bat-mitzvah, hilarious antics ensue. You will immediately fall in love with these characters and much of the supporting cast, played by Martin Starr and Jane Lynch. If you enjoy uncomfortable situations with extremely brash humor than this show is definitely for you.

Network: Starz
Similar to: Arrested Development

Californication – Throughout my breaks from school, I often start a new TV show. I'll give any show a chance. I tried with the Big Bang Theory and Two And A Half Men, and they both failed miserably. In my opinion, they just genuinely weren't funny. Californication is definitely not a comedy for the family, but it's full of charm and wit. I swear I think I finished it in about 2 months, it's that good. It stars David Duchovny as alcoholic writer Hank Moody, who struggles to win back the love of his life and be a decent father to his daughter. Californication doesn't just tell the story of Hank, it tells the story of California and how Hank has to adapt to this new lifestyle. With such witty writing, it's impossible not to fall in love with the characters on the show. The jokes are great, the girls are great, and this show is full of heart. Give this a chance, you won't want miss some of the most entertaining television. The show is entering it's 7th season, but I haven't met a single person who has watched the show before me. I have recommended this show to a few friends and they have already caught up. It's that addicting.

Network: Showtime
Similar to: Entourage

Eastbound & Down – Do you love baseball? Outlandish humor? Will Ferrell? Well if you love those things, you are sure to love Eastbound & Down. This comedy is produced by Ferrell and it stars Danny McBride as Kenny Powers, a forgotten baseball player that aspires to make it back to the majors. Powers might be the biggest A-hole in the world, but you still root for him and his dreams of returning to the pros. The first season of Eastbound, we see Kenny taking a job back home as a substitute gym teacher. We get to cringe as we watch Powers try to win back his first love. Powers is like no other character on TV, and this show is like nothing else. It's a sure thing if you are looking for gross laughs. The reason why I put this show on the list is that it never received high ratings and was supposed to be canceled after the third season. Luckily for me, HBO decided to bring back Eastbound for a forth a final season. Try to catch up before it comes back September 29th.

Network: HBO
Similar to: It's Always Sunny In Philadelphia
What do you think of these shows? If you have any hilarious comedies shows to recommend, please comment and I'll give it a shot.