A Brand New Mafia Thriller – The Dean's List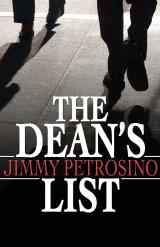 I recently came across a book called The Dean's List. It's being called "The Godfather meets The Social Network," so if that sounds like your kind of book, read on.
Imagine a college campus overrun by fraternity brothers doing a mob's bidding, with even their leader constantly looking over his shoulder and fearful for what may come next. This is protagonist Dean Perrasani's story in a new crime fiction novel, The Dean's List by Jimmy Petrosino.
In his debut novel, Jimmy Petrosino tells an exciting and fast-paced tale of a college student who becomes president of fraternity Phi Beta Regnum. Once he takes over the post, he begins to run the group, a cover for an undercover crime syndicate created by one of the most ruthless mobsters in the world, Alfred Calarone. Seeing how much revenue could be generated on a university campus, Calarone took his successful mafia blueprint and implemented it into the fraternity at Filmore University, using teenagers with troubled pasts to do his dirty work.
Dean Perrasani is captivated by his new role, hoping to build on the legacy of his older brother, Tyler, a former president of Regnum killed years before in a "car accident." When Dean wants to run the organization as a legitimate enterprise, his bosses deem him too powerful and he begins to experience the violence and fear that comes with the job.
The clock is ticking for Dean. Will he able to succeed in his ultimate goal—revenge for his brother's murder?
Purchase The Dean's List:
Kindle Edition
NOOK Edition
iPad/iPhone Edition