Alison Brie and Adam Scott Team Up To Host "The Party"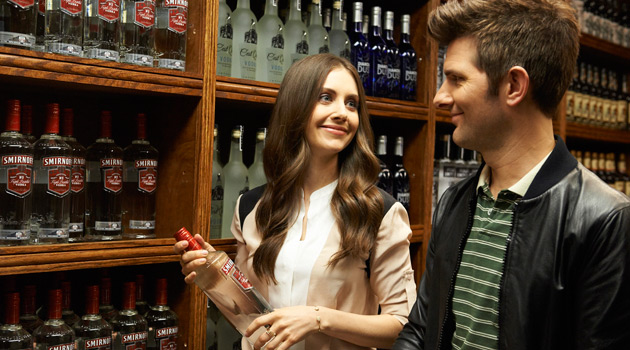 Waiting in a line that wraps around the block. Being at the mercy of the bouncer's discretion. Blowing three months' rent just to stand behind a velvet rope and hold a bottle with a sparkler. Does that sound familiar? Well SMIRNOFF, the world's best-selling vodka, is here to remind you that fun nights out don't have to be such a hassle. Exclusivity is out. It's time to let everyone in.
SMIRNOFF's "Exclusively for Everybody" campaign celebrates the brands belief that exclusivity for few is less fun than good times for all, and they've created a digital film and six 30 second spots for the The Party, which tells the story of two friends planning and hosting a party while poking fun at the elements that get in the way of honest, effortless good times.
Under direction of the renowned Russo Brothers of Arrested Development and Captain America: The Winter Soldier, TV superstars Alison Brie of Community and Adam Scott of Parks and Recreation play host to the epic house party.
You can watch The Party below:

"When I read the script for 'The Party' I really liked the message and vibe that SMIRNOFF wanted to bring to the forefront," said Alison Brie. "A good time is always more fun when everyone is included and I think the playfulness of 'The Party' videos brings this to life."
"'The Party' videos really showcase the idea of inclusiveness," said Adam Scott. "It's so refreshing to work with a brand, like SMIRNOFF, that understands that a good time can be casual and unpretentious."
Consumers of legal drinking age will have the chance to live "The Party" by submitting their must-have house party track into the sweepstakes by going to www.spotify.com/smirnoff for the chance to win one of four epic house parties thrown in their hometown. For those who don't walk away with the grand prize, entrants can win a three-month premium Spotify membership.
When enjoying honest and effortless good times with SMIRNOFF, always remember to do so responsibly. For more information on the SMIRNOFF "Exclusively for Everybody" campaign and how "The Party" is coming to life, please visit www.smirnoff.com or become their Facebook fan at www.facebook.com/smirnoff.