Chamberlain Garage Power Station Puts Air, Power and Light Within Easy Reach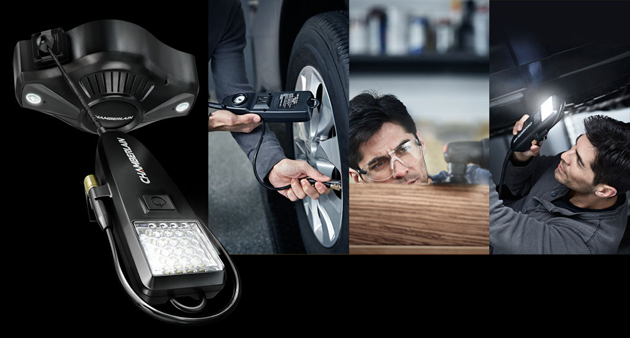 The Chamberlain Garage Power Station is a 3-in-one tool that mounts to your garage ceiling, providing you with on-demand air, power and lighting, always within reach via a 25-foot utility cord.
An auto-retractable utility cord combines air and power in one cord, so you can pump up, power up, and light up anything from one tool. The unit is ceiling mounted, which keeps your work space free from clutter, and turning your garage into a more efficient work area.
The first time I used the Garage Power Station, I was hooked. Even if you already have an air compressor, drop light, and extension cords in your garage, it's the convenience factor that makes this tool so appealing. You simply reach up, pull down the retractable cable, use it for whatever you need, and then send it back to the ceiling. It saves you lots of time, not to mention valuable garage space.
The functional wand includes tools for air, power and light.
Air: On-demand air is provided by the multi-purpose inflator, instantly pumping up anything, including car tires, bike tires, rafts, balls and more.
Power: Power up anywhere throughout the entire garage without a tangle or a knot using the auto-retractable utility cord.
Light: LED task lighting provides 100,000 hours of working life and a built-in hook for hands-free convenience.
If you're looking to declutter your garage while making it more a functional workspace, you should definitely pick up the Chamberlain Garage Power Station. It's available in-store and online at Home Depot stores nationwide, at Amazon.com, and at Chamberlain.com, retailing for just $129.
For more information on Chamberlain products and accessories, visit www.Chamberlain.com.