Volkswagen Reveals Electric Golf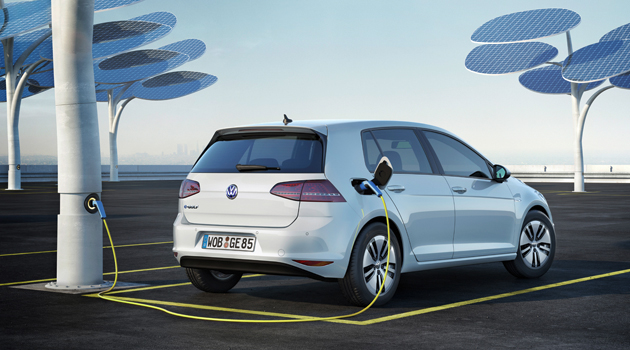 Volkswagen recently unveiled plans to make a 2015 electric version of the extremely popular VW Golf. At the Los Angeles International Auto Show of 2013, VW showed up with its e-Golf, and the auto industry took note. This model is the first fully electric Volkswagen available for sale in the U.S. market, and it's designed to offer a high level versatility combined with low cost of ownership and zero emissions.
e-Golf Overview:
Powered by 24.2 kWh lithium-ion battery and 115 hp motor
Fast charging capabilities allow for 80% charge in 30 minutes
First VW to have all LED headlights
What Drives It?
The main source of power for the e-Golf comes from an electric motor with 115 horsepower. This EEM-85 synchronous permanent-magnet AC motor can develop 100 lbs-ft of torque and reach 25 miles per hour in 4.2 seconds & 62 miles per hour in 10.4 seconds. The top speed of the e-Golf is limited to 87 miles per hour, so you'll probably never have to worry about getting speeding tickets.
Backing the motor is a 1-speed EQ270 compact transmission with incorporated differential and parking brake. This combo/compact transmission unit and the electric motor both were developed by Volkswagen, using VW components at their plant in Kassel Germany.
The average range for the e-Golf is said to be within 70-90 miles per charge. VW is even giving the e-Golf a special heat pump to ensure optimal range in cold weather — this pump uses ambient air and heat from the drivetrain to heat the cabin instead of only drawing from the heater and draining the battery.
Integrated into a space saving frame under the floor is a lithium-ion battery that was also developed in-house by Volkswagen. This battery weighs in at 701 pounds, is made of 264 prismatic cells that have a nominal rating of 323 volts, and has a capacity of 24.2 kWh. The battery is also regulated by a controller that manages temperature, performs diagnosis, and monitors functions — it also cuts power from the battery in the event of a collision.
The car can be charged through the onboard charger at a 220-volt outlet — a total charge takes 4 hours. Charging from a 110/120 volt outlet will take 20 hours to complete a full charge. Drivers can also charge at a CCS-equipped DC fast charging station, where in 30 minutes, it can charge to 80%.
Aesthetic wise, the only recognizable difference between the e-Golf and gasoline model will be a set of custom aluminum-alloy wheels, full LED headlights, and a unique colored strip running along the front grille that's meant to symbolize the model's alliance with the Think Blue. movement.
Volkswagen Increases Sustainability
Even though Volkswagen has been the leader in offering diesel-powered vehicles in America, their new venture throws TDI technology out the door. VW has sold over 30 million Golfs globally and this will be the first zero emissions, completely electric version available for consumer purchase.
Volkswagen is promoting this car as being just another Golf, only it's zero emissions. They're doing so to keep from scaring VW enthusiasts from a platform they probably didn't think they'd get to see in America anytime soon.
Expect to see the Volkswagen e-Golf on sale at the end of 2014 — pricing hasn't been announced . The Golf might only be the start of the electric models as VW has expressed already that they want to be the world leader in electric mobility by the year 2018. This is aligned with their Think Blue. campaign that promotes saving energy and living more efficiently.
When it does come to the market, the sales are expected to kick-off at a relatively low volume, but it's presence is very significant as it will heighten the competition in the market. Volkswagen expects that by 2018, electric vehicles will account for 3% of their sales.