Citizen Brick Created A LEGO Strip Club Called The Foxy Blox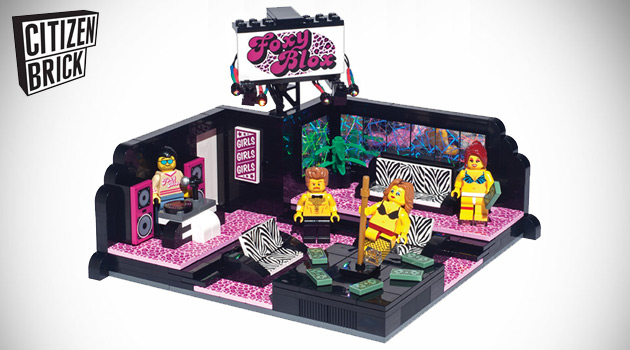 Citizen Bank, the Chicago-based toy company that received TONS of attention last year when they released an unofficial Breaking Bad meth lab play set, is back at it again, this time releasing an unofficial LEGO strip club that features the popular G-rated toys wearing G-strings.
That's right, you can now build your very own LEGO strip club called Foxy Blox, and it comes complete with buxom strippers in bikini tops, a hairy-chested male dancer, a DJ in sunglasses positioned behind a turntable and a stage with a pole in the middle.
The attention to detail is impressive, from the plastic dollar bills scattered around the podium to the strippers' fishnet stockings and clear plastic pumps, to the zebra-printed couches and pink leopard-printed floors. Heck, there's even a series of colorful hologram foil printed paintings, and a palm tree in the corner add a touch of class to the establishment.
As Citizen Bank describes it: "The Citizen Brick Center for the Performing Arts is place where dreamers can dream, and dancers can dance. And dream. And also dance."
Pretty crazy, right? If you want to build a plastic strip club of your own, it'll set you back a cool $275.
Visit www.citizenbrick.com for more information or to place your order.