DAVID KIND Offers An Online-Only Luxury Eyewear Experience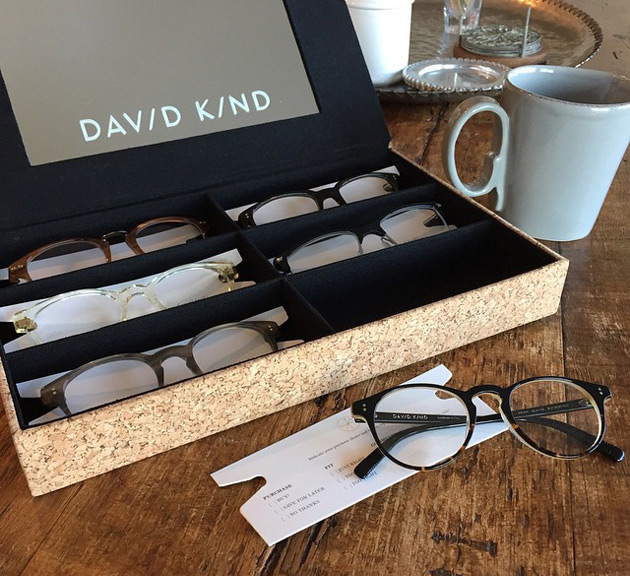 If you hate shopping for new eyeglasses, you're not alone. When you go into a store looking for glasses, the task is rather daunting, as there are HUNDREDS of different frames to choose from. So you start randomly picking up pairs of glasses that you think look good, put them on, and go look in the mirror. This task can be repeated over and over for hours on end, until you find a pair that looks good. The process is exhausting, but thankfully there's now a better way to shop for glasses.
DAVID KIND is an online luxury eyewear boutique that offers premium quality eyewear (designed in Venice, California and responsibly manufactured in Japan or Italy). Now DAVID KIND isn't the first company offering luxury glasses at affordable prices by cutting out the middleman. But how they differ from competing brands is through the experience of their stylists and the clarity of their lenses.
You see, all you have to do is upload photos of yourself and an expert stylist hand-selects frames specifically for you, based on your style, proportions, etc. A real eyewear stylist then builds your fit and style profile. You will receive 6 frames to try on at home for 6 days, each hand-selected by your stylist.Once you've settled on a pair of glasses, simply check the card with the frames you want and send them back with your prescription, and you get your frames back within a week. Shipping is free both ways. And if you don't find a pair that's right for you, you can continue working with your stylist until you find that perfect pair.
In an interview, CEO Dave Barton said "No one has our quality for our price. No one has our unique eyewear expert based service platform. We invest in our frame design, our fit, taking proper measurements for your Rx, and working with the eye care professional to get your glasses right. Our glasses are manufactured in Japan or Italy….We employ expert eyewear stylists that guide you to the best frames based upon your feedback. This solves the current online shopping headaches around size and fit."
With DAVID KIND, you get premium quality, superior technology & customized service at a reasonable price of just $295/frame. Instead of the polycarbonate lenses (which used by much of the industry), DAVID KIND's Trivex/High Index HD Digital Lenses have several advantages including a wider RX range, a thinner profile, clearer viewing and wider peripheral vision.
So what are you waiting for? Visit davidkind.com today and experience a better way to buy quality eyewear!