Don't Let Sensitive Skin Prevent You From Getting A Great Shave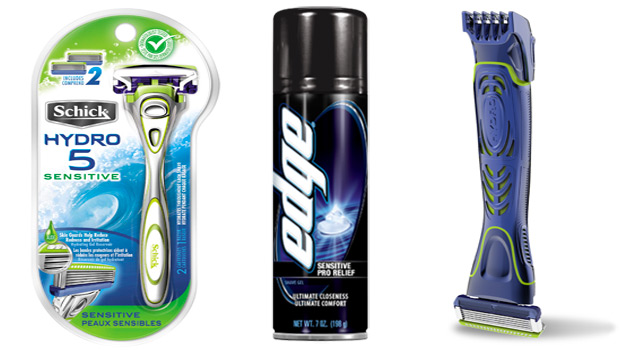 Shaving is a way of life for men.. But if you suffer from sensitive skin, it can be sheer torture. Thankfully, the folks at Schick Hydro and Edge Shave Gel have come along with the perfect shaving and grooming solutions for those who suffer from sensitive skin.
Introducing the Schick Hydro 5 Sensitive, a dermatologist-tested razor system designed to handle sensitive skin, with the hydrating technology men expect from Schick Hydro. The Schick Hydro 5 Sensitive feature five Ultra Glide blades and patented Skin Guards that help protect sensitive skin, as well as a Hydrating Gel Reservoir with aloe and Vitamin E that consistently lubricates throughout each shave to help reduce irritation and redness with every stroke – for all around comfort.
And as we all know, a good shave begins with good preparation. Edge Sensitive Pro Relief Shave Gel is designed for men with sensitive skin, enhancing razor glide and helping to relieve skin from irritation. The Gel contains lubricating molecules, emollients and a special blend of skin conditioners, which protect sensitive skin for a smooth, comfortable shave.
In addition, Schick has recently introduced the Schick Hydro 5 Groomer, a new 4-in-1 facial hair styling tool. It has a Schick Hydro 5 razor on one end, and an adjustable power trimmer on the other. This convenient all-in-one tool eliminates the need for multiple attachments, making it easier than ever for you to maintain your personal grooming styles. And unlike other all-in-one shavers, this one can be used by those with sensitive skin, since it's compatible with Schick Hydro 5 Sensitive refills!
I've been using these new products for the past few weeks, and I've been just thrilled with the results. I think you will be too. They're available at food, drug, mass and online retail stores nationwide.