Football Player Tweets Sexts Between His Wife and Cowboys' RB DeMarco Murray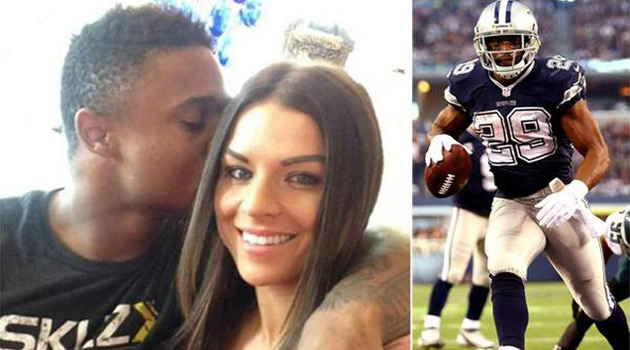 College football star Brennan Clay suspected that his wife Gina D'Agostino was cheating on him with former Oklahoma teammate and Dallas Cowboys running back DeMarco Murray, and he posted the accusation on his Twitter account:
So Demarco Murray was having an affair with my wife ..I'm done ..@demarcomurray and @gina_edagos0126 ..1 has a baby momma and she has 2 kids

— Brennan Clay (@BrennanClay24) November 30, 2014
A few days later, Clay discovered proof of their relationship on D'Agostino's phone, and he decided the best course of action would be to share the intimate text messages between Murray and his wife with his 36,000 Twitter followers. Not sure that's the course of action I would take, but either way we're not complaining..
— Brennan Clay (@BrennanClay24) December 5, 2014
He says that this exchange happened after he kissed her and her two kids goodbye at the airport, as he left to go to training for the San Diego Chargers. Making matters worse, he and D'Agostini have apparently only been married for five months..
To further prove his point, Clay also posted another screen shot of his wife's phone, showing the 'Spray Tan' number to have an area code of Las Vegas, where Murray is from.
And if you don't believe that's his number ..ol boy from Vegas ..702 area code .. pic.twitter.com/Cjlk2BJBTE

— Brennan Clay (@BrennanClay24) December 5, 2014
Ouch, that has to hurt.. But look on the bright side Brennan, at least you found out before you signed a large NFL contract, of which she would have gone after half. Hang in there buddy!