Havaianas & MARKET Release 2-in-1 Puffer Flip Flops That Can Be Worn Year-Round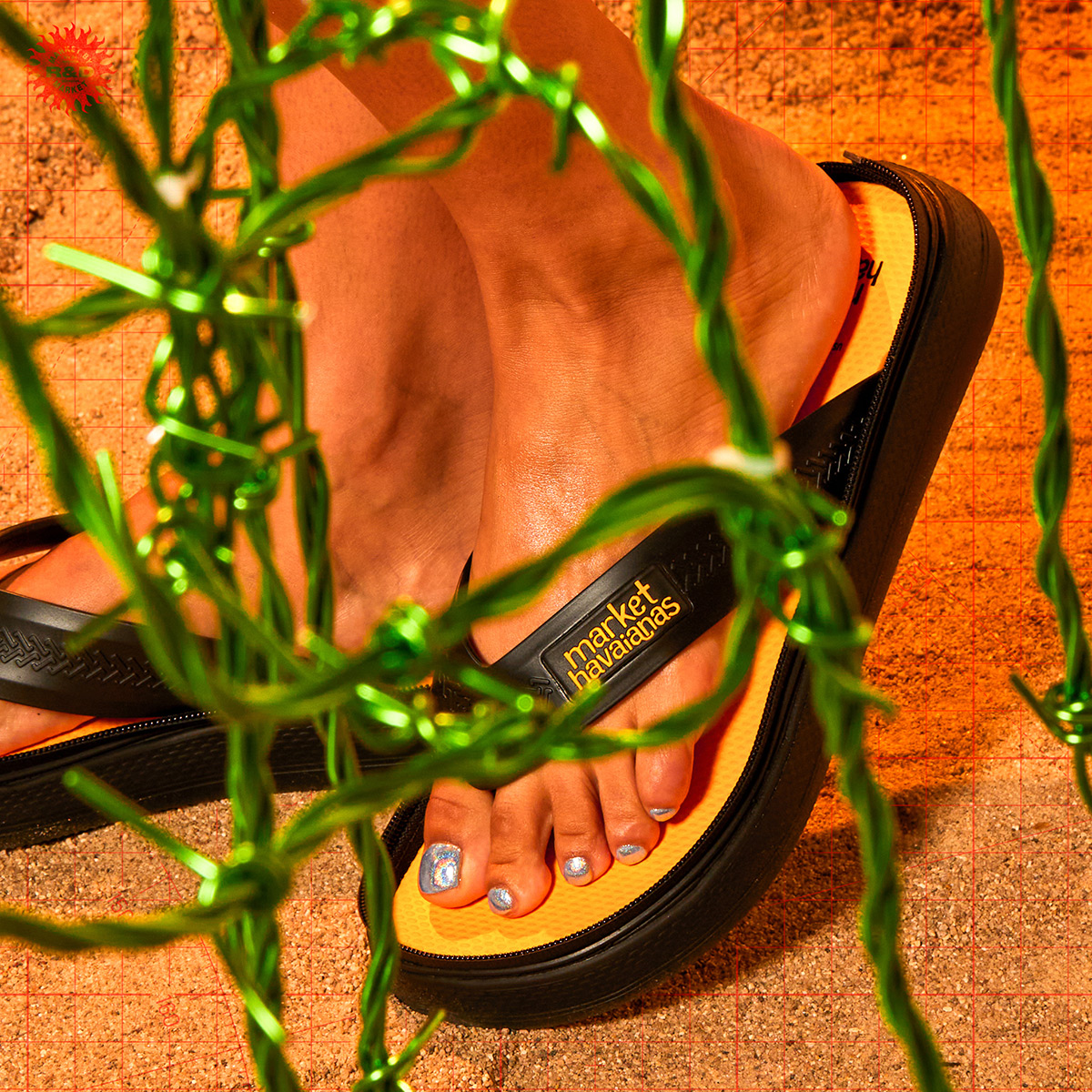 Flip flops are something that most people only wear in the summer, unless you live somewhere like California or Florida where it's warm year-round. But Havaianas & MARKET have teamed up to bring us "the world's first ever fully convertible modular sandal." There hasn't been a ton of innovation in the flip flop space, but we've got to say that this idea is pretty revolutionary.
The Havaianas x MARKET Zip Top is a two-in-one puffer flip flop, transforming the summer staple into a cozy winter shoe. At first glance, it looks like a comfy house shoe, or a regular flip-flop, depending on what state it's in. But it can transform from one to the other when the need arises. Pretty clever idea, right?
Here's how it works: The design starts with a classic Havaianas flip-flop, elevated with more cushioned rubber sole. The model transforms into a puffer shoe with a zip-on upper done in black, water-resistant nylon. MARKET's signature golden yellow hue lights up the collab as trim, landing on the insole, branding and drawstring cord.
It's kind of a genius idea when you think about it. If you've got cold feet? Make them shoes. Can't handle the heat? Cool off by turning them back into sandals. For those days that start cold, step into the Zip Top Puffer. As the day goes on and the temps rise, cool off by breaking open your sandals only to close them back up at night when it's chilly again!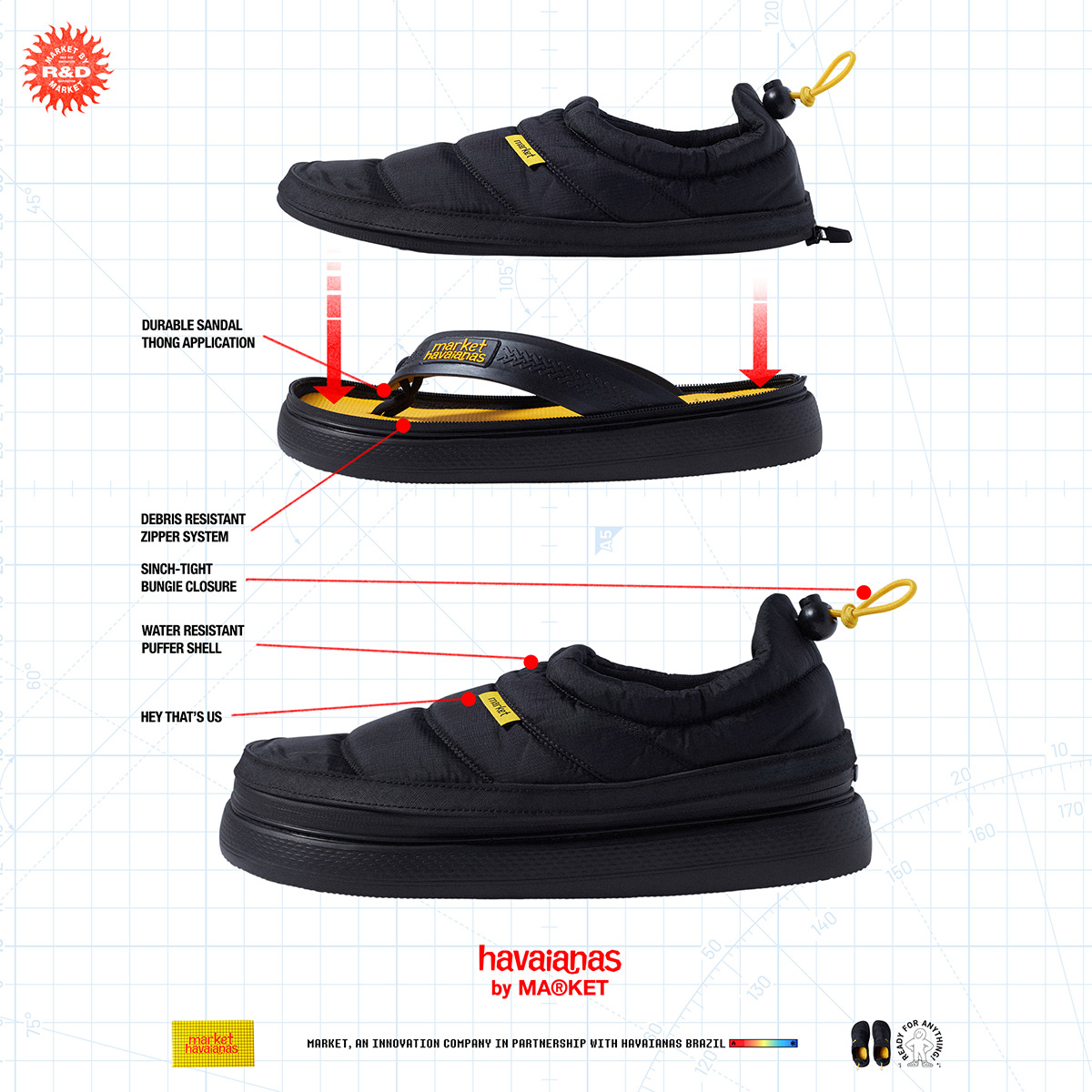 "Building a fully modular system into a sandal enables Havaianas to continue on this road of designing and developing new uppers for their already iconic line of sandals, giving wearers a more dynamic experience with the product and showing people around the world that these are not just made for the beach but just as equally to equip the wearer with the tools to hit the streets," said Mike Cherman, founder of MARKET, the brand's second collaboration with Havaianas following a thermal flip-flop they released back in September.
Launching just in time for Fall, you can grab yourself a pair of Zip Top 2-in-1 Puffer Flip Flops starting today at havaianas.com and in select retail stores worldwide, at a retail price of $120.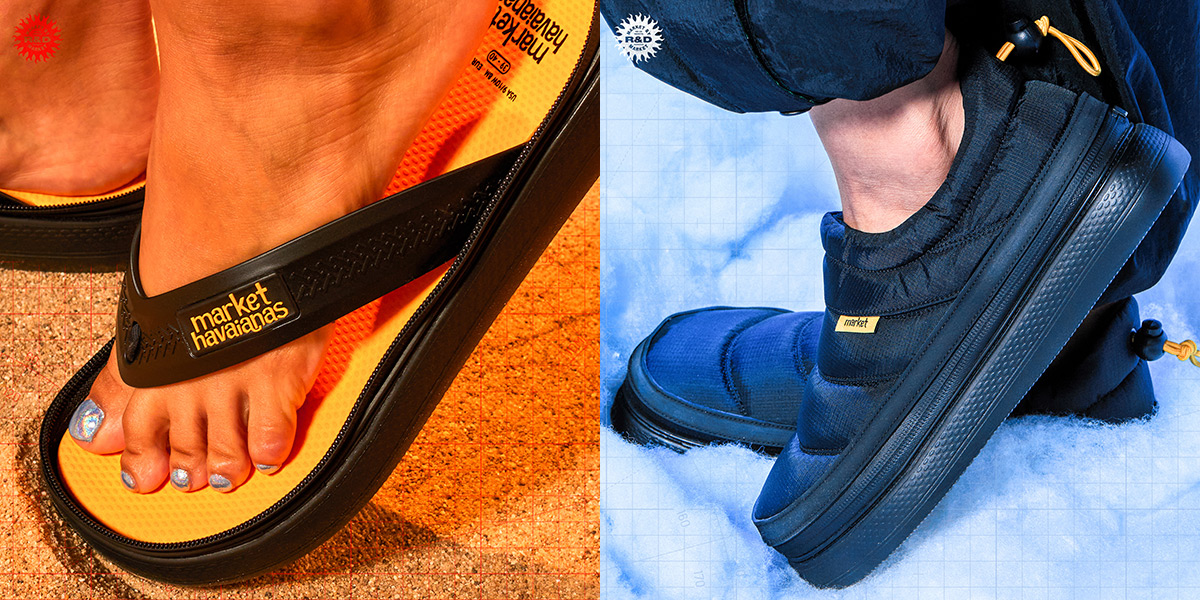 What do you think of the Havaianas x MARKET 2-in-1 Puffer Flip Flops?