How To Elevate Your Wardrobe With A Leather Jacket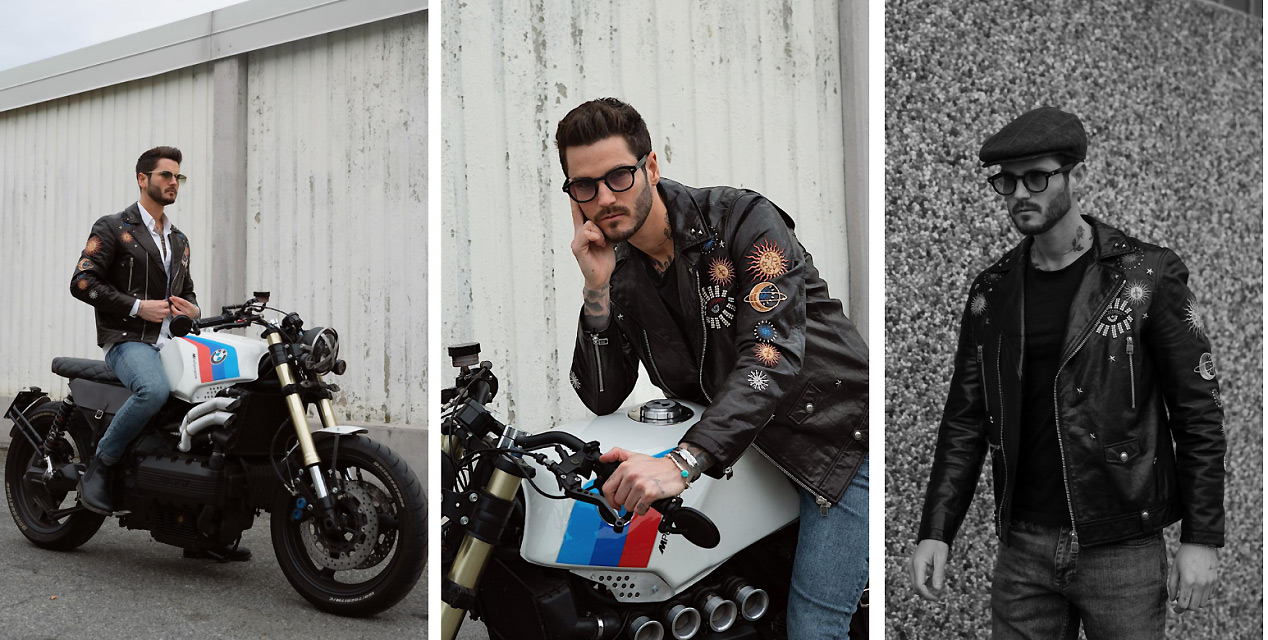 The leather jacket is always in trend in giving stylish look for men since its origin. It is such a classic and versatile item of clothing that never goes out of fashion. The leather jacket is one of the most-consider stylish outfits of all time. If you are looking for something that suits you and you need any advice, then we are going to see some guidance, which might help you to choose the best for you.
There are different types of leather jackets available, and every type has its style and will match with different hardware, other outfits, and purpose. Here we will see different styles that can elevate your wardrobe.
Biker Jacket
The biker jacket was specifically designed for motorcyclists and coming with a dropped style which makes riders comfortable to lean over their bikes while riding. The extra features in the biker jacket like buckles, zips, and poppers will be giving an attractive look while wearing it. Another special feature of the biker jacket is a collar with large lapels which can be folded over each other or snap down. This jacket will be smooth either during the day or at night.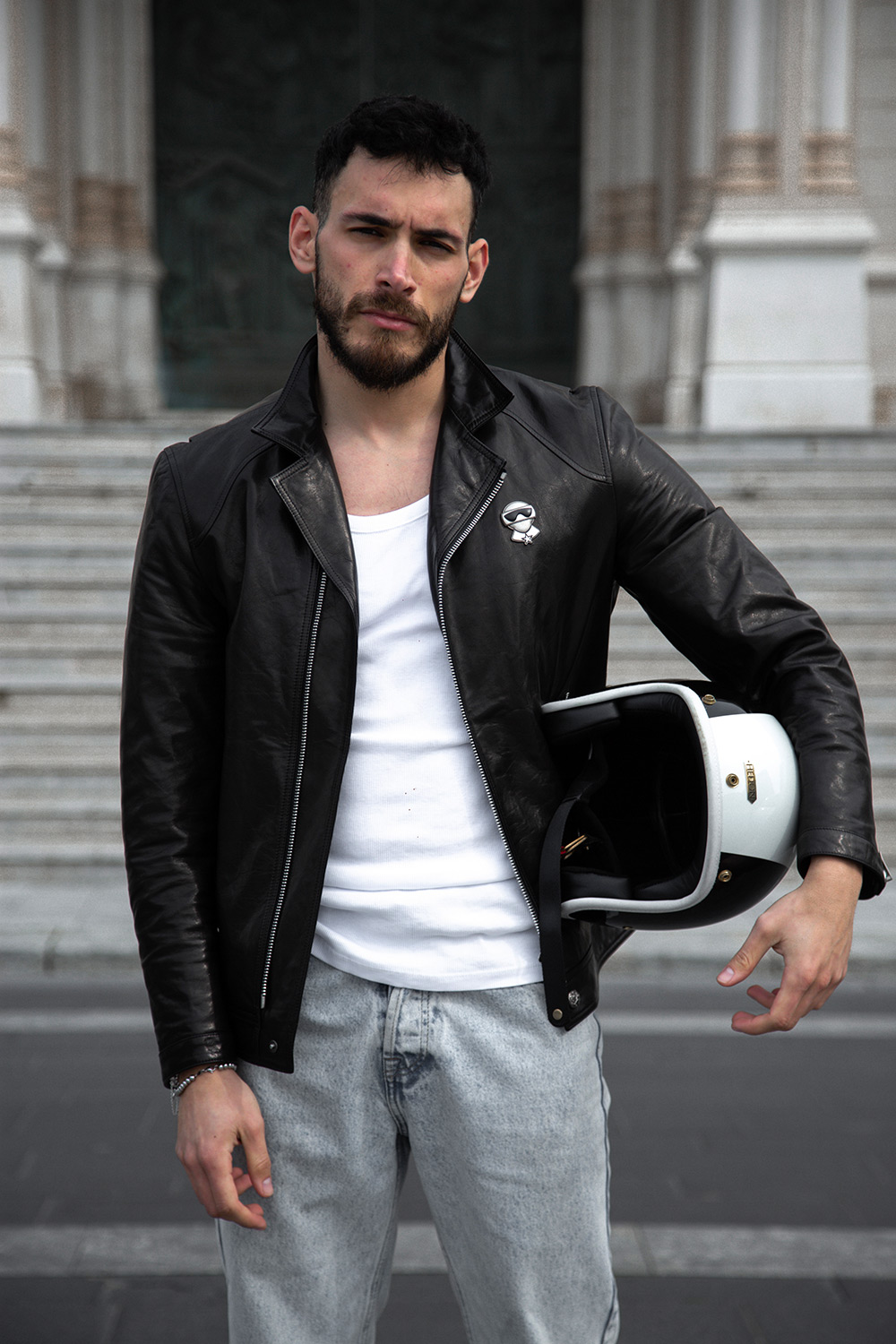 Bomber Jacket
The Bomber jacket also called the flight jacket was initially made for pilots. The Bomber Jacket looks quite simple and gets shape with a tight waist and wrists. It can be paired with different outfits to give different looks. It is becoming a popular style in recent times.
Racer Jacket
The Racer jacket is well suited for a motorbikes racer that comes with a heavier back than front with a strong zipper at the front. They fit with a slim body and come with a front zip.
Flight Jacket
Flight jackets are meant for the pilot comes with a shearling lining which is for to keep the body warm. Today an average man also wearing this jacket and it becomes fashionable now. It is good for winter to keep you warm.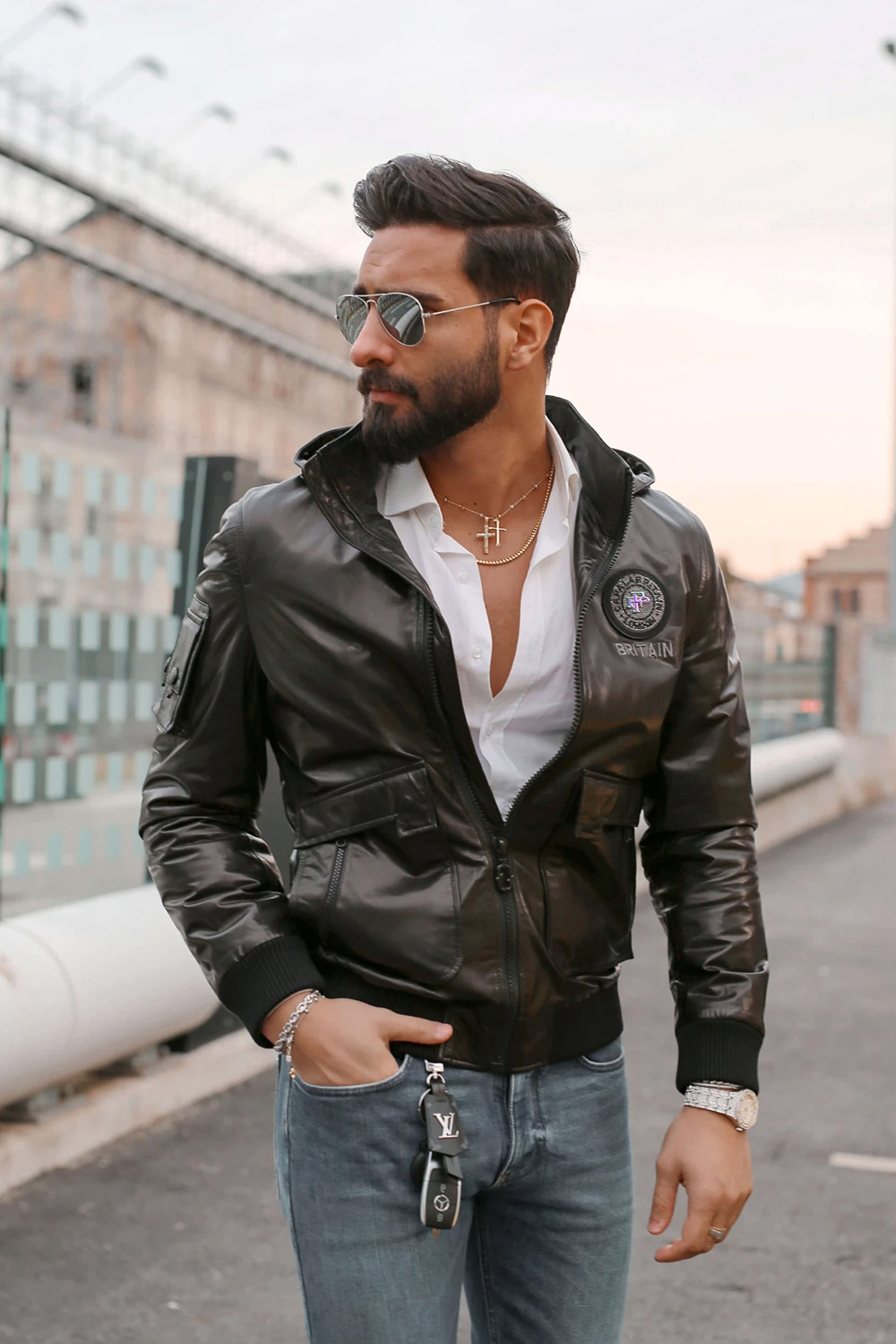 Field jacket
The military wear field jacket is used to be made in a cotton drill fabric and later it has updated to leather. This jacket comes with multiple pockets and longer compare to other jackets. It is a stylish jacket and slim fit.
Different types of outfits with leather jackets
Biker Grunge
Black ripped jeans and high-top sneakers paired with a black jacket give a street style look along with a pair of skate shoes. You could wear a black plain t-shirt or band t-shirt for this look. Always remember that a biker jacket with dark colors gives you a rocker appearance.
Sports luxe
To get a sports-luxe look, pair slim-fitting black jeans and a black or white tee with a logo in it. And also if the jacket is added with a zip-through hoodie directly below the jacket then it really a gives sports -uxe look. And you can also add a cap or sunglasses to look perfect.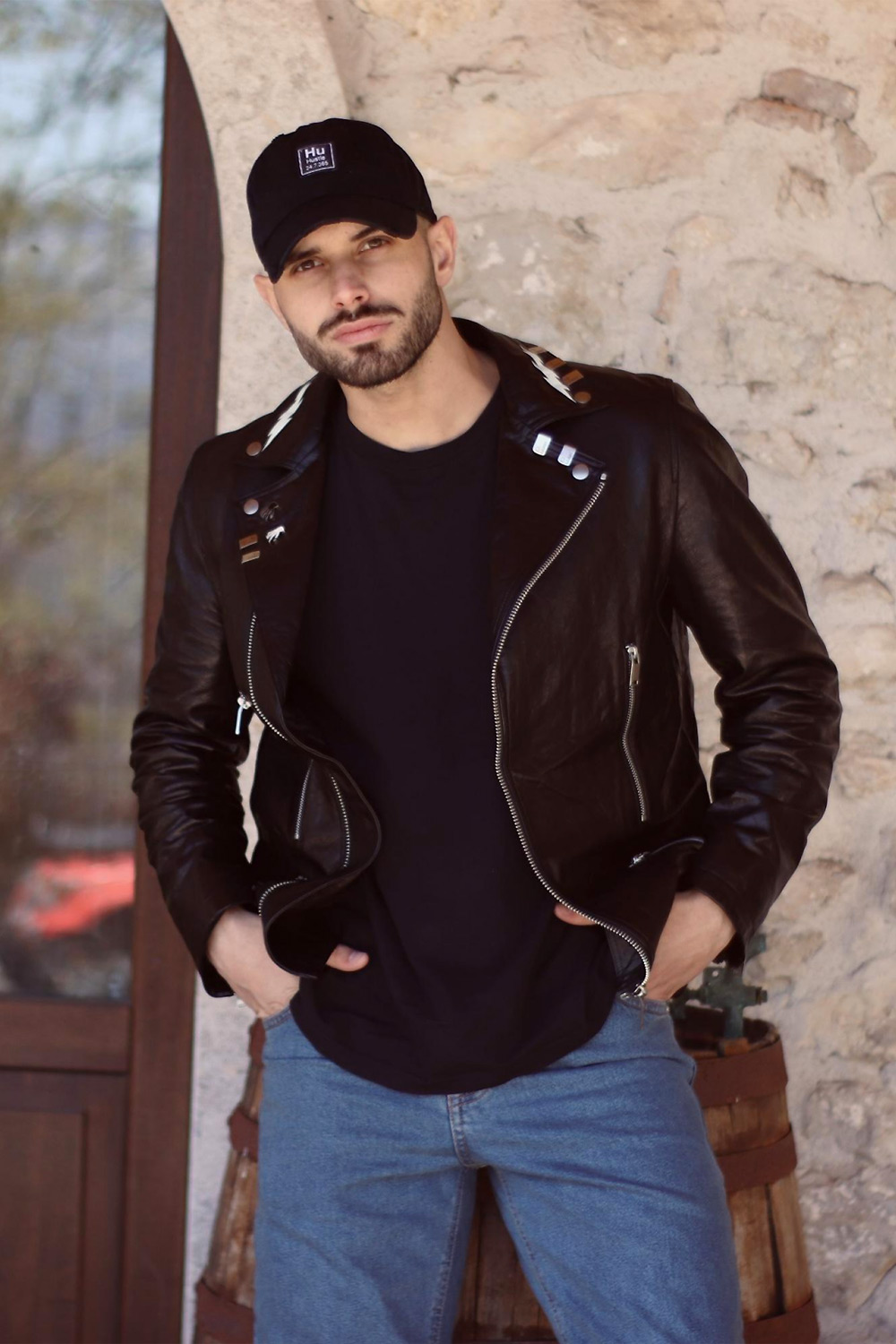 Preppy and proper
For preppy style, just a white shirt paired with grey trousers along with a tie gives the perfect look. Oxford shoes will be the perfect match for this. To add spice to preppy style, choose the leather jacket matching shoe color.
Workplace style
Sometimes a leather jacket works well in the workplace instead of a suit. To get an office look, pair some chinos and derby shoes with a leather jacket along with a turtleneck sweater. This look will be perfect for the workplace as it allows you to feel a lot more casual and comfortable at work.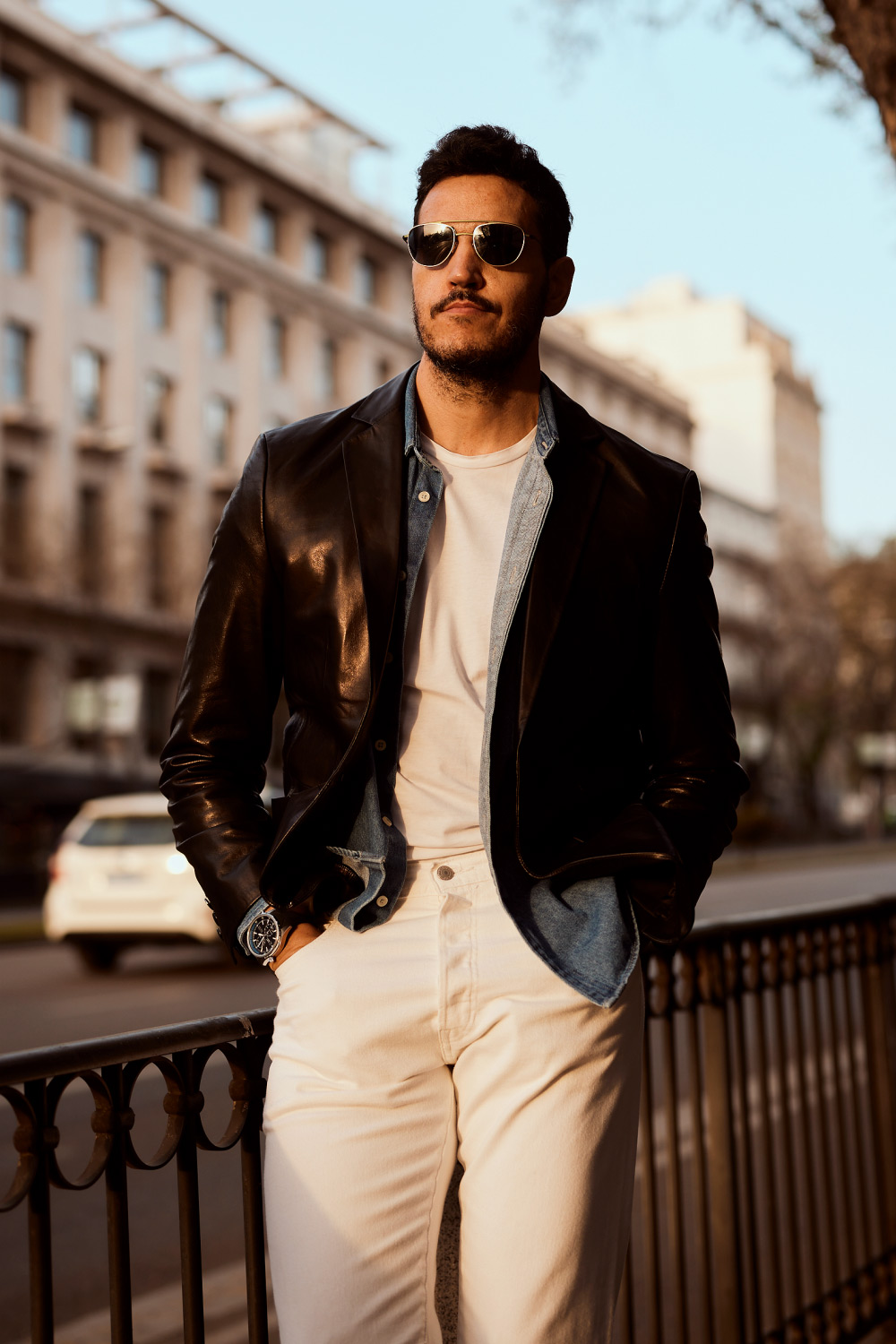 Some tips to wear a black jacket
To get a good style, pick the leather jacket that suits you and the matching cloth from your list.
Black jacket is the option all the time as it goes well with all outfits. And the next option will be brown.
Neutral colors will always look simple when pairing up with any outfit.
If you are going to a wear leather jacket, just confirm with the best match that you have, which gives you confidence.
If the jackets are taken care of, the life of the jacket will be improved. Keep them out of the rain and other harmful cause.
To get a perfect style and look, pick the right leather jacket that suits you in both color and fit. A Matching outfit will make you perfect than ever.
Photos courtesy of palaleather.com