Jack In The Box Adds Hella-peño Burger Munchie Meal Combo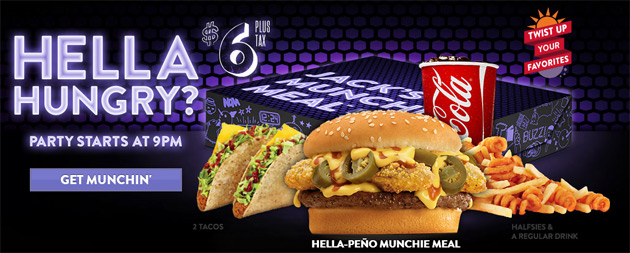 Wish the heat stuck around when the sun goes down like us? Jack in the Box keeps it hella-hot at night with the new Jack's Munchie Meal featuring the Hella-peño Burger. A burger heaped with both stuffed and slice jalapenos, gooey cheese and taco sauce. We cannot wait to eat the heat and want to know: What do you do when the nights get late and the summer gets hot?
Available on Jack's Late Night Menu exclusively from 9pm to 5am, the Hella-peño Burger will be there when you're #HellaHungry and it's hella-late. Enjoy the Hella-peño Burger Munchie Meal combo, complete with 2 tacos, halfsie fries (half regular, half seasoned curly) and a 20 oz. drink for just $6 plus tax!
Sound off: Would you rather have spoons for hands or elbows for ears?