Your Pizza Night Just Got Bigger, Better and Sweeter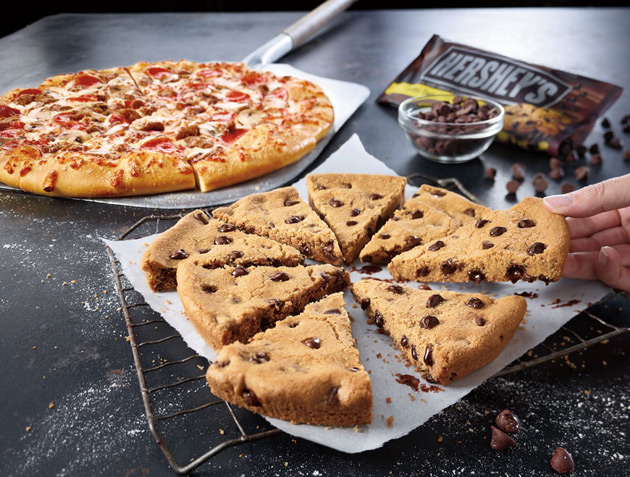 Pizza Hut and The Hershey Company have announced plans to team up and bring a portfolio of quality, great-tasting desserts to Pizza Hut.
First up: The Ultimate Hershey's Chocolate Chip Cookie. The cookie, cut into 8 slices and measuring 8 inches, will feature an average of 165 Hershey's semi-sweet chocolate chips per cookie, offering a delicious and sweet dessert to the Pizza Hut menu. The cookie debuts nationwide for $4.99 with the purchase of a pizza or $5.99 as a single item.
"When it came time for us to expand our dessert offerings, there was only one partner that could offer our customers the kind of quality and delicious taste experience they demand and that was Hershey's," said Carrie Walsh, Chief Marketing Officer, Pizza Hut. "Hershey makes some of the world's most delicious treats and our Pizza Hut chefs are ecstatic to use iconic Hershey products on our dessert menu. Our fans are in for an amazing, and great-tasting, experience as a result of this expanded partnership."
Available for delivery, dine-in or carryout, the 8-inch cookie dessert is freshly-baked with 100% Hershey's semi-sweet chocolate chip morsels that is sure to satisfy the whole group, including pizza, cookie and chocolate fans alike.
To highlight the launch of The Ultimate Hershey's Chocolate Chip Cookie, Pizza Hut and Hershey will host "The Ultimate Bake Sale" on Wednesday, July 16. To accomplish this, Pizza Hut will turn every single Pizza Hut restaurant in America – that's more than 6,300 locations – into mini bake sale shops to benefit The World Food Programme. Pizza Hut will donate 10% of each cookie sold that day, up to $50,000, to the World Food Programme, the world's largest humanitarian agency fighting hunger, and the benefactor of the Pizza Hut World Hunger Relief program each year. Hershey has pledged to match the total funds raised, up to $50,000.
"We're hoping everyone in America will enjoy our delicious new cookie on this day as well as help a great cause," said Walsh.
Fans are encouraged to join the Ultimate Hershey's Chocolate Chip Cookie conversation by using hashtag #PizzaHutHersheys. The Ultimate Hershey's Chocolate Chip Cookie is an addition to their current dessert offering, Hershey's Chocolate Dunkers. Chocolate Dunkers are made with freshly-baked dough and topped with a touch of white chocolate and blended with Hershey's Milk Chocolate.
To order the Ultimate Hershey's Chocolate Chip Cookie from Pizza Hut, visit PizzaHut.com.