Pizza Hut's Twisted Crust Pizza, Another Great Moment In Human Innovation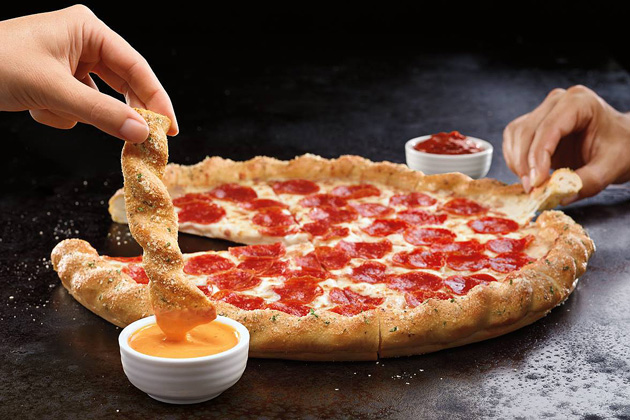 Did you know that October is National Pizza Month? That's right, and Pizza Hut is celebrating this most holy of months with an epic pizza creation that finally brings pizza and breadsticks together: The Twisted Crust Pizza.
Pizza Hut, the company that brought pizza lovers legendary products like BigFoot, the Big New Yorker, and Cheesy Bites Pizza, isn't afraid to experiment with new and innovative flavor combinations. But sometimes, it's the most obvious innovations that have the greatest impact.
Jorts, beer pong and fanny packs. While these might seem like three random things, they have got one thing in common – They were all inventions created out of necessity, as you can see in the video above. Such is the case with Pizza Hut's Twisted Crust pizza, which offers pizza lovers the ultimate flavor combination and gives them the best of both worlds!
But wait, it gets even better. The pizza will be delivered with a traditional marinara sauce for dipping, along with a choice of either Buffalo Ranch or a Cheddar Cheese sauce. Tell me your taste buds aren't salivating just thinking about this. I know mine are..
It's a wonder that no one came up with this brilliant idea before, so kudos to Pizza Hut for coming up with this pizza mash-up! You can get a large hand-tossed Twisted Crust pizza with a choice of two dipping sauces and one topping for just $11.99. So what are you waiting for, pick up the phone and order one (or two) of these bad boys today!
This post has been sponsored by Pizza Hut®, but all thoughts are our own