Burger King's Black-Bunned Halloween Whopper May Turn Your Poop Green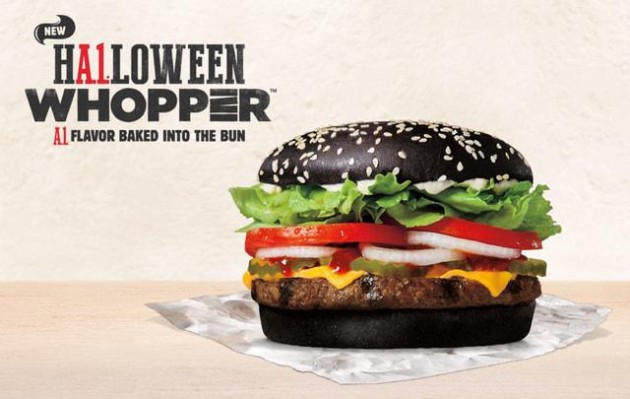 Last year, Burger King Japan released a crazy black burger, and despite how gross it sounded (the buns and cheese both got their color after being smoked with bamboo charcoal, and the sauce was made with onion, garlic and squid ink), it caused quite a commotion.
Now BK has brought a variation of that to the US, in the form of the A1 Halloween Whopper Sandwich. The sandwich is a ¼ pound of savory flame-grilled beef topped with melted American cheese, ripe tomatoes, crisp iceberg lettuce, creamy mayonnaise, A1 Thick and Hearty Sauce, crunchy pickles, and sliced white onions on a soft sesame seed bun with A1 flavor baked into the bun.
Sounds pretty good, right? Well, some Burger King patrons who've tried the Black Whopper say it goes in one color.. and comes out another! And it's now trending on Twitter, with the #GreenPoop hashtag.
Here are a few gems we came across:
Yo @BurgerKing your Halloween Whopper turned my poop SUUUUPER green! It was bomb tho.

— BootnyLeeFarnsworth (@PopStarWill) September 30, 2015
Yesterday I had the Halloween Whopper… Today my poop is green. Yesterday was the last time I'll have the Halloween Whopper.

— Daniel Rodriguez (@Danny_Seth) October 4, 2015
Took like three days for my poop to stop being green, but was totally worth it, @BurgerKing

— Toasty (@ImHunterStanton) October 5, 2015
Dear @BurgerKing, yesterday I ate a Halloween whopper and now the color of my poop is blue green. Where my brown poo? pic.twitter.com/IVthvPpNNQ

— Smokey Martling (@SmokeyMartling) October 3, 2015
You think @BurgerKing will bring back the #greenpoop for St. Patrick's Day?

— Toby Marks (@Tobyblog) October 4, 2015
don't rly care how it tastes, I just want that halloween burger from @burgerking for the rad green poop

— Marie Horselamp (@MarieHorselamp) October 5, 2015
I ate a Halloween whopper just to see if my poop turned green and it DID

— miss new booty (@simplypeachy__) October 3, 2015
I want to try the Burger King black whopper, for no other reason than seeing my poop turn green. #GreenPoop

— Aaron Saltzman (@amsaltzman) October 6, 2015
Are you brave enough to try the A1 Halloween Whopper Sandwich?