Pizza Hut Introduces "Hot Dog Bites Pizza"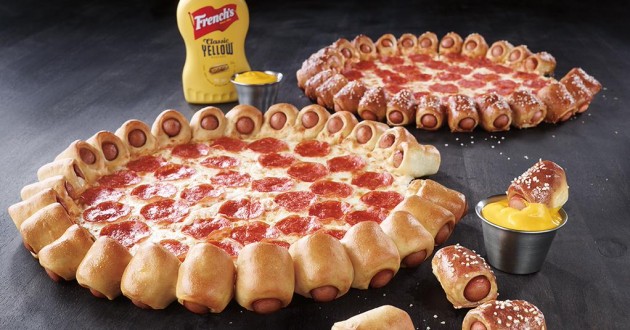 When I first heard about Pizza Hut's new Hot Dog Bites Pizza offering, a pizza with a pigs-in-a-blanket crust, I had to check the calendar to make sure that it wasn't April 1st. But they're being serious, and after launching this new creation in Australia, Thailand, the Middle East, the United Kingdom, and Canada, it's finally coming to America on June 18th.
The American rendition of the popular global pie features 28 premium mini hot dog bites baked into the crust and is served with a side of French's mustard, and it's being offered for just $11.99. The introduction of this limited-time offer conveniently coincides with the peak of hot dog-eating season, including the official start of summer, Independence Day, and July as National Hot Dog Month. And as you can see in the photo above, the Pizza Hut Hot Dog Bites pizza is available with the choice of the traditional or salted pretzel crust flavors.
"We are committed to bringing more flavor and fun to the pizza category than anyone else, and our new Hot Dog Bites Pizza is an absolutely epic flavor mash-up inspired by two of America's favorite foods," said Jared Drinkwater, VP of Marketing, Pizza Hut. "Last year, Americans ate an estimated 150 million hot dogs over the July 4th holiday. We've taken the appropriate steps to notify the National Sausage and Hot Dog Council that they will need to adjust their statistics in 2015, thanks to Pizza Hut's Hot Dog Bites Pizza."
Will you be trying Pizza Hut's epic flavor mash-up? If so, be sure to let us know what you thought of it!