Tips For Hosting The Best NFL Party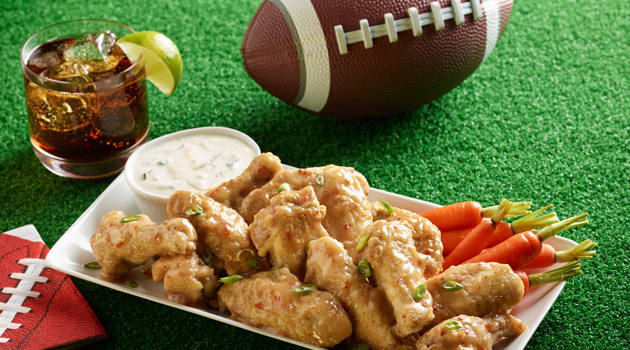 There may not be anything better than getting everyone together for a Sunday NFL party. A day surrounded by friends and family, routing for your favorite teams, drinking cold beverages and eating copious amounts of comfort food. The thought alone is enough to put a smile on your face. That is unless it's your turn to host.
Here are the top tips on hosting the best NFL party for this Sunday or any other.
1. Food and Drink
When you're planning the perfect NFL Sunday bash, food will be vital. There are tons of creative food recipes for game day and your options are only limited to your imagination and budget. But anyone planning a game day party doesn't want to spend the entire day cooking or manning the grill. You're there to watch the game. Plan on food that can either be pre-made and quickly heated or served cold, or, plan on things that can be made quickly before game time or durning halftime.
You can always have something delivered or pick something up to save time. But pizza can get boring and fast food is not very good after about ten minutes. Also trying to order something that will please everyone can be an exercise in futility. If you make it they will eat it. Make an assortment of easy options then let people choose for themselves. Even the pickiest eaters will settle in on something they like.
If your looking to step it up a notch think about color. Making food that matches your team's colors can be a great way to set-off the party, cheers, and jeers and sneers a plenty. You can also ask your guests to all bring one dish and theme it to their team. You might be surprised just how creative your friends get, and how amazing your game day table looks.
These game day tips can be used when planning drinks as well. A full cooler of beer is a must. But thinking beyond beer, themed party drinks can set the party into new heights. Like the food, when planning drinks for the Sunday bash think color. If you want to do mimosas, instead of orange juice you can substitute another juice to match your team colors.
2. Watching The Game
You can't swim without water and you can't watch the game without a TV. You don't need a really big tv for game day. Most people have multiple tvs spread throughout their house. Instead of putting one game on a big screen, think about setting up multiple TVs with all the games on. This can be way more fun. Chances are, you'll have multiple fan bases represented at game day.
Having multiple games going will entice more Sunday action and increase guest participation. Be sure to check on game availability. If you're going to spend the time rearranging your living room and carrying heavy TVs all over, you better get enough of the games to make it worth the effort. There are plenty of NFL Sunday Ticket options available with satellite providers like DirecTV. If you are planning on making this a tradition every week, the extra money is well worth it. With access to every game, there is no reason to ever go to a sports bar again.
3. Start A Pool
No not a swimming pool but a, dare I say it, friendly wager pool. It's easy to set up a two team game pool for every match up and having something on each game can really get the emotions going. It doesn't have to be much, a dollar a square, fifty cents a square, the prize isn't really that important, its the win. On game day people want their team to win and if they can win too, the excite level increases exponentially.
Having a game day pool is super fun. You will watch people who hate football, or say they don't like sports put a little money down and, get louder, more excited, and more engaged, than the diehard fans who only have emotion on the line. A little money can go along way on game day, and what's a couple bucks amongst friends.
4. Seating
Seating might not be the most exciting conversation but when you're planning the best Sunday game party you will need places to sit. Game day is just that a whole day. Spending a couple hours sitting on plastic furniture, or the edge of the couch and your guests will be looking for the door come halftime. If you don't have fancy furniture don't panic. Throw a couple couch cushions, or extra pillows, on the bad seats for added comfort. Beach chairs are nice and most have built-in drink holders which is a nice perk.
Organize the setting for maximum viewing. Think stadium seating. You can lift your couch up on cinder blocks and create a bleacher effect. This will save room while providing extra viewing space. Also organize the chair in a semicircle around the TVs. This will keep everyone together and provide the best views. Be careful not to block major pathways like the way to the bathroom. Sitting in a chair that everyone is trying to shimmy around can get annoying for everyone involved.
5. Plan Games
People will need a break from all that heavy action. Plan some real games people can play during the breaks. This will give others an alternative and keep the action going in the down times. Some people may be a bit down if their team loses and taking their mind off a big lose can be a good thing. You don't want to spoil a good vibe with fan disappointment.