Taking In My First NHRA Race With Patron Funny Car Driver Alexis DeJoria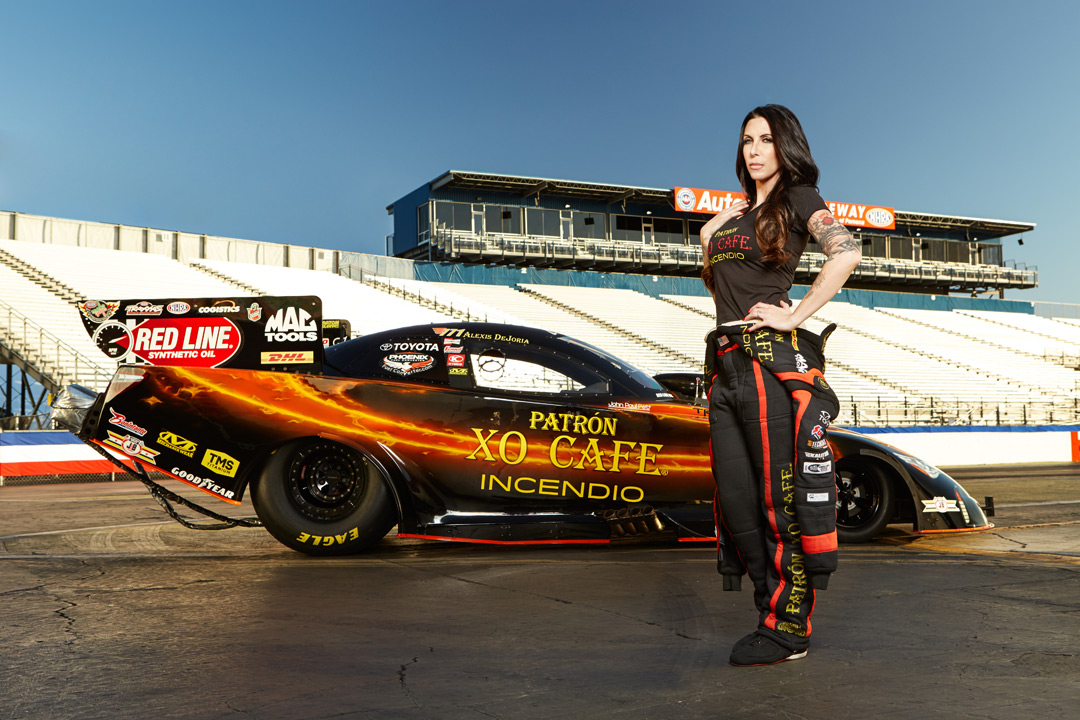 When Alexis DeJoria Racing invited us up to Englishtown to meet NHRA nitro funny car driver Alexis DeJoria and watch her compete in the NHRA Mello Yello drag racing series, I wasn't quite sure what to expect, as I had never attended an NHRA race before. But after my Baptism by Nitro, I was totally hooked!
They say your first nitro experience is unforgettable, and that's a fact. The rumble of 10,000 horsepower side-by-side action and the smell of the nitro-burning cars launching down the drag strip at more than 300MPH are sensations that can only be experienced at an NHRA national event. Die-hard fans flock to the open pits and watch the buildup and teardown of every race car competing during the weekend. The exhilarating action and fan accessibility are just a few of the many reasons why NHRA drag racing has developed an incredible fan base, one of the most loyal in sports.
We came out to Englishtown NJ a few weeks ago to meet Alexis DeJoria, driver of the Tequila Patrón nitro Funny Car. If her last name sounds familiar, that's because she is the daughter of world-famous billionaire John Paul DeJoria, owner and co-founder Paul Mitchell hair care systems and The Patron Spirits Company. She's also married to Monster Garage star Jesse James. Needless to say, she's not your typical nitro driver.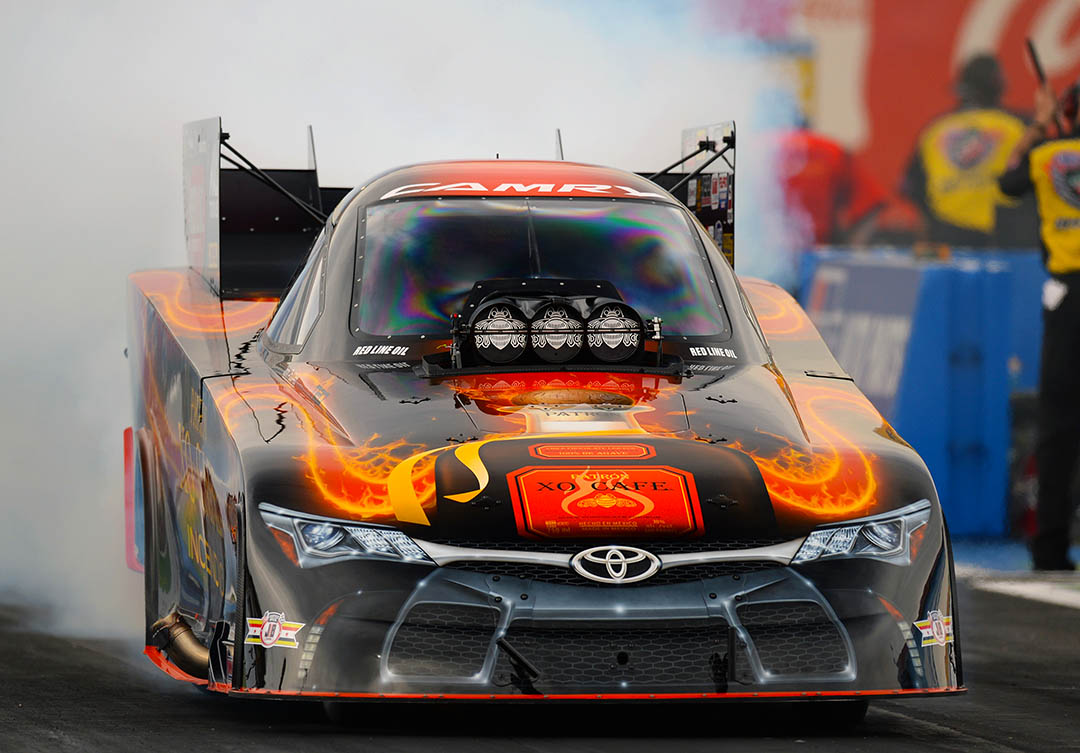 Pilot of one of the world's most powerful race cars, NHRA superstar Alexis DeJoria brings a different energy to the sport with her rock 'n roll vibe. She was bitten by the racing bug early on and currently drives a 10,000 horsepower nitro Funny Car. These nitro-burning, fire-breathing machines accelerate from 0-100MPH in less than one second, and can cover 1,000 feet in less than four seconds and speeds in excess over 300MPH!
While DeJoria could have used her considerably resources to jump right into NHRA nitro cars from the word go, she instead worked her way up from the bottom, starting her NHRA career in 2005, first competing in the Super Gas category and then moving into a rear engine Super Comp dragster. From there, she moved in to a Top Alcohol Funny Car, and after achieving her goals in TAFC, she made the highly-anticipated leap to nitro Funny Car, where she's been making headlines ever since.
As for her famous husband, he's actually a full-on part of the team now, wrenching on the car with the rest of the crew. I wasn't aware of his involvement beforehand, so when I saw him casually walk by, I was more than a little surprised. Fans on the other hand are well aware of James' involvement with the team, crowding the Patrón XO Café trailer in hopes of catching a glimpse of him, with the occasional onlooker even asking for an autograph from him. But when the crew is racing against the clock to get the engine rebuilt before the next round, it's all business with James.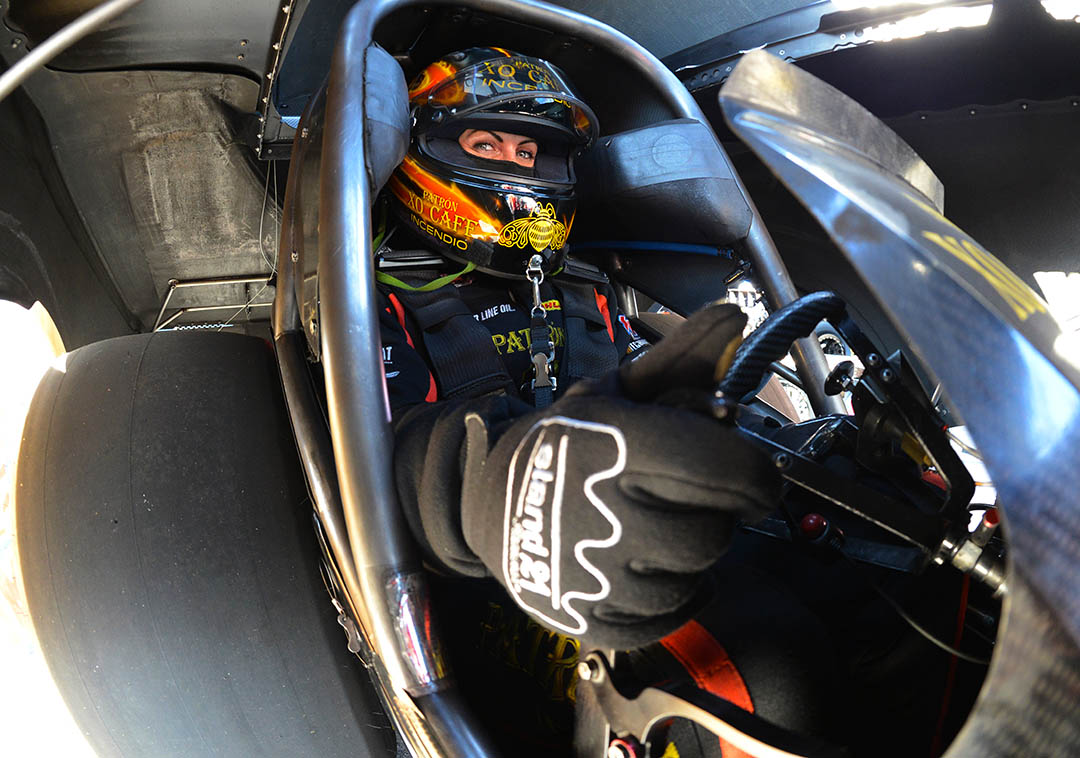 The two seem to be a good match for each other given their mutual interests in motorcycles, cars (among her collection are a '67 Chevy Chevelle SS, a chopped '49 Merc, and a Murcielago), motocross, skydiving, and tattoos, just to name a few. And the fact that they get to spend so much time together (even displaying some brief public display of affection in between all the work) is just icing on the cake.
So what did I think of my first NHRA race? It was freaking intense! There's no way to describe the sound (and feeling) of 10,000 horsepower as these cars roar by you at hundreds of miles an hour, it's just something you have to experience for yourself. Just make sure you bring some ear protection and some sunscreen. You can thank me later.
There are plenty of races left in the 2015 NHRA Mello Yello Drag Racing Series, so be sure you come out to a race when they come through your area.
Photos courtesy of Gary Nastase Photography and Cesar Andre Photography