Bud Light Unveils First-Ever Super Bowl Series Cans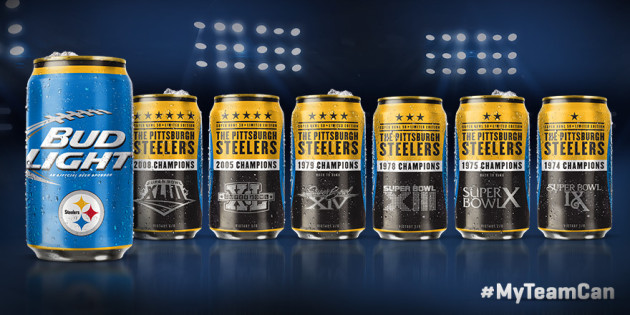 Bud Light released 28 NFL team specific Bud Light cans at the start of the NFL season, and by all accounts it's been a great success. So in celebration of Super Bowl 50, Bud Light is debuting 40 new NFL Bud Light can designs that highlight previous Super Bowl winners. This marks the first time that Bud Light will be customizing team cans for the Super Bowl.
Each design in the Series feature logos from past Super Bowls and the teams that won them, or will integrate this year's gold-infused Super Bowl 50 logo. The collection of cans, which hit shelves on December 7, builds on the success of Bud Light's popular 28 NFL team specific-cans, which were released during NFL kickoff.
"This year Bud Light has completely evolved its NFL sponsorship strategy, placing a strong focus on customization and localization to bring the pride and traditions of the NFL's varied fan base to life, from new can designs to in-stadium experiences," said Alexander Lambrecht, vice president, Bud Light. "We kicked off the season with new team-specific cans that were wildly popular with consumers. Our first-ever Super Bowl Series cans are the latest way that Bud Light is proving itself as the beer of the fan, helping fans connect with sports in new and unique ways."
To introduce these Super Bowl Series cans, Bud Light has released a new television commercial highlighting the unique can designs, which you'll probably be seeing in heavy rotation.
What do you think of Bud Light's Super Bowl Series cans?