Xbox One NFL App Provides A Wealth Of Information For Football Fans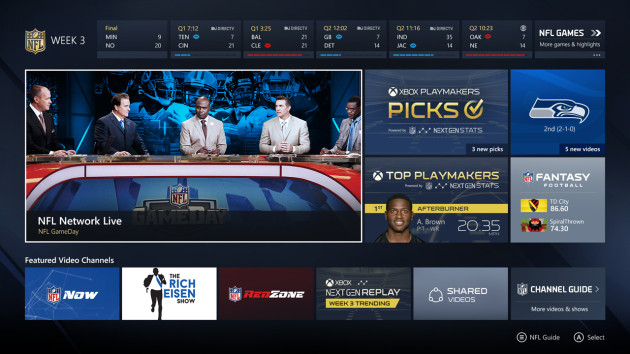 With the 2015 NFL season right around the corner, Microsoft is proud to again partner with the NFL to bring its emerging technologies to the game millions love. Last week, we got a sneak preview of their updated NFL App on Xbox One, which brings fans closer to their favorite teams, fantasy football and friends. If you are a football fan who's been on the fence between the Xbox One and PlayStation 4, it's a no-brainer.
By connecting fans through intuitive TV experiences like Skype and Fantasy Football, Microsoft is delivering a whole new way to experience NFL game day. This season, Microsoft will be integrating Fantasy Football programs from NFL.com, CBS, and Yahoo! Sports into Xbox One and Windows 10. If your team is set up in the app, you can get real-time fantasy scoring notifications just like you'd see from real NFL games!
Additionally, Microsoft has also added a variety of new features to the Xbox One NFL app, delivering a truly unique experience for fans, including: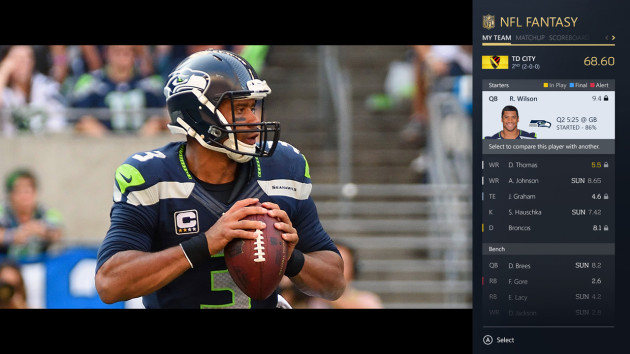 Next Gen Stats: Go beyond your standard categories of catches, yards and touchdowns and allow fans to track player's velocity, speed (MPH) and total distance run. With Next Gen Stats, fans will know more than NFL experts with previously unseen data. Fans can discover how fast their favorite RB ran, how far their fantasy QB scrambled or change viewing angles to see just where the coverage broke down. It's unbelievably cool!
Game Day Notifications: Fans will have improved game day notifications, as they can now set two favorite teams to go along with being able to upload two different fantasy teams. With smart notifications, fans can personalize their game day experience on Xbox One and Windows 10 to see only the big play alerts, scores, fantasy updates and highlights they care about when they happen.
New Replay Function: There's a new replay function that will allow fans to watch replays from multiple angles and share to their Xbox Live contacts. When you snap the NFL App while watching live NFL games, there's a new highlight reel section, where you can "like" big plays and keep track of the most popular highlights for the day.
NGS Pick'em: For the first time ever, Microsoft is introducing a new skills game competition called NGS Pick'em, offering an opportunity for fans to make predictions on Next Gen Stats recorded from highlights and replays to win prizes including tickets to Super Bowl 50. The full NFL App, complete with the NGS Pick'em will also be available on all Windows 10 devices, providing users the ultimate second screen experience.
"You can watch the game by yourself with your cable, but on Xbox, we're going to make that game better," said Todd Stevens, executive producer at Microsoft.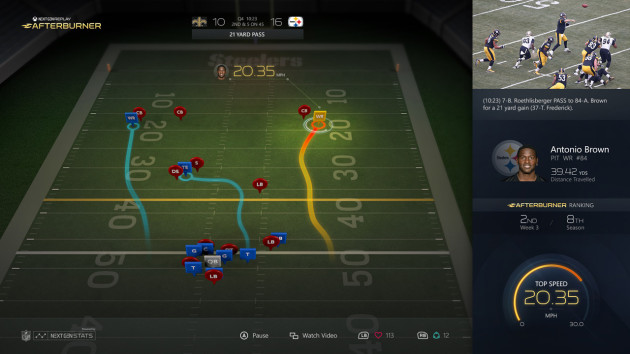 And honestly, that's really the best way to describe it. The NFL App on Xbox One gives super fans everything they could ask for, and then some. I particularly like the scoreboard feature that lets you "check in" to games you're interested in following, thereby telling the app that you want notifications of important events for those matchups — scoring plays, kickoffs, new quarters starting and more. No more juggling multiple screens and devices to keep apprised of everything that's going on!
There's probably even more features that I haven't covered, but those are the biggies. The new NFL App will be available for free later this month. And if you don't have an Xbox One yet, go pick one up today, and get ready for an unparalleled interactive NFL TV experience like no other!