You Can Make Serious Money Playing Daily Fantasy Sports On DraftKings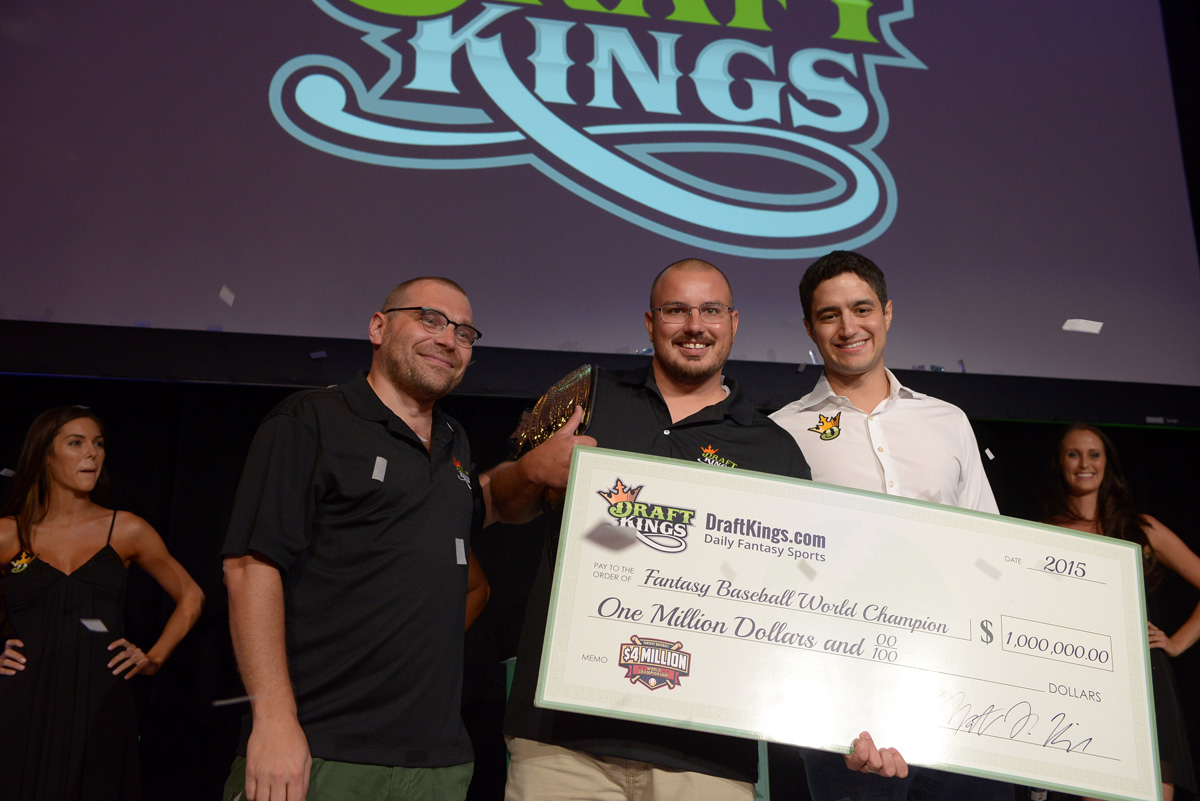 By now, you've probably heard about daily fantasy sports (DFS), which takes the traditional fantasy sports model and compresses it into a daily game. But did you know how incredibly lucrative it is? Neither did I.. But after spending an action-packed weekend in Las Vegas with DraftKings for their $4 Million Fantasy Baseball World Championship, my world was turned upside down.
Founded in 2012, the Boston-based DraftKings is one of the leaders in the daily fantasy sports industry. They offer Daily and Weekly Fantasy Sports contests for cash prizes in all five major sports (MLB, NHL, NFL, NBA and PGA), as well as college football and basketball, with a wide variety of game types to choose from.
Their rapid-fire contests are a much shorter duration than the traditional season-long leagues and require no team management after the draft. Unlike the hours-long snake drafts in traditional leagues, their salary cap draft format takes just minutes to complete. They offer new contests every day of the season, with winners being crowned nightly, and payouts happen immediately after the games!
The Fantasy Baseball World Championship brought together some of DraftKings' best players, with 80 lucky finalists playing for their share of $4 Million and the Fantasy Baseball World Championship Belt. The finalists were treated to a four-night VIP trip to Las Vegas, accommodations at the Wynn, an exclusive pool party at the Encore Beach Club, and their choice of excursion: Zip-lining, ATV desert racing, smooth water rafting, or a spa treatment at the Wynn. Clearly, there were no losers on this trip!
We had a chance to talk with a number of the contestants, and their stories were pretty remarkable. Most of them have been playing DFS for 3 years or less, starting with a small bankroll and working their way up as they got the hang of things.
Take Paul Baranauskas (paulyshorts), a 36-year old married father of three from New Jersey who works as an accountant. He's a baseball fanatic who started playing a few years ago, and he ended up as the night's big winner, collecting a check for $1 Million! I was actually with him during that life-changing moment, and it was pretty surreal. He was still in shock afterwards at dinner, and who could blame him.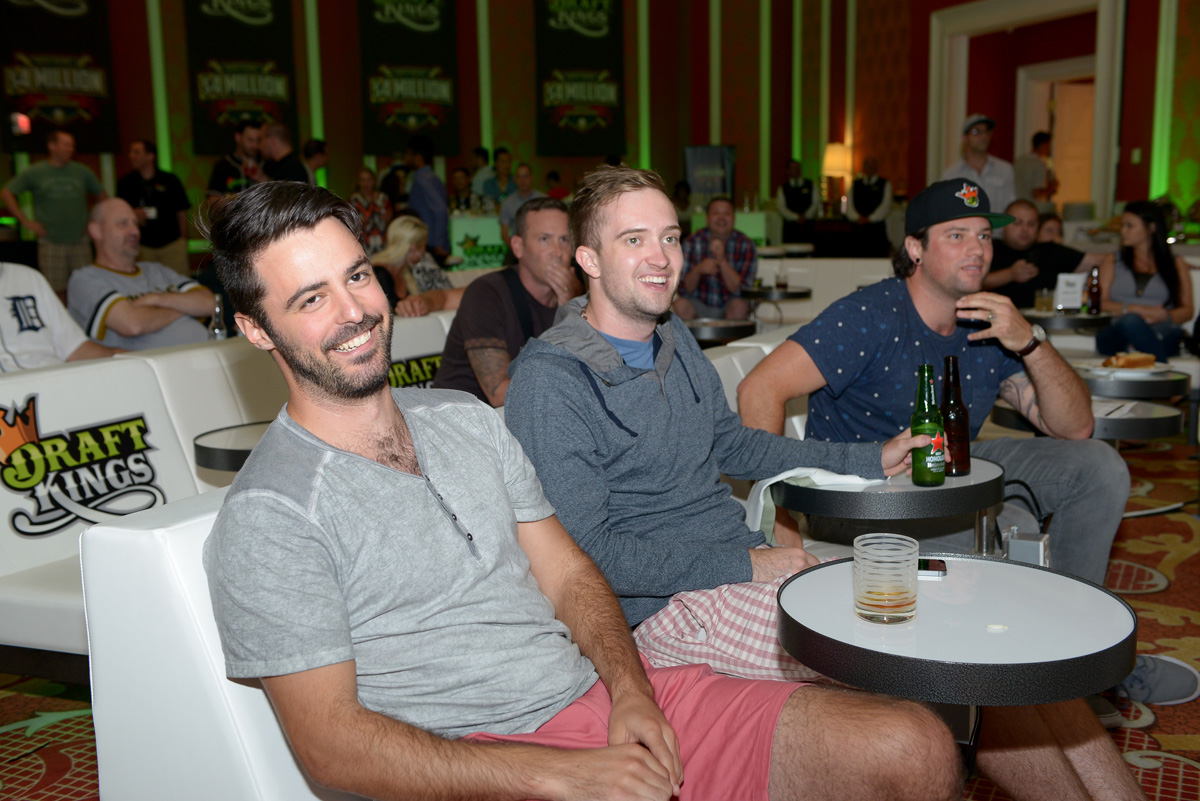 Another guy I talked to started playing 3 years ago with a $600 bankroll. Since then, he's amassed winnings of $1.1 Million! He still works a normal 9-5 and keeps a relatively low profile, using his winnings to dabble in real estate and stocks. Can you imagine?!
Then there are the professional DFS players who do this for a living and make some serious BANK. These guys are high-rollers, and they've got the big checks to prove it. It was crazy hanging out with this one guy the night before at XS, and watching him win $500,000 the following day (on no sleep, no less).
One of Guys Gab's very own has been playing on DraftKings for the past year or so, and he recently scored big on a $3 contest, winning enough for his down payment on new car.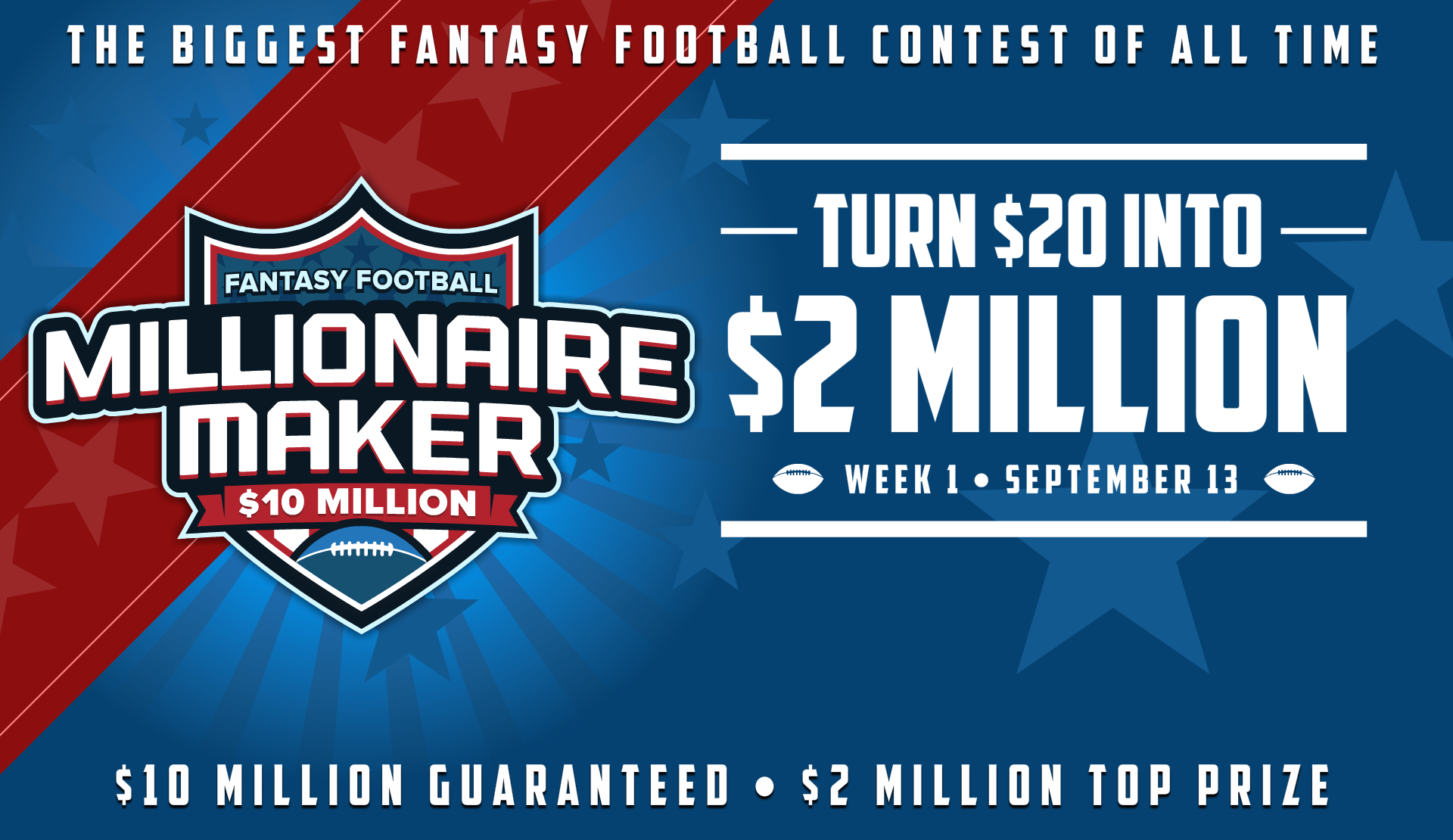 After experiencing the "sweat" firsthand and seeing the potential here, I'm jumping into DFS headfirst. And the first contest I'm entering is the $10 Million Guaranteed Millionaire Maker Fantasy Football Contest, which takes place during Week One of the pro football season. Here, the grand prize winner will walk away with $2 Million and the second place winner will take home $1 Million – All for just a $20 entry fee!
If that's too rich for your blood, there are plenty of other contests to choose from. Heck, there's one going off tonight with a $0.25 entry fee, and first place pays out $100. Or if you just want to get the hang of things, try one of their Freeroll contests.
With the NFL season right around the corner, now's the time to start playing daily fantasy sports. There is a lot of money on the table here, so join DraftKings today and get in on the action!