How To Tailgate Like A Pro This College Football Season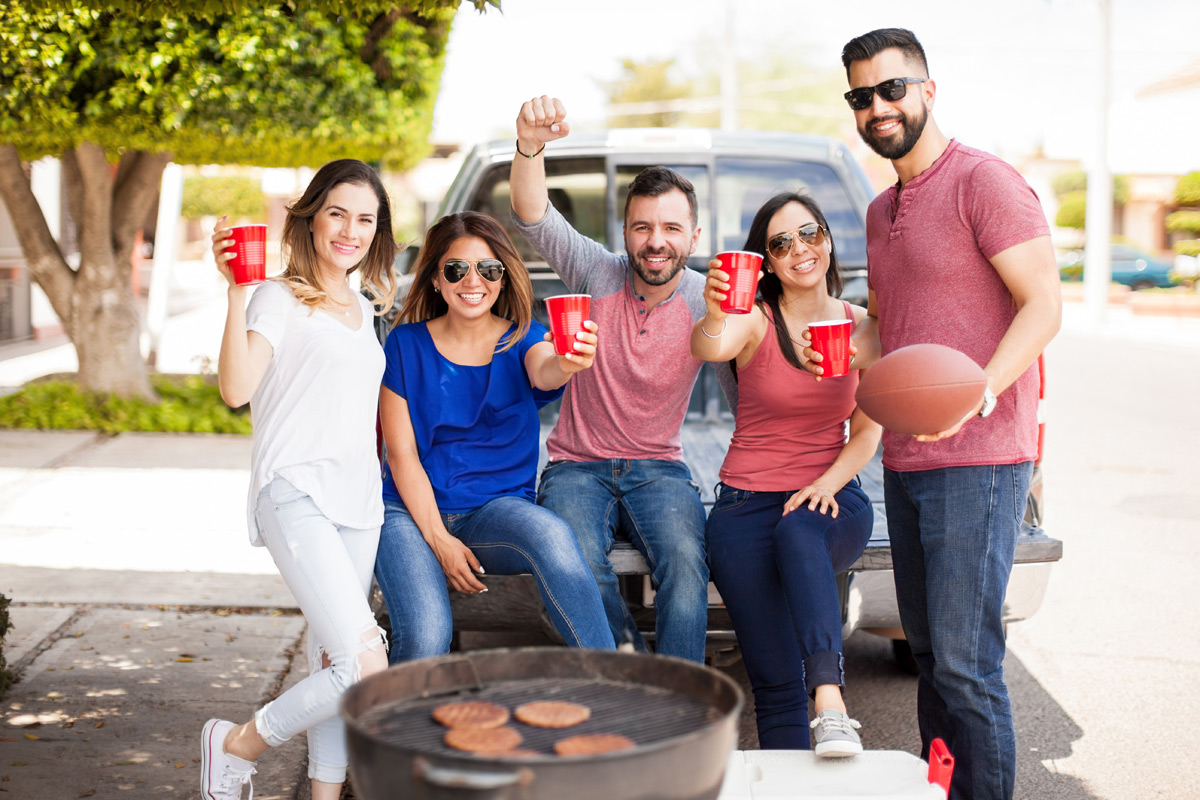 When it comes to college football, there are dozens of reasons to turn off the television and head out to see a game in person. The roar of the crowd, the stymieing abilities of the marching band at half time, and the taste of a concession stand hot dog just can't be had when you're sitting at home on your couch.
While these reasons and others like them are often enough to compel any football fan to take in a game from the stands, for many college football lovers, one of the biggest appeals of the stadium lies in tailgating outside of it beforehand. So, don't miss out! Here are a number of tips to ensure you tailgate like a pro this college football season.
Make It Interesting
One of the best parts about tailgating is that you get to gather a group of friends and family together. Because of that group dynamic, go the extra mile in making game day an interesting one by offering everybody a little extra incentive to have a good time. Maybe wager friendly bets on who you think will score first and how, or pool your money to wager online via a tablet or phone — be sure to find out how to read US-style sports odds first, however, if it'll be your first time. You can also offer tailgating door prizes for everything from who drove the farthest to come to the game to who is wearing the most ridiculous fan gear.
Choose Food And Drinks Based On The Weather
One of the most important facets of a great tailgating experience lies in the food and drink that's available at the tailgating site. Instead of just loading up on your favorites, take the weather into account. Is it going to be hot? Have sliced watermelon, cold sandwiches loaded high with excellent meats and cheeses, potato salad, and chips with a variety of dips. Pack the coolers with plenty ice, sodas, and beer.
Is it going to be cold? Then, bring on the hot food! Pack a grill, and serve up steaming hamburgers, hot dogs, or steaks. Make up plenty of tomato soup ahead of time and pack it into thermoses that will keep it warm. Buy tortilla chips in bulk, and fill a crock pot with a blend of cheddar cheese, cream cheese, and salsa. You can plug an A/C adaptor into your vehicle's lighter to keep it piping hot. Pack coffee and hot cocoa in thermoses or Cambros, and if your crew likes to drink, bring along some whiskey to add in from time to time.
Dress the Part
College football is serious business. So as a tailgater, you need to toe the line and treat it as such. Again, be sure you're prepared for whatever the weather holds: rain gear and umbrellas if it's raining, plenty of layers if it's cold, and sun block and hats if it's going to be a scorcher.
Bring extra gear just in case anyone with you is lacking. Beyond taking care of the body for the party and the game, it's also essential that you go all out in representing your favorite team. Whether you're in head-to-toe blue to root for Kentucky or you're in the most garish green and yellow attire you can find to show your love for Oregon, don't miss out on an opportunity to look like the biggest fan in the parking lot.
Do Your Research
One great way to encourage game-related conversation, especially if you have some tailgaters with you who don't know one another well, is to bone up on facts and statistics about the teams, schools, coaches, and towns where the colleges are located ahead of time. College football over the years has spawned amazing rivalries, storied teams, ridiculous stunts, and mythic tales. Live mascots get kidnapped by rival teams, and coaches are known to do almost anything to get their teams revved up for a win. A bevy of fascinating research will make everyone even more excited for the game, and the storytelling you'll employ is always a welcome part of a great tailgating party.
So, get off the couch this college football season, and invite your buddies out to join you for an unforgettable Saturday of tailgating fun. From gearing food and drinks toward the weather to adding a little extra incentive for fun here and there, tailgating like a pro isn't just within reach; it's one of the best reasons to take in a game at the stadium.