How Bristol Motor Speedway Will Become A College Football Stadium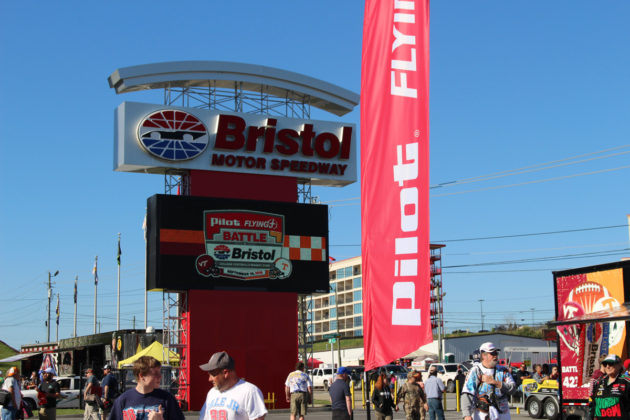 Bristol Motor Speedway, a half-mile racetrack and the self-proclaimed "last great colosseum" on the NASCAR circuit, will be transforming into a monster football stadium this September for an iconic college football game between the Virginia Tech Hokies and Tennessee Volunteers.
The Pilot Flying J Battle At Bristol looks to set the Guinness World Record as the largest attended football game of all time, with 160,000 fans expected to be there for the game. That would shatter the current record set in 2013, when 115,109 fans stormed "The Big House" in Ann Arbor for the Michigan / Notre Dame game.
This game has been 20 years in the making, originally envisioned by track owner Bruton Smith shortly after purchasing the track back in 1996. And while it's taken nearly two decades for his vision to become a reality, we're finally on the cusp of college football history here.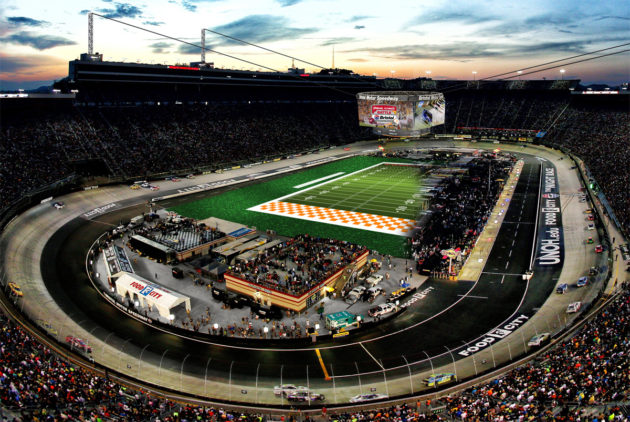 As for Pilot Flying J, you couldn't ask for a better fit for the title sponsor. Pilot founder Jim Haslam played for the Tennessee Volunteers football team and was a member of the 1951 National Championship Team. The first Pilot filling station opened in Gate City, Virginia (a mere 30 miles from Bristol Motor Speedway) in 1958. And they're headquartered in Knoxville, TN.
Last month, our friends at Pilot Flying J brought us down to Bristol Motor Speedway to take in the Food City 500, hang out with NASCAR driver Michael Annett, and to learn how BMS would be transformed from a race track to a college football stadium.. in just 20 days!
Now one of the biggest hurdles that BMS had to overcome was figuring out what to do with the scoring pylon that sat smack dab in the middle of the infield. The answer? Colossus TV, the world's largest outdoor center-hung 4-sided screen. Colossus weighs nearly 700 tons, has screens measuring 63 feet wide by 30 feet high, and is suspended above the infield with 117 tons of cabling. It's HUUUUUUUGE!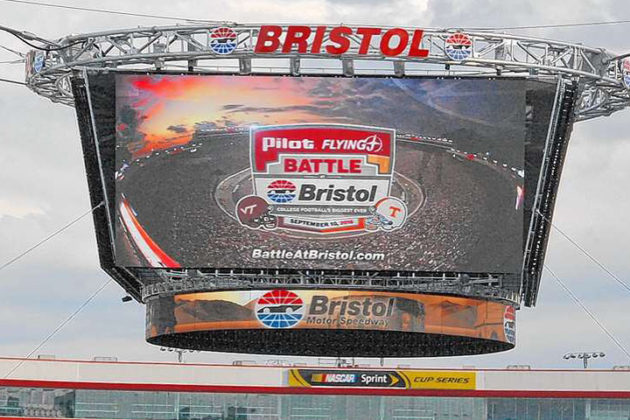 The rest of the transformation from racetrack to football field will happen following Bristol Motor Speedway's legendary Night Race on August 20th, leaving workers less than three weeks to make it happen. It'll be tight, but they've been planning for this for years.
Here's how the transformation from racetrack to football field will go down:
Immediately following the race, approximately 400 workers will immediately begin bulk cleaning, and then detailing, the Speedway.
An estimated 10-12 crews will begin pressure washing. Separate crews will clean all suites in seven days – a process that normally takes 4-6 weeks.
Approximately 400 truckloads totaling 8,500 tons of rock will be used to build the base of the field.
The game field will be raised approximately three feet off of the existing concrete in the speedway infield to ensure a level playing surface.
The base rock will be 3′-6″ deep in the middle of the infield tapering to 1-1/2′ on sidelines to create the proper sloping effect for drainage.
The complete haul-in process will take three, 10-12 hour days.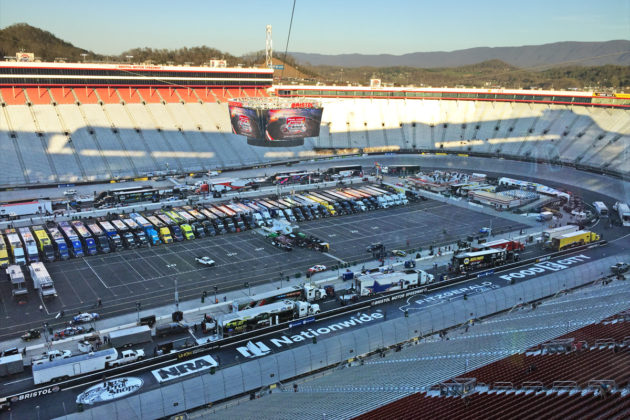 The Pilot Flying J Battle At Bristol is going to be historic, and if it's successful (which it appears to be already, with all 160,000 tickets selling out in record time), they should do something like this every few years.
I for one can't wait for the #BattleAtBristol, this game should be something else!