Kenny Powers Is Taking Over For NASCAR's Dale Earnhardt Jr.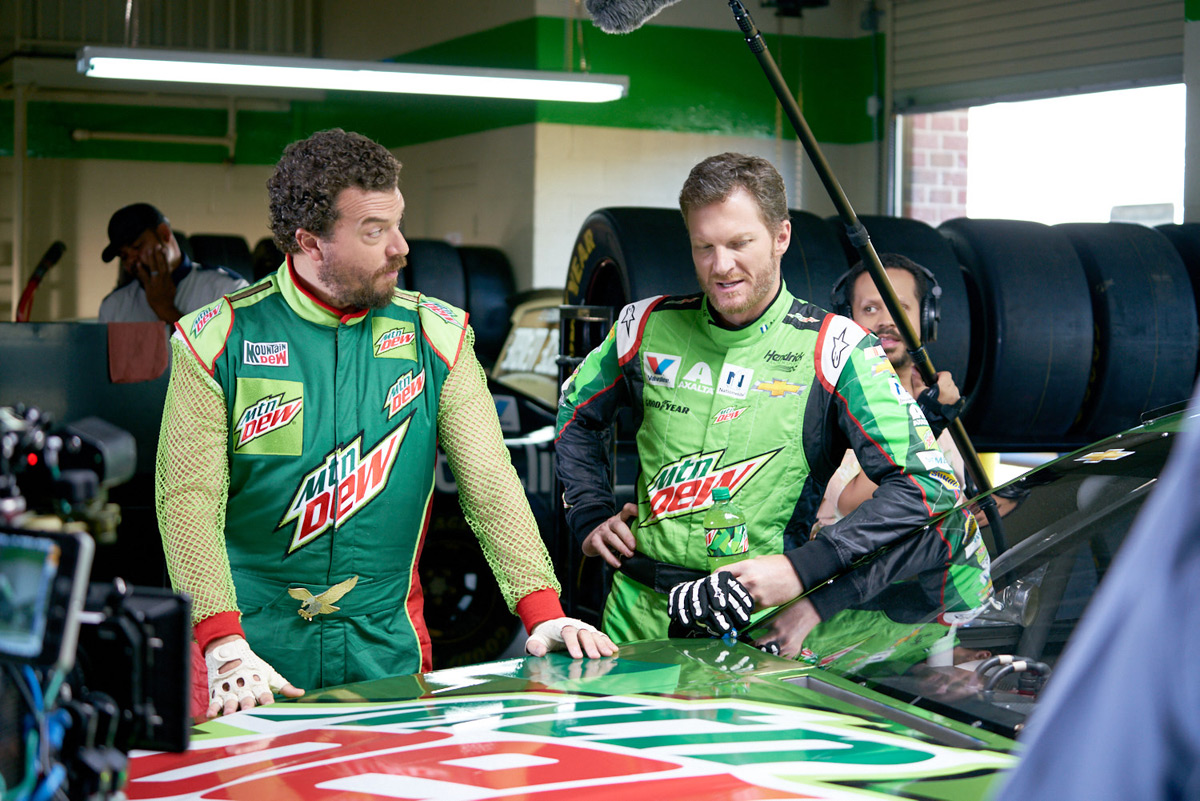 As many of you know, Dale Earnhardt Jr. is hanging up his racing suit and retiring from NASCAR in just a few weeks, and instead of going the somber route, long-time sponsor Mountain Dew is staying true to their brand, releasing a humorous tribute piece starring the one and only Kenny Powers.. err, Dewey Ryder.
Watch as future legendary driver Dewey Ryder breaks the news to Junior that he's taking over for him, even though he's never driven a stock car. "Pfft. I'm Dewey Ryder, the rightful heir to this throne."
So how did Earnhardt react? "This got weird," he tweeted.
Dewey even released a press release, which he wrote himself:
What's up, racing fans. I'm Dewey Ryder, here to announce the biggest racing news since lug nuts. Me. The only person capable of filling Dale Earnhardt Jr.'s green firesuit when he retires at the end of the season. And as the handsome new face of Mountain Dew, I'm issuing this official press release while I chug that bold, citrus nectar.
I'll be picking up right where Junior left off. Driving fast cars. Endorsementing. Basically, the same stuff that he does.
While I have never actually driven a stock car, I know enough to be dangerous. Now, you may be asking yourself, "Aren't you Danny McBride, the world's funniest actor? What are you doing racing cars?" To which I say, "Pfft. I'm Dewey Ryder, the rightful heir to this throne."
This is surely a bittersweet announcement for some of you. Dale Jr. and Mountain Dew have been partners since 2008. Dale Jr. is super popular and everyone says he's a swell guy. But every time a stock car door closes, another stock car door opens [editor's correction: stock cars do not have doors] and I'm here to pick up the mantle.
For the future generations, I videotaped the passing of the torch moment and it's on the interweb right now. It's a real tear jerker. While this was completely 100 percent my idea, I am supposed to mention it was in collaboration with the ad nerds at BBDO. You can witness the momentous occasion here and on NBCSN Sunday, Oct. 29, during the Martinsville Speedway race. You're welcome.
But don't just take my word for it. When I spoke to my buddy, Dale Jr., he said, and I quote, "My partnership with DEW goes back almost a decade and it's been an amazing ride. I knew the guy who'd come after me would be someone special, and Dewey's definitely… well, he's someone."
DEW can back that up too. "Dewey has no racing experience. No training behind the wheel. And, we have no idea how this is going to work out," said Chauncey Hamlett, Senior Director of Marketing, Mtn Dew. "We'll definitely miss seeing Dale Jr. behind the wheel as he starts his retirement, as he is an incredible partner to the brand. Dewey Ryder brings something we've never seen before, from the way he holds a bottle of DEW to his bold, fun and boundary-pushing style."
There you have it. To recap, Dale Jr. is retiring and I'm the new model – the upgrade – if you will.
Stay tuned. Down the road there will be more Dewey for many moons to come. To join the conversation, just follow @MountainDew on Facebook, Twitter, Instagram and Snapchat and use the hashtag #DeweyRyder.
For more information, have your people call the DEW people. Dewey out.
Funny stuff.. While we won't really see Dewey racing in the upcoming NASCAR season, the action should be hot and heavy as the drivers race towards that checkered flag. Chase Elliott is our early favorite, but you can check out the betting odds comparison to see who they think is going to bring home the win!
What do you think about Dewey Ryder taking over for Dale Earnhardt Jr.?