The Brickyard 400 Race Namesake Will Be Determined By The Fans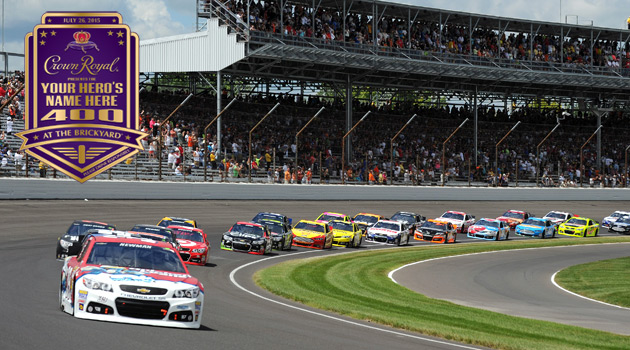 For the ninth consecutive season, Crown Royal will be honoring a deserving American hero by awarding the naming rights to the NASCAR race at Indianapolis Motor Speedway on July 26th, 2015.
Crown Royal's annual "Your Hero's Name Here" program focuses on all of the unsung heroes who make a difference in their communities, from firefighters and police officers to first responders and local volunteers. Every year five heroic finalists are nominated and through consumer voting, one winner is chosen to have their name cemented in sports history.
We have been lucky enough to meet some of the previous winners, hear their amazing stories firsthand, and watch them receive the recognition that they so deserve.
This year's field has been narrowed down to five finalists, and now it's up to the fans to decide which of these five will have their name etched in history. Adult consumers can visit CrownRoyalHeroes.com to learn more about these deserving heroes and vote for the one you think is most deserving of naming rights to the race. Voting runs through June 7th and the grand prize winner will be announced later that month.
All five finalists will be flown to Indianapolis to attend the big race, and the grand prize winner will be provided with an once-in-a-lifetime experience, which will include delivering the trophy bearing his or her moniker to the race winner in Victory Lane. Talk about a chance of a lifetime.
Make sure you read these heroes' stories and cast your vote today!