Guys Gab Visits Nevada's Bootleg Canyon Flightlines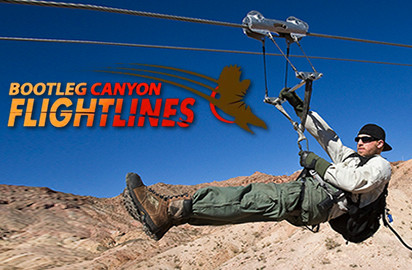 When most people think Las Vegas, they think about gambling, shows, and booze. But truth be told, Las Vegas has a lot more to offer. Especially if you're an adrenaline junkie like me! 🙂
Over the years, a number of TV shows I watch have visited Bootleg Canyon Flightlines – Rob Dyrdek's Fantasy Factory, Great American Road Trip, Bert The Conqueror, and most recently Ton Of Cash. So when we decided to come out to Vegas for the SEMA show, I made plans to visit BC Flightlines.
Have you ever imagined soaring from the top of a mountain with an eagle's eye view? Or envisioned a new way of exploring mountain terrain without leaving a trace of your journey behind? If so, let your imagination become reality and come experience the thrill an beauty of BC Flightlines, Boulder City's newest eco-adventure, located at the base of Red Mountain.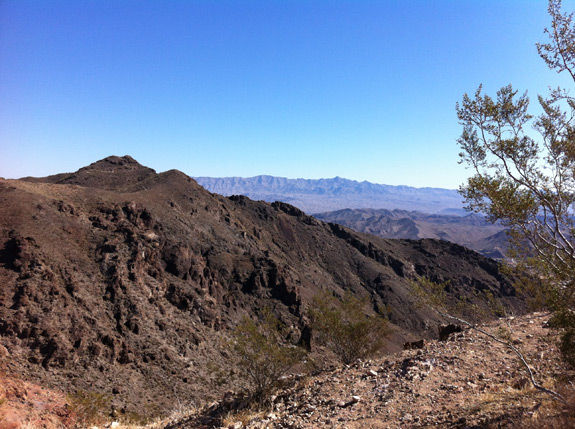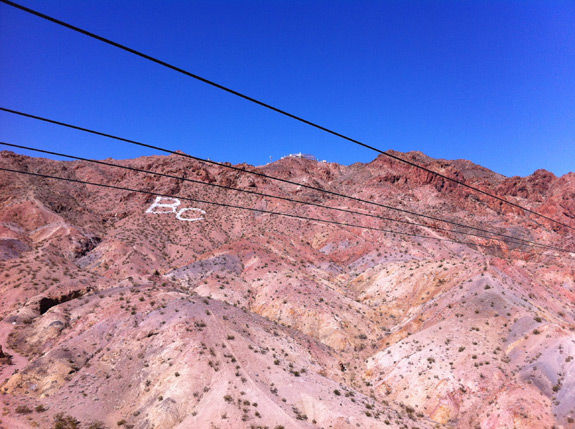 If you don't know what Flightlines are, think zip-lines for simplicity's sake, a term most people are more familiar with and you might get the basic picture. However, there is nothing simple about BC Flightlines. Suspended firm cables and comfortably sitting in a para-gliding harness, you travel from point to point by flying over the desert ecosystem from the top of Red Mountain.
BC Flightlines consists of a multi-run and multi-line series of zip lines that range in length from 1,150 to 2,550 feet. After guests assemble at the base for orientation and training, groups of approximately 12 guests are shuttled up to the top of Red Mountain where they will begin their decent on a series of 4 lines flying across canyons at speeds up to 60 mph!
Discover breathtaking views of Las Vegas, Lake Mead, Boulder City and Eldorado Canyon while your wildly-entertaining guides take you on a journey through the desert ecosystem.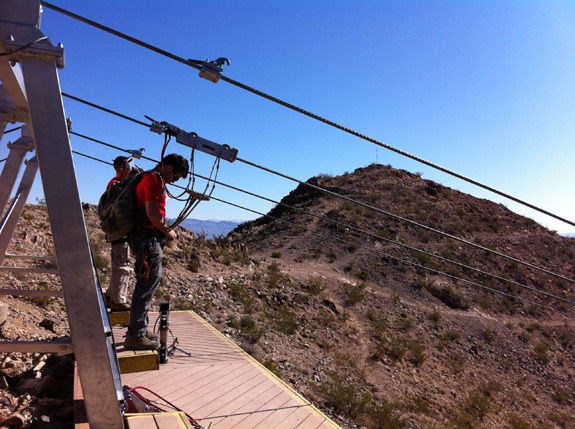 The ride to the top of Red Mountain is an adventure in itself.. The "road" is a steep and rocky trail with no guardrails. Very scary! When the road ended, we got out and hiked the remainder of the way. While it was only a 10-minute hike, it seriously kicked my ass and showed me how out of shape I really am! The altitude (almost 4000 feet above sea level) combined with the weight of the equipment I was carrying had me gasping for air.
Thankfully, once you're at the top, it's all downhill from there. 🙂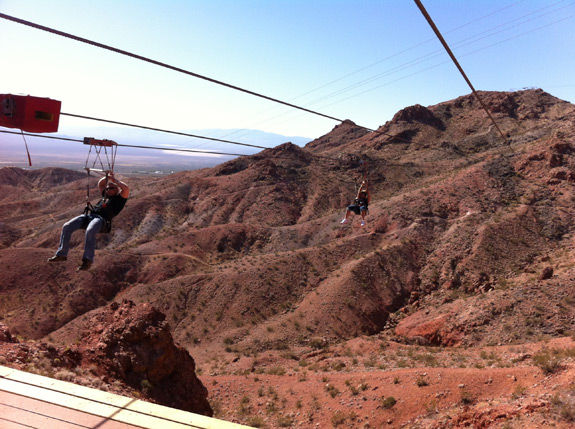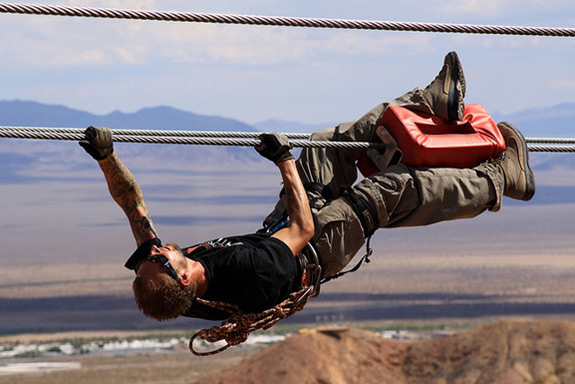 Well, not exactly.. Two of the runs at Bootleg Canyon are "negative," which means that they not only go downhill, but also back uphill. As you can see from the pictures above, a few people in our group didn't quite make it in, and a guide had to shimmy out and bring them in. Thankfully, neither of us got stuck! 🙂
Pictures don't really give you the full experience, so here's a quick video I shot on my iPhone:

I didn't trust myself to hold the phone while going down the line, as the last thing I wanted to do was to drop my phone on the way down. There are some great videos on YouTube though, so check those out if you want to see more footage..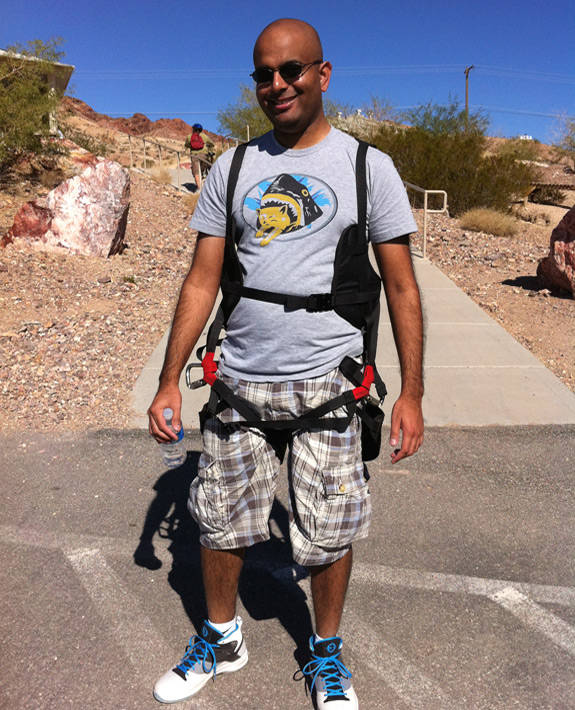 Here I am, back on solid ground! The entire zip-line experience took around 2.5 hours and covered 1.56 miles.
Tours run hourly from 7am-6pm, and complimentary pick up is available from the Strip. We decided to make the drive to Boulder City, and it only took about 30 minutes to get there.
Flights cost $149, and they are WELL WORTH the money!
Visit http://www.bcflightlines.com/ for more information.