Review: Sun Buggy Mini Baja Chase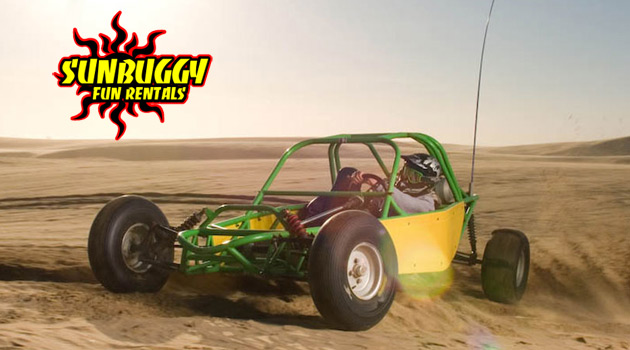 As an adrenaline junkie, I'm always looking for that next rush, and it sounded like Sun Buggy Fun Rentals in Las Vegas might be just what the doctor ordered. So when we booked our latest trip to Vegas, the first thing I did was make reservations for Sun Buggy's 60-minute Mini Baja Chase.
Sure, there are other desert tours that utilize off-the-shelf ATVs and off-road golf carts, but those can't handle the kind of terrain and slopes we were about to take on. That's why Sun Buggy rocks, they put you behind the wheel of a custom-built desert racer that can handle anything you throw it's way.
Sun Buggy's most popular off-road adventure in Vegas is their Mini Baja Chase, so that's what I decided to go for. The Mini Baja Chase is fast-paced and not tailored for the weak at heart! Rolling Stones Magazine called it "Sin City's Best Near Death Experience", and they weren't too far off the mark.
Sun Buggy is located about 15 minutes off the Strip, near Las Vegas Motor Speedway and Nellis Air Force base. They have a shuttle service that takes you to and from their facility. Once you get to their location, you watch a safety video (which scared my wife so much that she decided to ride with me in a two-seater rather than drive her own buggy), and get a helmet and goggles. After that, you jump in a shuttle that takes you a few miles down the road to the desert, where the dune buggies were waiting for us.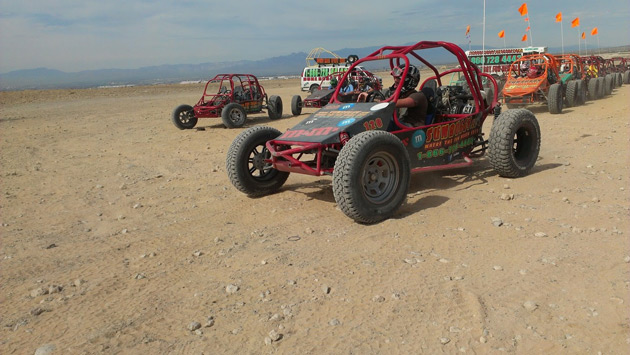 The location is pretty surreal – It's 15,000 acres of varied high desert terrain, consisting of dunes, gravel, hard pack, hills, valleys, washed out creek beds, and trails running in every direction. Not exactly the pristine sand dunes I was envisioning, but it certainly made for a more interesting experience.
Unlike regular desert tours, the Mini Baja Chase is a CHASE. Your job is to chase one of their expert Dunies, and my gas pedal was mashed to the floor almost the entire time we were out there just trying to keep up with him. Of course, if you get too far behind, he'll circle around to check on you. Thankfully, our group was able to keep pace with him, and he didn't have to wait for anyone.
As far as that adrenaline rush I was looking for, they delivered in spades! We climbed the dunes at full speed (35-45mph), sometimes catching some air as we flew over the crests. Then we would cut the wheel and drift a little bit before literally launching off the top of a dune with a sheer 20-30ft drop. It was pretty wild..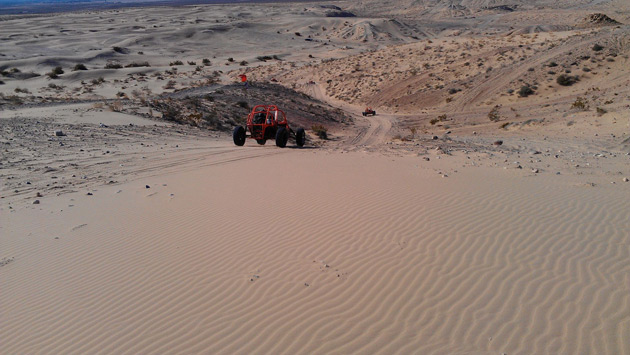 If you want to see what the Mini Baja Chase looks like from the drivers seat, Sun Buggy has a collection of videos you can check out. I thought bout videotaping our run, but I didn't want to risk damaging my camera from all the sand, so I left it behind in a locker they provided. If you're adamant on bringing your camera or phone on the ride, make sure you put it in a zip-lock bag to protect it from the elements.
All in all, it was a really fun time, and something that I'd highly recommend to anyone interested in doing this. They have various packages to choose from, everything from a short 15-minute chase to a crazy 120-minute adventure! I was exhausted after an hour (and my shirt and shorts were SOAKED with sweat), so I can't even imagine what two hours much be like.
Visit http://www.sunbuggy.com for more information.