Review: TENDER Steak & Seafood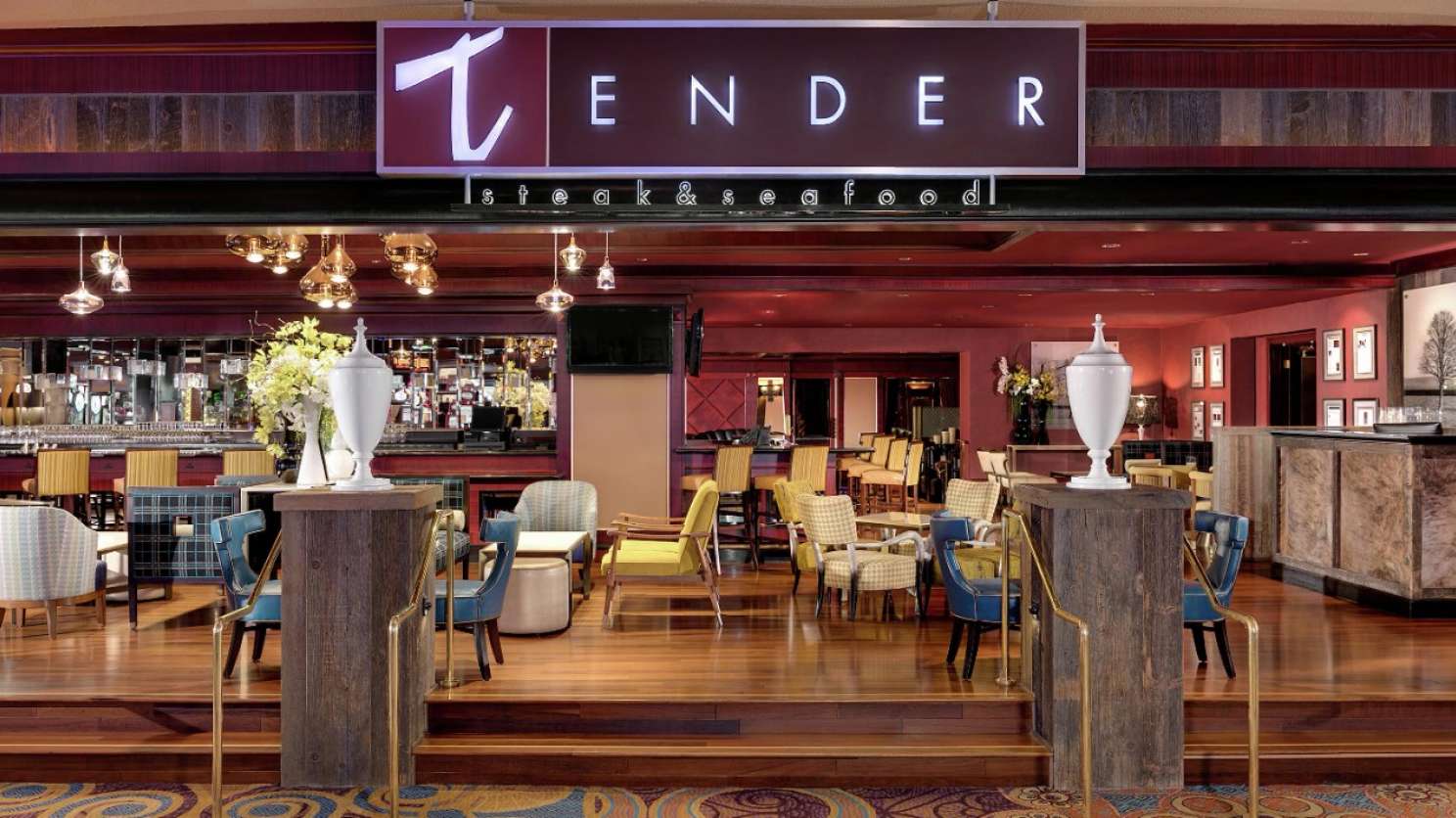 Inside the pyramid of the Luxor lies TENDER steak & seafood, one of Las Vegas' top rated steakhouses. TENDER features six different types of beef and fresh seafood flown in daily from Hawaii, California, New York and Alaska.
I'd heard lots of great things about TENDER, so when we came out to Las Vegas last week, I made sure to make reservations here so I could experience this food nirvana for myself.
At first glance, TENDER appears to be small, but that's by design. Walk through the doorway and you'll find a number of intimate dining rooms that are exquisitely decorated. I'm talking antler-encrusted chandelier, warm cherry wood walls and leather seating, the masculine décor creating an elegant, sophisticated atmosphere. The setting is ideal for a guys night out, doing business over Bourbon or impressing your lady (of the week).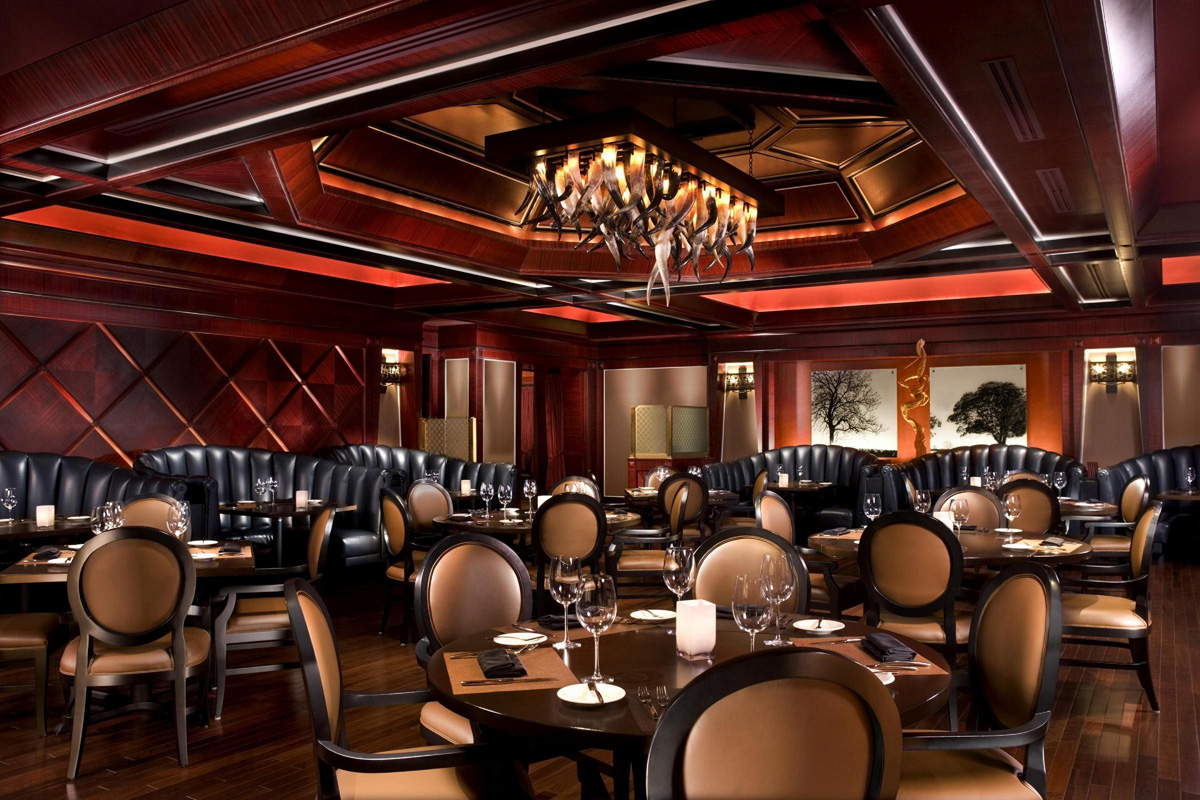 Open the menu, and you'll find one of the most creative steakhouse menus you've ever seen. Executive Chef K.C. Fazel embraces the farm-to-table concept and purchases ingredients directly from 25 farms, ranches and farmer's market to ensure their quality, freshness and even the treatment of animals.
For our starters, we went with the Maine Lobster Bisque, Baby Iceberg Lettuce Salad, and Lobster Risotto. No lie, this was hands-down the BEST lobster bisque I've ever had! They give you SO much lobster that it's hard to believe that the bisque only costs $11. The lobster risotto was equally impressive, steamed Maine lobster with mascarpone & parmesan cheeses in organic risotto rice. Just phenomenal. The salad was the only healthy thing we ate all night, even if it was covered in blue cheese dressing. 🙂
TENDER serves one dish in particular that you won't find anywhere else on the Strip, a manly Wild Game Platter that includes Nilgai antelope osso buco, axis venison medallions and wild boar loin with farro, fig chutney and huckleberry venison reduction. These meats come from Broken Arrow Ranch in Texas.
My curiosity piqued, I decided to order this dish for my entrée. My wife wasn't feeling so adventurous, so she opted for something a little 'safer', an 8oz Black Angus Omaha Beef Filet Mignon.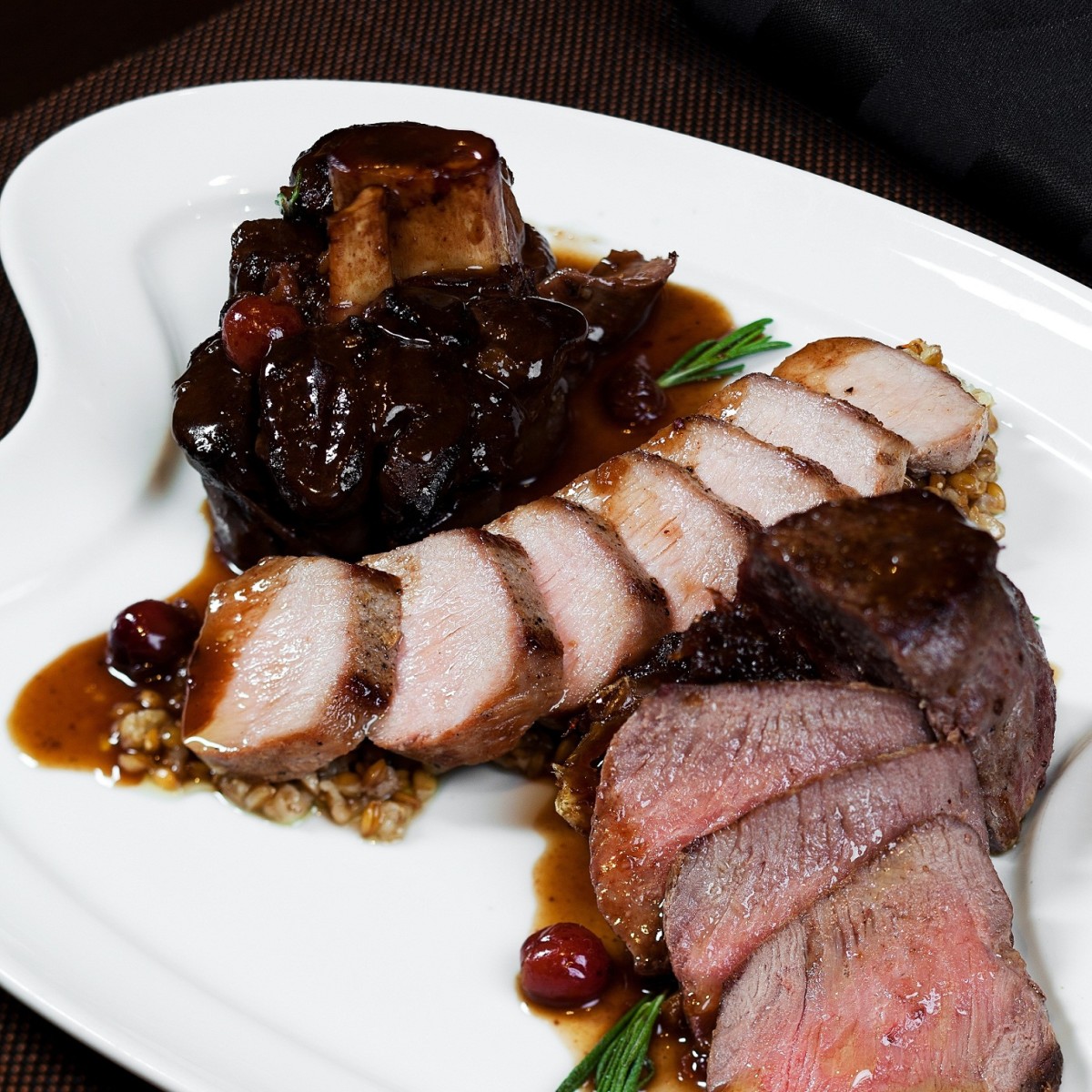 As you can see from the photo above, the Wild Game Platter is beautifully presented, and I couldn't wait to dive in and try everything. All three meats were prepared medium rare, and they were tender and delicious. My favorite of the three was the venison (similar taste to steak), and my wife fell in love with the antelope (which she said reminded her of pork roast). The fig chutney was also great, really complimenting all three meats. The wild boar loin was unique, but I preferred the other two meats.
As for my wife's filet, it was amazing! We'd debated about getting the red wine sauce or mushroom sauce to go with it, but the filet was perfectly seasoned and didn't need any sauce. The steak was full of flavor, and it just melted in your mouth. Despite being stuffed beyond belief, I ate quite a bit of the filet as well, it was just that good.
You'd think after eating that much food that we'd call it a night. But we couldn't leave without having dessert! TENDER's pastry chef makes these desserts fresh, and there are some great items to choose from. We decided on the Milk Chocolate and Coconut Soufflé and the Home-Baked Cookies and Ice Cream Platter.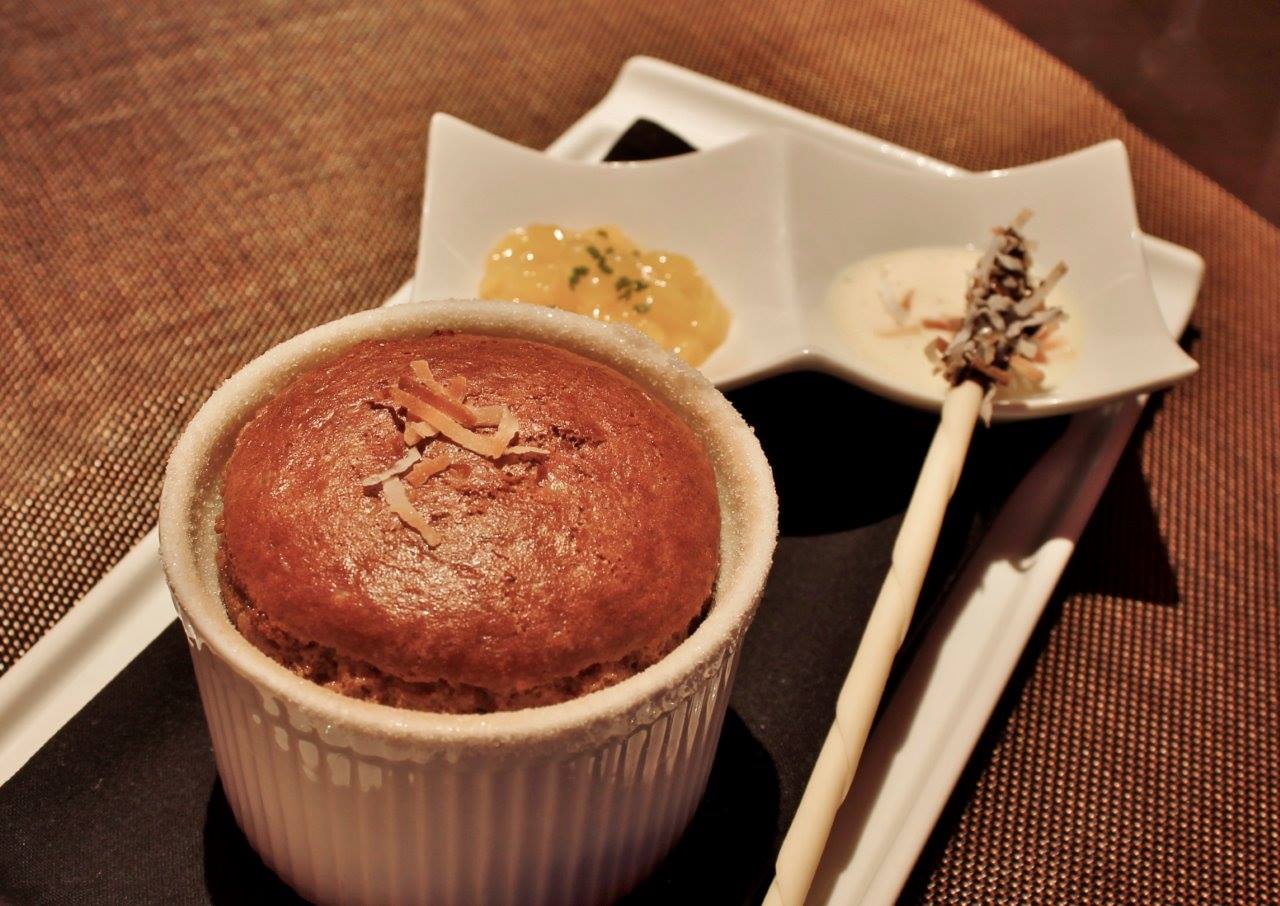 Both of these desserts were amazing. It's hard to go wrong with a good chocolate soufflé, and the cookie platter was REALLY good as well. Four freshly baked cookies, accompanied by vanilla bean gelato, caramel and chocolate sauces, mango pearls, and fresh berries.
TENDER steak & seafood might just be one of Vegas' best kept secrets, but we encourage you to try it out for yourself, and spread the good word. It was an amazing meal, and we're definitely planning on coming back the next time we're in town.