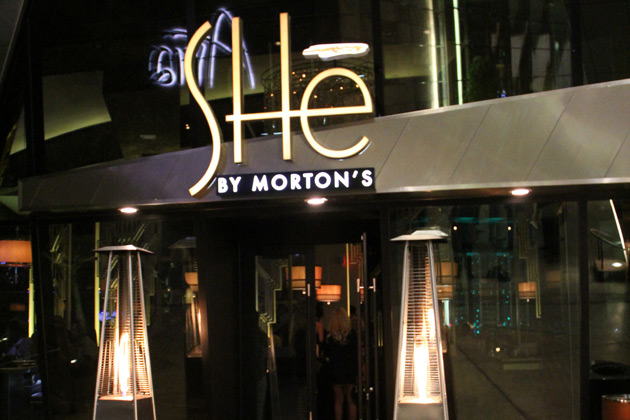 Las Vegas has become a bit of a mecca for meat lovers, with a number of great steakhouses to choose from. But trust me, dining at SHe by Morton's is an experience like no other, one that's perfectly suited for a town like Vegas. You'll be sure to share the details of this night with your friends when you return home..
Located inside the Shops at Crystals at Aria, SHe by Morton's is a modern boutique steakhouse integrating a fine dining concept with fashion and music. The restaurant, a partnership between Morton's and actress Eva Longoria, features private dining rooms and an indoor/outdoor lounge. SHe restaurant provokes a feeling of opulence with rich textures of alligator, cork, mirrors and crystals, embossed metallic wall coverings and rich dark fabrics. Decorative, internally lit screens are spread throughout the restaurant giving the space a touch of modern art deco design.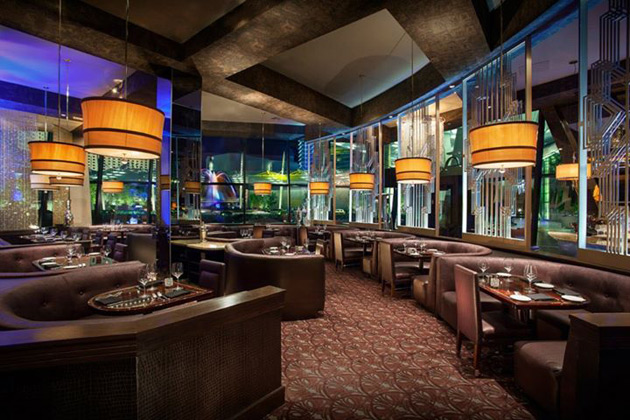 As you can see from the following video, SHe isn't your typical steakhouse. The restaurant provides diners with titillating entertainment while they enjoy a truly amazing meal. The entertainment starts after 8pm, so plan on a late reservation if you want to partake in the festivities.
Since we're huge foodies, we sampled a little bit of everything from the menu. All I can say is WOW! The food here is truly exceptional, I'm getting hungry just thinking about it. Our waiter brought out rolls for us, and they were an amazing combination of salty and sweet that worked so well together. If not for all of the food about to come out, I would have eaten every last one of them, they were just that good!
I started off with the Pear & Saga salad, which had pears, saga blue cheese, candied pecans, and a creamy vinaigrette. I love pear salads, and this one was just delicious. When I was finished, my wife abandoned her Mini Wedge salad (which was also very good) and ate the rest of my pear salad. Highly recommended.
For our next course, we had Sea Bass Bites, Little Big Royales (mini burgers), and Shaved Hamachi. Once again, the chef knocked it out of the park, as all of these dishes were fantastic. My wife is a huge seafood lover, and she said it was the best sea bass she's ever had. I thought the burger sliders were exceptional, their homemade sauce really sending it over the top.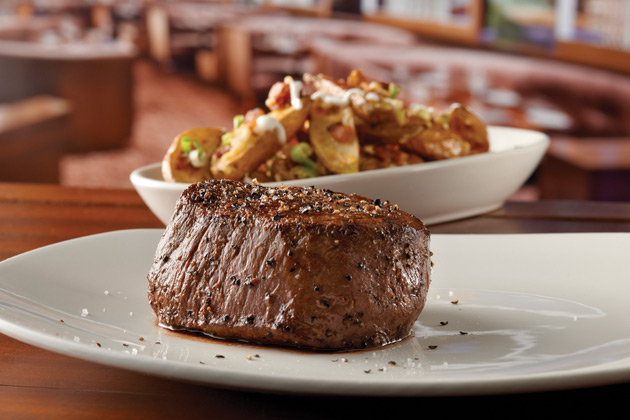 And then it was time for the main event – A beautiful 8 oz. Center Cut Filet (cooked medium rare), along with Blackened Scallops and a side of Mini Bakers (fingerling potatoes). The filet blew me away, it was cooked and seasoned perfectly, and melted in your mouth. Despite being REALLY full by this point, I ate every last bite of the steak, as it was that good! The scallops were also something else, served on a bed of creamed corn, with pepper bacon and a tomato jam. Amazing! The fingerling potatoes were also very good, loaded with all kinds of good stuff that's probably really bad for you. 🙂
We couldn't leave without having desert, so we went for their most popular offering, the Popcorn Milkshake. It's comprised of popcorn infused milk, vanilla ice cream, and caramel popcorn clusters, and it's ridiculously awesome. No matter how full you are, you've got to order this before you leave, you won't be sorry!
"But what about that titillating entertainment you mentioned above?"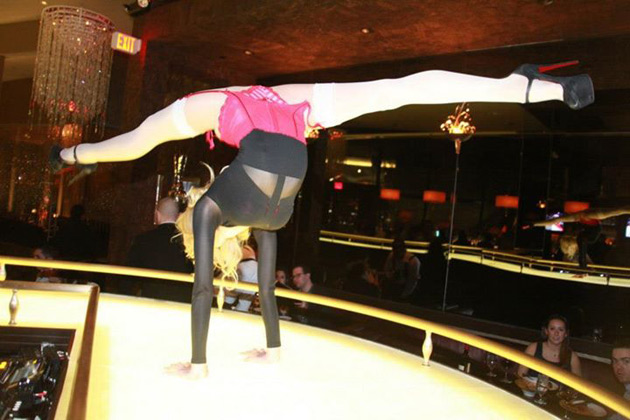 Yes, SHe by Morton's has married fine food with theatrical entertainment, with sexy women cavorting around the restaurant in lacy lingerie as they do a female-friendly burlesque show that's rather hard to put into words. Think Eyes Wide Shut meets Cirque du Soleil. Confused? Look through their photo gallery, and you'll have a better idea of what to expect.
It's very entertaining, and definitely unique. Just don't stare at Daisy's derriere while you're chewing on that steak, or you're liable to choke. Always thinking ahead, we ate first, and then stayed late to enjoy the show!
SHe by Morton's offers exceptional food and entertainment, at a price point that won't break the bank. The next time you're in Vegas, be sure to check out SHe. You don't be disappointed!