Lincoln Star Concept Gives Us A Glimpse Into The Brand's Electrified Future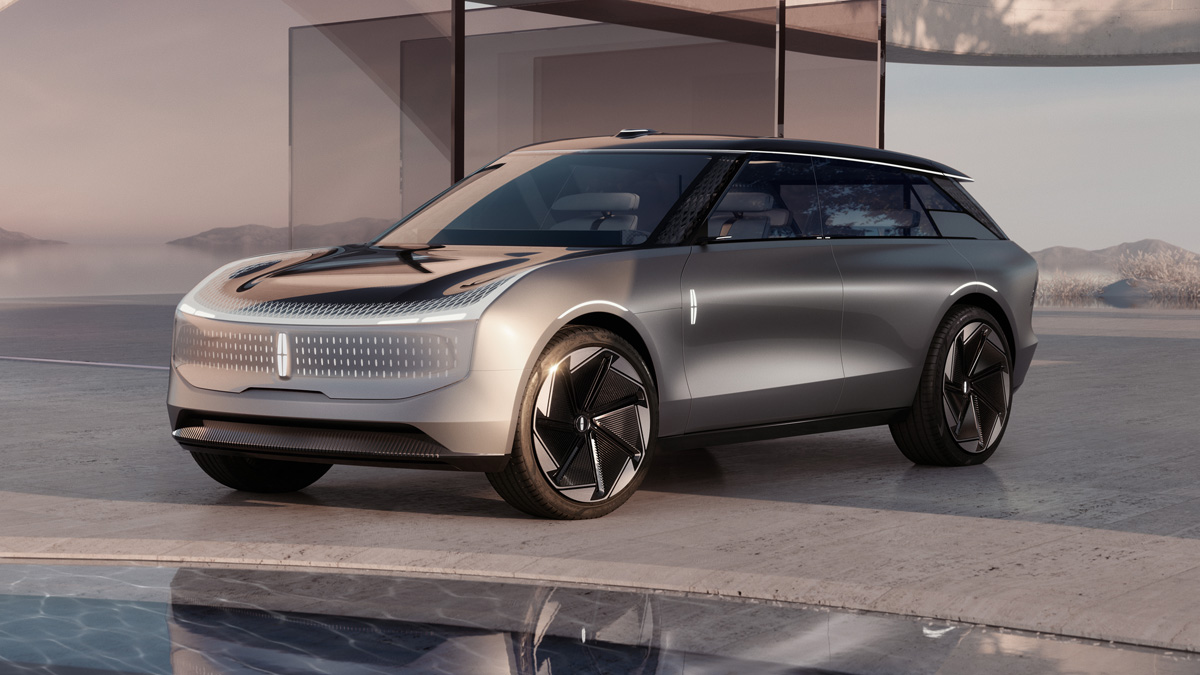 Lincoln is celebrating its 100th anniversary this year, with Henry Ford purchasing The Lincoln Motor Company from Henry Leland on February 4, 1922, for $8 million. The sale set in motion the creation of an iconic American luxury brand, with son Edsel Ford serving as president of Lincoln and credited for much of their early success. He famously said, "Father made the most popular cars in the world. I want to make the best."
While most car companies were just focused on basic transportation, Edsel prioritized design and styling while still keeping prices within reach. And this led to iconic cars like the 1936 Lincoln Zephyr, 1955 Lincoln Continental Mark II, 1961 Lincoln Continental with coach doors, and others, which garnered attention from both regular consumers and celebrities alike, including Elvis Presley and countless presidents.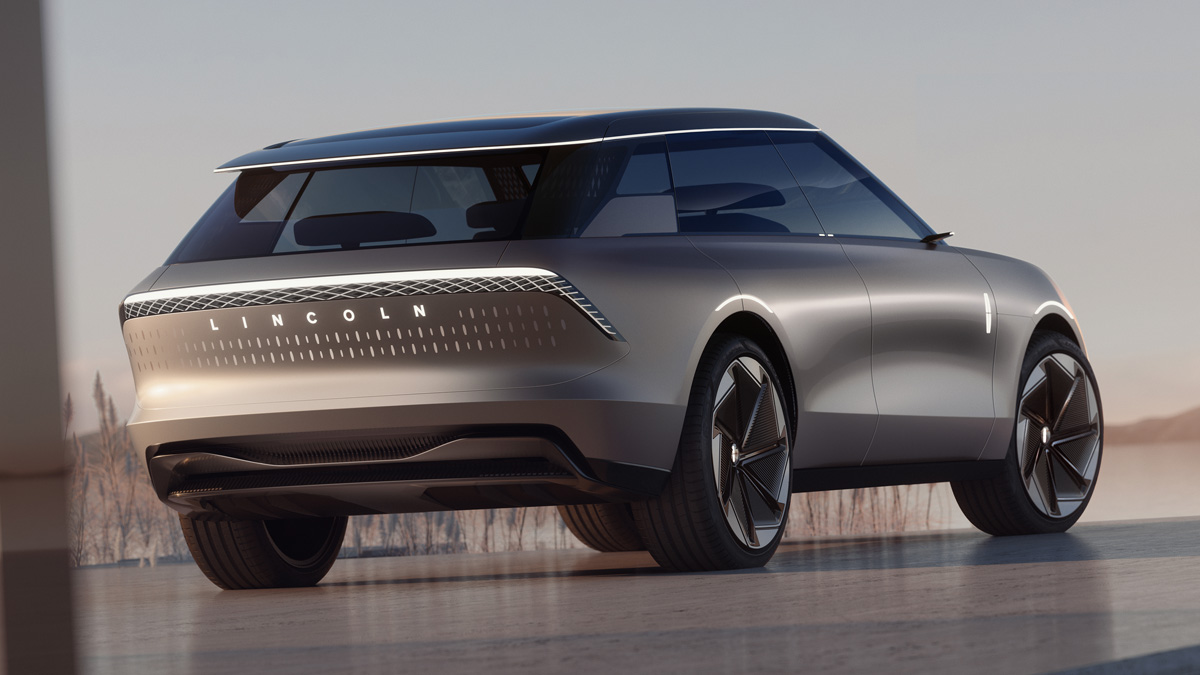 That said, Lincoln seemed to lose its mojo somewhere along down line, putting out rebadged versions of Ford vehicles with nicer trimmings, those unique design and style elements but a distant memory. Sure, there were outliers like the Lincoln Navigator, but for the most part, they were just fancier versions of existing vehicles. But with the introduction of the Lincoln Star Concept, the brand kicks off its next 100 years with a bang, delivering one of the sexiest vehicles I've seen in recent times.
For its next act, Lincoln is betting big on EVs (much like the rest of the industry), with more than half of Lincoln's global volume expected to be all-electric vehicles by mid-decade. The brand will deliver three new fully electric vehicles by 2025, adding a fourth by 2026. With a sleek, aerodynamic silhouette and connected cabin experience, the Lincoln Star Concept hints at the brand's design language for its future electric vehicles.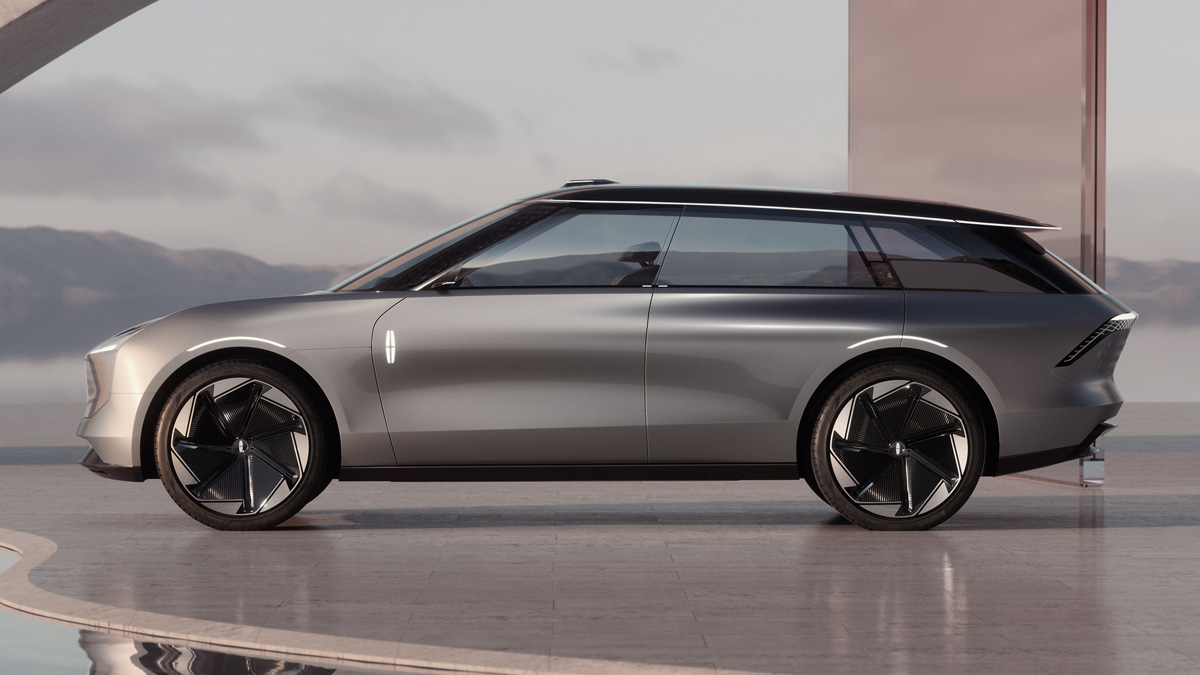 Visually, the Lincoln Star Concept is like nothing they've done before, with a bit of Mercedes Vision EQXX Concept influence going on up front, a little Kia EV6 styling out back, and a decidedly futuristic theme that's fitting for a vehicle like this. Your grandpa's Lincoln it's not!
"Electrification is removing many traditional design constraints, allowing us to reimagine what a vehicle can be. The Lincoln Star is a study of experiences and themes that push the boundaries of Lincoln design – and it's just the start," said Anthony Lo, chief design officer, Ford Motor Company. And that makes perfect sense, as they no longer have to build a car around the engine up front, allowing for a lower, sleeker front end design.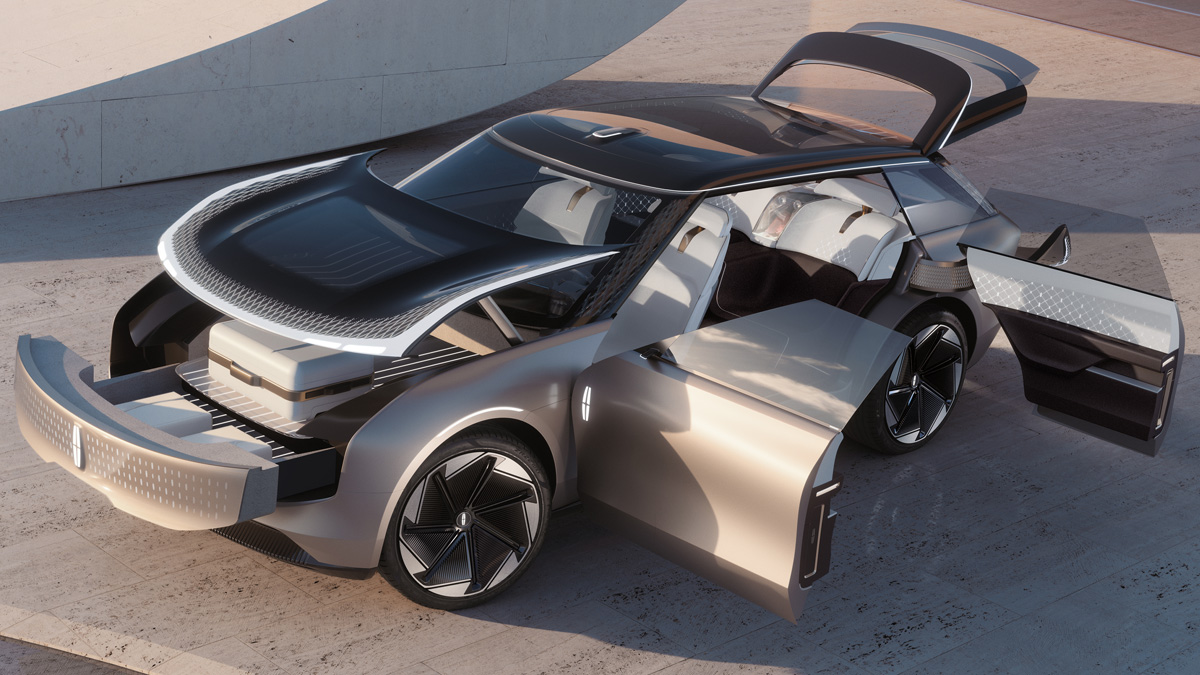 In a nod to the evolved design language of Lincoln, the silhouette of a sleek, dynamic SUV is expanded to create a striking dynamic effect. Whether stationary or in motion, the concept uses design, light, displays, scents and sounds to create an immersive experience for clients. Intelligent technology that enhances comfort, productivity and entertainment is deployed throughout to bring the romance of travel back in a uniquely Lincoln way.
Designers worked to create harmony throughout the car by using light in a modern new way. Illuminated crystallines, along with backlit doors, seats and exterior features elevate the architectural space to create the ultimate sanctuary. The new Lincoln star on the fascia lights up like a jewel – greeting clients upon approach while giving new meaning to the Lincoln Embrace welcome sequence. It's seriously cool, watch the intro video and see for yourself.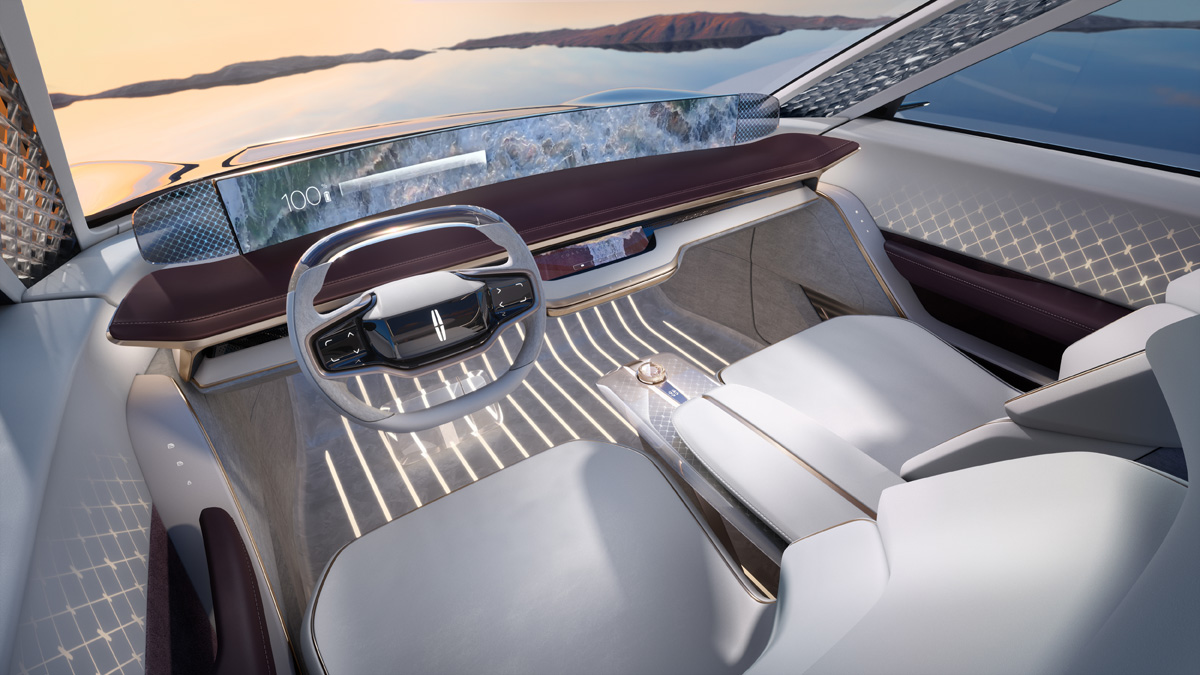 Both in design and color composition, the Star's interior is uniquely partitioned into first- and second-row areas. The entire cabin experience in the first and second row is premium, with extra-spacious wraparound seating, reclined lounge posture, individual lounge leg rests and curated storage for devices and slippers, controls for rejuvenation moods and a luxurious glass beverage chiller integrated between the back seats.
The feeling of spaciousness is enhanced with 3D-printed metal latticework on the A-pillar along the windshield and the D-pillar at the back window of the Lincoln Star Concept – visible from the inside out. These transparent pillars, along with a full skylight with digital shade, invites natural light in to enhance the open, airy feel of the space.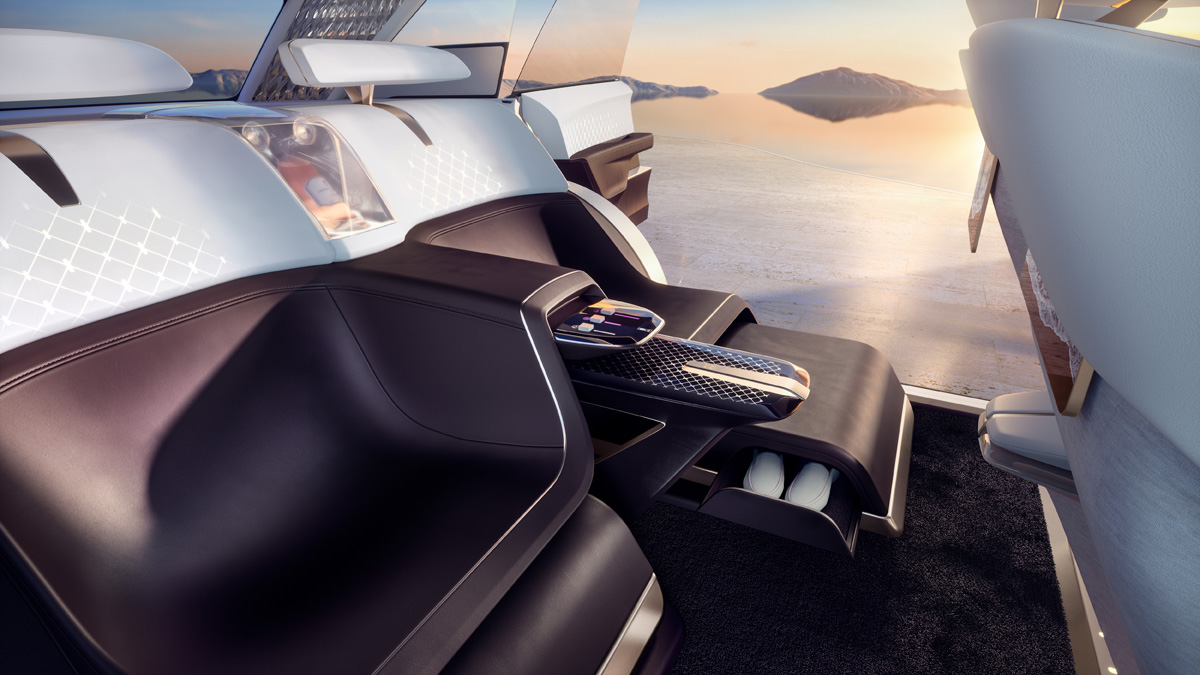 A coast-to-coast curved horizontal display creates a digital panorama in which content flows seamlessly into an integrated center control screen, then into the second-row screen, creating a unique experience for all passengers. New materials such as leather and chrome alternatives and several unique finishes – work in harmony to create a modern, luxurious experience.
Something rather unique in the Star Concept is three rejuvenation moods that join a new Lincoln Embrace sequence harmonizing audio, scenting and lighting throughout the cabin. A symphonic orchestration with crisp, high-resolution animations on the displays creates an immersive digital sanctuary. Whether stuck in traffic or just enjoying a few quiet moments after work, the rejuvenation moods provide a true sanctuary in a third space: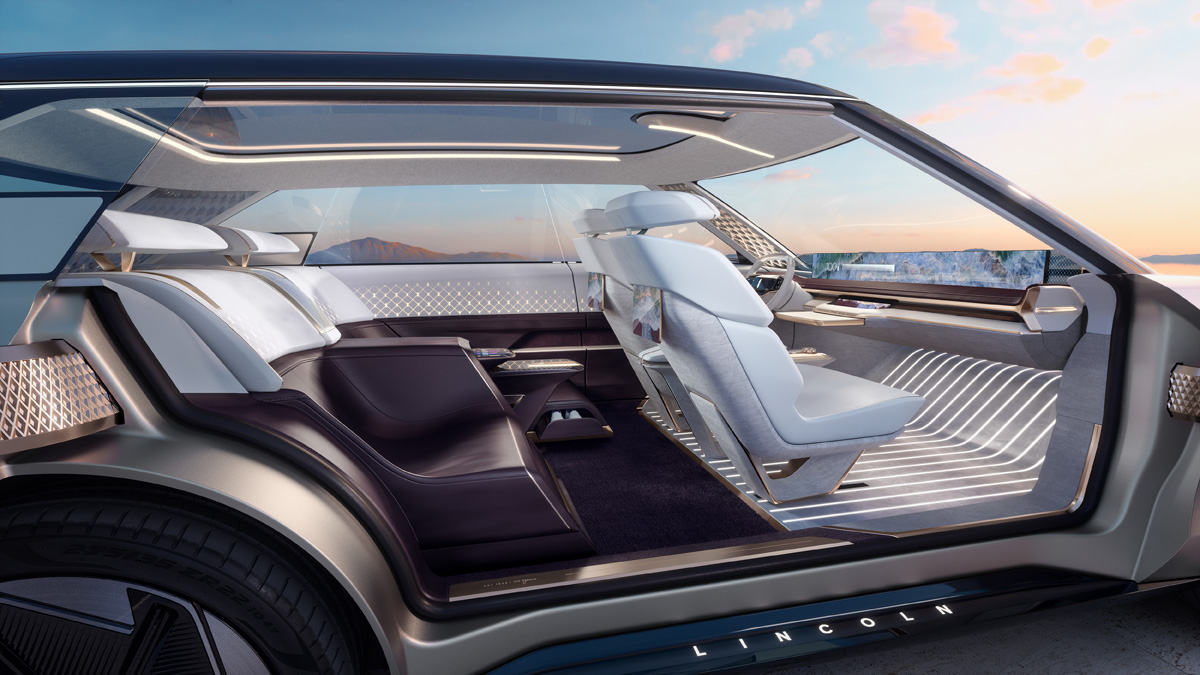 Coastal Morning uses gentle, oceanic sounds, a fragrance of sea mist and the soft, warm glow of the sun with dynamic lighting throughout to replicate a stroll on the beach at sunrise.
Mindful Vitality is meant to reenergize the senses, with invigorating, upbeat audio, dynamic abstract artwork, soft, glowing lighting and a flowery fragrance throughout.
Evening Chill mirrors dusk using a calming night soundtrack coordinated with night sky video and an evergreen fragrance.
Kids going crazy and you just need a little peace and quiet? "BRB honey, I just need to get something from the garage!" 🙂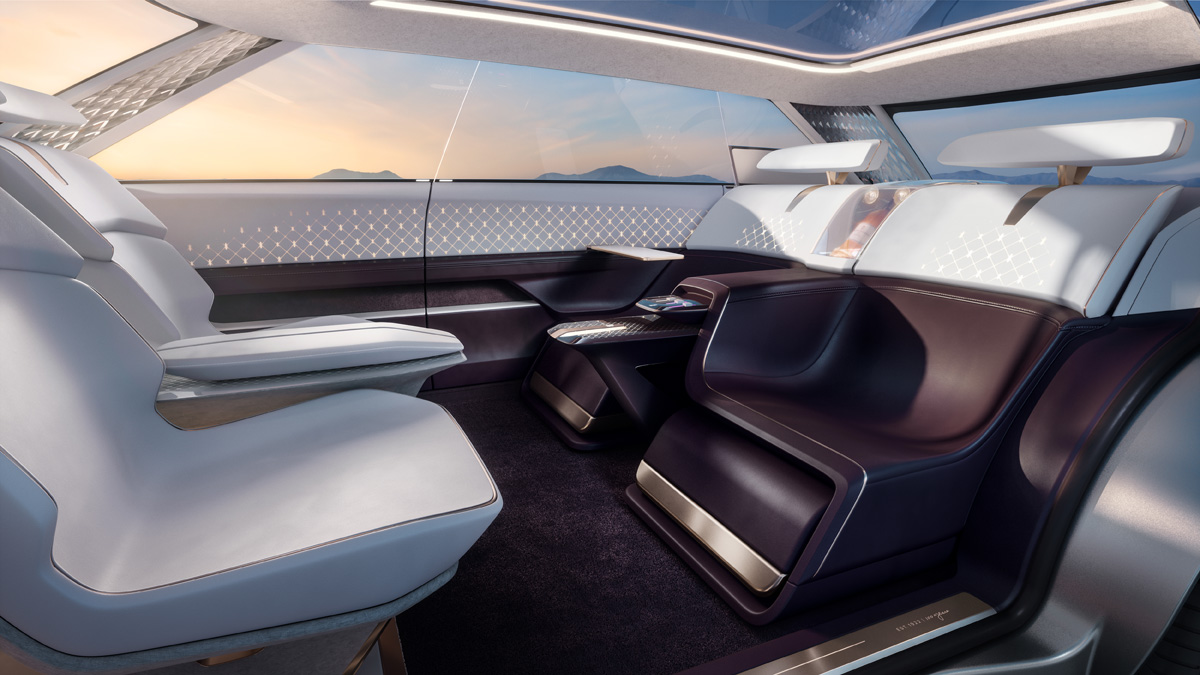 Using the area no longer occupied by a gas-powered engine, a front trunk allows for ample storage, expanding the feeling of spaciousness inside. With electro-chromatic glass that changes from transparent to opaque, the front trunk is instantly recognizable, allowing light in when the vehicle is in motion and darkening to hide stored valuables when parked. Under the front trunk, illuminated first-row floors flow uninterrupted into the interior, creating an airy, open cabin. It's an interesting concept for sure, though I don't know if it's ready (or cost-effective) for prime time just yet.
Inside, a wing-shaped floating instrument panel, inspired by aircraft ailerons, emphasizes horizontal balance and equilibrium, while Lincoln one-touch pedal allows for effortless operation. The interior also features Lincoln Attaché, a digital briefcase concept with a hidden compartment in the rear coach door that not only provides safe storage of tablets and laptops, but does double duty as a charge pad for devices and can seamlessly detect incoming wireless content for clients. Finally, a reimagined rear cargo space features a lounge mode that transforms into a cozy, indulgent outdoor seat to deliver the ultimate tailgater.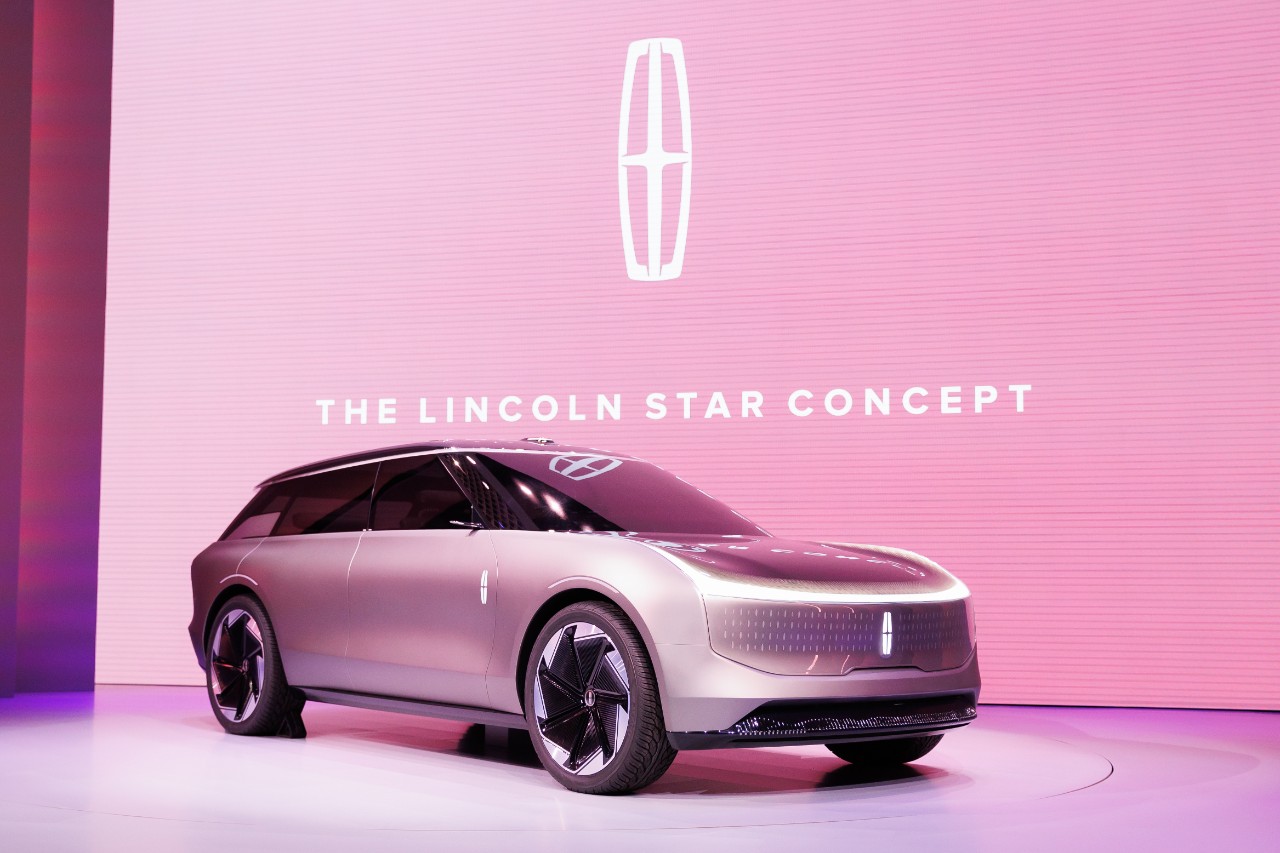 "The Lincoln Star Concept has been a true labor of love for our team and provides us with a platform to share and test our experiences and design philosophy with clients as we evolve our Quiet Flight DNA," said Kemal Curic, global design director, Lincoln. "Signifying transcendence through both space and time, the concept creates a sense of peace and serenity within an electric experience and previews what is to come from Lincoln."
Having seen this beauty in person, I can say without hesitation that I've never been as excited about a Lincoln product before as I am about this one. Lincoln is certainly raising the bar as they celebrate their 100th anniversary, and their future is looking bright!