2021 Land Rover Discovery Is A Luxury SUV That Isn't Afraid To Get Dirty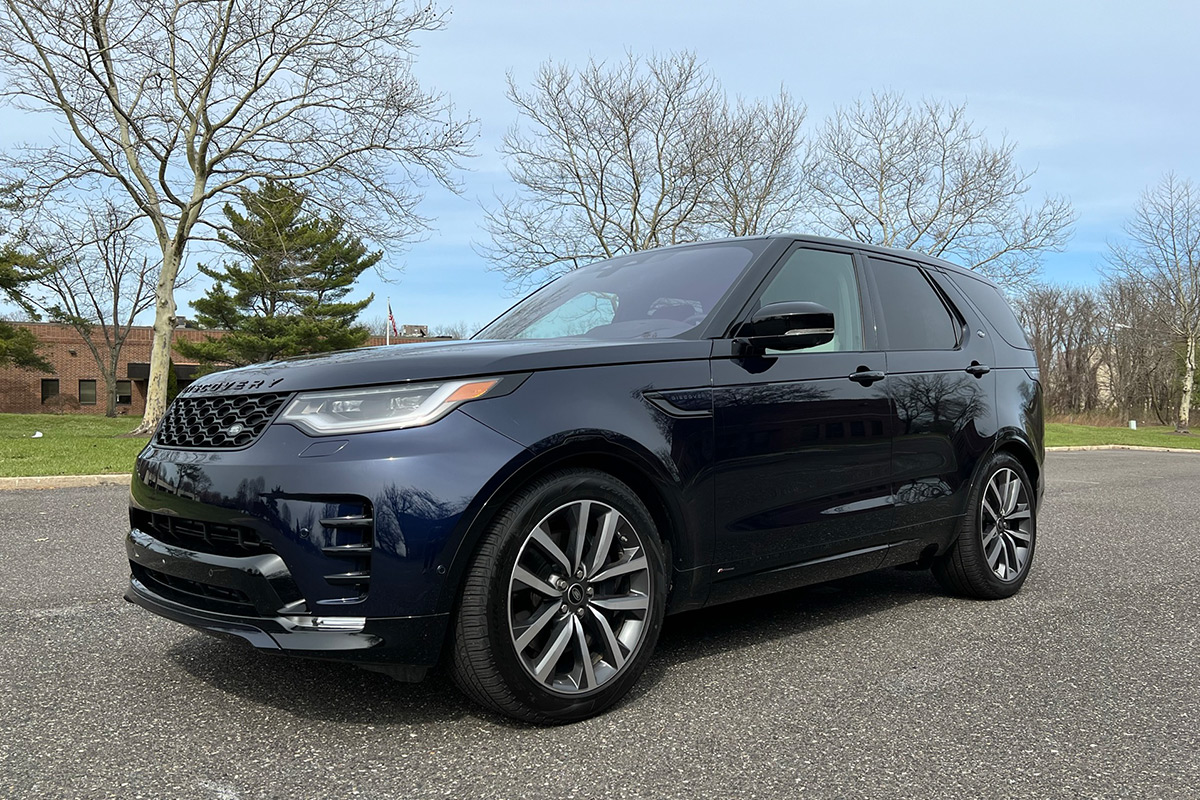 The 2021 Land Rover Discovery R Dynamic S is an interesting vehicle, a luxury SUV that is equally at home cruising down Rodeo Drive as it is getting down and dirty on some off-road trails, with the ability to go anywhere the journey takes you. While most owners won't venture off the beaten path, it's nice to know that you've got the ability to do so should you want to.
Restyled for 2021, the Land Rover Discovery's distinct character and optimized proportions embrace more than three decades of design evolution. Discovery DNA design cues – including the clamshell hood, the stepped roof, the highly visible C-pillar, and that controversial rear plate placement – remain, but the new Discovery delivers a bold exterior evolution optimized to project a more confident road presence.
New signature LED headlights with a daytime running light signature set lower into the units create a more purposeful look, while animated sweeping front and rear indicators provide heightened visual sophistication and the body-color front fender vent accentuates the SUV's familiar broken waistline. A revised front bumper features a wider body-colored graphic and new side vents combine for a more purposeful and dynamic appearance.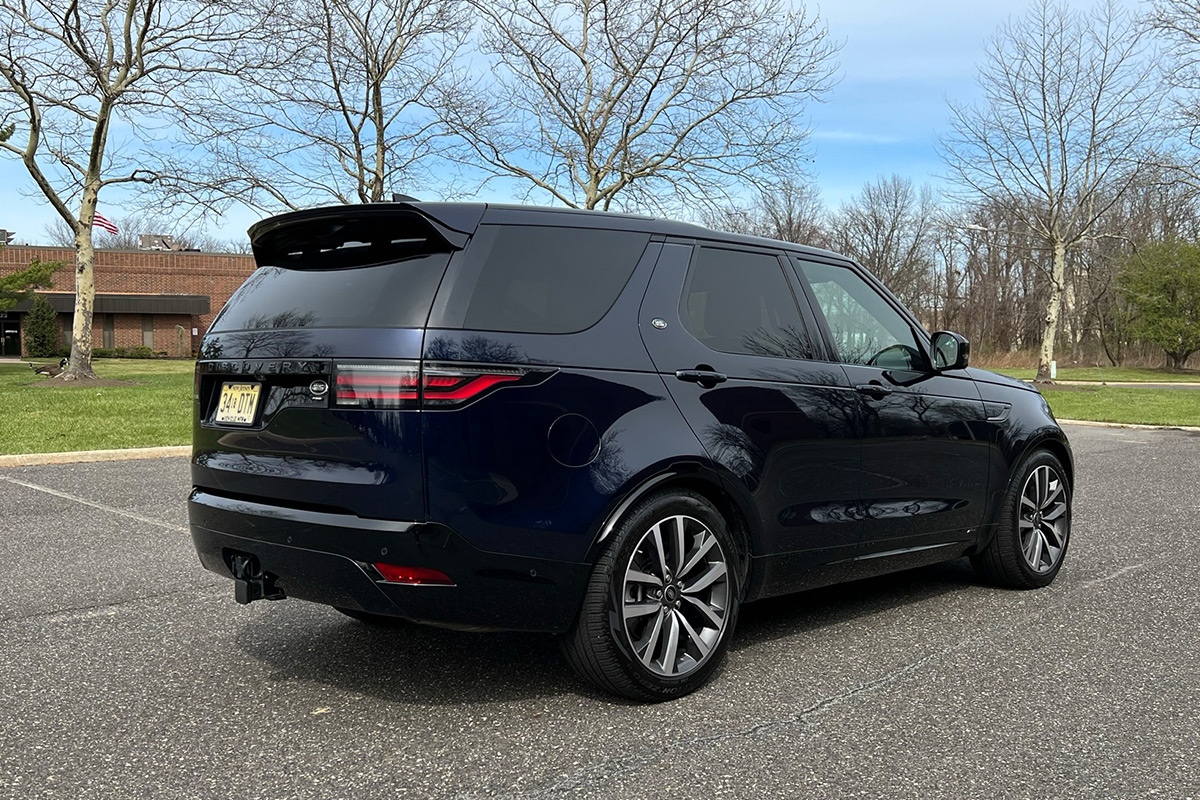 At the rear, the New Discovery features new signature LED lights, which are joined across the back of vehicle by a new Gloss Black panel. Following the Land Rover brand's reductive design philosophy, this panel incorporates the trademark Discovery script, providing a cleaner rear graphic. While I'm still not a fan of the offset rear plate placement, this is a design element that dates back to when the spare tire was rear-mounted and the plate was pushed to the left.
The R-Dynamic model that we drove brings a more assertive character and purposeful stance with a series of unique design elements, including purposeful Gloss Black and Shadow Atlas exterior accents on the outside and two-tone leather and contrast seat stitching on the inside. While this isn't as apparent on our Portofino Blue tester, it offers some nice contrast for sure.
Inside, the Discovery benefits from enhancements designed to highlight the premium position and craftsmanship of its full-size 3-row, seven-seat layout, including a completely redesigned center console that houses a new 11.4-inch infotainment system. The new-look four-spoke steering wheel features hidden-until-lit switches and metal gearshift paddles, while a tactile new gear selector provides instinctive control of the powertrain.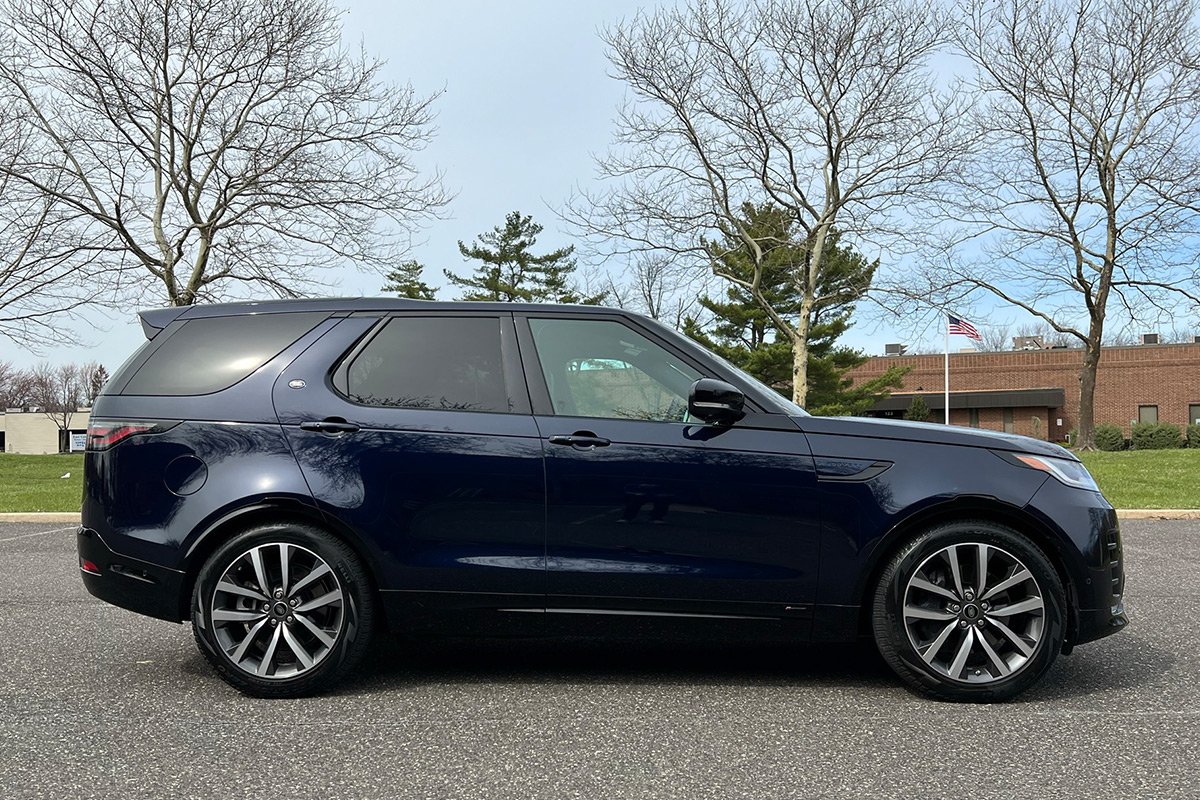 As you'd expect, the Discovery is packed full of technology, including standard Apple CarPlay and Android Auto, LTE connectivity, and a bunch of driver's aids and advanced safety systems. There are several upgrade options available, including a Meridian surround sound system that sounds incredible, a full-color head-up display, adaptive cruise control, wireless charging, cold climate package (heated steering wheel, windshield, washer jets), and more.
One big selling point for the Discovery is the fact that you can get it with three-rows as a no-cost upgrade or stick to five seats with some extra cargo room out back. The second-row seats have been carefully redesigned for enhanced comfort. Improved lateral support, longer thicker cushions and careful seat profiling all contribute to greater under-thigh support and improved posture for occupants.
Comfort is further improved by the relocation of the second row air-vents from the B-pillars to the center console, providing increased airflow to second-row passengers who have their own hidden-until-lit ventilation controls and power supplies. Another cool feature, Intelligent Seat Fold technology allows customers to effortlessly configure the seating layout using the central touchscreen.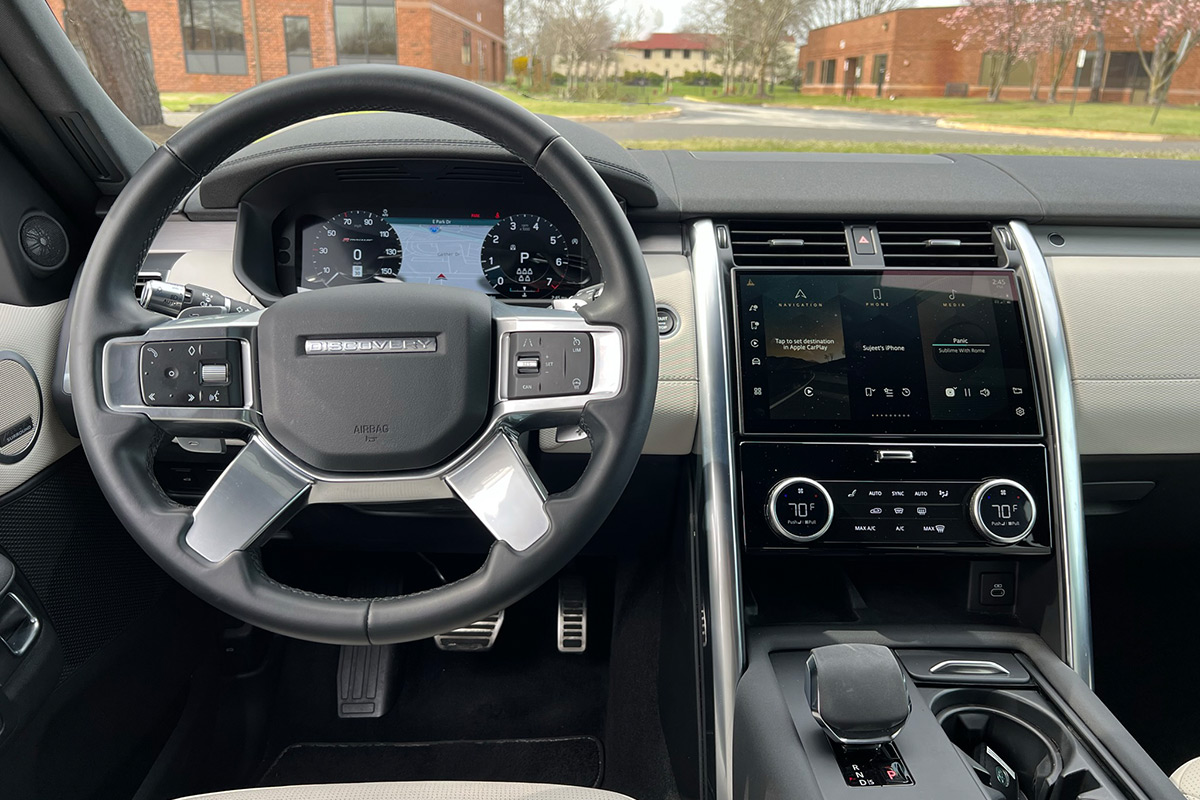 The 2021 Land Rover Discovery can be had with two different engines. The base model 2.0L turbocharged four-cylinder engine puts out 296 horsepower, while the 3.0L turbocharged inline-six-cylinder that our tester was equipped with puts out an impressive 355 horsepower and 369 lb-ft of torque and utilizes a mild hybrid system. AWD is standard, and it optimizes the torque split between front and rear axles, using a range of sensors to distribute torque to suit the conditions. An eight-speed automatic seamlessly shifts between gears.
We found the 3.0L engine to be silky smooth and it mates well with the 8-speed transmission, while delivering effortless power throughout the powerband. The mild hybrid system saves a little fuel in daily driving traffic, but with fuel economy numbers of 18 city and 24 highway, it's still nothing to write home about. Then again, it's shaped like a brick, so what do you expect?
On the road, the Land Rover Discovery is a nice driving car, with predictable handling and a smooth character. It's surprisingly easy to maneuver and park (360-degree camera comes in clutch), and it feels lighter and smaller than it really is. We didn't take the Discovery off-road, as our car was still wearing winter tires, and we didn't want to push our luck. But a colleague in a better climate took his out, and he said it was incredibly capable, with great approach and departure angles, and an air ride suspension to lift the body up for more clearance if needed.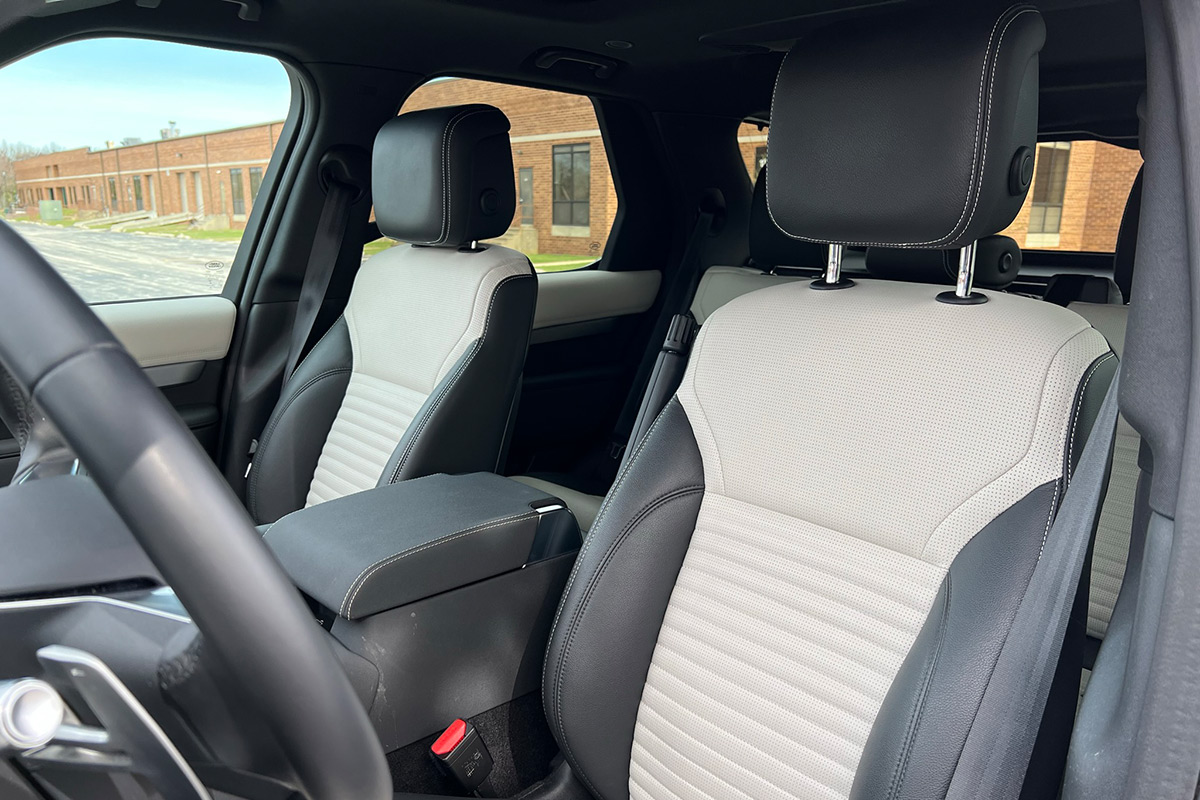 All in all, there's a lot to like about the 2021 Land Rover Discovery, and I can see why I see so many of them on the road around me. The SUV offers a lot of bang for the buck, stands out visually (though not as much as the new Defender), and it's got some serious off-road chops. Add in an affordable starting price of $53,900, and you can see why they're so popular.
Our tester was sporting the more desirable 3.0L engine, which starts at $61,900, and a healthy number of options pushed the out-the-door price to $73,055. It's a little expensive all decked out, but any other luxury off-roaders would likely set you back as much, if not more money.
Designed to be unforgettable, Land Rover Discovery is premium by nature, versatile by design. You can learn more about the 2021 Land Rover Discovery at LandRoverUSA.com.