2022 Land Rover Defender Gets A Powerful Supercharged V8 Option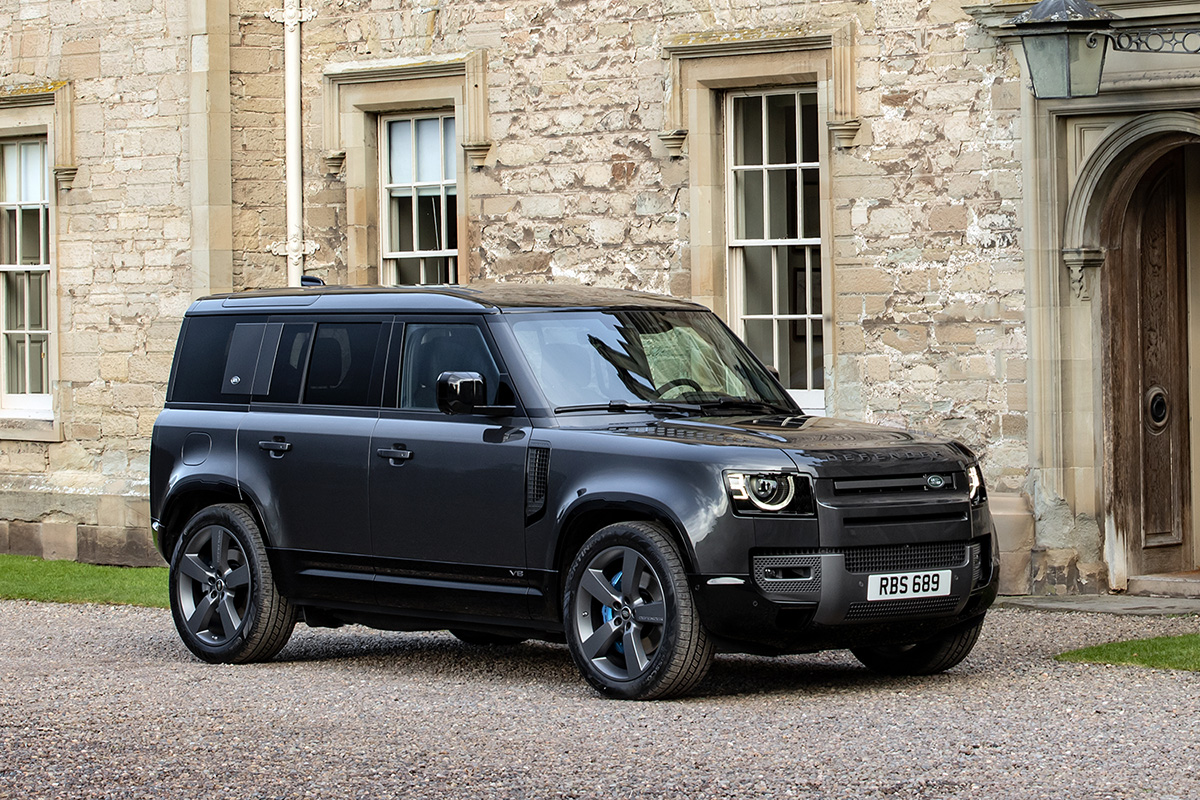 For 2022, Land Rover is offering the Defender with a 518-horsepower V8 supercharged engine, making it the fastest and most powerful production Defender ever made, with a 0-60mph time of 4.9 seconds and a top speed of 149 miles per hour.
The powerful new models build on decades of Land Rover V8 heritage – spanning the original Stage I V8 of the '70s, North American specification models of the '90s, and powerful Defender Works V8 as the characterful engine joins the latest range of efficient Ingenium engines.
With the 2022 Land Rover Defender V8, it's not just about speed, as the Defender V8 provide a unique combination of performance and capability, with bespoke chassis settings delivering new levels of driver engagement and agility both on and off-road.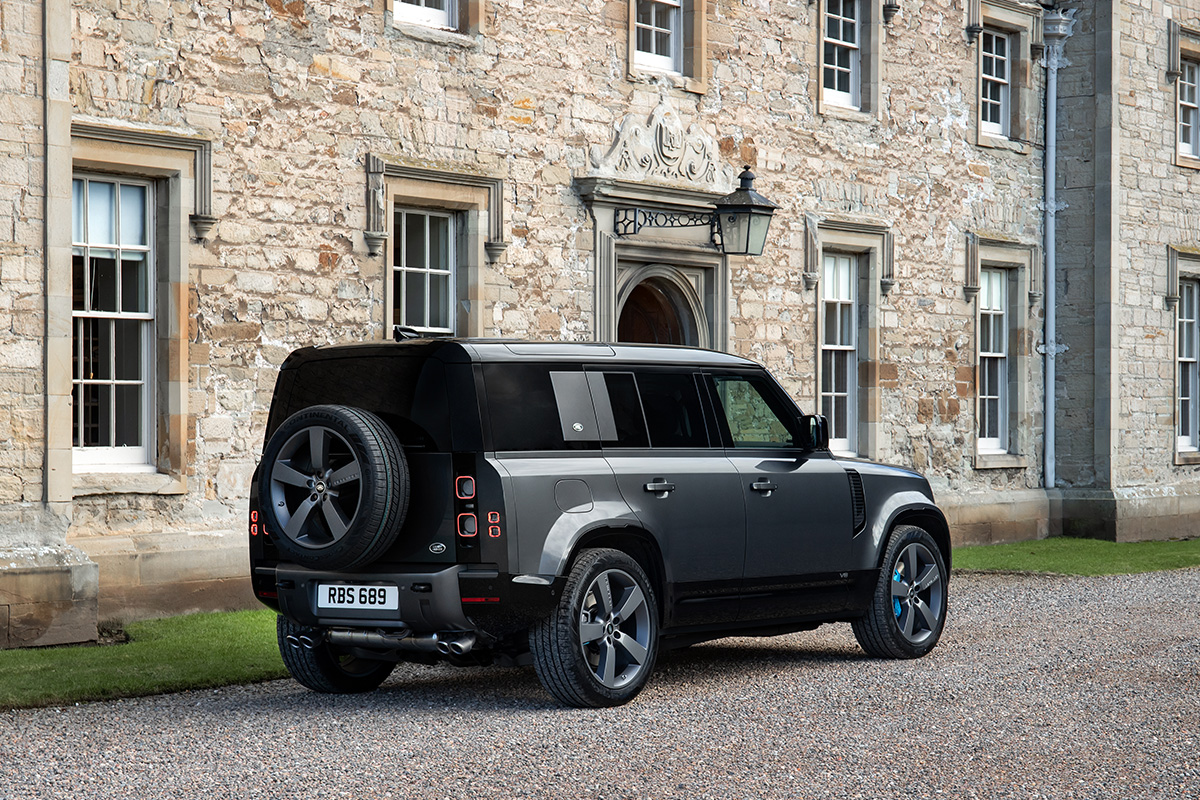 The Defender V8 builds on the rugged 4×4's outstanding capability, delivering new levels of performance and driver engagement by combining a powerful 518hp 5.0-liter V8 supercharged engine with expertly developed suspension and transmission tuning to create the fastest and most dynamically rewarding Defender yet.
"The introduction of our V8 powertrain adds a new dimension of driving engagement and off-road capability to Defender. Fast and fun to drive, it represents the pinnacle of the Defender family and is as rewarding on the road as it is capable off it," said David Hemming, Chief Product Engineer, Jaguar Land Rover. "We've also broadened the appeal of the entire Defender lineup with new derivatives, option packs and enhanced connectivity, so there really is a Defender for everyone."
Exceptional off-road capability is a Defender hallmark and the V8 adds a new layer of driver appeal, with the introduction of a new Dynamic program within the Terrain Response system – only available on V8-powered Defender vehicles. It helps drivers to exploit the more dynamic character and handling balance of the 518hp model on tarmac and loose surfaces. Engineered to be the fastest and most engaging production Defender ever, it delivers unrivalled agility and driver appeal.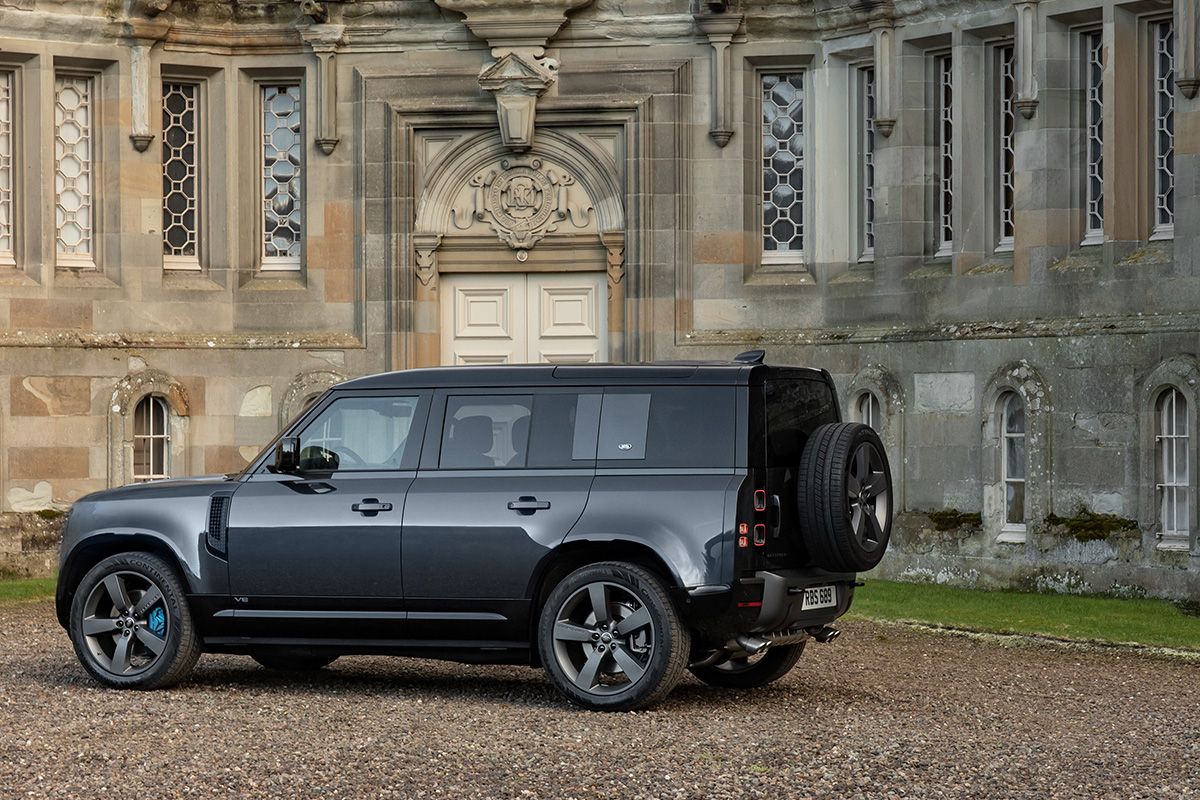 "The 5.0-liter V8 supercharged engine further enhances the unique character of the Defender. It sounds fantastic and delivers incredible performance – providing new levels of driver appeal," said Iain Gray, Senior Manager, Powertrain Advanced Engineering, Jaguar Land Rover. "Our engineering focus has been to optimize powertrain calibration for Defender to deliver both responsive on-road performance and fine control off-road – all without compromising the Defender vehicle's all-terrain capability and wading ability."
Larger-diameter solid anti-roll bars are designed to help reduce body roll in cornering, while the unique Electronic Active Rear Differential introduces a Yaw Controller that allows fine control of the cornering attitude of the Defender V8.
Careful calibration of the new Dynamic program in Terrain Response 2 gives Defender V8 a more agile, playful and responsive character. In this setting, a sharper throttle response and bespoke tuning for the Continuously Variable Damping combine with the stiffer suspension bushes for immediate steering responses. Working in harmony with the Torque Vectoring by Braking technology, Traction Control Systems and new Yaw Controller, the Defender V8 is faster, more engaging and more controllable than ever.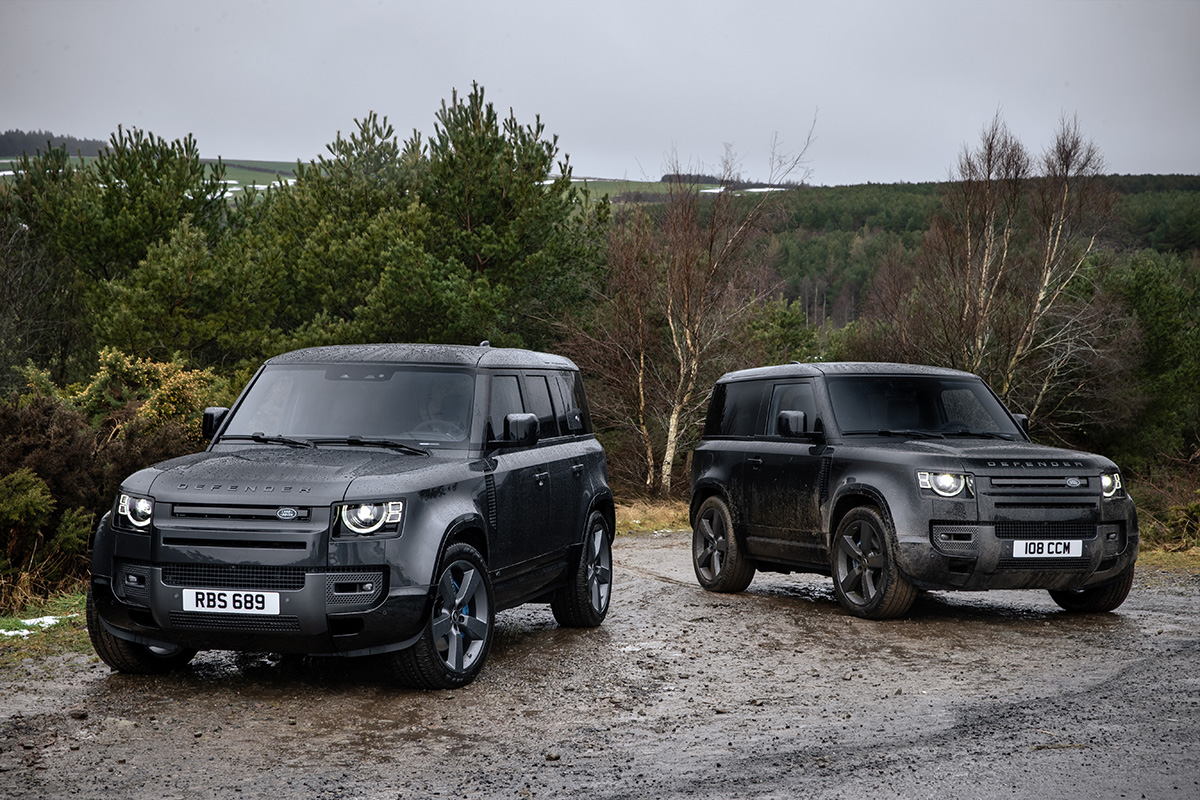 Instantly recognizable, the Defender V8 features a number of unique exterior enhancements; unique exterior badging, distinctive quad exhaust tailpipes and unique 22-inch alloy wheels combine to set the most powerful model in the lineup apart. The Defender V8 is further identified by its Xenon Blue front brake calipers and 15-inch from brake discs.
Acoustic tuning of the Defender V8 induction and exhaust systems provides a purposeful and authentic sound. Calibrated to suit a broad range of driving situations, this evocative soundtrack can be enhanced by selecting Dynamic program in the Terrain Response system.
For some reason, the Defender V8 is only available in 3 colors: Carpathian Grey, Yulong White, both of which feature a contrast roof in Narvik Black, and Santorini Black. In addition, Shadow Atlas exterior detailing completes the distinctive exterior finish of the new Defender V8. Not going to lie, I'd love to see one in a bright color, but wraps can take care of that shortcoming.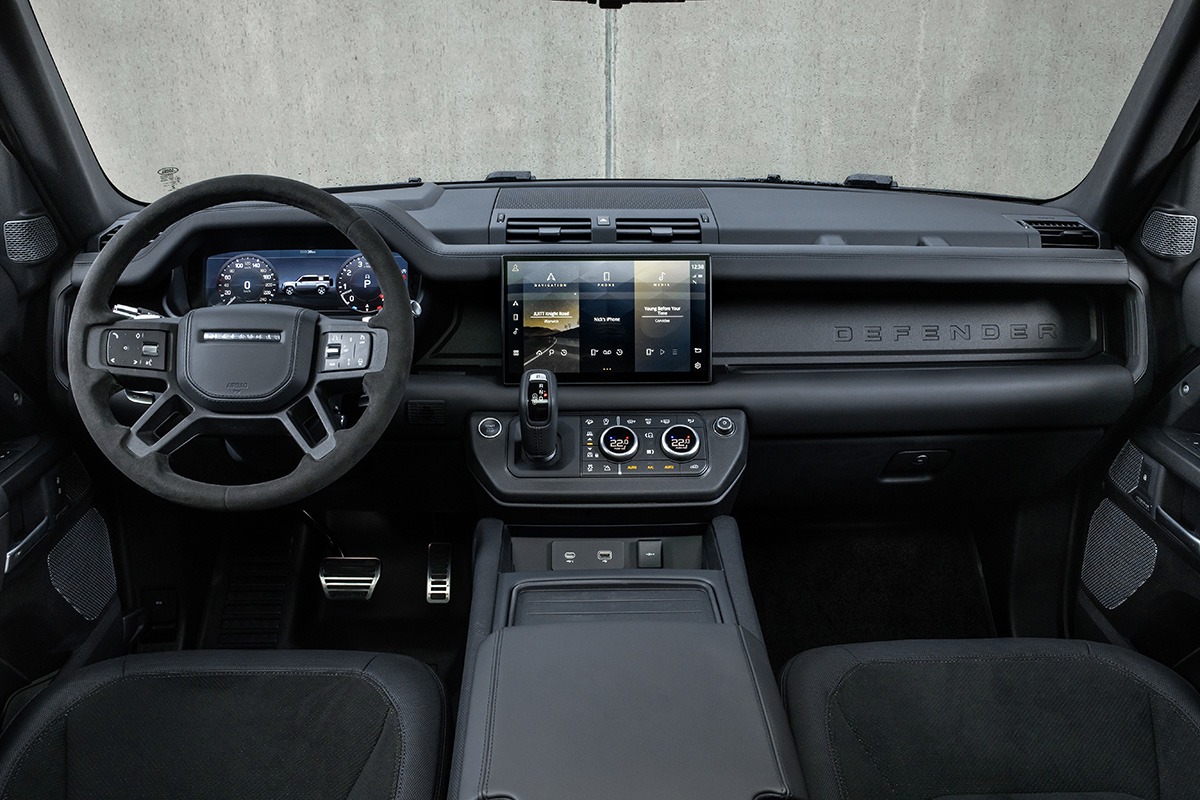 Inside, the Defender V8 features seats trimmed in unique Ebony Windsor Leather with Miko Suedecloth and Robustec accents, each finished with a unique Ebony tag, while the exposed Cross Car Beam on the Defender features an exclusive Satin Black finish. The four-spoke steering wheel is enhanced by an Alcantara rim and tactile satin chrome gearshift paddles, which are unique to V8 models. Leather covers the airbag housing and gear selector, while illuminated treadplates are completed with a V8 script.
You can also choose from three new exterior design packs. The Bright Pack, Extended Bright Pack and Extended Black Pack further extend the personalization potential. The Bright Pack features a Noble Chrome finish for the front and rear skid pans, plus a Noble Chrome front grille bar and badging, while the Extended Bright Pack adds Ceres Silver to the lower body cladding and wheel arches.
For those wanting something even more premium, the Defender V8 Carpathian Edition is finished in Carpathian Grey premium metallic paint with Satin Protective Film for a matte look, and the vehicle's exterior features a Narvik Black contrast roof, hood, and tailgate. Additional visual highlights include bespoke V8 Carpathian Edition badging finishes, Satin Black tow eyes, Carpathian Gloss front and rear skid pans, front grille bar and Xenon Blue brake calipers.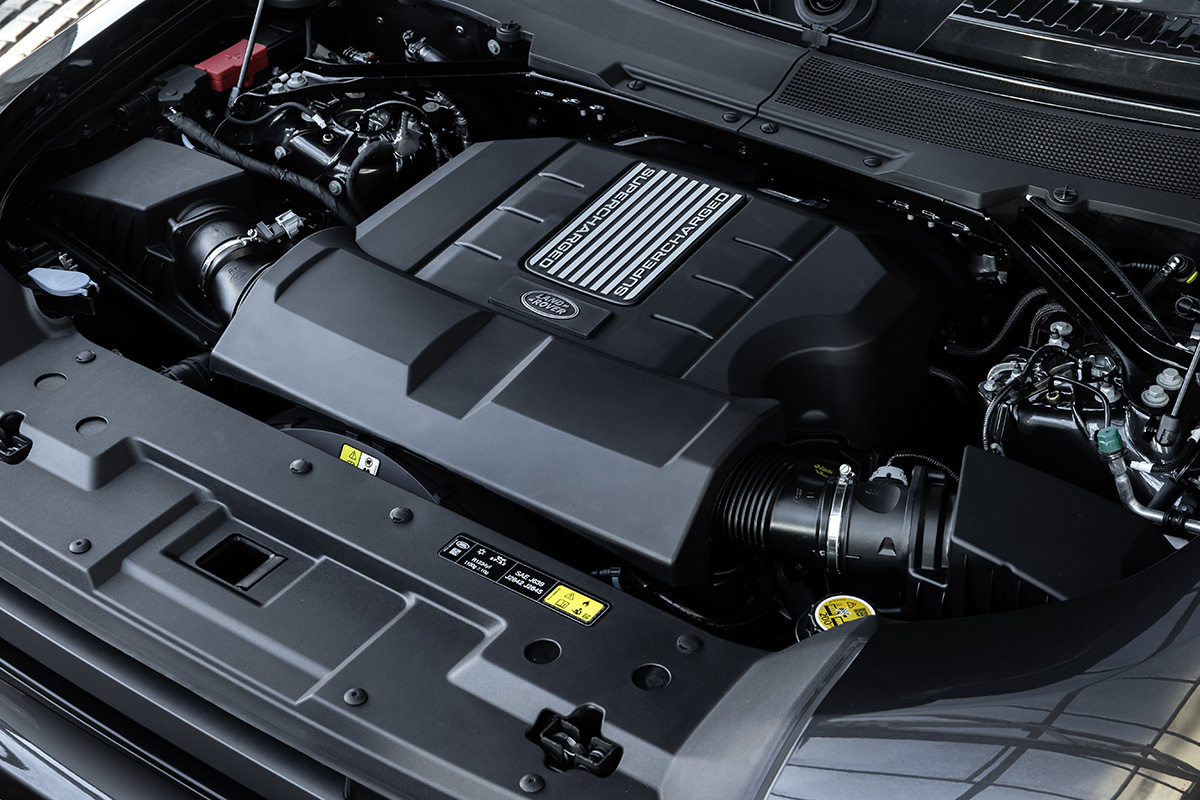 As you might expect, all of this V8 goodness doesn't exactly come cheap. The 2022 Land Rover Defender 90 V8 has a starting price of $97,200, while the 2022 Land Rover Defender 110 V8 has a starting price of $110,400. Stepping up to the Carpathian Edition costs an additional $6,800.
The 2022 Defender model range will go on sale in the U.S. in summer 2021.