2022 Mercedes-AMG GLE 53 Lets You Have Your Cake And Eat It Too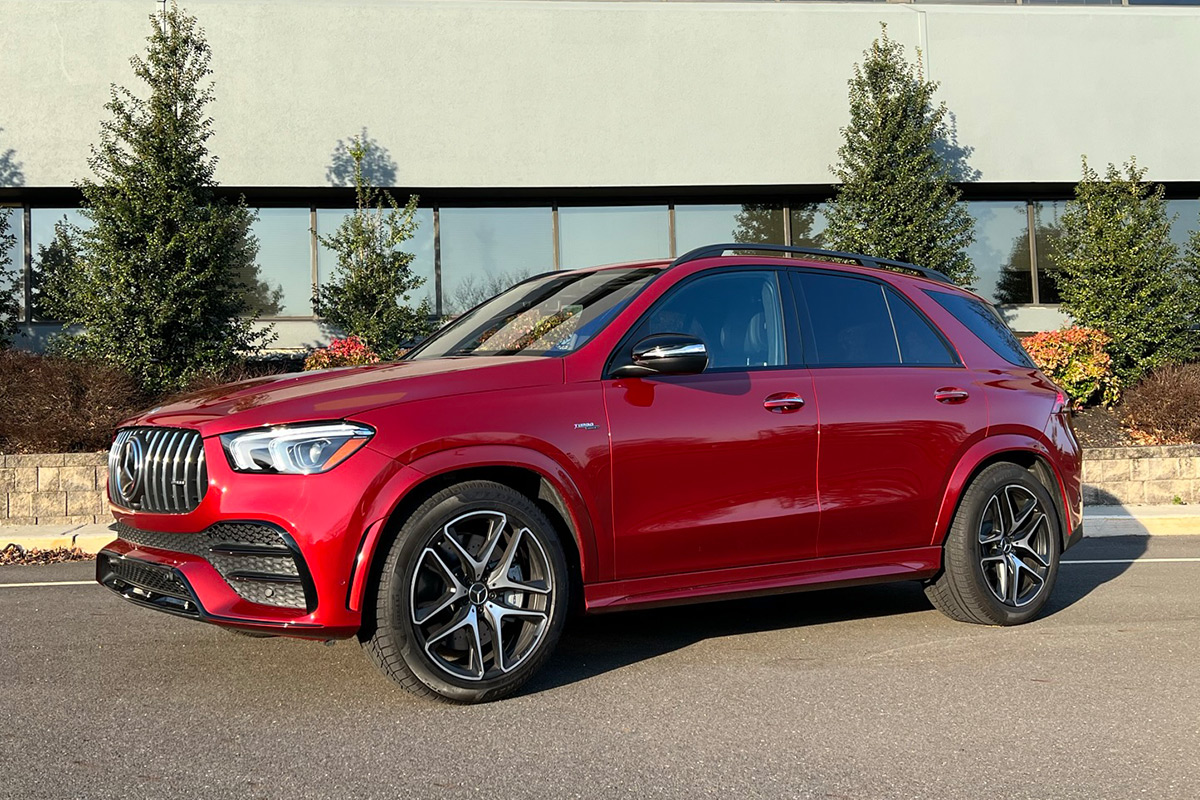 Last year, we reviewed the 2021 Mercedes-AMG E63 S Wagon, calling it a supercar in sheep's clothing. But many readers couldn't get past that station wagon look, wanting something fun but "more traditional". Lucky for them, Mercedes-AMG has a plethora of super-fast SUVs that fit that bill that cover the gamut, with one that's sure to fit your individual needs.
First off, it's important to understand Mercedes' lineup of SUVs and how they all size up. The GLA is at the smallest end of the scale, while the GLS is absolutely massive. In between, you've got the GLB, GLC, and GLE, along with the rugged G-Wagon. Awhile back we drove the 2020 Mercedes-AMG GLC 43, and while that was a hoot to drive, it's best suited for smaller families.
The Mercedes GLE Class is the next step up in size, and it's really the sweet spot in their SUV lineup, right sized for most people as it's not too big and not too small. This is the car that we recently spent a week with, and ours was the especially spicy 2022 Mercedes-AMG GLE 53 model, with that AMG badge letting you that this isn't just some ordinary SUV.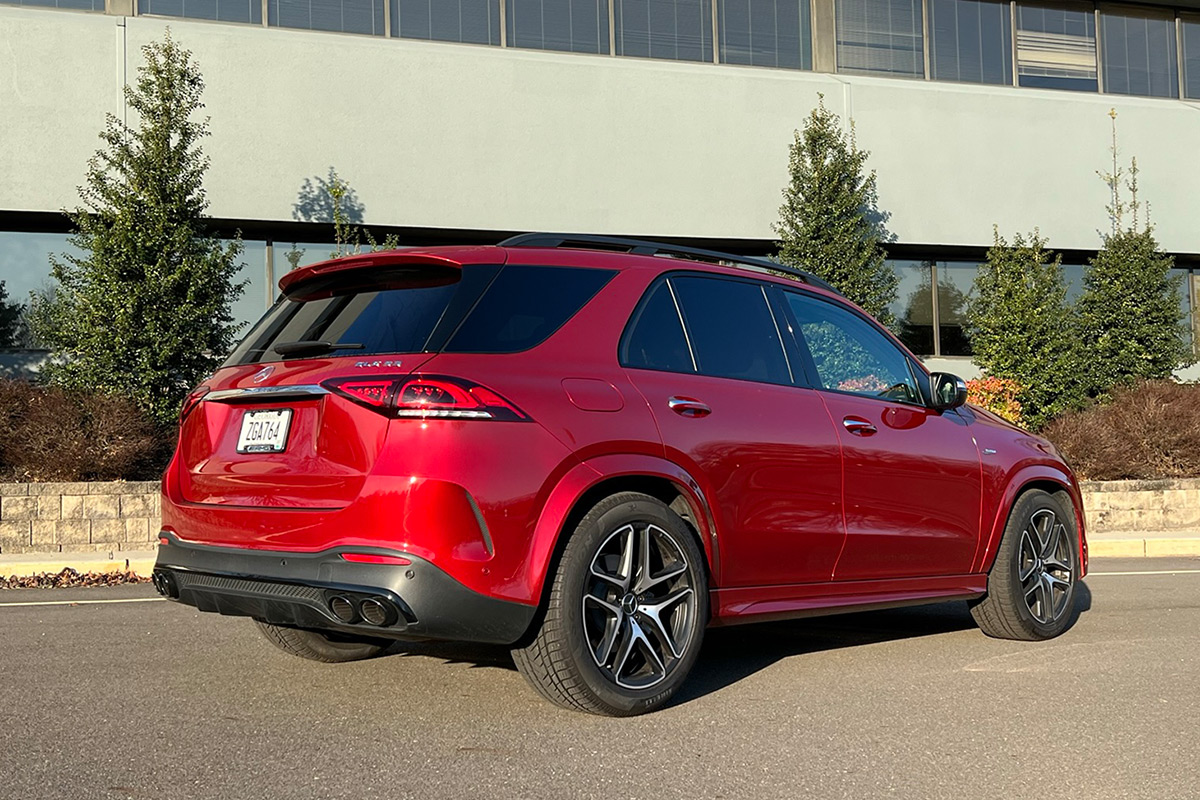 The 2022 Mercedes-AMG GLE 53 is the milder of the two GLE AMG variants offered, putting out 429 horsepower and 384 lb-ft of torque, and good for a 0-60 time of 5.2 seconds. For an SUV that can haul up to 7 people, that's pretty darn respectable. But for those who want even more power, the GLE 63 puts out a jaw-dropping 603 hp and 627 lb-ft of torque, rocketing you and your passengers from 0-60 time of 3.7 seconds!
Under the hood is a 3.0-liter six-cylinder in-line engine with dual forced induction – a turbo on the exhaust system, plus an innovative 48-volt electric supercharger, along with an EQ Boost starter that provides additional power under acceleration. It sounds wildly complicated (and it is), but this mild electrification solution provides plenty of power, a dynamic response without turbo lag, and good fuel efficiency (18 city / 22 highway).
With 4MATIC+ all-wheel drive as standard equipment, the GLE 53 has no problem putting the power down to the road, and it ensures four-season capability. An AMG SPEEDSHIFT TCT 9-speed automatic transmission delivers smooth shifts for normal driving, but if the driver wants more rapid shifts to take advantage of some fun roads ahead, you can quickly switch between drive modes with the simple twist of a dial.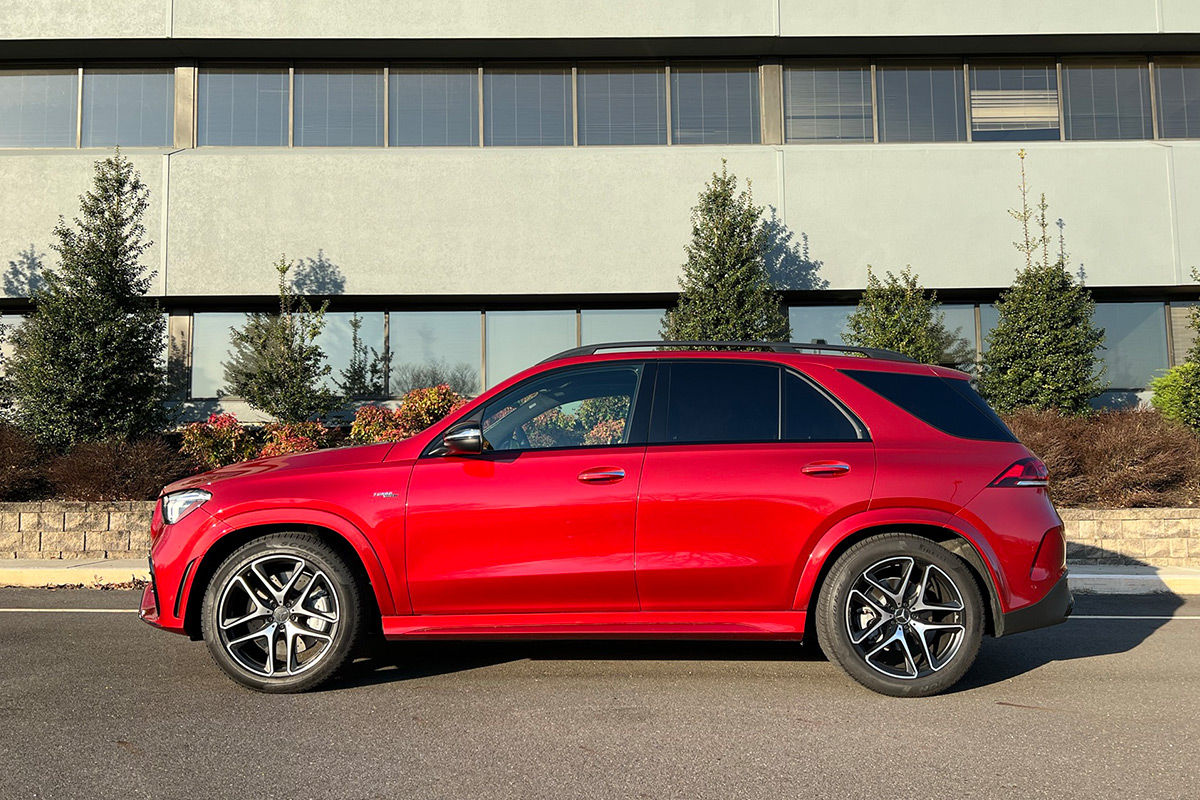 Acceleration is pretty impressive for a car of this size, hustling the over 5,000 pound SUV from cruising speeds to triple-digit speeds in the blink of an eye, something I learned firsthand when passing a car on a two lane highway and suddenly looking down and realizing just how fast I was going. Thankfully, the large size high-performance brakes were able to slow down the performance SUV quickly and with ease.
With the AMG RIDE CONTROL+ air-ride suspension, you get a lot of stiffness in the corners during performance runs and a nice, cushioned comfortable ride in regular driving. The damping characteristics can be pre-selected in three modes, "Comfort", "Sport" and "Sport+", allowing more noticeable differentiation between excellent long-distance comfort and sporty driving dynamics. "Trail" and "Sand" modes are also available for off-road use.
Like I said, the GLE 53 lets you have your cake and eat it too. If you're dropping the kids off at school, you can leave the car in Comfort mode and drive it like a normal SUV. But if you want to have some fun as you take the long way home from work, you can turn it to Sport+ mode, firm up the suspension, open up those exhaust valves, and really have at it. Granted, you're still driving a 5,000-pound SUV, so it's not going to handle like a race car, but it does allow you to have quite a bit of fun if you want. Heck, sometimes you forget entirely that you're driving an SUV, as it drives more like a large sedan.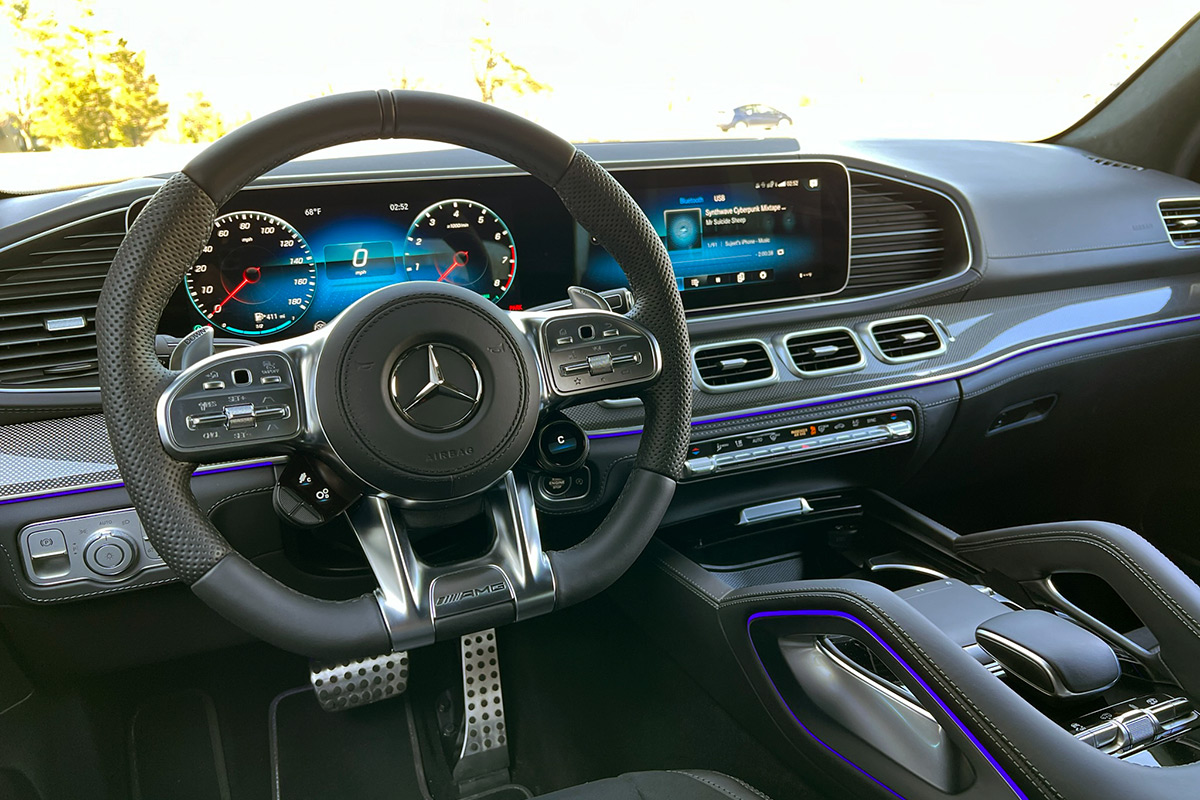 Visually, it's an attractive vehicle (maybe not quite as good looking as the Mercedes-AMG GLE 53 Coupe variant, but it offers more utility in this form), and all of the AMG-specific styling cues (unique radiator grille, narrow headlamps, striking A-Wing in the front bumper, 22-inch alloy wheels, etc) really set it apart from a "regular" GLE. It's subtle, but people in the know will certainly take notice of this sweet ride.
Mercedes really outdid themselves with the interior of the GLE 53 as well, which builds on the already well-appointed interior of the regular GLE's and adds AMG specific seats (leather with a microfiber inserts) that offer nice lateral support when you're ripping through the twisties, contrasting topstitching, aluminum brushed trim elements, and plenty of carbon fiber. They managed to blend all of these different materials in a very rich and modern manner.
Our car came equipped with virtually every option you could imagine. I'm talking heated and cooled cupholders, massaging front seats (which were AMAZING!), heated front armrests (in addition to the heated/ventilated seats), a driver assistance package that has is watching over you from every angle and practically drives itself, and a Burmester surround sound system that delivers a wonderful theater-like sound. The final tally of options gave us a bit of sticker shock, but it's hard to argue with the end results.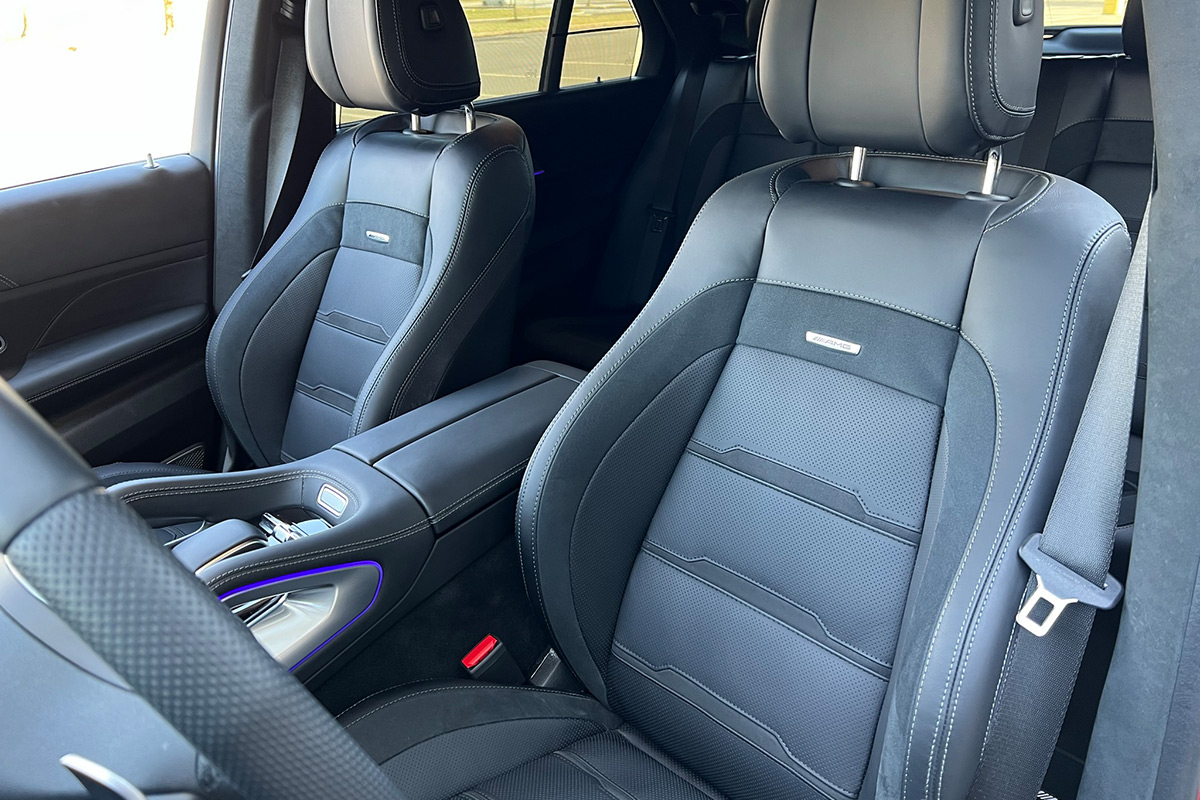 Infotainment in the 2022 Mercedes-AMG GLE 53 is the company's latest MBUX system. It's currently the best in the business, with a natural language option that lets one interact using Alexa-style commands. Start with "Hey, Mercedes" and then go from there. Change channels, set navigation on the fly (and while driving), ask for information, or get a joke. Lots of good options with this flexible system. Gesture control allows simple gestures to be used for various common tasks like answering the phone, changing volume levels, and the like. 
I'm still not a fan of the steering controls, as there's just too much happening, and it's easy to suddenly skip a track while turning the wheel or doing some other driving-related activity. I've probably mentioned this in other MB reviews in the past, but it continues to be a pain point for me and others, as they've made it unnecessarily complicated for no reason.
That said, all in all it's a very premium interior, with Mercedes thinking of everything to make your ride that much more enjoyable. It's quiet, luxuriously comfortable, and roomy. The rear seats are pretty accommodating, but sliding and/or reclining features would be nice. And as you can see in the photo below, there is plenty of cargo room in the rear, enough to pack up a week's worth of luggage and such. Few will complain about riding in GLE 53.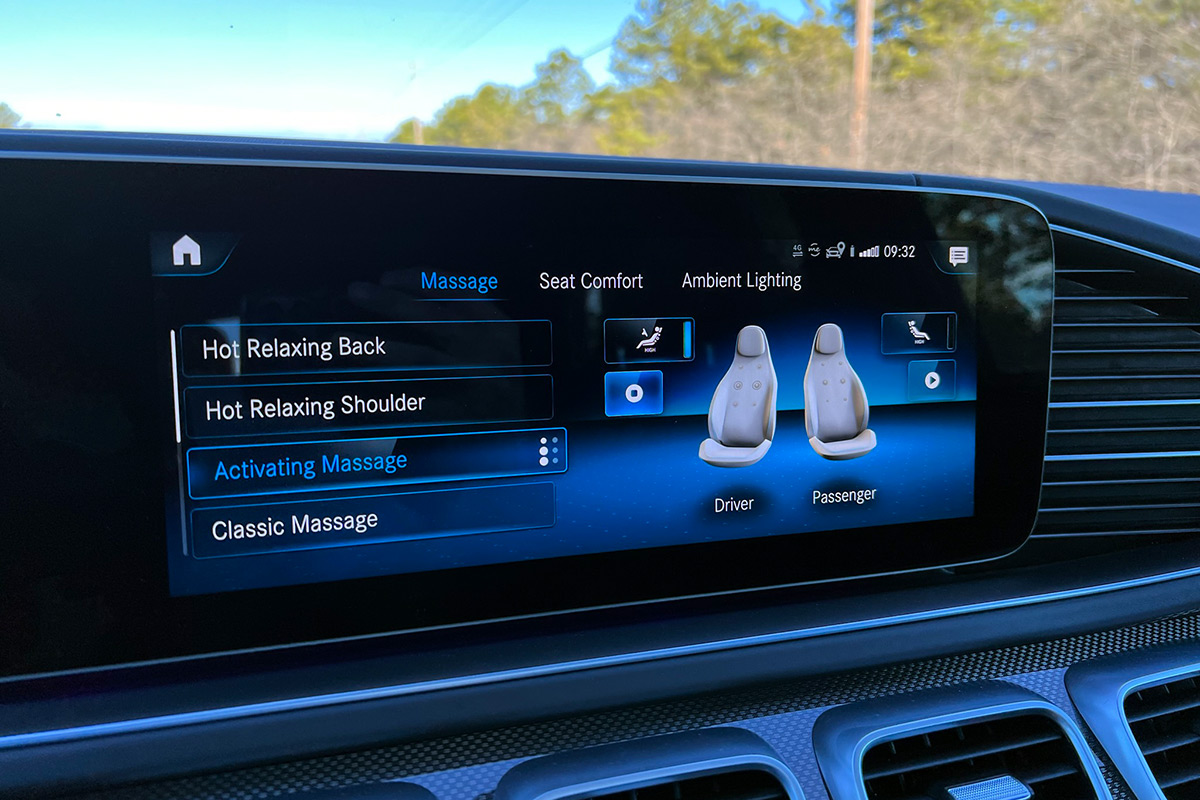 Overall, there are plenty of things to like about the 2022 Mercedes-AMG GLE 53 for its balance of performance, luxury, and comfort. It feels really good to drive and be in and looks good as it passes by observers on the sidewalk. Of course, being an AMG model with 400+ horsepower and all of the luxury appointments, this sucker's not exactly cheap.
Pricing for the 2022 Mercedes-AMG GLE 53 starts at $73,550, while our very well-equipped tester managed to break the six-figure mark, clocking in at $101,080. And at that price point, there's a lot of competition out there, from the Porsche Cayenne to the BMW X5M to the Alfa Romeo Stelvio Quadrifolgio, and others I'm probably forgetting.
All of them are great cars in their own rights, but each distinctly different. In the end, you need to drive each of them and see which appeals to you the most. You really can't go wrong either way. I think the Mercedes-AMG GLE 53 is the most luxurious of the bunch, while still offering plenty of smiles for miles. Go check it out for yourself and let us know what you think!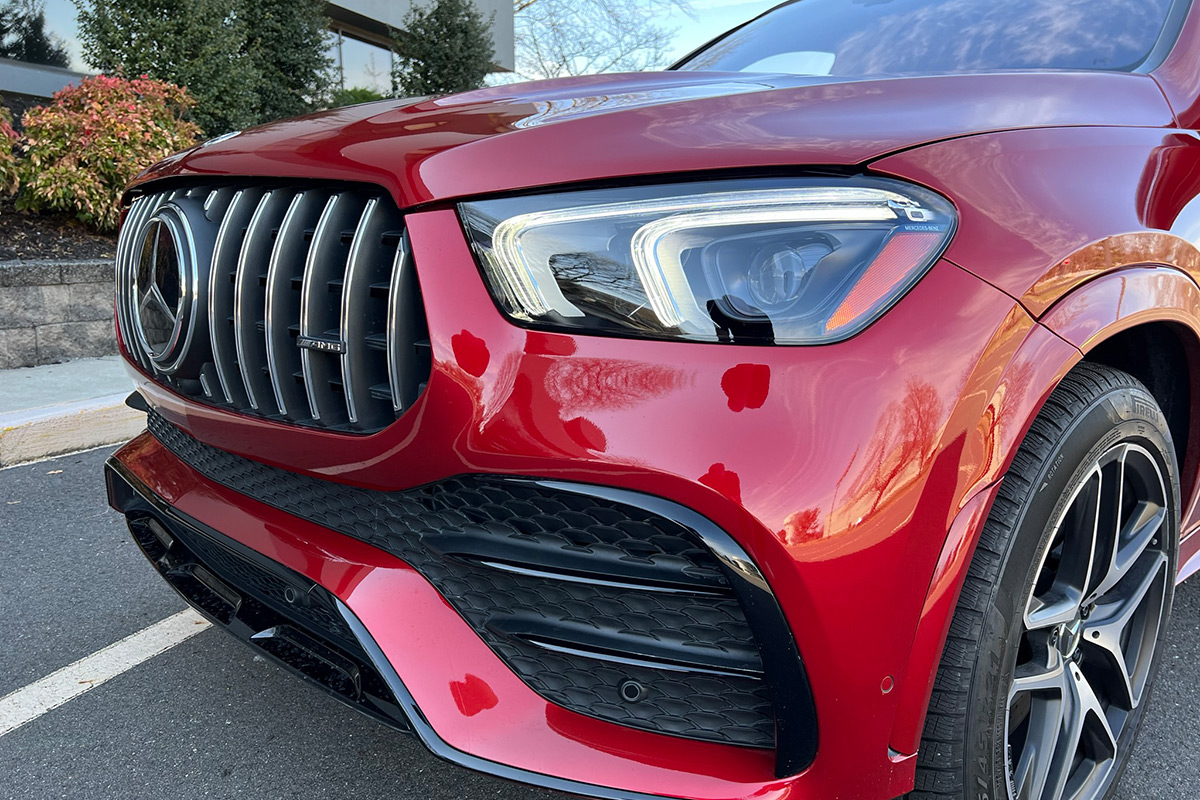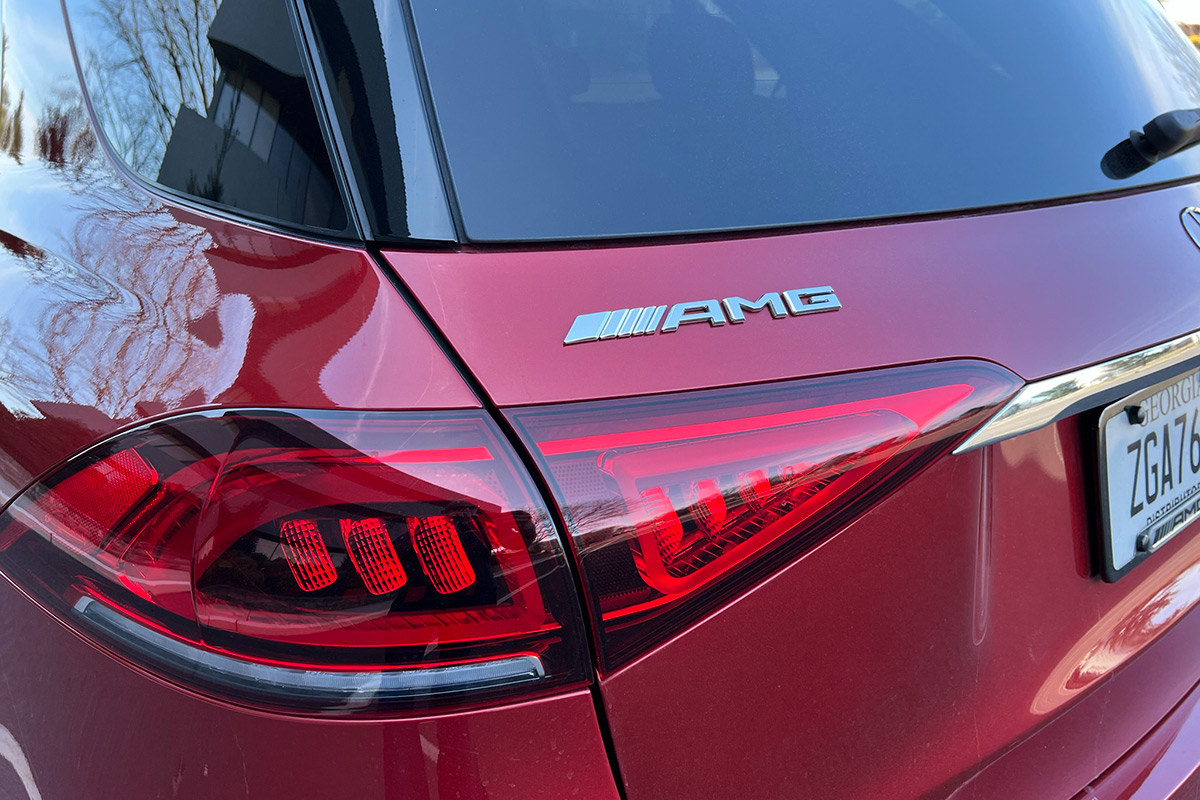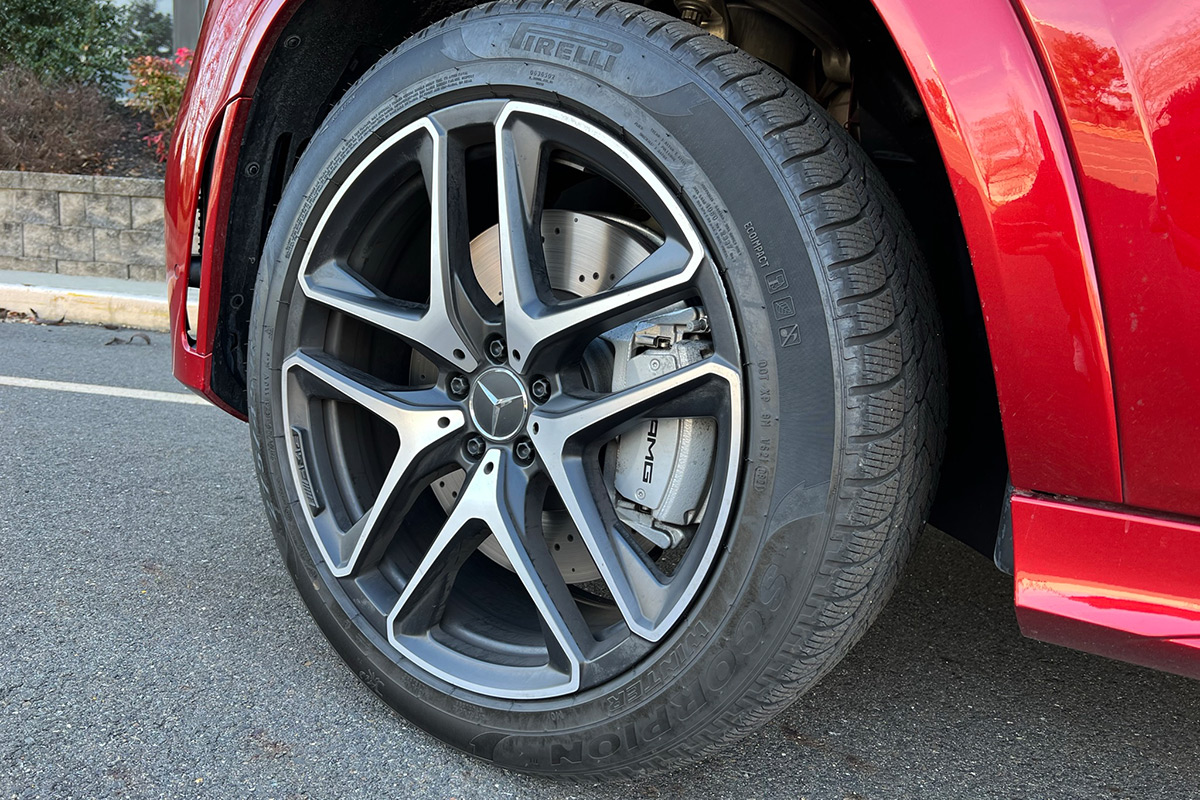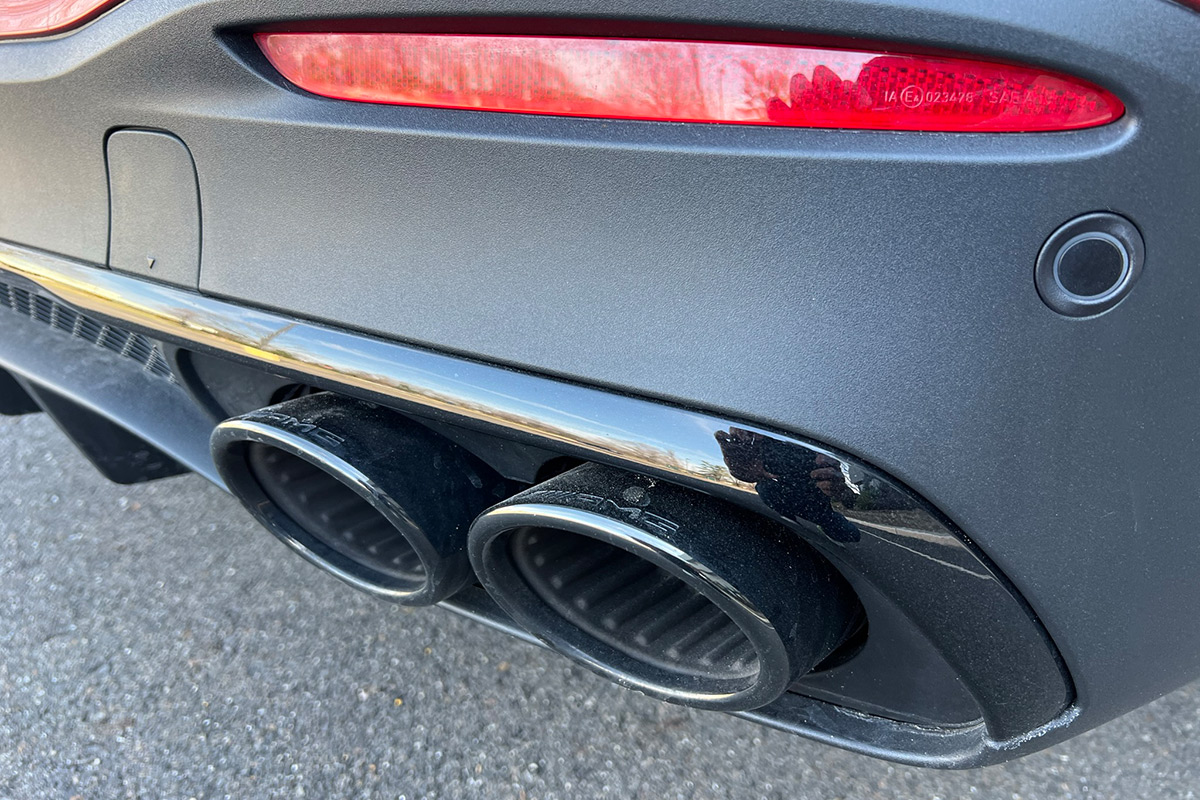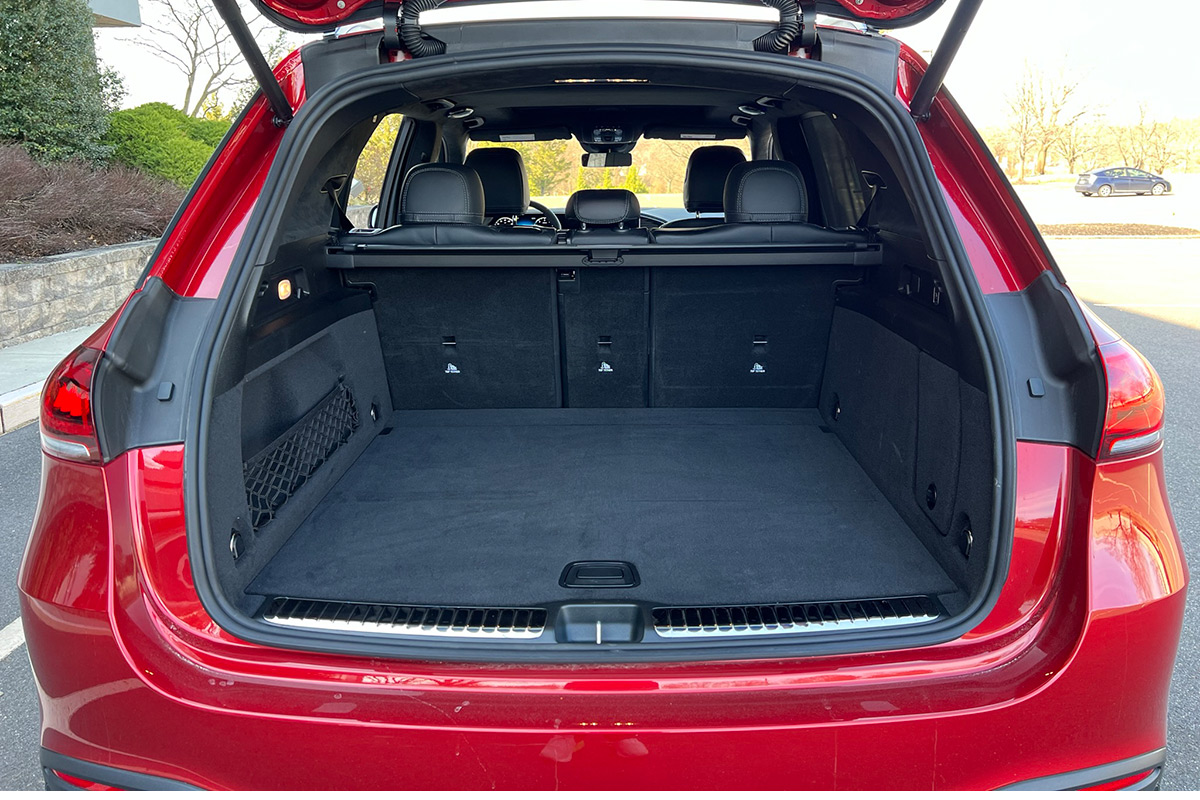 Visit www.mbusa.com to learn more about the 2022 Mercedes-AMG GLE 53 SUV.