Lowe's Introduces Retail Service Robots To Assist Customers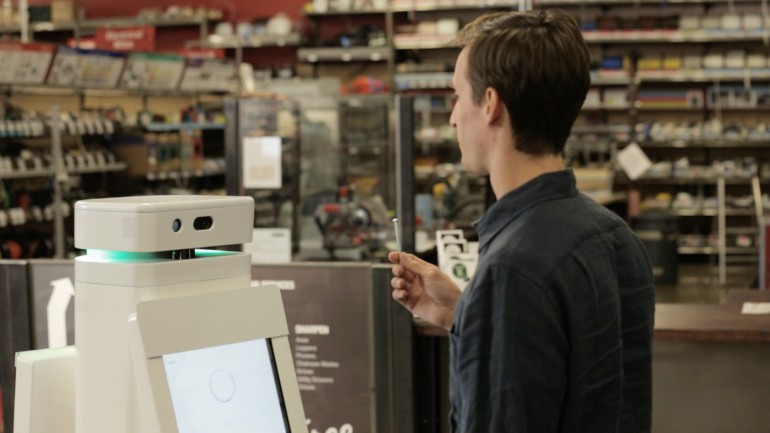 This holiday season, Lowe's Innovation Labs will be introducing two autonomous retail service robots in an Orchard Supply Hardware store in San Jose, CA to study how robotics technology can benefit customers and employees.
Called OSHbot, the robots will assist customers to quickly navigate through the stores by directing them to specific products and providing real-time information about product promotions and inventory. In the coming months, OSHbot will also be able to communicate with customers in multiple languages and remotely connect with expert employees at other Orchard stores to answer specific project questions.
"Using science fiction prototyping, we explored solutions to improve customer experiences by helping them quickly find the products and information they came in looking for," said Kyle Nel, executive director of Lowe's Innovation Labs. "As a result we developed autonomous retail service robot technology to be an intuitive tool customers can use to ask for help, in their preferred language, and expect a consistent experience."
For store employees, OSHbot will provide an additional layer of support by helping customers with simple questions, enabling more time for them to focus on delivering project expertise. Applications designed to support employees also include real-time inventory management and connecting with employees in other locations to share know-how and answer customer questions.
Last Week Tonight with John Oliver wasted no time in weighing on this, claiming that these robots won't stop couples at hardware stores from killing each other. It's a pretty hilarious skit, with Nick Offerman playing the greatest Home Depot employee you've ever met!
Regardless, this is some pretty crazy technology. If you live in the San Jose area, make sure you stop by one of the Orchard Supply Hardware stores, and let us know what you think of the OSHbot!