Man Crates : Gift Baskets Made For Men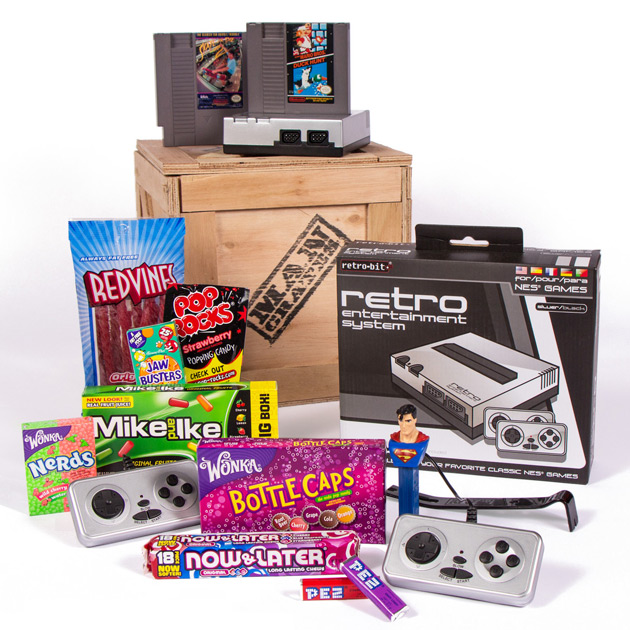 If you're looking for a decidedly manly gift, you've got to check out Man Crates. Man Crates knows that guys aren't interested in ugly neckties, cologne samplers, and executive trinkets. And wasting money on wrapping paper and ribbons? Puh-leese!
Man Crates ships bragworthy gifts for guys. Gifts where opening the package is part of the fun. Gifts that get people gathering round at the office, following the sounds of wood being torn from wood by the included, laser-engraved crowbar.
As the name suggests, these gift boxes literally come in a crate, along with a crowbar to open the crate. They have packs for men who love whiskey, new dads, athletic types, avid gamers, and for those prepping for the impending zombie apocalypse. Click here to see all the Man Crates they currently offer.
Growing up in the '80s, I had no choice but to go with the Retro Gamer Crate. This blast from the past came with a Retro-Bit NES console, two classic Nintendo games, and a bunch of candy (Red Vines, Bottle Caps, Mike & Ike, Nerds, Now and Later, Jaw Busters, Pop Rocks, and Pez) from this era. All this for just $79.99.
And let me tell you, ever since I got this crate, I've been on the hunt for my favorite NES games.. Games like Double Dragon, NBA Jams (Boomshakalaka), Street Fighter 2, Excitebike, and more. It's amazing how well these games hold up over time!
So whether you're stumped on what to get Dad for Father's Day, looking for a memorable Groomsmen gift, or just trying to relive your childhood, rest assured that Man Crates has got your needs covered.