This Is What Happens When Mercedes-Benz Designs A Golf Cart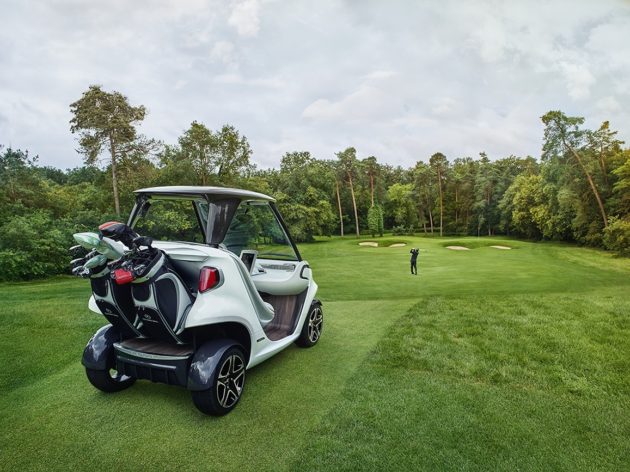 For those looking to hit the links in style, feast your eyes on the all-new Mercedes-Benz Style Edition Garia Golf Car, which was unveiled this week at the British Open at Royal Toon. Born from a cooperation between Mercedes-Benz Style, Daimler Business Innovation, and luxury golf cart manufacturer Garia, the Golf Car is sure to turn heads when you pull up on the fairway in it.
So how exactly did the Golf Car come to be? In 2013, Mercedes-Benz called upon golf and automobile fans from around the world to submit their ideas for a golf cart of the future. Anders Lynge (co-founder of Garia) has been a car designer his entire life, and when he stumbled across the Mercedes-Benz design competition on Facebook, he threw his hat into the ring, and the rest is history!
As you would expect, the posh golf cart comes with everything the well-heeled golfer might want. There is a five-gallon refrigerator tucked under the bench seat, a rear spoiler that doubles as a golf bag holder (which is positioned at a 30-degree angle for easy access), and a 10.1-inch touchscreen that displays the layout of the golf course, your current position, and also includes an electronic scorecard. The touchscreen has also been tailored to control the four-speaker sound system, ambient overhead cabin lighting, headlamps, windscreen heater, and speed-sensitive windshield wipers.
The ultimate conveyance for true connoisseurs of the game, the vehicle comprises an aluminum chassis with double-wishbone suspension, a carbon-fiber canopy and seat frame, and a golf-ball-patterned front grille with an air intake slot, along with jewel-like LED headlights with chrome inlays. Adding an athletic aesthetic to its stance are 14-inch wheels. The cart has a range of 50 miles, can reach a top speed of nearly 19 miles per hour (propelled by its electric motor), and is equipped with "sport" and "eco" performance modes.
The Mercedes-Benz Style Edition Garia Golf Car is currently a concept, but there are plans for a production model to soon tee off. Pricing hasn't been revealed yet, but given the fact that Garia sells a similar golf cart with some but not all of the luxury features for $23,196, we can expect the Mercedes cart to cost even more.
We'll be sure to keep you updated as more information becomes available!