Motion Pro II Simulator – Experience Full Immersion Racing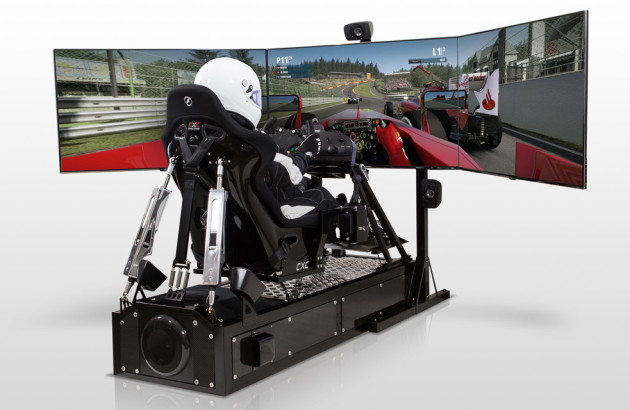 If you won the Powerball tomorrow, what would you spend the money on? It's a loaded question that comes up every time the jackpot rises, and the answer usually includes a lot of exotic cars. But here's the reality of the situation – Exotics aren't that much fun on regular roads, you need to take them to a racetrack to truly appreciate what they can do. And who's got time for that?
Luckily, CXC Simulations has the solution. The Motion Pro II is a professional grade racing simulator that is geared toward the more affluent consumer, with starting prices ranging from $54,000 – $83,515 depending on which model you choose.
I had a chance to try out the Motion Pro II at a recent automotive event, and it was really something else, like no other simulator I've tried before. The unique way its low-mass motion system, multiple vibration replicators and seatbelt tensioners are integrated with panoramic screens and powerful sound system allows you to get fully immersed in the experience.
Professional racing teams have used the Motion Pro II to train for the real thing, and the simulator has even been used for product development testing for notable projects like the Nissan Delta Wing.
The following video shows three professional drivers, including Porsche Motorsport factory pilot Patrick Long, preparing for one of the world's most recognized endurance races: The Bathurst 12 hour race. This behind-the-scene practice session and commentary really speaks volumes about CXC and the technology that they have developed, and especially how it can be utilized to prepare for premier competitions.
While I'd love to own one, that steep price tag will keep this on my imaginary lottery winning purchase list. But if you're a CEO, business leader, trust fund kid, or recent lottery winner who has a love for racing, you should definitely check it out.
Visit www.cxcsimulations.com for more information.