Movie Review: Lone Survivor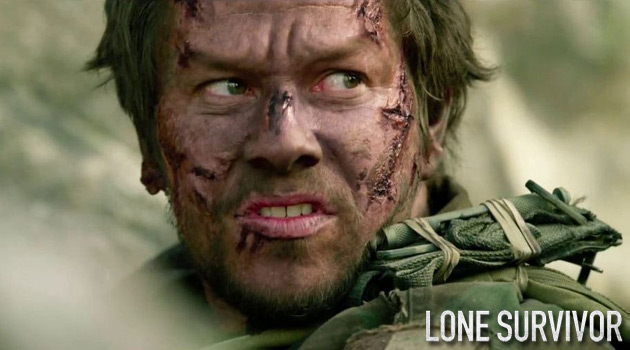 I sat down in my seat with my Buncha-Crunch in tow, anticipating the action packed thrill ride that my parents and friends told me about. They were absolutely right. If I had to sum up Lone Survivor in a single word, it'd be Powerful.
Director Peter Berg pulled up his pants after the debacle that was Battleship, and he dived right into Lone Survivor. Lone Survivor is based on a true story and a book of the same name, which recounts the story of the failed June 28, 2005 mission Operation Red Wings. Four members of SEAL Team 10, were tasked with the mission to capture or kill notorious Taliban leader, Ahmad Shahd.
If you haven't seen the trailer for the movie, you can watch it here:

Though the title essentially gives the outcome of the movie away, we get incredible performances from the lead cast. Mark Wahlberg plays medic and sniper Marcus Luttrell. His brothers in arms include Taylor Kitsch, who plays Lieutenant Michael P. Murphy, the leader of Operation Red Wings. Kitsch's performance was an incredible rebound after a string of movie flops over the past few years. (Battleship, John Carter) Emile Hirsch (Into the Wild, The Girl Next Door) plays communications officer Danny Dietz, and Ben Foster plays sonar technician Matthew "Axe" Axelson. Other cast includes Eric Bana, Alexander Ludwig and Entourage's Jerry Ferrara.
Lone Survivor provides a carrousel of emotions. You'll have goose bumps within the first few minutes of the film. This true story shows the relationships of these SEAL's, these men who are brothers and would die for one another. It's something that we can't even fathom.
This is easily one of the best war movies in the past ten years, and one of the bright spots in Peter Berg's long career. What I found fascinating about the production of this film was that Wahlberg, Kitsch, Hirsch and Foster attended a three week boot camp that was taught by Luttrell himself!
I highly recommend Lone Survivor, it will surpass your expectation and keep you glued to the screen.