Ted 2 Comes To Blu-Ray & DVD Next Week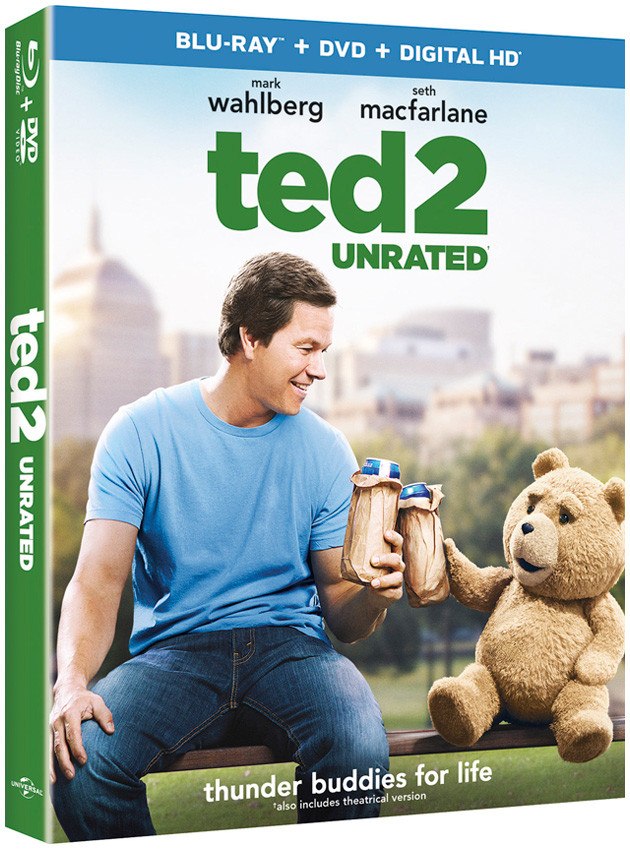 The world's most beloved trash-talking teddy bear is back in an all-new unrated edition. That's right, we are talking about Ted 2, which is being released on Blu-ray and DVD on December 15, 2015.
You'd think that it'd be hard to top Ted, but Ted 2 features even more of the hysterically raunchy banter that made the first movie so great. This time around, Ted and wife Tami-Lynn want to adopt a child, but are turned away because government says that Ted is not a person. With the help of his BFF John (Mark Wahlberg) and newly minted lawyer (and weed aficionado) Samantha L. Jackson (Amanda Seyfried), the couple goes to all ends to fight the system for Ted's legal personhood.
You can check out the trailer for Ted 2 here:

In addition, both the Blu-ray and DVD include an UNRATED edition that features never-before-seen footage that was considered too rude for theaters.
BLU-RAY AND DVD BONUS FEATURES:
Thunder Buddies 4 Lyfe
Roadtripping
Creating Comic-Con
Feature Commentary with Seth MacFarlane, Jessica Barth and writers Alec Sulkin & Wellesley Wild
BONUS FEATURES EXCLUSIVE TO BLU-RAY:
Deleted Scenes
Gag Reel
Cameo Buddies
A Giant Opening Dance Number
Mark Wahlberg and Seth MacFarlane reprise their star roles as John and his life-long best friend Ted, with an all-star cast that includes Amanda Seyfried, Jessica Barth, Giovanni Ribisi and Morgan Freeman, as well as inspired cameos from NFL star Tom Brady, Liam Neeson, Jimmy Kimmel, Jay Leno, Patrick Warburton, John Slattery and more in this sequel that critics call "Funnier, wilder and even more naughty than the first movie!"
Are you still looking for a great gift idea this holiday season? Why not pick them up a copy of this year's most outrageous comedy, Ted 2.