McLaren 750S Delivers Peak Supercar Performance, Pure Exhilaration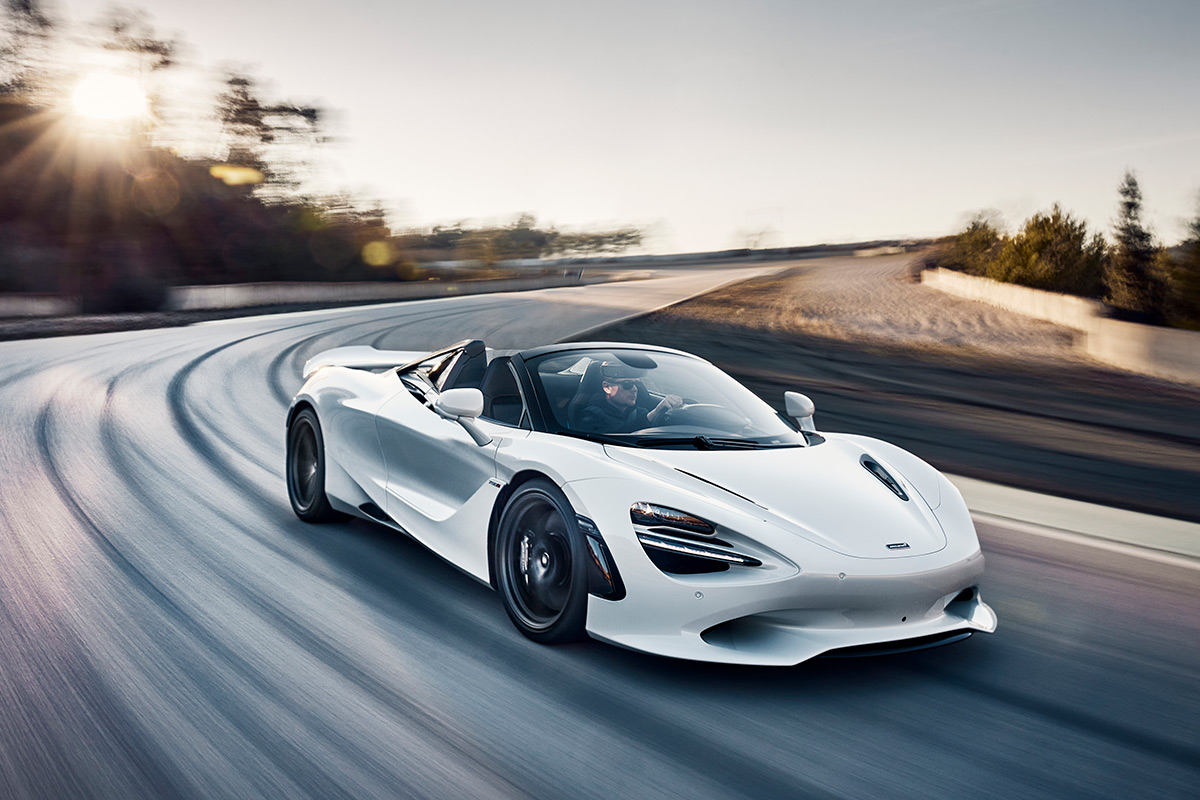 Feast your eyes on the new McLaren 750S, the replacement for the 720S. And while the two might look pretty similar, this isn't just a mid-cycle facelift, but an all-new car that defines a new benchmark for supercar performance and driver exhilaration.
The lightest and most powerful series-production McLaren, the new V8-engined, rear-wheel drive 750S is a supercar for the purist. Designed and engineered following meticulous analysis of the renowned McLaren 720S, the new 750S combines advances in weight-saving, powertrain performance, aerodynamics and dynamic excellence to elevate a benchmark driving experience to new heights. Around 30% of 750S components are either new or changed in order to deliver these improvements and with them an even greater emotional connection to the car.
"When you have a car recognized by so many drivers as a benchmark, to do something even better you have to examine every detail and really push hard for improvements that raise the bar again. This is what we have done with the new 750S and the light weight, V8 engine performance and outstanding dynamic abilities combine to deliver a supercar driving experience that hits new heights, with truly exhilarating levels of emotional connection." Michael Leiters, CEO, McLaren Automotive.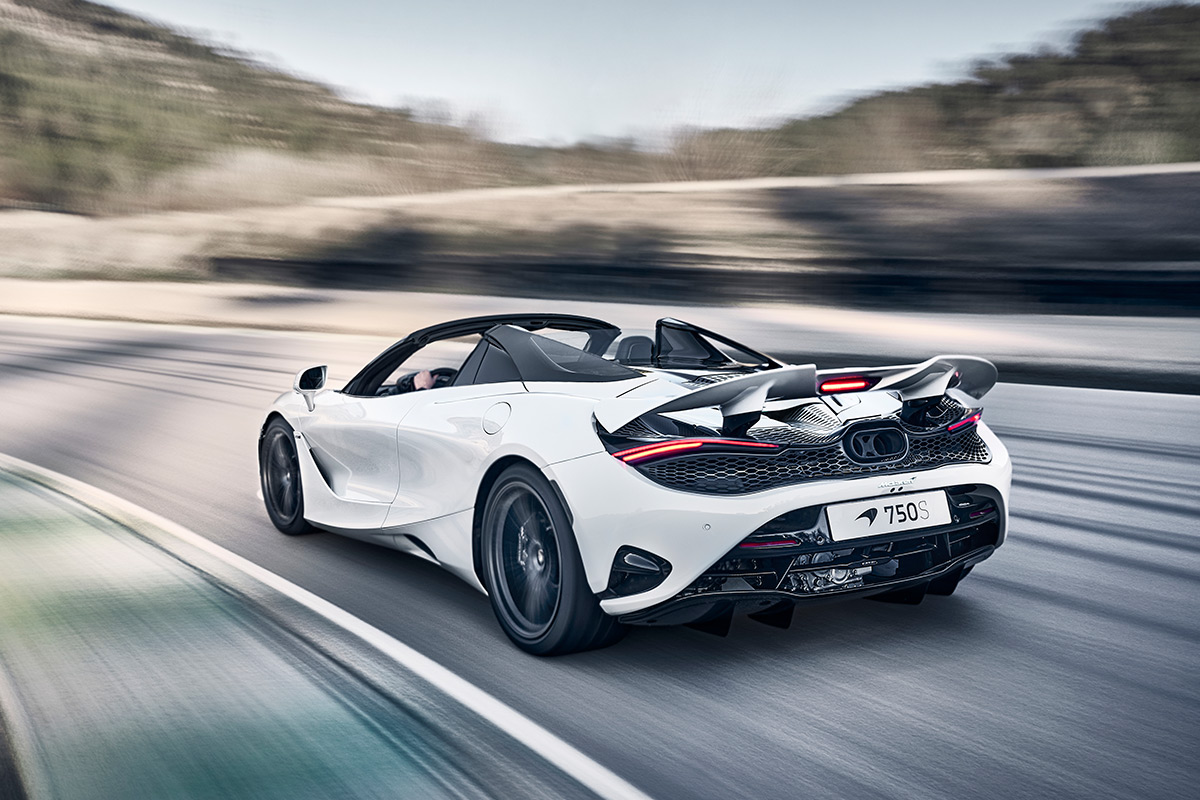 With all available carbon fiber and lightweight options selected, the coupe weighs 2,815lbs in dry lightest form, which delivers a segment-leading power-to-weight ratio of 579hp-per-ton. This is a remarkable 425lbs lighter than its closest competitor and delivers a power-to-weight advantage of 22hp.
The 750S Spider is designed with the same focus on minimizing weight. It has a retractable hard top, rollover protection system and a bespoke rear upper structure to the monocoque constructed from carbon fiber, but such is the strength of the carbon fiber monocoque that no additional reinforcement is needed. This ensures the Spider is equally impressive in power-to-weight terms and segment-leading at 558hp-per-ton, at its lightest dry weight of 2,923lbs.
The extraordinary levels of exhilaration, precision, agility, feel and feedback that the 750S delivers are immediately apparent to the driver, even at lower speeds – and its low weight is a key factor in its dynamic performance. At just 3,062lbs, it weighs 66lbs less than a 720S – a clear example of McLaren's dedication to lightweight engineering.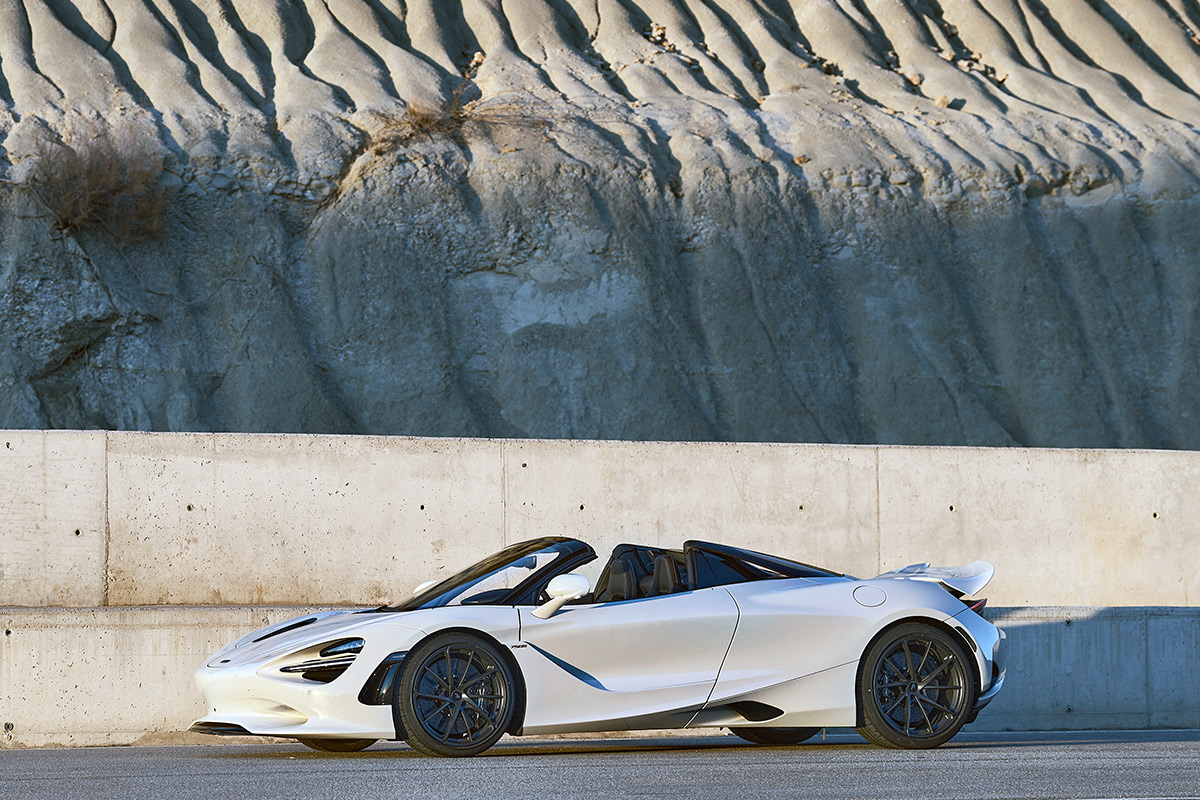 This philosophy of performance-based innovation is evidenced by features such as carbon fiber-shelled racing seats that are a combined 38.6lbs lighter than the base seats in a 720S. New 10-spoke ultra-lightweight forged wheels are the lightest ever fitted as standard on a series-production McLaren and save 30.4lbs. The new driver instrument display is lighter by 4lbs. Even the windscreen glass contributes to weight reduction, providing a 3.5lbs saving.
The 4.0-liter, twin-turbocharged V8 engine puts out 740hp and 590lb-ft of torque, providing ferocious performance, with the 750S capable of 0-60mph in 2.7 seconds and 0-124mph in 7.2 seconds (Spider 7.3 seconds). This is quicker than its closest competitor on both measures. In-gear acceleration is amplified by optimized transmission gearing and a revised kickdown control strategy.
McLaren's Proactive Chassis Control linked-hydraulic suspension, which is renowned for combining astonishingly precise body control with a remarkably compliant ride, is now even more impressive in new PCC III form. The new generation system delivers even higher levels of suspension performance and is integral to the outstanding dynamic abilities of the 750S.
The suspension springs are softer at the front and stiffer at the rear than in the 720S, which together with reconfiguration of both the passive and active elements of the bespoke valve stack and a new approach to tuning the suspension – adjusting the accumulators in the struts, which is used for the first time in 750S – benefits ride comfort, roll control, steering feedback and cornering balance. Additionally, new spring and damper design reduces weight by 4.4lbs.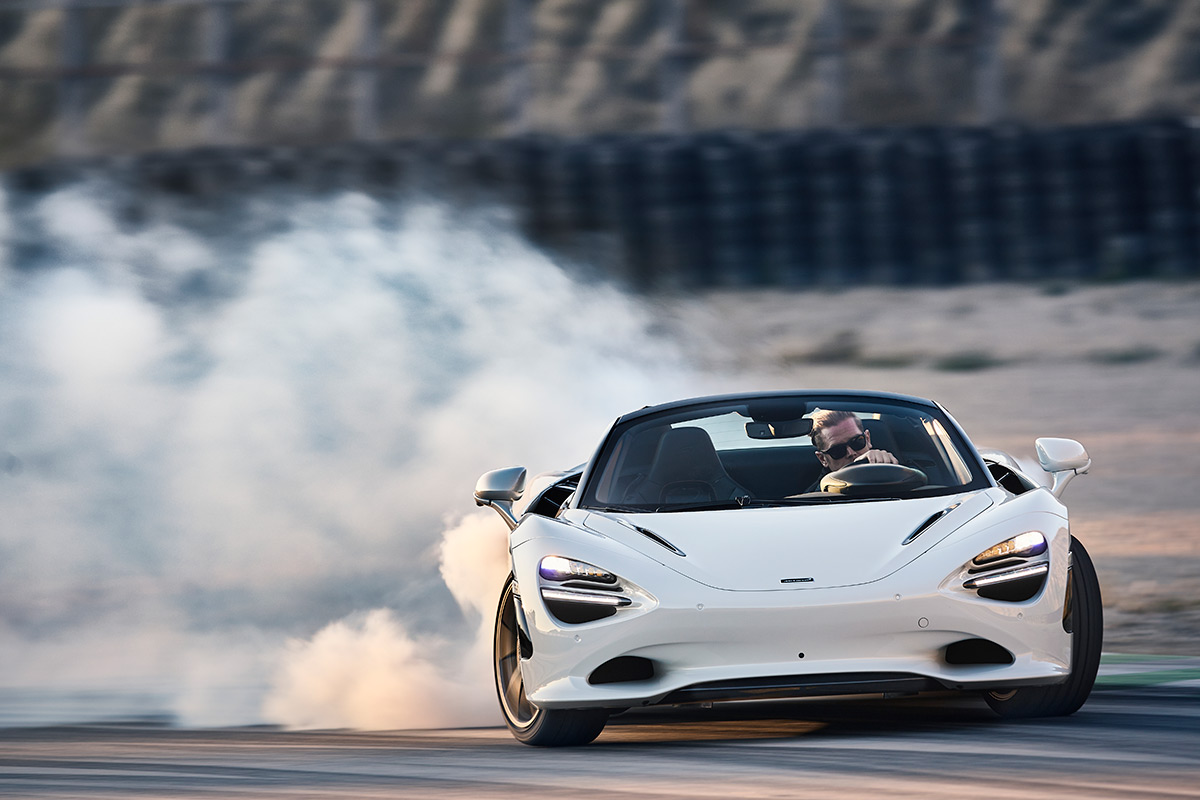 The combined hardware and software changes made for PCC III mean the dynamic breadth of 750S is even greater than its predecessor, McLaren's new benchmark supercar maintaining 720S levels of comfort while delivering significantly improved circuit performance.
The 750S is also more agile than the benchmark car it replaces, with better front-end grip – helped by a 6mm wider front track and new suspension geometry – and McLaren's electro-hydraulic steering, which is widely recognized for its precision and clarity of feedback, now having a faster steering ratio and new power-assistance pump.
The interior of the 750S fuses innovative technology with exquisite materials, but most importantly is even more driver-focused in design. At the heart of the driver experience are new displays – both for information and instruments, with the instrument display fitted to – and moving with – the steering column. This driver-centric display is mounted in a binnacle that has the controls to select Powertrain and Handling modes located are on either side, meaning the driver can move effortlessly between Comfort, Sport and Track Active Dynamic settings while keeping their hands on the wheel and a complete focus on the road ahead.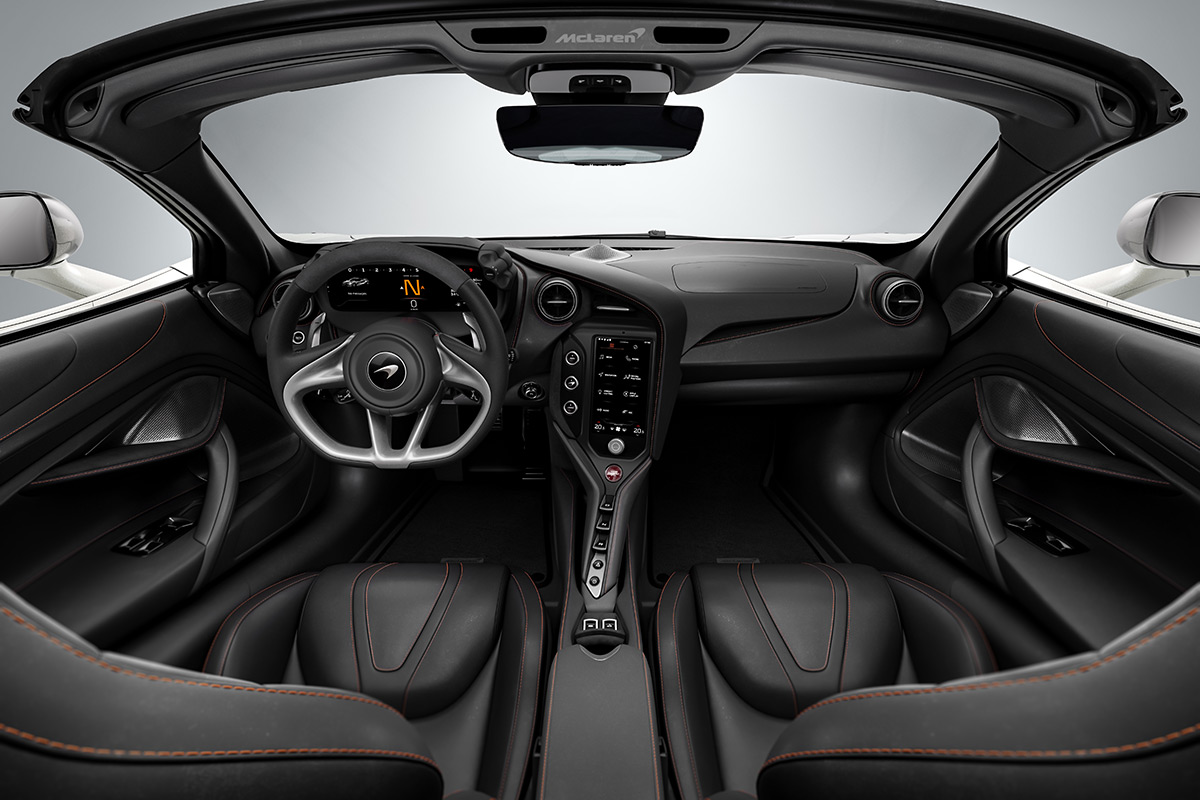 The McLaren Control Launcher is another new McLaren technology that debuts on 750S and adds yet another dimension to the driver's interface with the car. Activated using a button featuring the famous McLaren Speedmark, MCL allows the driver to personalize their McLaren driving experience by storing a bespoke dynamic preference – their favorite combination of aero, handling, powertrain and transmission settings – that can instantly be recalled with a push of the MCL button.
Drivers will also benefit from new features such as Apple CarPlay and the Central Information Screen, which features richer, even more detailed graphics to further enhance the driver experience. The Rear View and Surround View camera system are also upgraded, for higher definition and clarity and a new vehicle-lift system raises the front of the 750S in only four seconds compared to the 10 seconds it takes in a 720S.
A heightened physical and emotional connection between driver and car is aided by bespoke engine mount tuning, as well as a new central-exit exhaust layout inspired by the McLaren P1 that is acoustically tuned to give a distinctive clear tone and sharp crescendo at high engine speeds.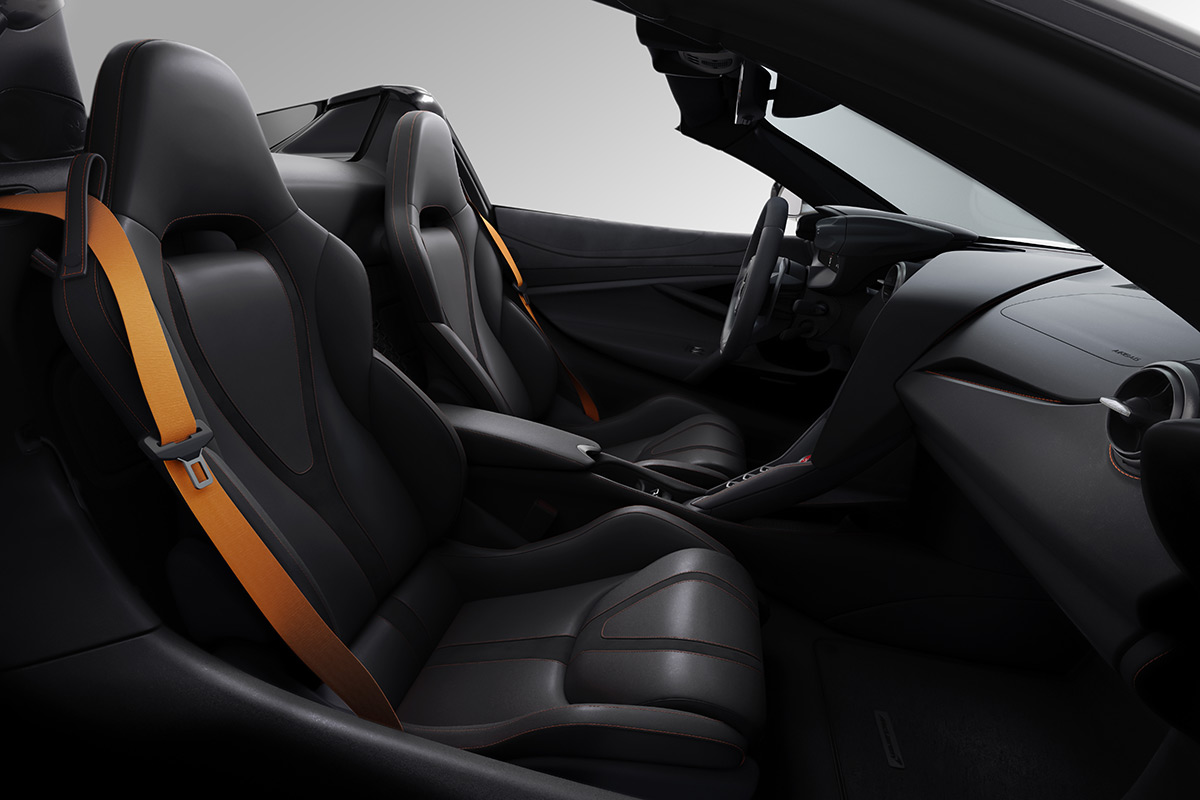 750S customers planning extensive track driving can opt for a track brake upgrade engineered using ceramic discs and monobloc calipers derived from the McLaren Senna system, together with a new brake booster and vacuum pump and Formula 1-inspired integrated caliper cooling technology. New Super-Lightweight Carbon Fiber Racing Seats are also available as an option, as are track-focused Pirelli P ZERO Trofeo R tires and lightweight titanium wheel bolts.
Visually, the 750S refines its predecessor's design with a new lower nose section featuring an extended front splitter, narrower 'eye socket' intakes that enclose the headlights, new sill air intakes and rear wheel arch vents. Rear aerodynamic revisions incorporate a redesigned and lengthened rear deck that channels air towards a distinctive raised and lengthened carbon fiber active rear wing, positioned above the central-exit exhaust.
Headlight surrounds are now optionally body colored or in carbon fiber. The new rear bumper and front bumper vents are also available in McLaren's signature lightweight material.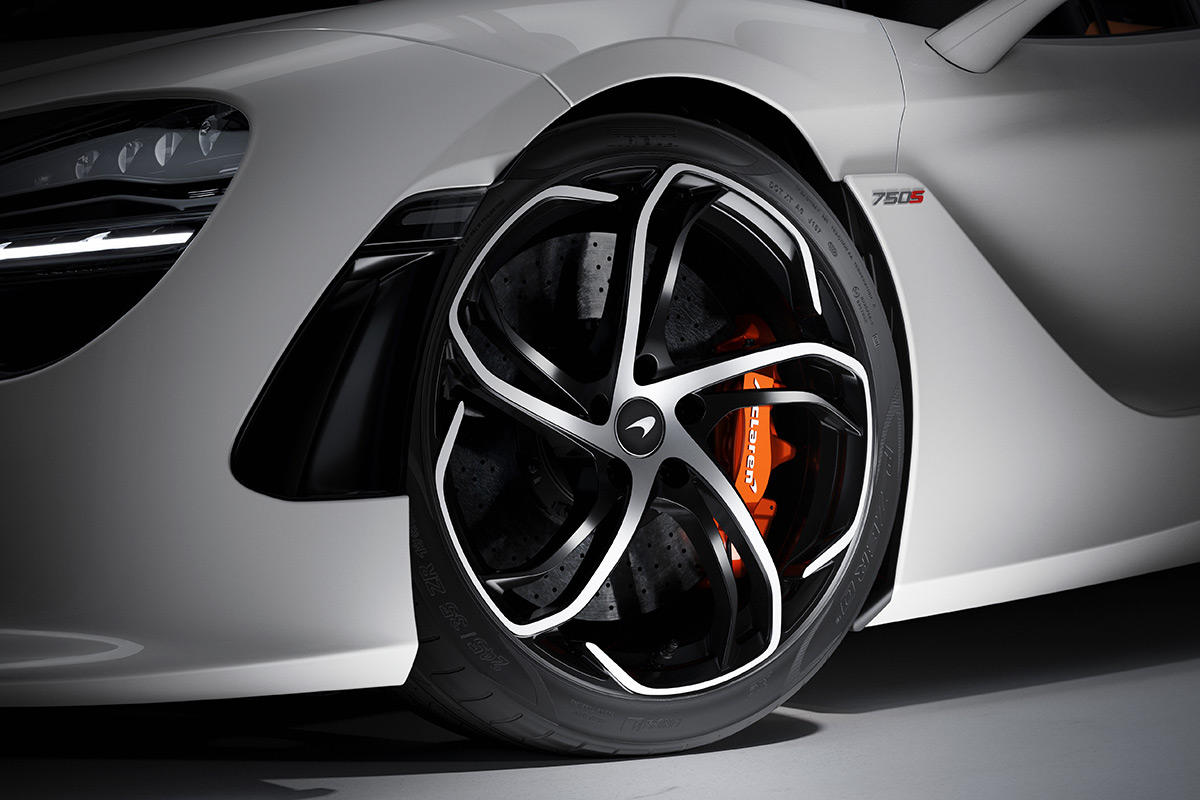 The carbon fiber monocoque construction facilitates near 360-degree visibility, with a low scuttle, ultra-slim A-pillars and on the coupe, glazed C-pillars, all benefitting the spread of natural light into the cabin. Crisp, new, customizable ambient lighting highlights cabin design details at night and on the coupe, the V8 engine can be visible from within the cabin via a double-glazed panel set in the rear luggage shelf, exposing the top of the powertrain behind the driver's shoulder.
The 750S Spider features glazed flying buttresses that, as well as guiding airflow over the rear tonneau, enhance rearward visibility. To bring additional light into the cabin, the Retractable Hard Top is optionally available with electrochromic glass, enhancing the feel of an open-air environment, even with the roof closed. The RHT can be opened in under 11 seconds at vehicle speeds up to 31mph.
A full Nappa leather-trimmed interior or a combination of Alcantara and Nappa leather are available with new TechLux and Performance interior themes. McLaren's audio partner, Bowers & Wilkins, has developed a new system for the 750S, with a more powerful amplifier and the company's proprietary Continuum cone speakers.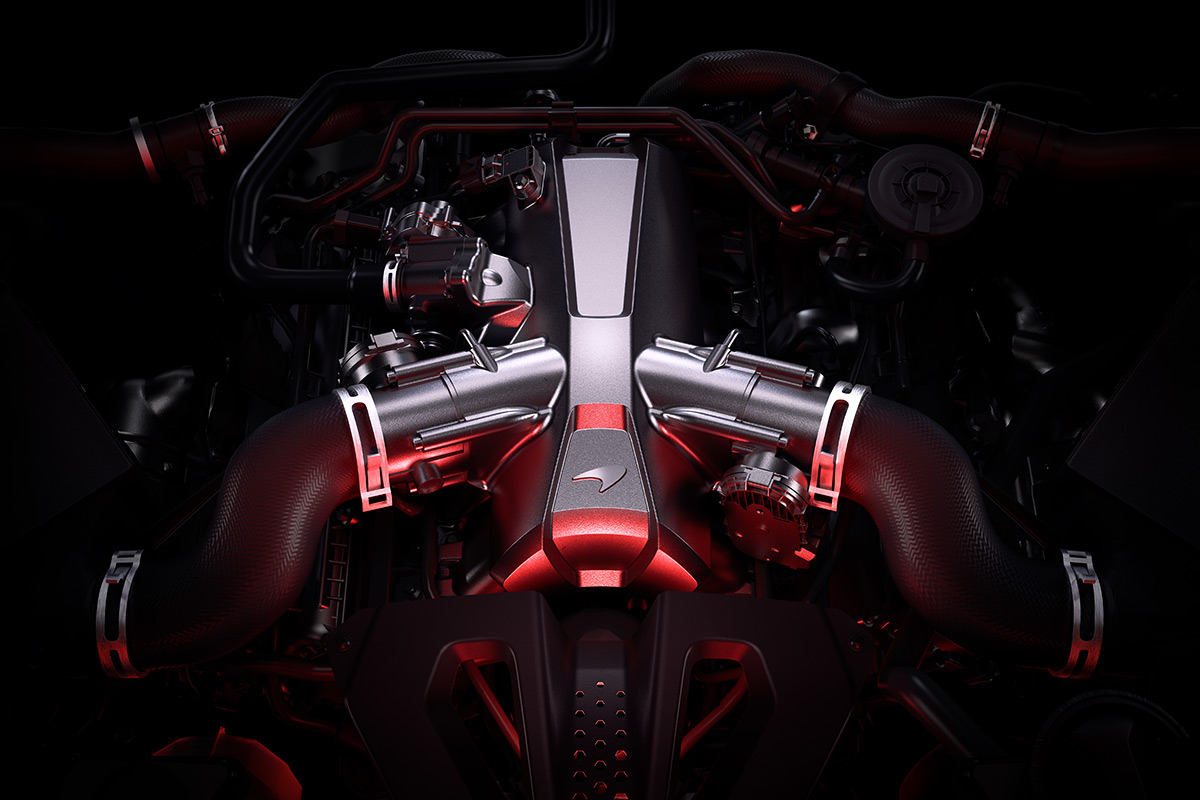 Pricing for the McLaren 750S starts at $324,000 for the Coupe and $345,000 for the Spider.
U.S. dealers are currently accepting orders, with the first deliveries expected to start in the third quarter of this year.
What do you think of the new 2024 McLaren 750S?