Prong PocketPlug – Case + Charger In-One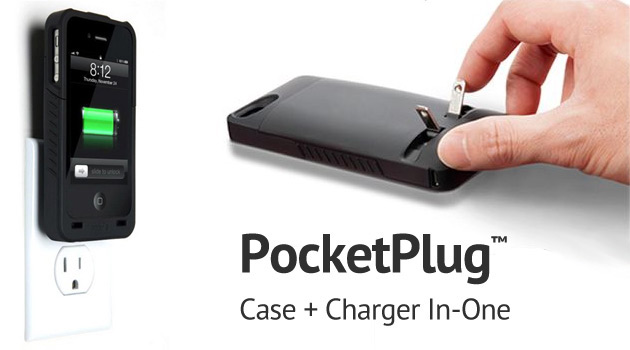 Every now and then, a product comes along that makes me stop in my tracks. Such was the case when I first saw the Prong PocketPlug, the world's first case with an integrated charger.
The PocketPlug is a case designed to provide protection and charging capabilities for your iPhone, enabling users to abandon their cords and chargers and rely entirely on their case. How awesome is that?
Think about it. How many times have you gone somewhere without your charging cable, only to have your phone go dead? It's one of the worst feelings in the world. It's happened to me on more than one occasion, and unfortunately hotel docking stations don't help, since they've usually got the old 30-pin dock connectors that aren't compatible with the iPhone 5/5S.
The PocketPlug is designed with retractable prongs to double as a case and portable charger. Simply deploy the plugs on the case and plug your phone directly into the wall. When not in use, the prongs conveniently retract, allowing the PocketPlug to transform into a sleek carrying solution with optimal pocket-ability.
It's a genius idea, and an absolute must for power users on the go. You'll never forget your charger again!
The PocketPlug retails for $69.95, and is available for purchase at www.goprong.com.