Review: 2022 Nissan Frontier PRO-4X Gets A LOOOONG Overdue Update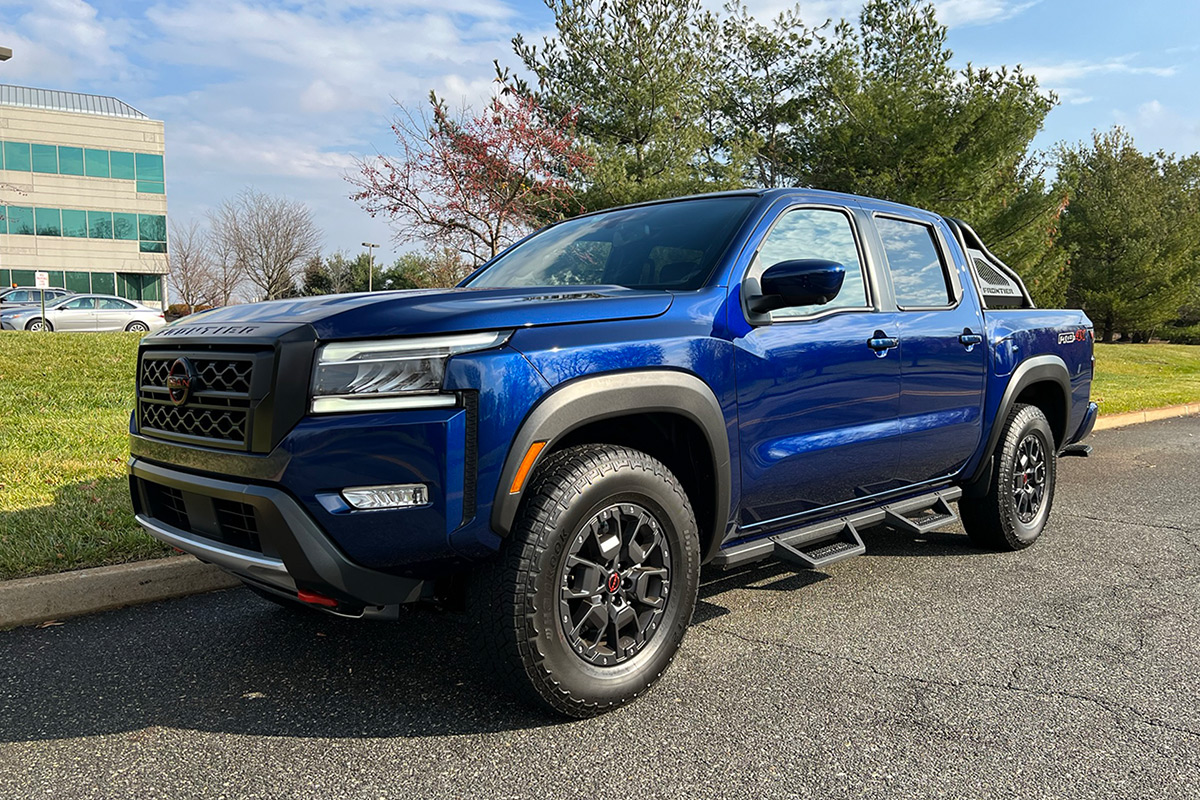 It's hard to believe, but last-generation Nissan Frontier came out way back in 2005, making it an absolute dinosaur in the midsize truck space, and anything but competitive. So when they announced that they were introducing an all-new Frontier for 2022, we were overjoyed. And after spending a week with it, I can tell you that Nissan really knocked it out of the park with this one, delivering a very competitive truck for the segment.
As you can see, the all-new 2022 Nissan Frontier features aggressive, modern styling that is a marked improvement from the outgoing truck. It features a powerful front end with a massive grille and chiseled hood, framed by new precision interlocking headlights. A wide, elevated stance and massive vertical fenders evoke durability and strength, accentuated by a high eye-point and high shoulder bodysides – where natural light and shadows meet.
Out back, precision lighting features a machined, structural look, with the lamps appearing to clamp to the body sides. Muscular rear fenders combine with the rear bumper for an athletic, uncompromising stance. And if that's not enough for you, our PRO-4X model came with the Sport Bar, Off-Road Style Step Rails, and other goodies to add to its rough and tumble look.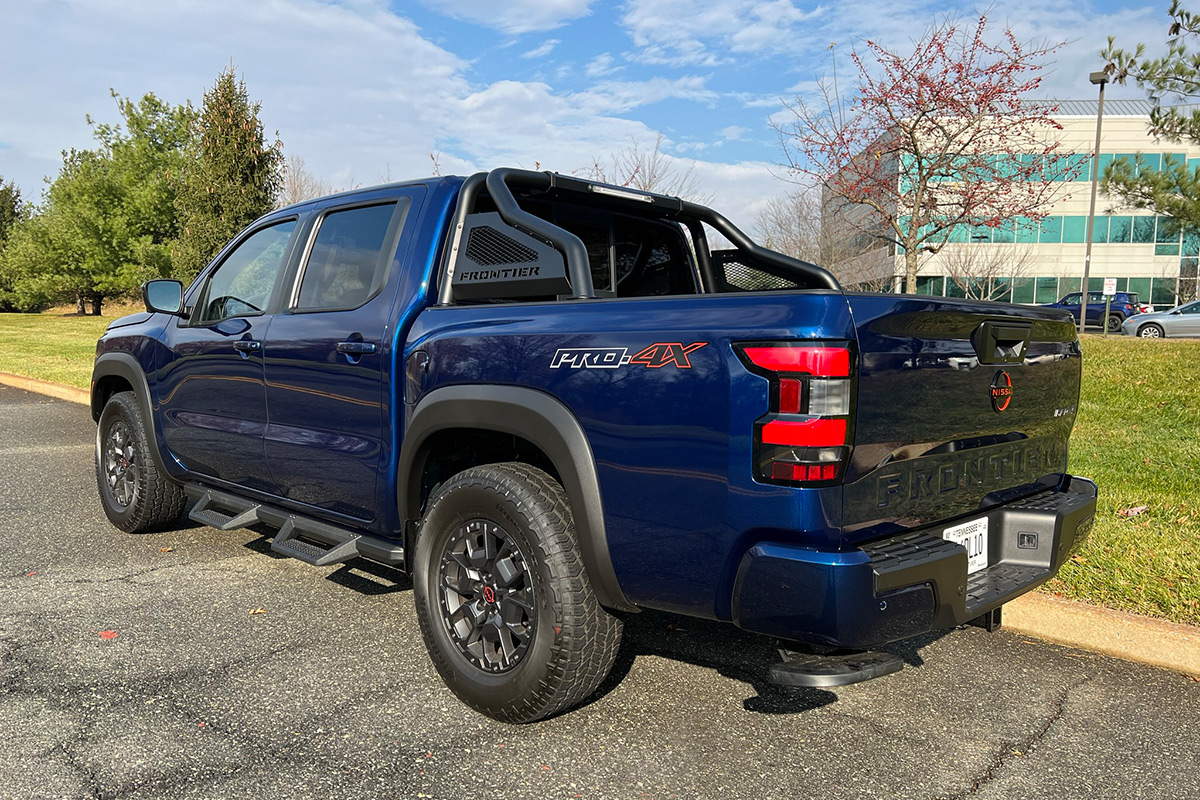 Featuring the same wheelbase as the previous model (126.0 inches), the Frontier remains the "right-sized" pickup, precisely agile for a weekend of off-road adventure or a workweek in the city. While we appreciate the fact that they kept the size of the truck the same, that's due in part to the fact that Nissan opted to use a modified version of the old truck's frame. So much for "all-new", right? But Nissan apparently seems to feel like if it ain't broke, don't fix it.
This seems to be an ongoing trend with Nissan and Infiniti, updating cars like the new Z, Q50 and Pathfinder with some new sheet metal, bigger powerplants, and other updates, but leaving the bones of the car much the same. Unfortunately, they'll never be able to compete on a level playing field when being hindered by an outdated base.
Regardless, Nissan has really improved upon the old truck on all fronts. Under the hood, you'll find a 3.8-liter direct injection V6 engine that puts out 310 horsepower and 281 lb-ft of torque, mated to a 9-speed automatic transmission. It's a peppy engine that delivers some nice power at full throttle, while offering a respectable 18 mpg city and 24 mpg highway. I'll take this smooth-revving, naturally aspirated engine over a twitchy, turbocharged powerplant any day.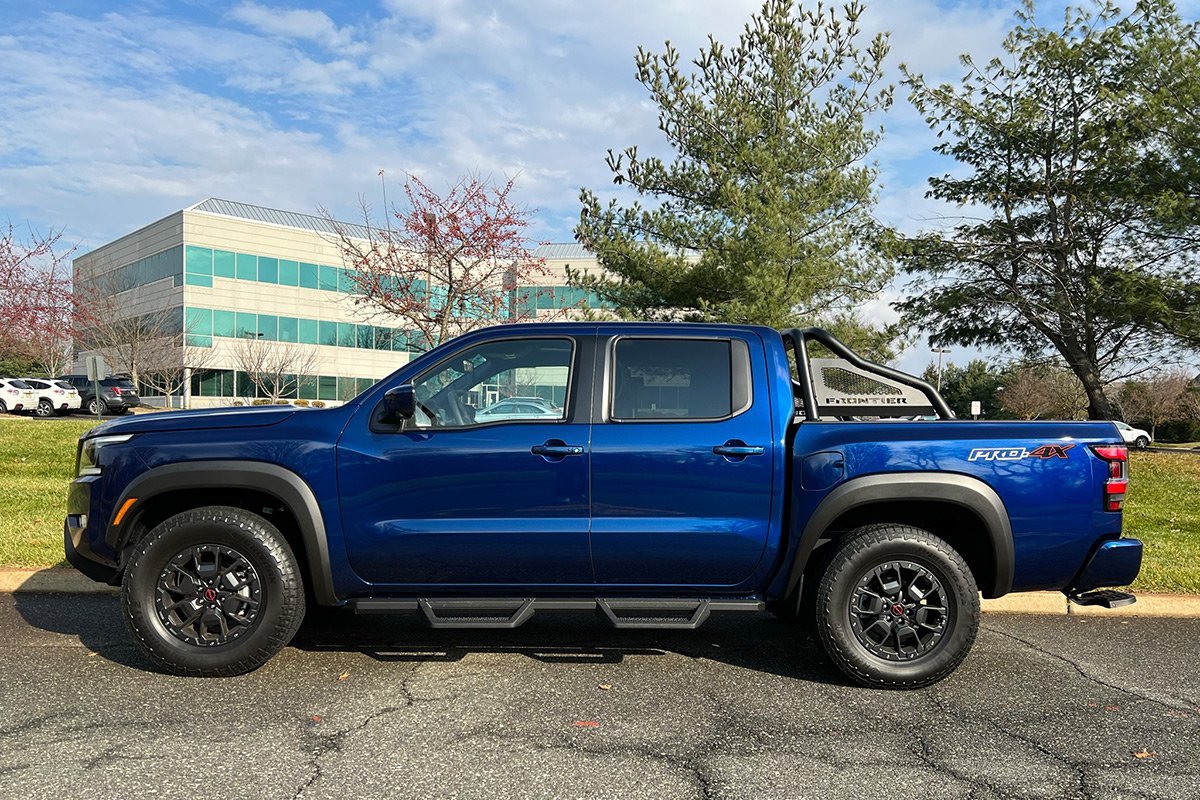 Nissan also retuned the Frontier's hydraulic rack-and-pinion steering gear for 2022 to provide better on-center feel. The steering gear ratio has been increased by 16%, leading to a more enjoyable driving experience with faster response and less steering effort. These changes felt great when driving around town, but oddly enough, at low speeds the steering was REALLY heavy, making it a bear when pulling in and out of parking spots.
Frontier's front and rear suspensions offer best-level ride and handling both on- and off-road. New hydraulic cab mounts reduce road vibration by 80%, while new urethane jounce bumpers provide improved damping for a smoother ride over potholes and rough roads, and while off-roading. In addition to a larger front stabilizer bar, a rear stabilizer bar reduces body roll and increases traction. Standard 4-wheel ABS disc brakes provide confident stopping power.
While the overall ride quality still feels like a truck, it's much more compliant than before with all of these changes, and I wouldn't hesitate to consider one as a daily driver. As for off-road prowess, we weren't able to sneak away for some down and dirty fun, but with the PRO-4X's electronic locking rear differential, Bilstein off-road shock absorbers, and one front aluminum and three steel underbody skid plates (oil pan, transfer case and fuel tank), it's equipped for the most fierce of off-road adventurers.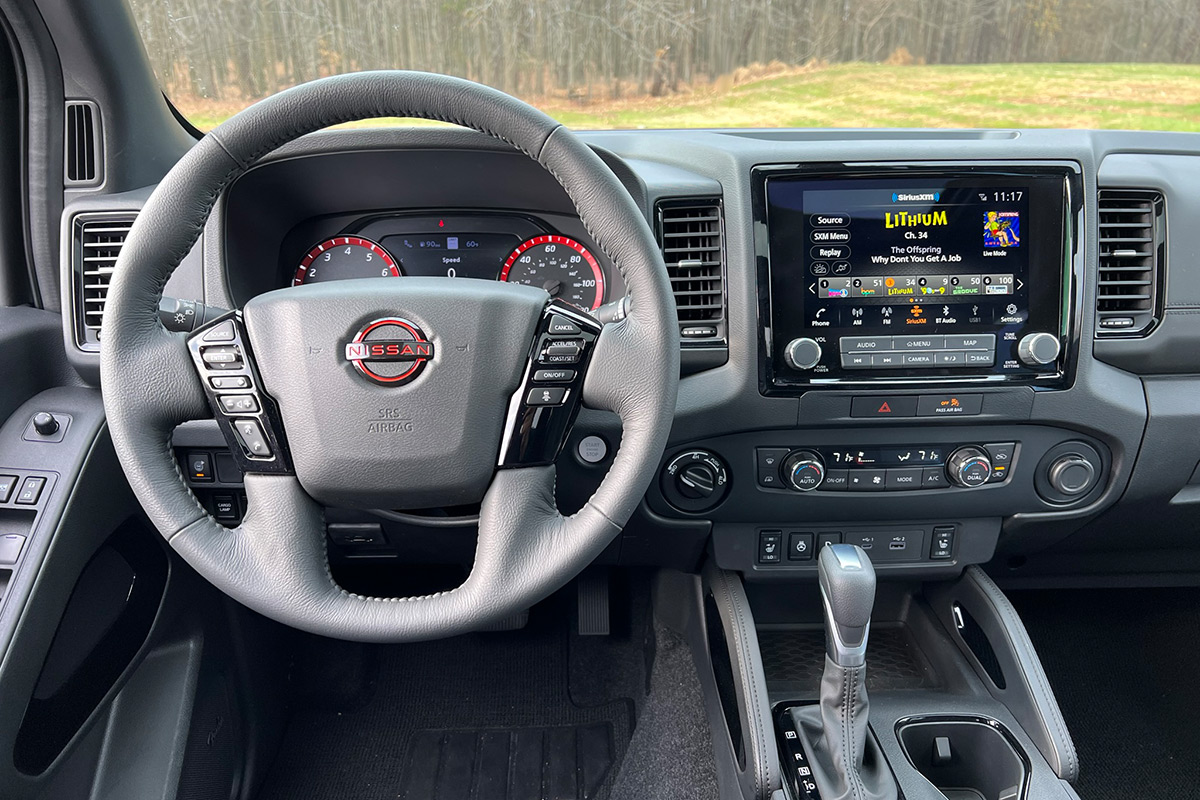 As you can see, the interior of the 2022 Nissan Frontier got overhauled as well, with new trim, finishers and meter accents that are inspired by adventure gear. There's plenty of soft-touch material throughout, and the 9-inch color touchscreen display with Apple CarPlay / Android Auto functionality is vivid and super easy to use. In addition, a 7-inch Advanced Driver Assist Display offers configurable information directly in front of the driver. Nissan's supportive Zero Gravity front seats also deserve a shout out, as they're incredibly comfortable on long drives.
There's plenty of room both front and rear for passengers, along with a ridiculous amount of storage options, from an armrest cubby to sizable door pockets and cup holders, to second row seat bottoms that fold up to reveal additional stowaway solutions. All told, the 2022 Frontier features 51.2 liters of interior storage – up from 48.8 liters on the previous model. There are also up to eight cupholders (four large enough to fit a 32oz water bottle), because 'Murica!
Nissan also delivered on the technology front, with wireless charging, the aforementioned Apple CarPlay and Android Auto functionality, Wi-Fi connectivity, and a 10-speaker Fender audio system that absolutely rocks. In addition to heated seats, our truck also had a heated steering wheel (a godsend on those 20-degree mornings), and remote start. Our Frontier also came with a wide variety of driver-assist safety features as part of the Technology Package.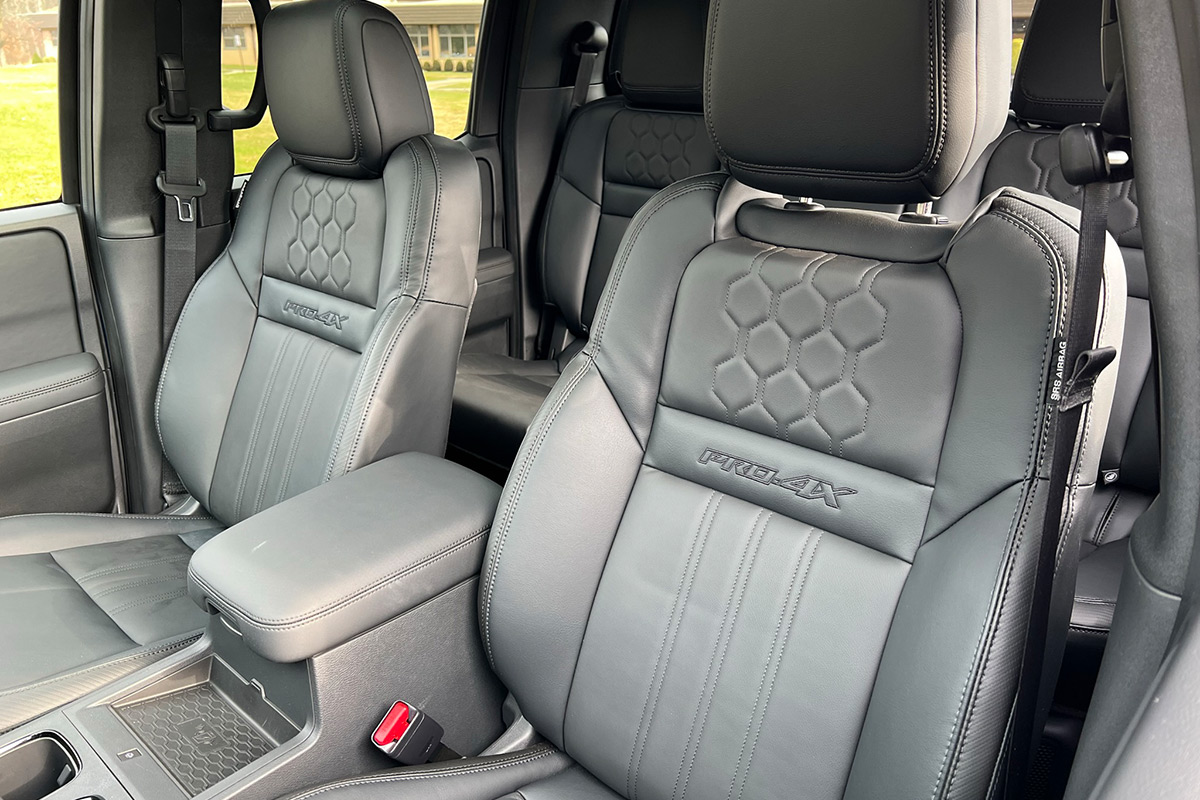 Out back, the Frontier's unique Utili-Track system provides ultimate cargo hauling flexibility through the use of three special "C" cross-section rails mounted in the bed. In addition, four fixed bed tie-down hooks help secure adventure gear of all shapes and sizes. This is part of the Pro Convenience package, which also includes a factory-applied spray-in bedliner, a trailer hitch, and 120-volt outlets in the bed and rear center console.
A new dampened tailgate assist which assists the user while opening and closing the tailgate is standard on all models, allowing for easy one-handed loading and unloading. Two standard stop lamp lights mounted on the back of the cab and two new available LED cargo bed lights make the all-new Frontier ready for any adventure, night or day.
Towing capacity for the Frontier is rated at up to 6,720 pounds, while payload capacity is rated at 1,480 pounds. A 5-foot bed is standard on all Crew Cab models, with a 6-foot bed available on Crew Cab SV Long Wheelbase models. A 6-foot bed is also standard on all King Cab models.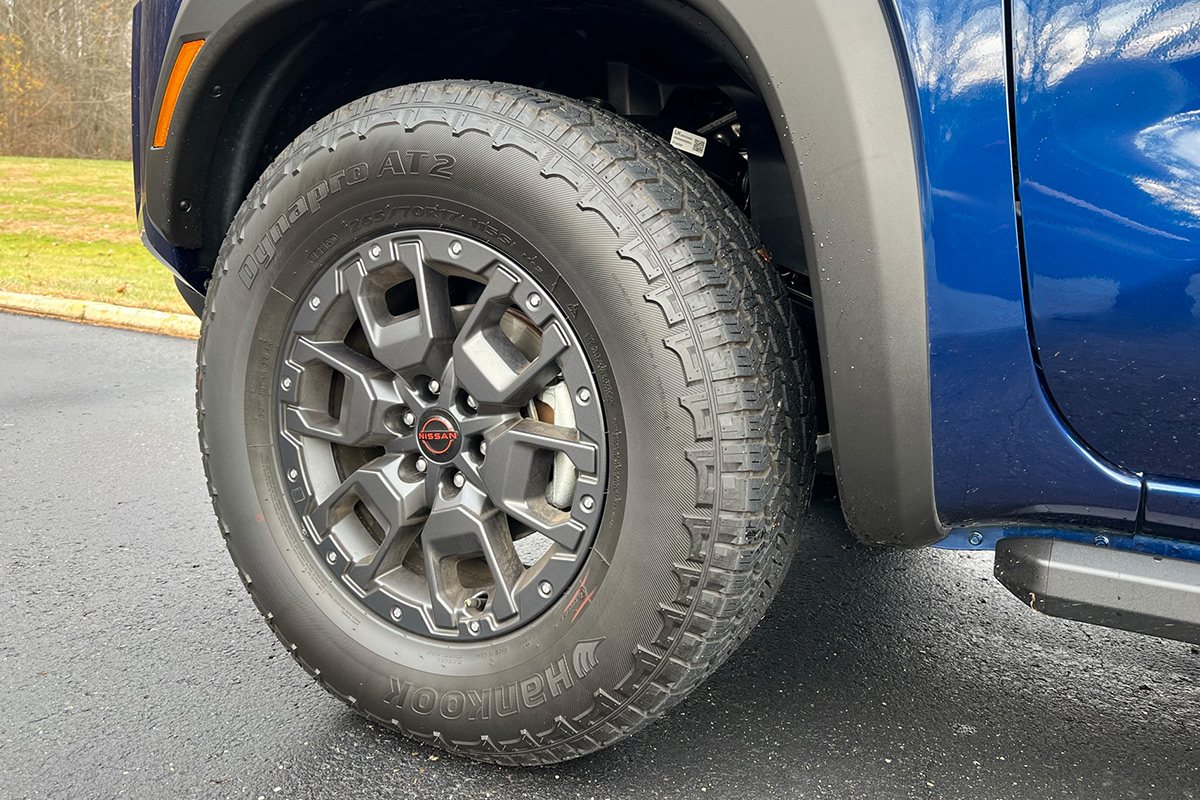 Overall, there's a whole lot to like about the all-new 2022 Nissan Frontier. There's no denying how good the Frontier looks, especially with this gorgeous Deep Blue Pearl paint and the PRO-4X goodies giving it a properly aggressive look. Add in the powerful engine, updated tech, and off-road prowess, and it's finally a legitimate competitor in this crowded midsize truck space.
Pricing for the 2022 Nissan Frontier starts at $29,015 for a base S King Cab 4×2, while our fully loaded PRO-4X Crew Cab 4×4 tester came in at $46,570. Needless to say, there's a Frontier out there to fit every budget, just choose your options judiciously.
Kudos to Nissan for finally giving us the updated Frontier that we've all been waiting for. Just don't make us wait another 15+ years for the next one! 🙂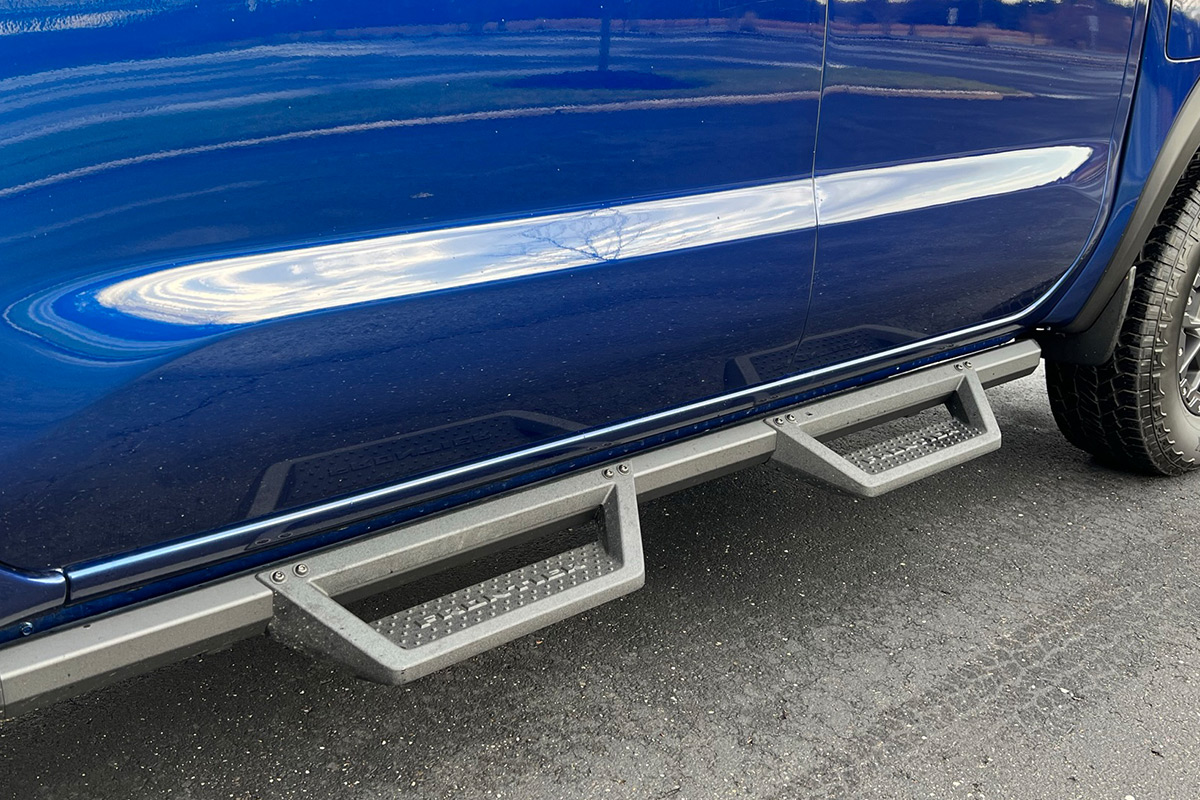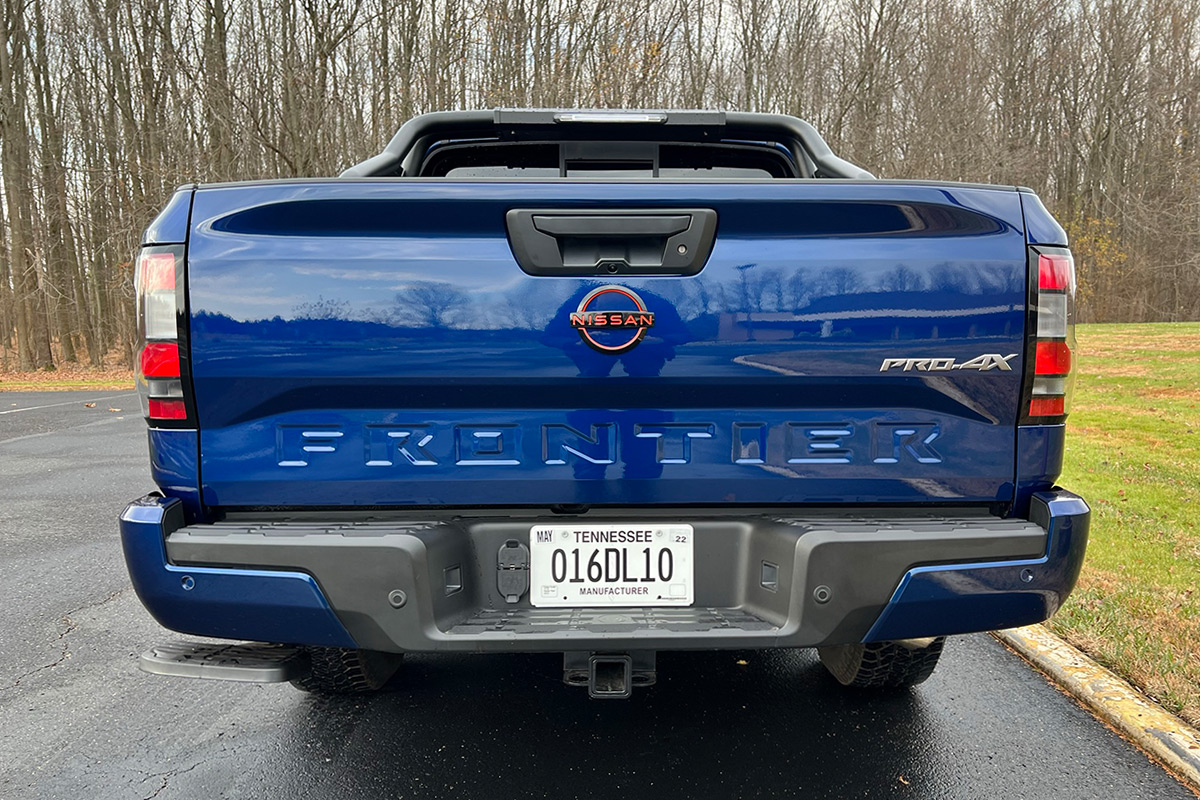 Let us know what you think of the 2022 Nissan Frontier in the comments below!