Review: AKASO Brave 7 LE Action Camera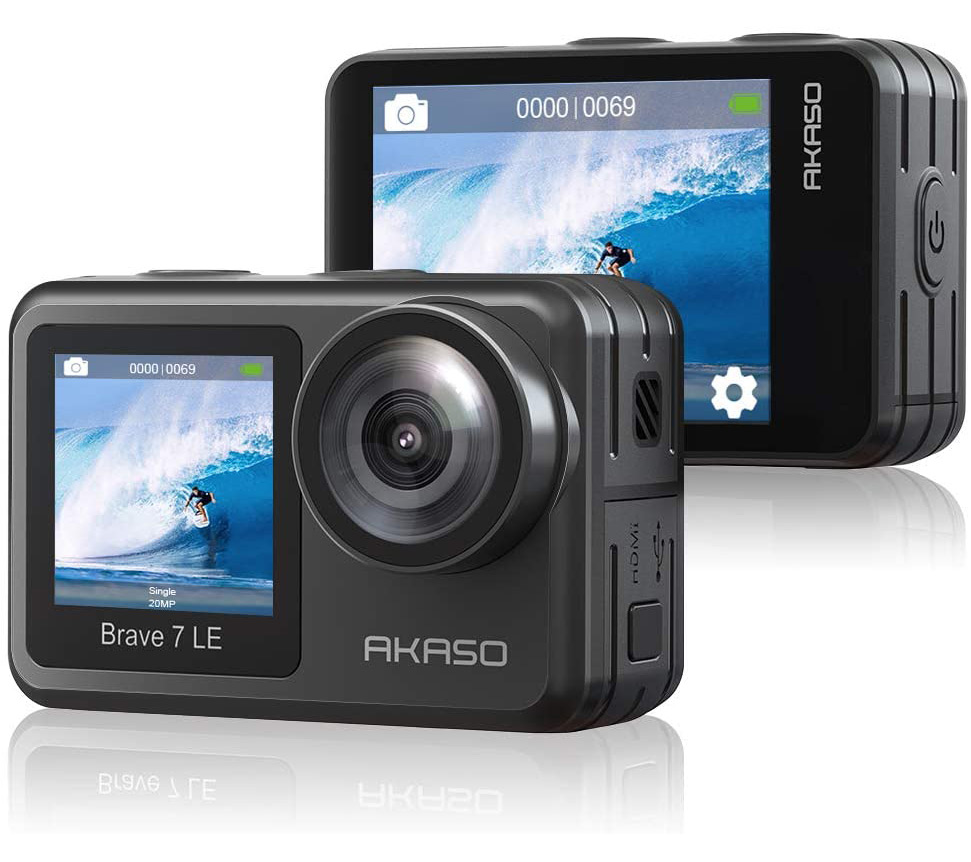 When it comes to action cameras, GoPro is the gold standard that all other cams are compared to, seeing as how they basically created the space to begin with. I've had a few GoPros over the years, and they've been great. But a top-of-the-line Hero8 Black doesn't come cheap, retailing for $450.. not to mention the cost of the various accessories!
So when I heard that AKASO had introduced a new feature-rich action camera that only costs $139.99, a fraction of the cost of the GoPro HERO8 Black or DJI Osmo Action, I just had to try it out for myself. And after spending a few weeks with it, I've got to say, its pretty impressive.
The AKASO Brave 7 LE Action Camera follows in the footsteps of the Osmo Action with dual color screens, perfect for vloggers who want to make sure that they're framing their videos just right. You'd think GoPro would have added this feature to the HERO8 Black, but instead they offer a front screen as an optional ($80) "display mod".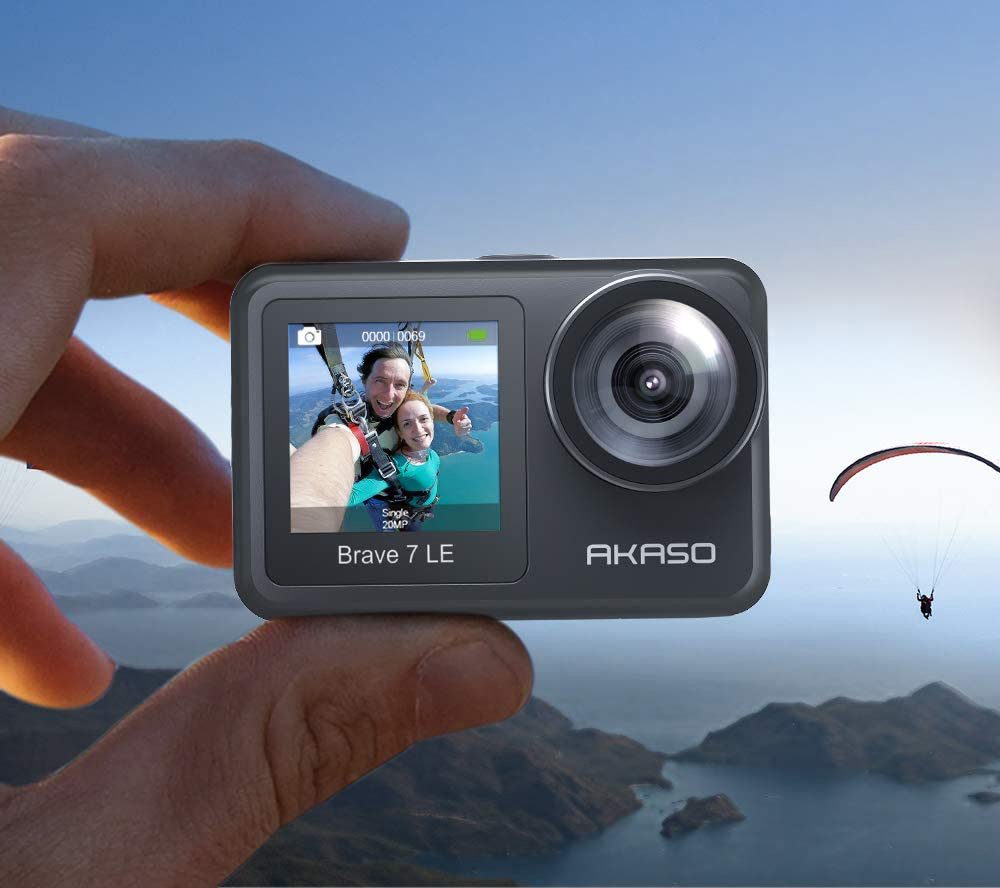 As you can see below, the AKASO Brave 7 LE comes out swinging, with an impressive list of standard features.
AKASO Brave 7 LE Action Camera details:
Video: 4K/30fps, 2.7K/60fps, 1080P/120fps, 720P/240fps
Photo: 20MP
Digital lenses: Super wide, wide, medium, narrow
Burst: 3, 7, 15 and 30 shots
Time-lapse: 3, 5, 10, 30, 60 second intervals
Long exposure: 1, 2, 5, 8, 30 and 60 seconds
Screens: 2-inch rear touchscreen and 1.5-inch front screen
Waterproofing: 1 meter without case / 40 meters with included case
GPS: No
Voice control: Yes
Stabilization: 6-axis EIS 2.0
App support: Yes
Other: Remote Control, Built-In WiFi and HDMI, (2) 1350mAh batteries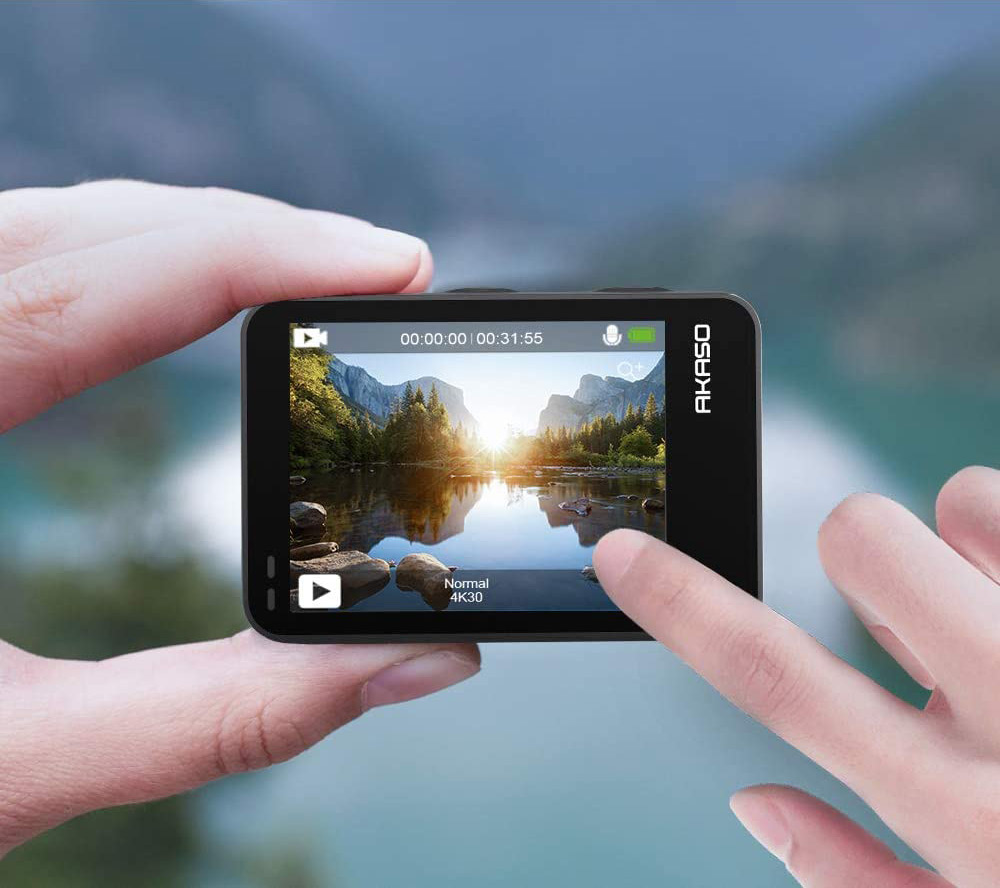 My first impressions upon opening the box were very favorable, as the AKASO Brave 7 LE felt substantial in my hand, with excellent build quality. The design of the camera is very premium, and that front screen looked great. And the cam was nice and light, weighing about 3.8 ounces. Overall, it didn't feel like a "cheap knockoff" or anything like that.
For me, perhaps the biggest surprise was just how many accessories and mount came with the AKASO Brave 7 LE. There's a waterproof case, remote control, 7 mounts, 2 batteries, 1 charger, 1 bicycle handle bar mount, 2 helmet mounts, a bunch of bandages and tethers, a USB cable, a lens cloth, and more. It's all standard size, so any GoPro accessories you have will work as well. It also has a 1/4″ tripod mount built right into the bottom of the camera.
Naturally, I was eager to start playing with it, so I inserted one of the included batteries, along with a SanDisk 64GB memory card that I stole from my old GoPro, and got to work. The cam is very intuitive, with the rear touchscreen allowing you to fine-tune the settings to your likings. Some really neat options here for serious shooters to mess with.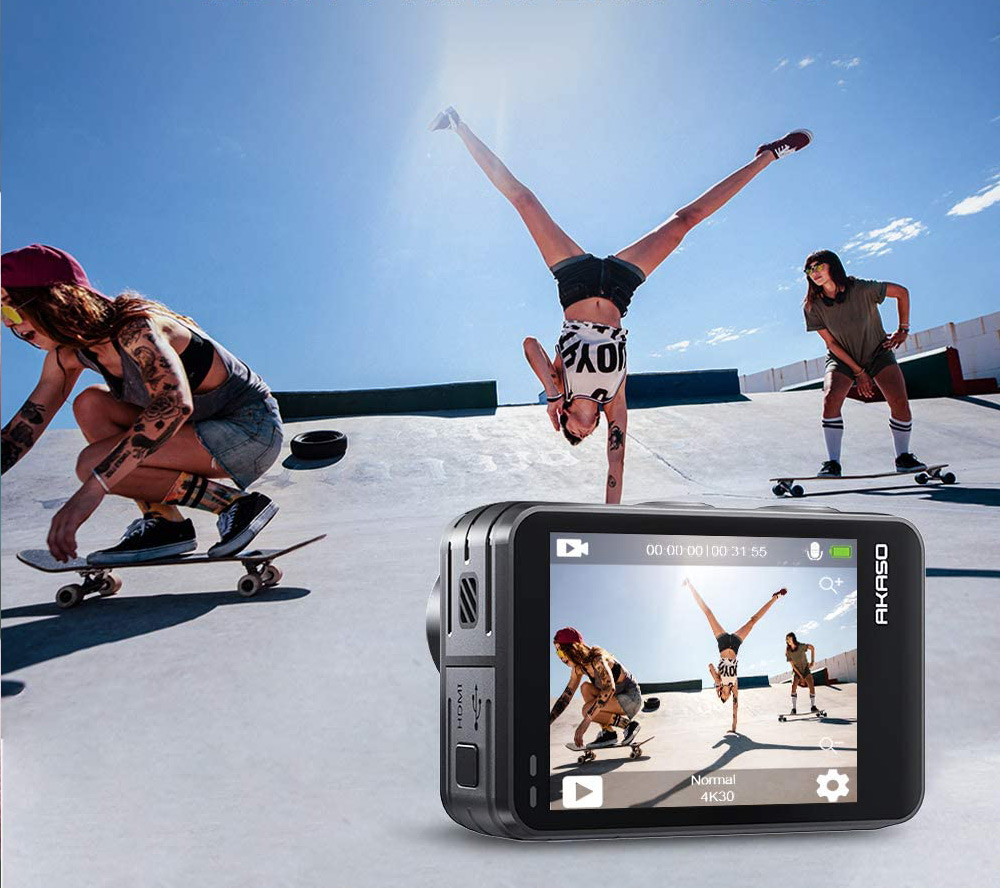 That said, one thing I couldn't figure out was why my front screen wasn't displaying anything. As it turns out, you have to long press the 'M' button on top to switch the screen between the front and rear, they don't work simultaneously. I didn't see this mentioned in the manual, but thankfully I was able to figure that out with a quick Google search.
Once I shot some footage around my house, I was able to play it back on the rear screen, and it looked as good as could be expected on a 2-inch screen. In order to better see what it looked like, I needed to offload it to my computer. You can either remove the memory card and plug it into your computer, connect it to your TV via an HDMI cable, or you can install the AKASO GO App on your smartphone and watch/download your footage that way.
Like a few other reviewers, I had some issues with the app on occasion, as it would randomly disconnect, even though my phone was just inches away from the camera. But I'm sure they'll release an update to fix these bugs soon. Still, you don't need to rely on this app as much as other action cams, as you can do pretty much everything on the camera itself. (Frame a shot, playback video, change settings, etc)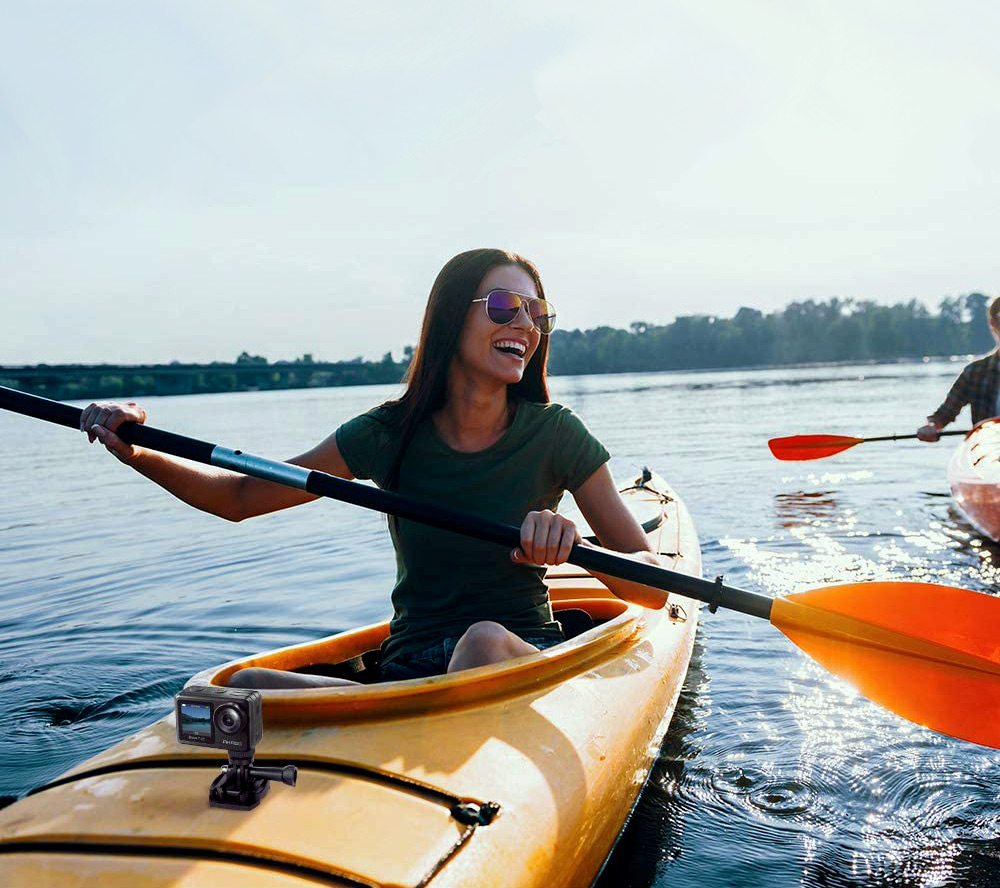 Since the lighting inside my place wasn't ideal, I decided to head outside and shoot some more video, testing out the various resolutions and such, while also testing the image stabilization feature, since it's important for the action sports folks out there. Plus I wanted to see how the internal microphone would perform, given that the Brave 7 LE lacks a jack for an external mic.
The verdict? It's a mixed bag. The Brave 7 LE's video quality in 4K and 2.7K modes looked very good, but for some reason, the 1080P footage wasn't as sharp. Many believe that AKASO will release an update to address this issue, but for now, I'd stick to 4K (or 2.7K if you want to shoot at 60fps). The image stabilization works great, balancing out the video without adding any artificialness to it. And the internal microphone is surprisingly good.
Photos looked good as well, allowing you to grab nice shots if you're at the top of a mountain or about to jump off of a waterfall. Otherwise, you'd probably be better off using your iPhone, as it's got a better camera. Again, this isn't what this camera is designed for, but for those off-the-beaten-path situations, you'll appreciate having this feature available.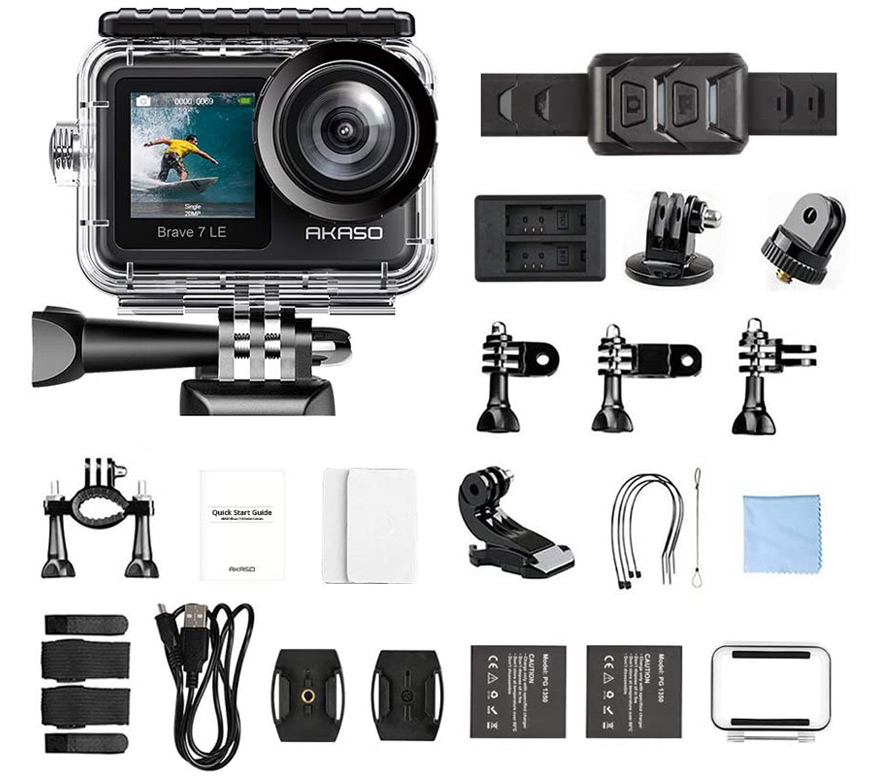 Overall, I think the AKASO Brave 7 LE is a great action camera that offers quite a bit of bang for the buck, given it's $139.99 selling price. The fact that you get the front-facing screen, that it's waterproof, and that it comes with a TON of mounts and accessories all just makes it that much more attractive. For the casual user who doesn't necessarily need the "best of the best" but still wants a solid action cam, you can't go wrong with this choice.
Click here to purchase the AKASO Brave 7 LE action camera today!