Review: AXE Hold+Touch Styling Products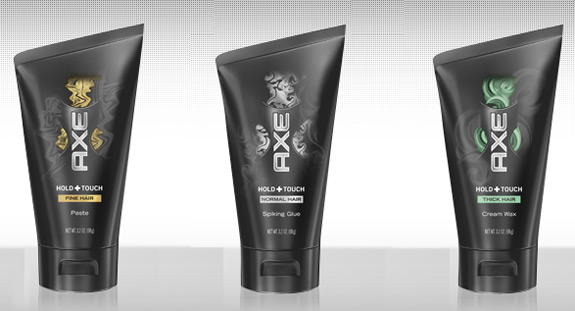 With the new AXE Hold+Touch styling products, guys can get the strong hold they want with an irresistible feel that girls love!
It's available in three variants, each specifically formulated for guys' specific hair types:
Spiking Glue for normal hair, Cream Wax for thick hair, and Paste for fine hair.
Me and Zander tried out the product for a few days, and we were impressed with the results.
I used the Spiking Glue, and it did a great job keeping my hair in place all day. It smelled good, didn't leave a sticky residue, and it didn't make my hair brittle hard. It passed the g/f test with flying colors, so no complaints there.
Zander has balding finer hair, so he went with the Paste. It worked real well and he was very happy with the results. And it's only $6.99 for a 3.2oz tube, much cheaper than the salon crap he usually uses.
Sujeet shaves his head, so the folks at AXE sent him a bottle of the AXE Cool Metal shower gel, part of their new AXE Fixers line. Made with cooling silver shower gel, fine quartz and zinc, it helps you keep your cool when things heat up.
AXE is where it's at!