Review: HeadBlade S4 Shark Razor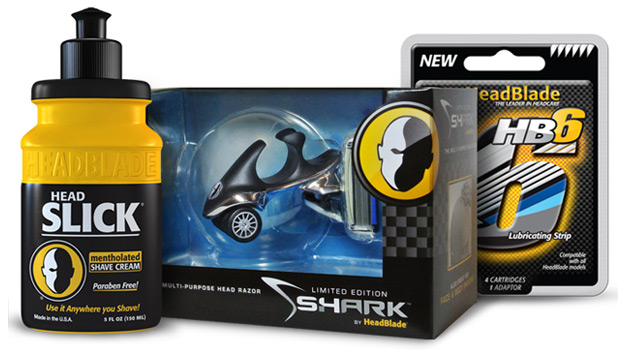 If you shave your head on a regular basis, you know what a pain it can be. I started shaving my head almost 10 years now, and while I love the look, the maintenance is a bear. I use hair clippers to keep things looking nice and neat, but the hair grows back quickly, not to mention the mess it makes in the bathroom.
I've tried shaving my head with a standard razor in the past, but it always seemed like more work than it was worth. Then one day, someone suggested that I try out the HeadBlade.
For years now, I had heard about the HeadBlade, a unique razor with an ergonomic handle that supposedly delivers a smooth and painless head shaving experience. The original HeadBlade prototype is in the MoMA for its beautiful integration of form and function. It also won TIME magazine's 10 best inventions of the year when it was introduced.
With credentials like that, I decided to try it out for myself. I decided to go with their top-of-the-line model, the HeadBlade S4 Shark. The S4 Shark is inspired by the HeadBlade ATX All Terrain Razor, and it's their most unique and advanced razor to date. It's also their most expensive, at nearly $100.
The S4 Shark is made of high-quality, hand-polished stainless steel. It features HeadBlade's renowned car-like suspension and their trademark tightly-conforming rubberized finger ring for a more secure grip. Like the ATX, the S4 Shark has the blade suspended in the back by a unique spring action device which virtually eliminates the chance of nicks or cuts.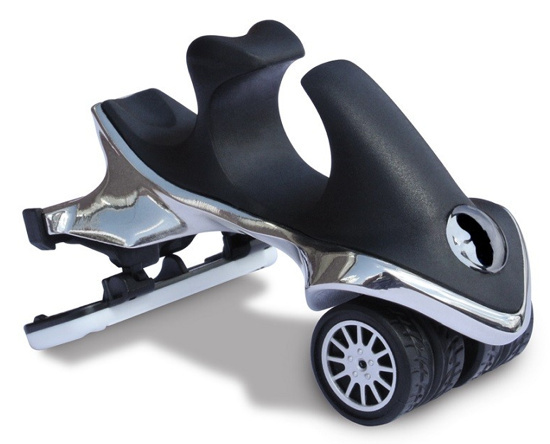 As you can see from this photo, the HeadBlade looks like a little car. The front wheels keep your razor nice and straight as you bring it up and over your head, and the spring action keeps the razor in contact with your head, even if you've got a lumpy noggin. The motion is very intuitive, you'll become a pro in just minutes.
I couldn't believe how easy it was to shave my head with the S4 Shark, and the results were so amazing. My head was perfectly smooth, with none of the nicks or razor burn that regular razors tend to give me. It takes a lot to impress me, but the HeadBlade made me a believer almost immediately!
HeadBlade also has a line of skin care products, so I tried out their HeadSlick (shave cream) and HeadLube Matte (moisturizing lotion). Both work great, and I'd suggest picking up a bottle of each to go with your new HeadBlade.
If the steep price tag is keeping you from trying out the HeadBlade, then give their ATX razor a shot instead. It's similar to the S4 Shark, the big difference being that the S4 Shark is made out of hand polished stainless steel, which gives it added weight. Some shavers prefer a weightier razor, as it tends to make shaving a bit easier. But other than that, the mechanics are the same.
Overall, I was REALLY impressed with the HeadBlade S4 Shark. In fact, I'll be retiring my hair clippers and shaving exclusively with the HeadBlade from now on. If you shave your head, you've got to try one of these bad boys for yourself. You won't be disappointed!